The other side of Chianti
The only sound is the occasional tractor and the birds chattering away. Sometimes a rogue rooster...maybe the famous Gallo Nero? Probably not this far northeast of the zone Chianti Classico but the denomination Chianti Rufina, straight from the Grand Duke of Tuscany in the mid 1800's, would indicate that the rooster isn't too far from home here at Fattoria il Lago.
The two brothers who own and run the spread, Francesco and Filippo, met me at the reception hall which is made of stone and brick, a natural complement to the lush green Apennine mountains. It also doubles as their cantina and fermentation rooms where they hold their wine tastings, so the perfume when we walked in was inebriating. These low lying peaks that circle the holiday apartments are part of their special secret ingredient in their Chianti Rufina DOCG and IGT wines, not to mention their newest experiment, a Pinot nero.
The combination self catering holiday apartments, an award winning vineyard and two very charming hosts promises to make this perhaps your best ever vacation in Tuscany. It is clear from the very first step onto the property, that though you are only a few minutes from a thriving little town with restaurants and shops you are going to be spending your holidays enjoying the natural beauty of the countryside.
Book Direct with Fattoria il Lago
An Adventure for the Family
The majestic landscape of over 400 hectares that make up the family estate, 17 which are dedicated to producing wine and 5 to an extra special olive oil, is unlike any other area in Tuscany. These hills are what makes Mugello famous for its truffles, chestnuts, and green pastures providing delicious fresh milk and dairy products. Francesco, the eldest of the two brothers, explained that the family always had cows and sheep, and he could still remember them as a child but by time he took over the farm they made a decision to transform it into an agriturismo, providing quality accommodations while creating (modestly said) good wines.
With simple, but inviting lodgings, they captured the essence of Tuscany where Fattoria il Lago reigns supreme in its own special little nook of paradise. All of this is set in the small borgo from the 1400's, surrounded by the vineyards and olive groves that have existed before his great grandfather purchased the land from the noble Florentine family of Bartolini-Vivai-Salimbeni.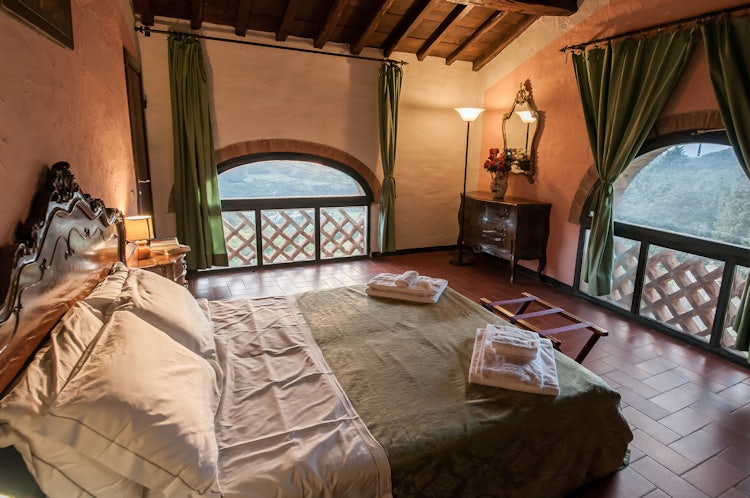 The agriturismo is divided into two "borgos", each boasting a peaceful environment with apartments for 2 - 6 persons as well as free standing private villas, for families and friends. The large pool is in a prime position for catching sun all day long, featuring a game area for the kids, lounge chairs, umbrellas, and tables and chairs for an outdoor picnic or games poolside. What Francesco didn't express with words, you could see in his demeanor...the fattoria, these buildings, the fields, the small little church that has been carefully restored, and even after years working and learning English abroad, these things are home to him.
"I grew up here, and have memories of the sheep and cows that grazed the land, I can remember harvesting grapes and olives since I was a child and I remember my grandfather was always building and rebuilding", Francesco reminisces, "I like that we are still building memories and not just for me and my family, but also for all the guests that come and stay with us."
The family may have restored the "borgo" (small hamlets), they might have converted the barns into private Tuscany villas perfect for a holiday accommodation, but they have not changed the spirit of these buildings of stone, or the hills and lakes which are an integral part of the family and their heritage.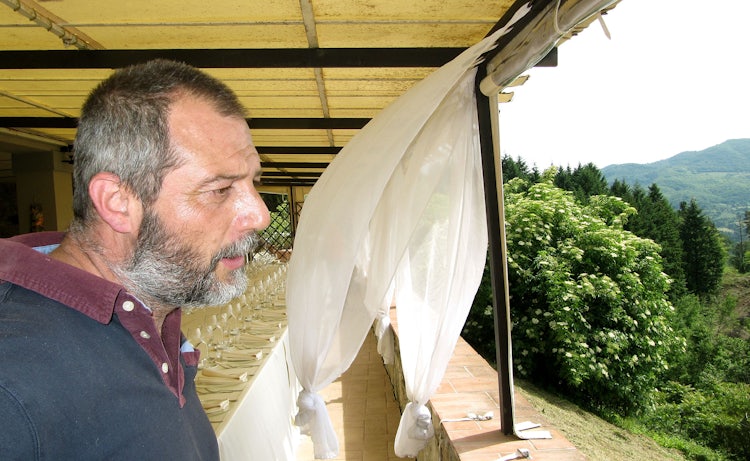 A Review of Fattoria il Lago
We loved: the tranquility, the lake & the small Tuscan town setting complete with a private church
Ideal for: couples or families with children looking for tranquility & relax, yet close to town. Especially well organized for weddings and events
Setting the Date
Some of the best memories that are built at Fattoria il Lago come in the form of a wedding celebrated right there at the quaint little church. Guests gather together, staying in the many apartments and make a full fledged holiday in Tuscany while preparing to say their vows and start a new life together. There is an onsite "wedding planner," who would put Jennifer Lopez to shame, as she scurries from one borgo to another arranging music, the photographer, the caterer's ... and, I would even venture to say, making sure the clouds stay far away...at least for the ceremony.
The ambiance at the banquet hall accurately depicts the spirit of the wine producing estate with its viewing window on the aging barrique barrels, and the covered terrace overlooking a spectacular landscape of tall hills, rows of grapes, and the silver green olive groves. The elegant table is set with white china, crystal glasses and the perfume of Tuscany which lingers in the air.
The typical Tuscan gardens are adorned with the iconic cypress trees, fragrant rosemary, sage and lavender plants and the occasional splash of color with striking shades of roses blooming here and there. This is the perfect setting for large groups who want to spend time together, enjoying each others company while exploring the beauty of Tuscany.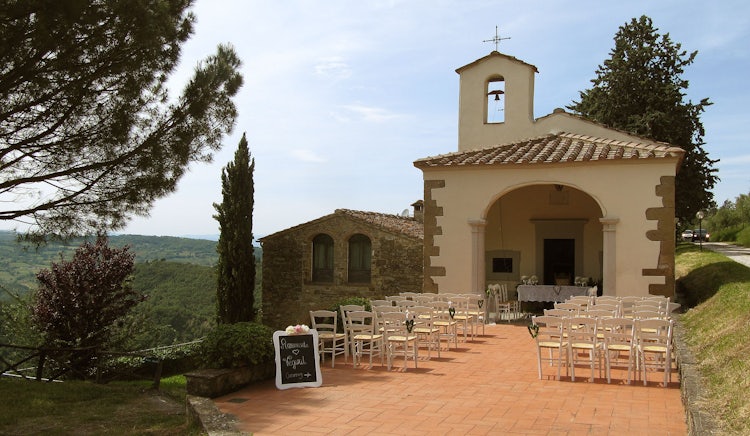 Making Wine since the 1800's
Fattoria il Lago in a Glance:
Type: self catering holiday apartment
Location: Dicomano, 46 km from Florence
Distance: Dicomano (10 min), Borgo San Lorenzo (30 min) or Rufina (20 minutes)
Transport: a car is necessary
Rooms: mix of self catering apartments and private villas
Sleeps: 40
Type of board: No meals provided. Common area with catering facilities.
Filippo showed me the map, pointing out the lakes, for which the estate is named, the various structures that had been restored and the vineyards and olive groves that have been a part of the Fattoria since 1806 (documented by the large antique wine press that sits in their reception office.) He then toured me around their compact production area where they ferment, bottle, and label their production. Besides the DOCG wines and table wines that they produce, they have also planted new vineyards to explore experimental flavours, especially a Pinot Noir which has rendered surprising and satisfying results.
Guests are invited to participate in wine tastings on site, with a small surcharge they can taste from 2 - 5 - 7 or even more wines. Fattoria il Lago also offers the possibility to go out "into the field," learning from the ground up about their production with an eno Jeep Tour of the property.
And what makes a better gift for your guests at the wedding or big event than a bottle of wine that is destined to age well and be a unique reminder of the holidays abroad?
"Our estate is the last Chianti producing vineyard this far east of Florence. They were making wine here before the Grand Duke himself declared Rufina part of the Chianti region," and with a simplicity that denotes his quiet almost shy character, "and now we are taking things one step further, and we are exploring new products that are well suited to our micro-climate like Pinot Noir and a Syrah that recalls its origins in France"
Tranquility & Nature, side by side
There are endless opportunities to explore when you base yourself at Fattoria il Lago. The surrounding landscape is filled with history, trails, parks and small towns which have maintained their quaint ambiance. The small town of Dicomano has a weekly market for fresh seasonal fruits and vegetable and you will always be able to find a pizza or plate of delicious pasta at one of the local trattoria restaurants. The property is aptly named "il Lago" (the lake) because there are three of them where you can throw out a line and try your hand at fishing.
Not far off, one can wander into the Casentino valley to visit the many castles and "pieve" - antique churches from the before the 1200's or travel into Mugello for excellent opportunities to go hiking, biking or watch a race at the Mugello Circuit and outlet shopping is not far away in any direction you roam. Even Florence and Chianti are quite easy to reach with well paved roads and very little wild Italian traffic.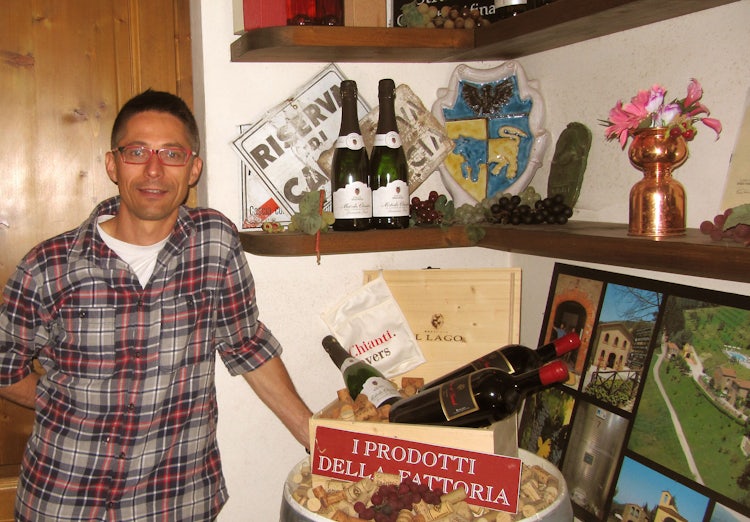 Reserve Now at Fattoria il Lago
It's not hard to imagine yourself on holiday on this sprawling and well maintained wine and olive oil producing estate. It's proximity to a small town, virtually unchanged in all these years, the serenity in the green hills and the spacious, self catering apartments and private villas are all truly the expression of Tuscany. Francesco and Filippo, have stayed true to their origins and at Fattoria il Lago, they give you a chance to experience it all for yourself.
This is a Sponsored Article but reflects the honest opinion and experience of the author. More details »