BUYING AND SELLING PROPERTIES IN FLORENCE » Our Services
Pitcher & Flaccomio offer assistance with contracts, notary officials, lawyers, translators and all aspects regarding the purchasing and selling of property in Italy.
Pitcher & Flaccomio specialise in Florence and the immediate surrounding areas, as well as the rest of Tuscany and the region of Umbria, where properties of every type are in high demand. We are also pleased to deal in other selected areas. If you are thinking of buying or selling a property, Pitcher & Flaccomio are legally qualified to act as your agent through all negotiations and legal procedures.
» Continue to Pitcher & Flaccomio Website and buy properties in Florence with our help
OUR MAIN LOCATION
Pitcher & Flaccomio specialise in the areas of: the city of Florence, the Chianti region, Tuscany property for sale in general plus some areas of Umbria. Collaboration with other agents Pitcher & Flaccomio can offer an extended area of search.
WHO CAN BUY A PROPERTY IN ITALY?
Most people can, although there are some country's citizens it is not possible for reasons of reciprocity. Please make further enquires should you have doubts.
BUYING AN INVESTMENT OR A HOME?
With the introduction of the common European currency (the Euro) at the beginning of 2002, it is our opinion that properties in general have increased in price. One positive aspect is that the introduction of the Euro has opened up the market not only for Europeans, but also for foreign investors. There are no longer borders across the major portion of Europe, hence money can travel freely from one Common Market country to another.
WHEN BUYING
To retain Pitcher and Flaccomio as your agent, please let us know your general requirements, preferred price range, needs and desires. We firmly advise all our clients serious about buying a property in Italy, to come over for at least a quick visit and do nothing else but inspect what is on the market at that time. Florence is a small and sought after area. Properties come and go very rapidly.
We can show you all the available properties in your chosen price range, and inspect and report on those that most interest you. We will negotiate buying and selling prices and arrange the mandatory technical certification on the condition of the property. On your behalf, we will also follow through on the complicated and sometimes protracted legal procedure entailed in dealing in property in Italy. Pitcher & Flaccomio act in all respects in your best interests to assist you in buying or selling your property to your advantage.
WHEN SELLING
Pitcher & Flaccomio do not ask for exclusivity in selling a property, though we firmly believe your interests will be best served if one agency handles the sale. We will organise the best ways to advertise your property, and schedule all appointments. We will also advise you (the owner) on what can be done to improve and accentuate the positive aspects of your property.
Pitcher & Flaccomio only represent properties that have their complete documentation in order.
» Visit Pitcher & Flaccomio Website and the selected properties for sale in Florence that we are managing
BUYING AND SELLING » Agency Fees
In Italy real-estate agents receive a commission from both sides. That is, a percentage from both the buyer and the seller. This percentage my change from client to client Generally speaking the Chamber of Commerce in Florence proposes that agents collect 3% from both the seller and the buyer for a total of 6% commission. When billing, an additional 20% (IVA - VAT) tax will be added.
Pitcher & Flaccomio also work as consultants for clients who want an introductory reconnaissance of the area. This may include viewing of properties on their and other agent's lists, where the pros and cons can be discussed from a living or potential rental point of view.
This is a service for clients who wish to assess the general suitability of purchase in Italy and is charged at a consultant fee of EUR 100.00 plus tax per hour. This amount will be subsequently deducted from the commission should one eventually buy a property through our agency.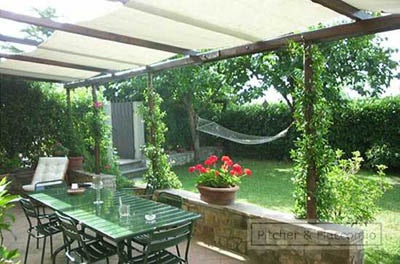 BUYING AND SELLING » Frequently Asked Questions
Can American citizens buy in Italy?
Yes.
Can Australians buy in Italy?
At the present moment not directly. Because of 1998 reciprocity laws, it is not possible for an individual to buy, though a company (with at least one Italian partner) can purchase property. This set-up is not particularly difficult to arrange.
Can I build a terrace or balcony?
Without permission from the municipal council it is prohibited to build and add anything to the exterior.
Can I get my money out of the country if I wish to sell the apartment?
Yes it is very easy to export funds through a bank.
Will I pay taxes?
Yes there are municipal taxes to pay on every property, and also owning a property in Italy it is necessary to fill in a personal tax return.
May I put in an elevator?
Yes if there is sufficient space to receive a permit for the job. You can share the cost between all the condominium members who agree to participate.
Is mine a safe neighbourhood?
We long time residents in the city of Florence feel the city is very safe. There seem to be no particularly BAD areas in the historical centre. This does not mean that out in the periphery there won't be some less attractive areas. Generally speaking, Italy is not a violent country. The one thing we all worry about in any neighbourhood, is getting our pocket picked.
How much money does one have to put down immediately?
As a rule, one third of the asking price.
Is the price negotiable?
On principal, yes
What is a notaio (notary official)?
Someone who represents the state.
What is the process in signing a contract?
In Italy only a notary (notaio) can officiate, create and validate a contract, whether it be for buying or selling a property, establishing a company or partnership etc.
Can I have a lawyer instead or a notary official?
No, but should you wish your lawyer be present at the contract signing, I'm sure that would be fine. Your lawyer can advise you re. the contract, but he cannot substitute the notary official.
How long have you been in business?
Suzanne Pitcher has been in the real estate business in Florence for 10 years. Her son Corso Flaccomio was recently made a partner after several years of active involvement during the summer months when we are particularly busy.
What sets you apart from others?
Our high level of personal involvement and attention to detail. We feel that our truly bi-cultural background gives us insight both into what the buyer's need are as well as the seller's. Since our experience lies not only in buying and selling property, but creating a valid rental situation as well, we feel we are especially well suited to helping non-Italians though the ins and outs of the local market.
I've never heard of anything like the Italian procedure for property sales; does it work?
This procedure involving the notaio (notary) has been in use for several centuries and seems to work perfectly. These individuals are highly respected members of their community and their professional reputation depends on their title research and on being responsible to all parties involved.
Do I need to speak Italian to buy property in Italy?
Eventually you will want to learn as much Italian as possible to fully enjoy all the country has to offer. But part of our job is to facilitate your purchase by translating and otherwise explaining the transfer procedures, taxes, and so forth.
» Continue to Pitcher & Flaccomio Website
This is a Sponsored Article but reflects the honest opinion and experience of the author. More details »