The Luxury of Beautiful Landscapes
The first glance, especially at the entrance, of il Borghetto will surprise you; the appearance is official and prestigious, but once you settle in, the atmosphere is pure "country luxury". I know, it seems a conflict in concepts, putting country and luxury together, however, it's true. The sunny welcome from Sandra Bimbi, the owner and one of your four hosts, combined with the elegant furnishings, rich colors and amenities all speak of luxury. Yet at the same time, the landscape, the ambiance, the decor is definitely Tuscan-styled country.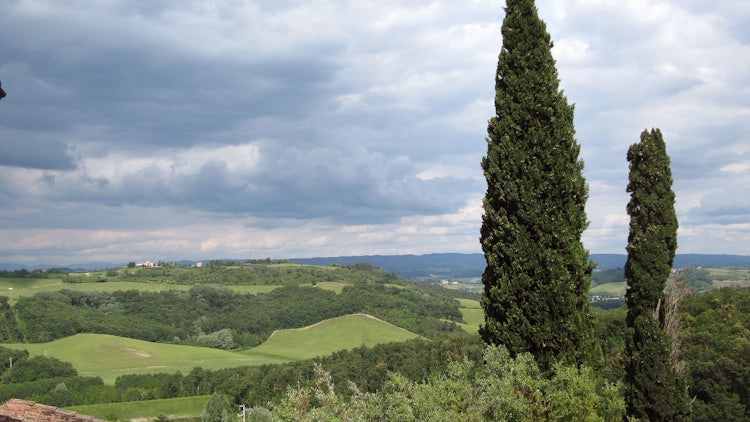 Following one of the romantic "white roads" of Tuscany, less than 6 kilometers from the amazing town of San Gimignano, the 10 self catering apartments, stand above rows of Vernaccia and Sangiovese grapes. Each step you take, each breath you inhale takes you further and further into the Tuscan treasure chest of this fabulous "borghetto" (little hamlet).
A Cappuccino & A Good Book
As I entered into the newly redecorated reception area, I could have hugged Simona who recognized right away I need a shot of caffeine and then another hug for Riccardo for having made the perfect caffè! This husband and wife team read me like a book ... attentive and observant.
This is what guests have to look forward to. In the morning, a cappuccino, fresh bread and croissants and in the afternoon, when you come back from a day of exploration, there is alway an espresso or a glass of wine. The front bar is an excellent way to wind down after the excitement of visiting Florence or Siena, both a mere hour away from il Borghetto.
Sitting out on the front terrace at one of the perfectly placed tables and chairs, waiting for Sandra and the others to join me, I really couldn't think of one reasons (so far), why anyone would choose to leave this oasis...even if it was to explore the renowned Tuscan landscape. The shimmering shades of green from the well tended gardens, the typical pastel colors of the facade, a cup of coffee (or a glass of wine) and yes, even the billowing gray clouds threatening on the horizon, all mingled together creating an aura of calm, absolute relax and even a bit of indulgence.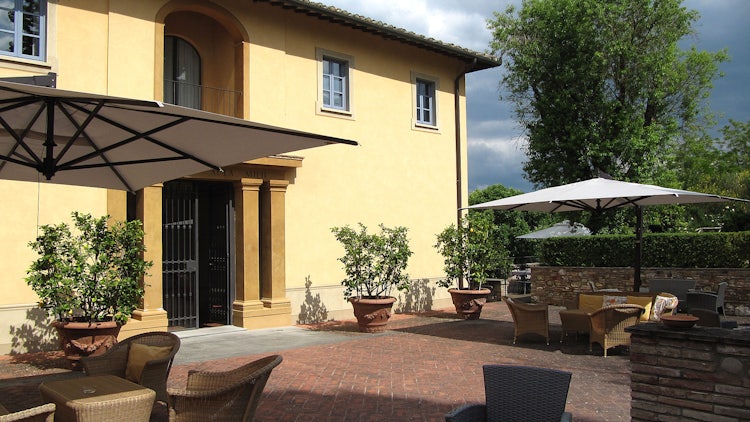 Simona confided that many of their guests, come down to the bar for breakfast and then head out with an itinerary to visit the nearby hamlets like Colle val d'Elsa or Volterra. Some will have plans on visiting the vineyards near San Gimignano or further into Chianti and then there are others who she has helped book their tickets at the Uffizi or a guide for Siena. But what they almost all have in common is coming back in the afternoon to relax, read a book with a cup of coffee on the terrace, sit by the pool, get a bit of sun at the solarium in the olive grove.
Walk the Local Landscape & San Gimignano
Or you could take a day off from driving and hike into San Gimignano, a dreamy walk through the vineyards and then reward yourself with a leisurely stroll through the quaint streets and a delcious lunch before heading home to il Borghetto. In any case, I can assure you that silence reigned supreme, inviting you to just kick back...maybe take a nap. And even though I saw a family with two very excited kids rush up to the pool area...the sound of their splashing and obvious delight in the sparkling clear water was absorbed in the garden and never reached the terrace. This was perfect. This was a slice of Tuscan paradise.
We embarked upon a tour of show and tell and in moments, we bumped into one of their long time repeat guests and his stories of visiting Bolgheri nearby. Both Sandra and Simona listened, laughed and bantered with him; there was no need to explain to me that they were experts at creating lasting bonds with their guests.
A Review of Il Borghetto
We loved: the essence of Tuscany: vineyards, olive trees, fabulous villas & tower towns
Ideal for: the position & decor beckon to couples of all ages, families and friends traveling together
Authentic Flavors at the Table
Next stop was the panoramic terrace, where they host their "restaurant nights." I was caught by the endless vista and the idea of a romantic candle light dinner under the stars. Three times a week they are dedicated to sharing the secret recipes of Sandra and Riccardo's Mom.
From antipasto to dessert, you can reserve your spot at a home cooked leisurely meal featuring family traditions like homemade ravioli, lasagna and Peposo, cooked in Chianti wine. Or you could go right to the source and participate in a cooking lesson where you can learn how to make them yourselves!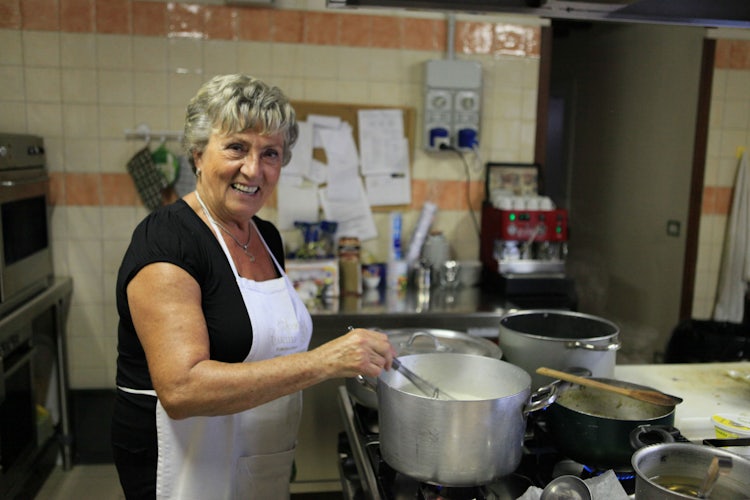 Il Borghetto in a Glance:
Type: self catering holiday apartment
Location: San Gimignano (walking 5 km by car 5 min)
Distance: Florence (45 min) or Siena (30 minutes)
Transport: a car is necessary for day trips
Rooms: 10 apartments (1, 2, and 3-bedrooms) & one free standing villa for 6 persons
Sleeps: 45
Type of board: breakfast upon request, dinner every Tuesday, Friday & Saturday (29€ drinks excluded)
A Decor with Vitality & Color
The restoration of this little piece of heaven was a dream come true for Sandra, who had harbored a "sogno nel cassetto" (a secret dream) to bring the spirit of the building and those who once lived here back to life. Well, maybe not exactly "back to life," more like giving them a voice, a place in history so they wouldn't be forgotten.
As we flipped through the before /after photos I was stunned at the way the building before me now was hardly more than a skeleton at the start of its transformation years ago. The whole group, starting with Sandra, then Nicola her husband, Riccardo her brother and his wife Simona, have infused il Borghetto with warmth, and vitality.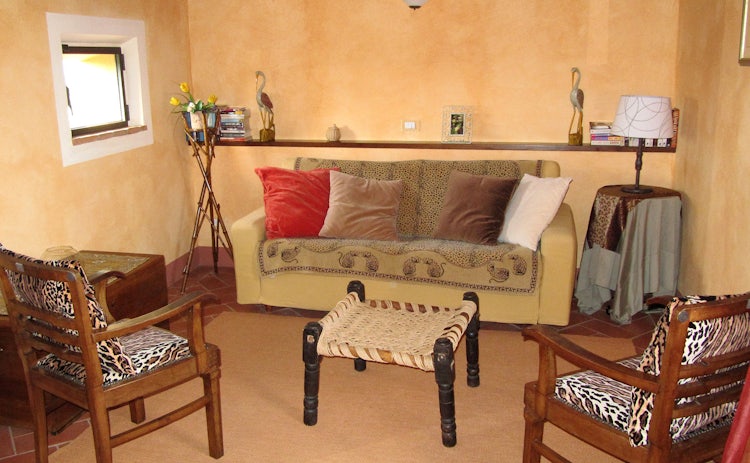 "The building surprises everyone, because the photo makes it look like it is all in one block, but when you take them around back, the can see it is really like a multi-level castle. And it has lots of hidden surprises. See that," Sandra pointed out the far corner above the apartment Piccionaia, "it was once a lookout tower for San Gimignano"
Making New Memories & Friends
It is possible that Sandra's enthusiasm for these ruins was what led her to her career in design, restructuring and revitalizing old buildings. As a child with her family, they would go walking in these very woods, romping around the dark forest, the scattered stones and imagine the wonderful things that lived once upon a time in these very walls. Each apartment commemorates its history yet is perfectly in tune with today's needs; complete with a full kitchen and fabulous views, everything has been thought out for the extreme comfort and relax of the guests.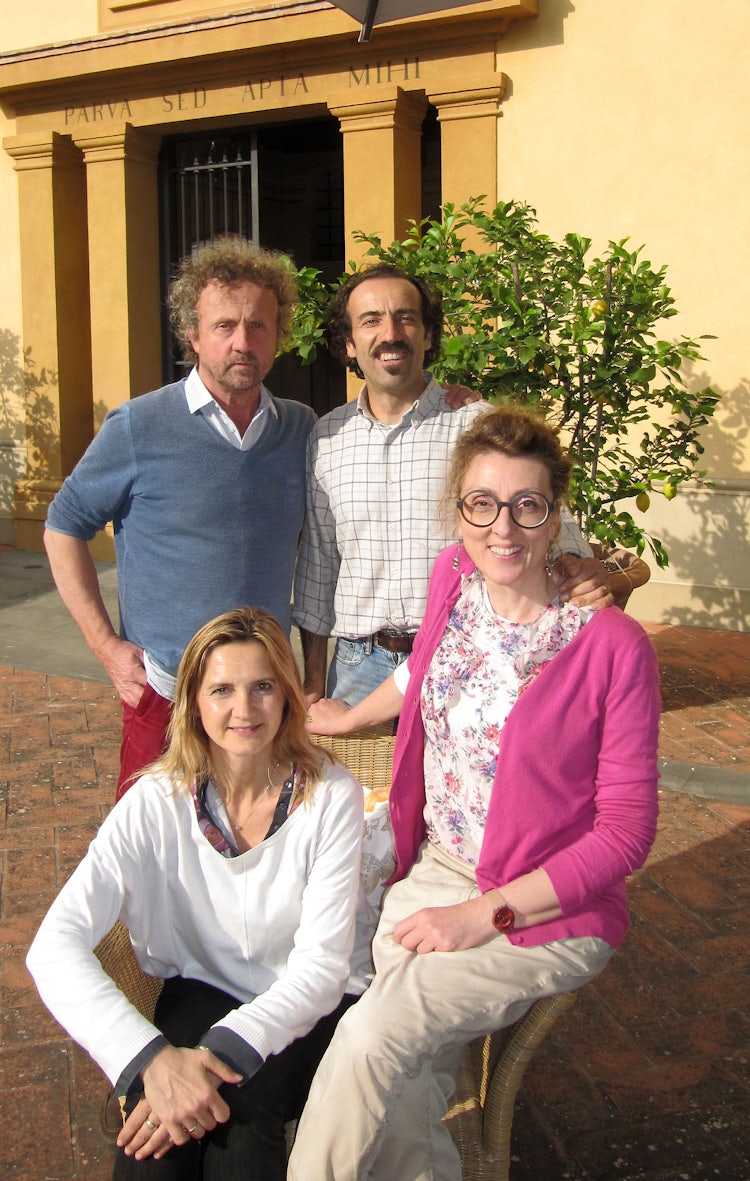 The special blend of the typically Tuscan architecture of the building with color, designer accents and … passion...make il Borghetto special. Il Borghetto has skillfully included modern bathrooms and air conditioning with terracotta floors, afrescos, and polished wood beam ceilings. You have what I mentioned before, the perfect blend of luxury and Tuscan styled comfort.
Each memeber of the Il Borghetto team brings their own special contribution: a true Tuscan welcome, answering your questions, serving dinner at the restaurant, trimming the flowers and keeping the gardens perfect or simply offering a bit of chit chat while you are sitting outside, just relaxing. They all agree, it's the constant cultural exchange that happens between them and their guests which keeps them energized, full of new ideas. Some of their best memories and friends were made right here at il Borghetto, with a laugh, a sip of wine, and sharing experiences in Tuscany.
You are invited to come and share the whispers of the past occupants (nobles, priests, farmers, partisans hiding from invading forces) and feel the beauty of Tuscany and Il Borghetto. Deluxe accommodations with attentive hosts will surely make your holiday vacation in Tuscany memorable in every way.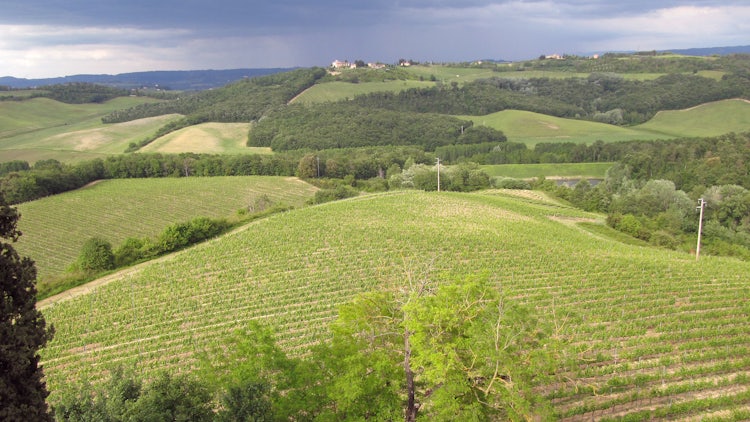 This is a Sponsored Article but reflects the honest opinion and experience of the author. More details »