Tuscan Styled Luxury
You enter into a secret world designed to make your holidays simply perfect inside the gates of the vacation rental apartments and villas rentals at Borgo della Meliana Country Resort.
When I greeted Giulio Bensi, one of the owners, the first thing I did, rather spontaneously, was compliment him (or rather his garderner) on the finely manicured lawn, colorful and fragrant blossoms, tall majestic cypress trees and shady corners with games for the kids.
This is just the kind of setting one looks for while on vacation: not only calm and relaxing, fully embracing the silence of the Tuscan hillside but also charming and elegant, evoking all those beautiful, natural characteristics of Tuscany.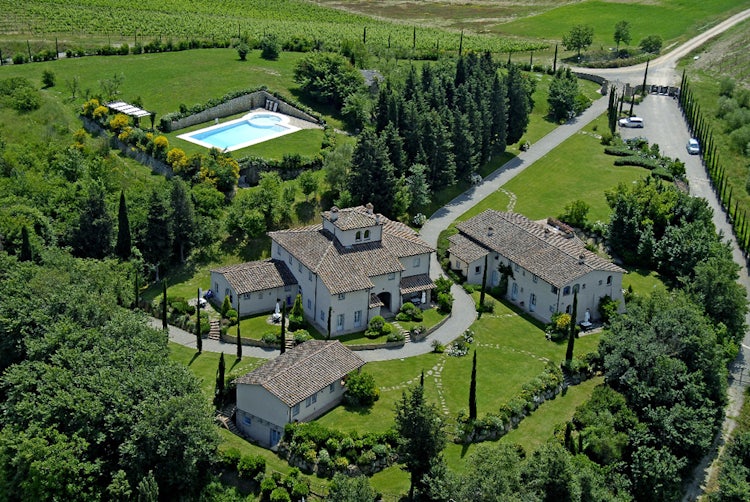 The atmosphere was lazy, yet effervescent.
I loved it! The warm Tuscan sun, the crisp breeze and the lush green gardens. And I had yet to see the inside of the apartments. I spent a few minutes talking with Giulio, and was immediately impressed with his professional yet welcoming attitude. I noticed how, he took time to speak with the guests personally, taking an interest in their comings and goings - he was present, yet not overpowering.
I was invited to have a seat on the spacious covered patio in front of the reception office. I took my place at one of the tastefully decorated wrought iron tables and chairs, and admired the inviting wicker sofas and a panoramic view the estate.
Book Direct with Borgo della Meliana
Everything I had seen so far, just had me looking forward to visiting a few of the 20 self catering apartments, with their spacious layouts. But first I scoped out the gardens and covered terrace where Giulio and his staff often help "sposi" or newlyweds plan their wedding reception. The property is ideal for the "party" and they have a special liscence to actually hold the legal ceremony on their grounds...that makes this a one stop venue - ceremony and reception spread out through the ample grounds, gardens all with stunning vistas.
The Criteria for a New Age in Vacation
Passion and good business: are just two of the things that makes Borgo della Meliana stand out from their neighbors
The passion to find a way to offer the best of Tuscan in a unique setting with spectacular vistas.
And the good business practice to offer more...more room, more extras, more Tuscany.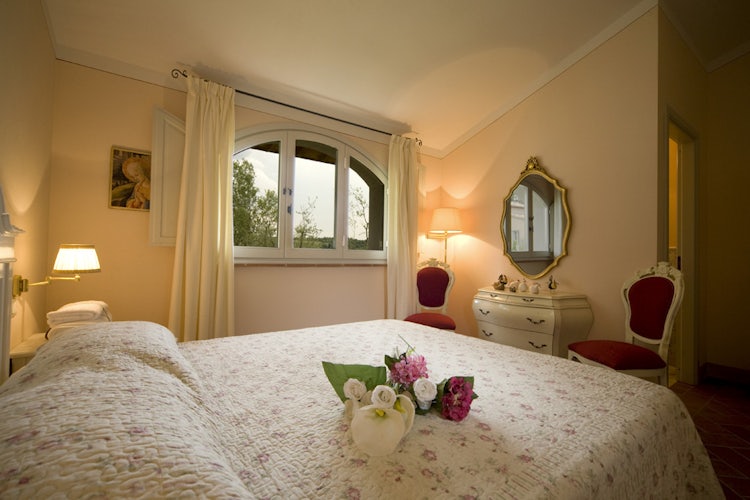 When Giulio and his family began the restructuring of the Tuscan home, they spoke with tour operators and then pulled from their own travel experience. The result: an environment that warmly welcomes travelers and offers them the comforts of home (and more.)
The extra large bedrooms, bathrooms and living areas in the vacation villas and holiday apartments are decorated with charm and elegance, using light pastel colors, lots of natural light and a modern decor and country styled accents.
"I travel frequently, and I am always comparing our services with that of other accommodations - looking for something new, to keep us in line with today's guests." Giulio explained their strategy, "for example, internet in every apartment and not just in common areas."
One of the guests on the property heard him make this comment and confirmed how nice it was to get a good strong signal, "my friends and family wait for me to send photos back - and you can't always find WiFi in the cities".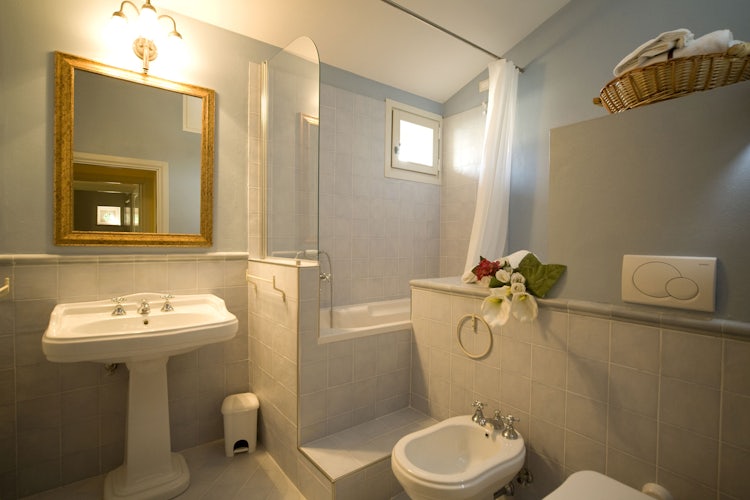 However, it is my opinion that it is the combination of beauty with the extras that make the difference. I noted with approval many of these extras throughout the structure: full and functional kitchens, modern bathrooms, air conditioning, WiFi in every room, and access to the shared services like washer and dryer, gym for a good workout and meeting/projection room.
Their choice to appeal to a varied and discerning clientele is evident even in the way the accommodations are arranged; they offer not only self catering apartments but also independent vacation villa rentals. The apartments vary from one bedroom/one bathroom to two bedrooms with three bathrooms and a comfortable sofa bed.
The villa rentals come in three sizes. The Cottage for for 4 +2 persons (two bedrooms and with a sofa bed) featuring a private terrace. The Cottage with pool for for 4 +2 persons (two bedrooms and with a sofa bed) featuring a private swimming pool. The largest of the three is Villa S. Adele for up to 8 persons (3 bedrooms, 4 bathrooms, double sofa bed) and it has a private swimming pool.
A Review of Borgo della Meliana
We loved: the convenient position between all the major sites
Ideal for: events or ceremony venues with a meeting room, catering kitchen, large covered terrace & picturesque gazebo.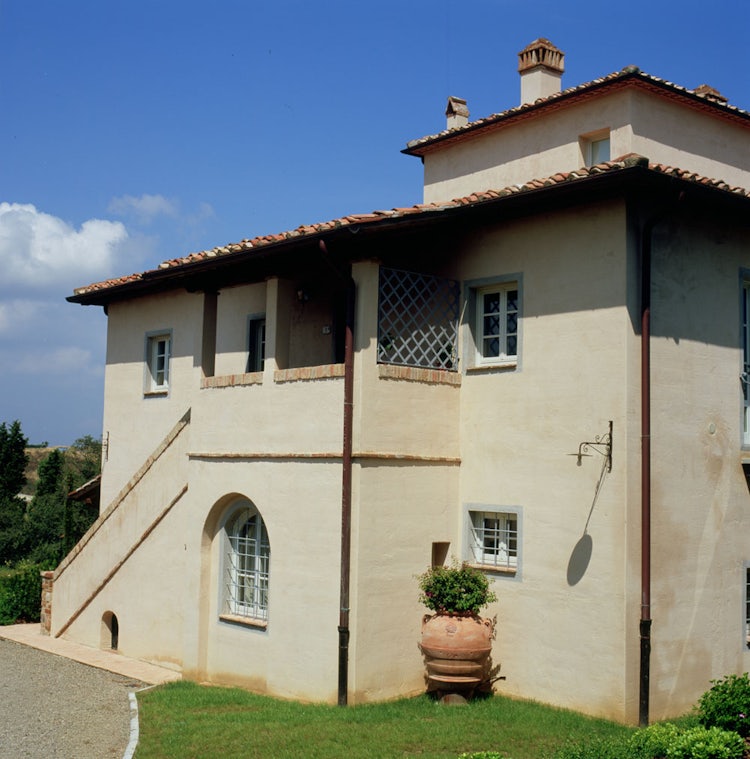 Standing on a Piece of History
Before I rang the bell to enter into the gated property at Borgo della Meliana, I did a bit of "recon" (reconnaissance) and explored the full length of the country road that passes close to the country resort.
The softly dipping hills, the vistas which appear endless, and the road signs for the via Francigena gave me an inkling of what the guests find so mesmerizing about the area. The Tuscan accommodations, which rivals any 5 star lodgings, actually was a "Casa di Posta" in the 1300's, one of the stops on the via Francigena where pilgrims could get something to eat, change horses and repose before starting off towards Rome.
I was fascinated, the antique trail runs directly in front of the reception office!
The pools dominates the estate with their whirlpool area. These shallow inserts in the large pool are suitable for children and provide easy lounging in the water under the warm Tuscan sun. As you climb the steps that lead to the prime panoramic position above the reception office, you can view the gazebo, which is normally used for weddings and ceremonies and a large grassy area that saddles up to the covered area for relaxing in the characteristic Tuscan landscape.
The pool is furnished with chaise lounges that have sun shades - but no umbrellas to disrupt the fantastic views. Giulio prefers that his guests can feel one with nature, no obstacles.
The True Center in Tuscany
Borgo della Meliana in a Glance:
Type: self catering holiday apartments & vacation villas
Location: Gambassi Terme, 4 km
Distance: Florence (55 min) or San Gimignano (30 min)
Transport: a car is highly recommended
Apartments: 20 apartments (2 swimming pools) & 2 villas (two with private pools)
Sleeps: up to 60 persons
Type of board: None. Areas suitable for events & ceremonies.
You can head in any direction from Borgo della Meliana and it will take you close to something beautiful. In Tuscany, this may seem like an easy trick but country roads can sometimes be deceiving. But here Florence, Siena and Pisa are all less than an hour from the country resort and its self catering apartments, so there is no difficulty in deciding where to go...everywhere is possible!
Choose a day trip that takes you to one of the marvelous cities of art or roam close to home and visit Volterra or Certaldo. Especially convenient is the train station at Castelfiorentino, where you can get to Florence in less than 45 minutes (no traffic, parking hassles or driving on Itailan roads!).
It will seem like anything and everything you want to do is almost right around the corner. And that extends to restaurants, shops and wine tastings.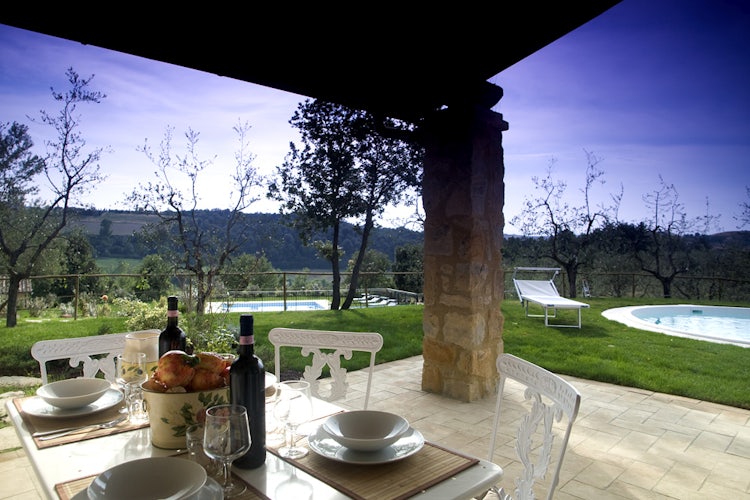 If you are looking to indulge in activities that don't include museums or historic monuments, but rather the great outdoors, then you won't be disappointed with the choice in this part of Tuscany. I already mentioned the via Francigena with its 15 section hike from the north to the south of Tuscany but the local governments have also instituted an area dedicated to "Parco Benessere" highlighting not just the many wellness spas, but also the local history rich with archeological digs, well marked and very suggestive in its natural setting.
There is also the possibility to explore via horseback, with an excellent equestrian center only a few km away - or perhaps a game of golf is more up your alley. Then let the reception office reserve to a tee time for the 18 hole course.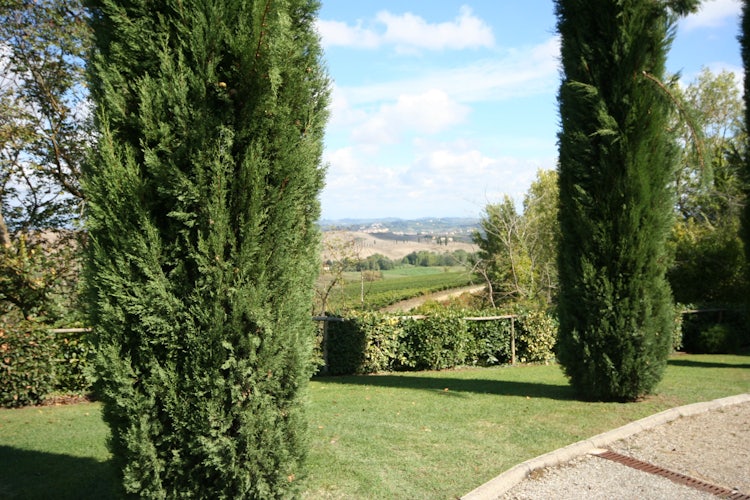 The estate is surrounded by the vineyards of Borgo della Meliana in every direction. Giulio explained that they are not direct producers however, guests can stop at Villa Pillo, the wine cellar just up the road, where they can taste the end results of the Borgo della Meliana grape harvest. Afterwards, you can do some comparison tasting by heading towards Chianti (40 km) or San Gimignano (25 km) for a Vernaccia.
A Country Resort Vacation
These deluxe accommodations, with a mix of self catering apartments and vacation villa rentals, near Gambassi Terme in the geographical heart of Tuscany features space, relax and tranquility with lots of natural light and welcome extras, especially the fast and easily accessible WiFi. Add the attentive personal service from both the reception office and Giulio, the owner, and you will feel like royalty on vacation.
Reserve Now at Borgo della Meliana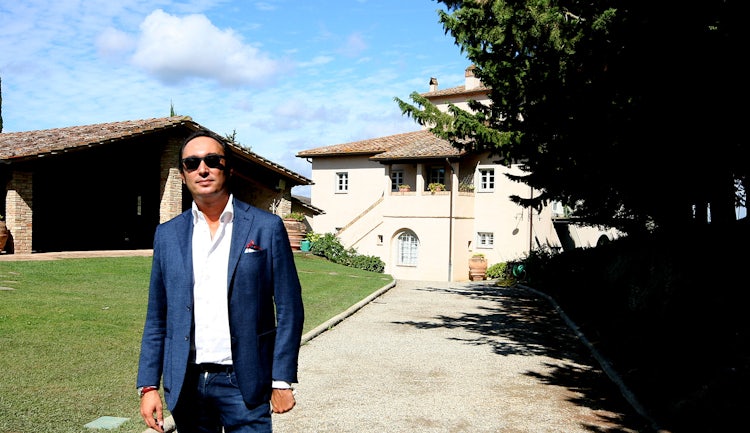 This is a Sponsored Article but reflects the honest opinion and experience of the author. More details »