During the centuries-long competition between the cities of Florence and Siena, there is an area where even the most rash of the Florentines do not dare issue a challenge!
The BEST Pastry Shops
Would you like to purchase or taste some excellent ricciarelli or cavallucci, panforte and the other sweet specialities of Siena?
Then make a note of these addresses:
Nannini: it has several shops, one is in the very center at via Banchi di Sopra, 24. website: www.grupponannini.it
Pasticceria Nocino: via Aretina, 13 (close to Porta Pispini)
Pasticceria Le Campane: via Caduti di Vicobello, 37 (close to Porta Camollia)
Pasticceria Bini: via Stalloreggi, 91 (right next to the Due Porte door).
Peccati di Gola: Their pastries are out of this world! And they serve a great caffé along with the bakery, the perfect combination for stopping at any time of the day! Via E. S. Piccolomini, 43/45 (on the southern side of the city, just outside Porta Romana).
This area is the sweet delicacies that the Sienese have created. We are talking of traditional sweets whose recipes have have been passed down through the generations and centuries. To consider a comparison is not possible.
There are at least 3 "gems" that top the list of Siena's pastry sweetness: the cavallucci, the ricciarelli and panforte. The Sienese are proud of their local specialties, and the whole world that visits and tastes these morsels and delicacies appreciates them with great enthusiasm, especially during the Christmas holidays.
Their origin dates back to ancient times, when monasteries and ancient spice shops where the home to culinary experiments. Recipes were based on the ingredients they had at the time, so the recipes can be seen as a sort of Darwinian "evolution" of cakes.
Let's have a look at each of these traditional treats, one at a time, to see what makes them so special.
The Cavallucci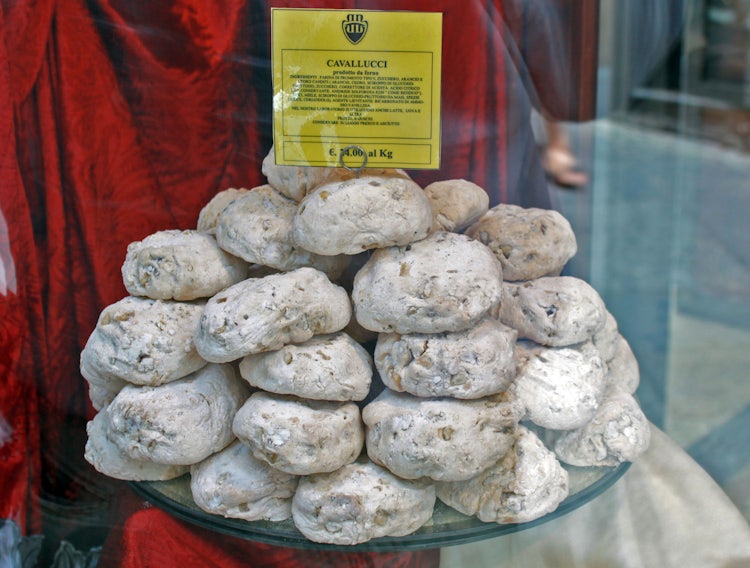 Cavallucci (which translates to little horses in English) are cookies made with flour, honey and sugar, and shaped into a round, flat biscuit. They are quite solid in consistency and it is said that the name dates back to the 16th century. At that time, the biscuits were eaten in stagecoach inns by people who traveled by horse. They were perfect to take along travels since they stay fresh for a long time. The current recipe, compared with the ones of the past, are much softer. Today's product is the result of many experiments, which luckily results in a delicious biscuit.
The main ingredients of the cavallucci today are candied orange peels and anise which make it very tasty, particularly for anyone who likes liquorice since the anise seeds have a similar flavor. They go perfectly with a Tuscan Vinsanto, since it isn't too sweet of a dessert wine but they can also go well with a young Chianti wine.
Ricciarelli
These are very special cookies, preferred by the nobility of the past and everyone today. They would have ensured eternal fame to their creator, if only we knew who it was! These are the most traditional of sweets from Siena, even if we don't know who invented the recipe.
These would be preferred by Goldilocks: not too thick, perfectly tender inside but crispy on the outside, delicate in its elongated shape and taste of almonds. Documents attest that this sweet was highly appreciated by the noble families of the 16th century, even beyond Tuscany's borders.
As for their name, riccio means curl in Italian and legend says that in the beginning, one end of the cookie was given a curl upward, similar to the tip of an elf boot! Thus the name!
What makes ricciarelli so delicious? The ingredients include orange peel and candied citron which blend well with almond. These ingredients are delicately ground together, and only the most sophisticated of palates is able to also distinguish a light taste of cinnamon. Each bakery and pastry shop in Siena has their own secret recipe so we suggest if you love the flavor of these cookies to try them out at several places to find your favorite!
Today, ricciarelli are sold both loose and already beautifully packaged in boxes which make a perfect gift at any time of the year. If you go to Siena, you could try asking anyone there where the best ricciarelli are made: everyone has their preference and it's likely you won't ever get the same answer. You might get more suggestions aside from the ones we've mentioned above, which include some of the most prestigious pastry shopsNannin in the very centre of the city.
Personal favorite of mine are: the pasticceria Nocini at via Aretina, 13, located close to Porta PispiniPispini and the Pasticceria Le Campane, at 37 of Via Caduti di Vicobello Vicobello, 37 near Porta CamelliaCamollia.
Ricciarelli go perfectly well with a not-too-sweet sparkling wine such as a Riesling or Franciacorta or with an amaretto. We would also recommend savoring these cookies along with a good Aleatico wine from Elba or from Gradoli (Viterbo).
Panforte
At the very beginning, Panforte was very poor in ingredients and through time has became rich in spices, flavor and scent.
Its name comes from its medieval origins: "Sa di forte" meant it was "strong-flavored". It's a very Tuscan way of saying that something has a very strong taste, at times compared to the taste of food about to turn or go sour. Of course, there is nothing sour of this bread today!
This bread was born from the early tradition of placing water in empty honey pots, then flour was added to use every last drop of the honey and thus a sweet bread was made. Pieces of fresh fruit or dried fruit was added, and because of this, the bread did not last long before becoming pungent in flavor. Thus the "forte" definition.
From the 13th century, the holy wars brought new spices to Europe. They were first used by apothecaries since they traded and used spices for their concoctions. Pepper, cloves and cinnamon were attributed many qualities, including many medical virtues which were nonexistent. Nonetheless, they did give new flavor to foods and actually helped prolong the how long food stayed fresh.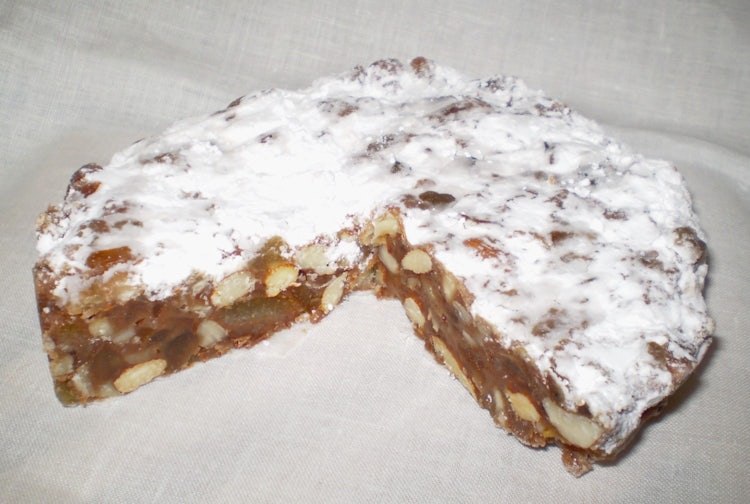 But spices were also very expensive and rare. Considered precious goods, they were appreciated as much as gold, or even more. They were offered to churches or monasteries by merchants coming back from risky but successful journeys to the far East. This is why it was within Abbeys that the first apothecary shops were born. They were the pharmacies of the time and since food can cure the body, the jump from medicine to food is quite short and spices were added to food.
The resulting bread gains stronger flavor and a longer shelf life becoming Panpepato or "pepper" bread. Thus is born the king of sweets from Siena, with only its name to remind us of its humble origins. No longer "forte", panforte is a combination of spices such as black pepper and cinnamon, honey, flour and nuts.
Legends to explain origins
There are many legends that try to explain the origins of Panpepato. Let me share a fun one that involves the devil! It is said that in a convent the Devil, in the shape of a mouse, entered into a locked blanket chest full of honey, flour, pepper, nuts, almonds, cinnamon, and other precious spices. Of course, the mouse started to nibble and scatter around the goods. When a nun noticed the disaster, she turned pale afraid of being scolded by the Mother Superior and she didn't know what to do. Lost in confusion, she heard a voice who suggested she set everything on fire and slowly mix the ingredients. The voice was of the devil, who had taken the shape of a black cat and talked to the nun with a persuasive voice. The poor woman, used to obey, began to do what he said until she realized that the cat had never talked before. When she guessed it was actually the devil, she threw the boiling pot at the cat. The cat went away whimpering. In another version, the story instead says the cat turned back into the Devil before vanishing in a cloud of sulphur. Have you ever heard that the Devil was scared of fire?
Anyway, the trembling nun, between a sign of the cross and another, called the Mother Superior for help who tasted the remains in the pot. She was so fascinated by the taste of it that she actually ordered the sister to recreate the recipe. She was unable to do so, otherwise it would have made the convent famous. The poor nun spent the rest of her life trying to recreate the recipe, at least according to the legend!

Today, you can find many panforte recipes in Siena. The sweet is sold within beautiful and coloured boxes: you can choose among different varieties, from traditional to a chocolate-flavored version! Each recipe is jealously kept and passed down by the main shops in town, such as Sapori, Neri and so on. While strolling around the city, pay attention to the pharmacies, you will notice that some of them have the same name as these brands. It testifies to panforte's roots in the ancient world of spices.
A bonus: Pan co'santi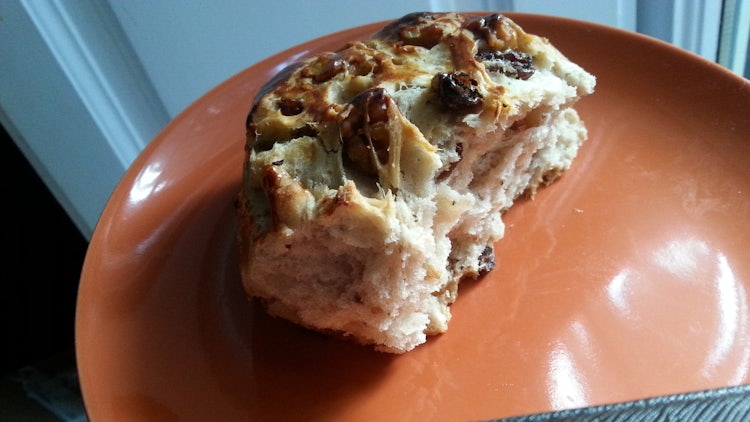 Another Sienese specialty is "pan co' santi" which is made in Siena and surroundings, and even in some areas of Maremma. It is a fall specialty, rich in walnuts, raisins and black pepper especially prepared for the 1st of November, All Saint's Day.
Today, many bakeries start offering it at the end of August in order to prolong the pleasure of enjoying this sweet bread. It is an autumnal specialty so make sure to taste some if you're in Siena in this season.
It is also called "pan dei santi", bread of the saints, or "pan dei morti", bread of the dead, given its tie to the holiday and to the fact that it is made with lots of walnuts and raisins, both referred to as "santi". Some might even add hazelnuts or toasted almonds to enrich the flavor, but then it is no longer the original version.
This bread is eaten cold, since it is even better the day after! It pairs perfectly with vinsanto or a young wine just coming out from the cellar.
Have you vsiited Siena and enjoyed some of these sweets? Which was your favorite? Share in the comments below :)