Exhibition has been extended until April 8th, 2018
Lorenzetti who?
Since living in Tuscany, I have heard the name of this artist, but have you? I'll be honest and admit that even then the only work of his that came to mind is in Siena's Palazzo Pubblico, in what is the city's Civic Museum within town hall.
His superb fresco cycle of "Good and Bad Government" left me in awe the first time I saw it (make sure you go to the Museo Civico to see it! It is one of the top must sees in Siena). You'll be astounded at what man in the Middle Ages already understood of tyranny, civil government and community by sitting down and considering each part and then the whole - but you really need to see it in person!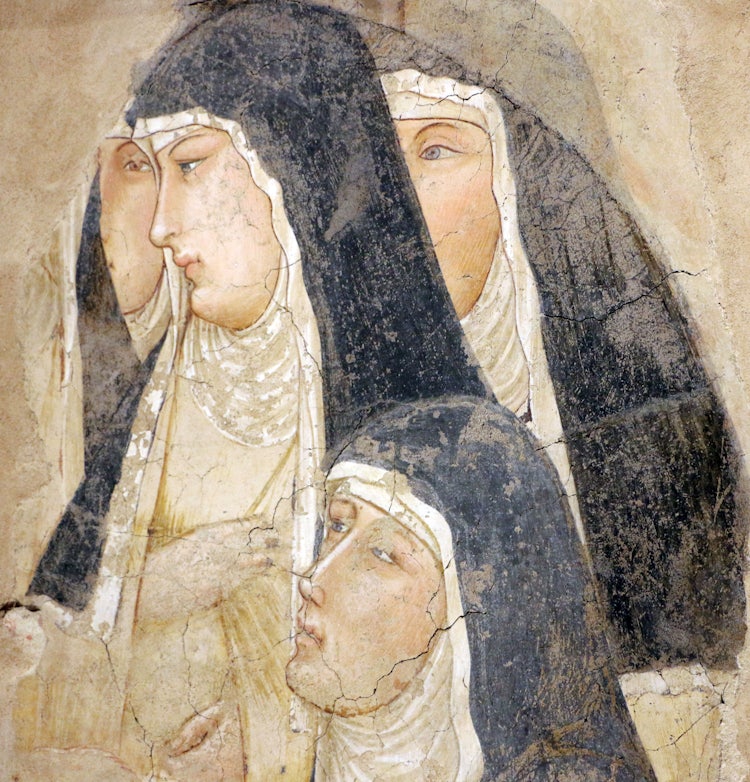 It was thus that I have eagerly awaited this fall's opening in Siena's Santa Maria della Scala of the exhibition dedicated to this 14th artist, considered by many to be one of the greatest European painters. He was at the forefront of many artistic traditions that were made more famous by later artists that actually were drawing inspiration from Lorenzetti's work. Considering all this, it is an exhibit you must visit while in Tuscany this fall/winter!
The exhibit, organized with the support and funding of the President of the Republic of Italy, the city of Siena, the Tuscan Region and Italian Ministry of Cultural Activities and Tourism, has already been labeled as one of the most important taking place in Italy this year. With a considerable amount of works loaned from abroad and nationwide - including from the Louvre, the National Gallery and the Gallerie degli Uffizi - the exhibition sets out to illustrate Lorenzetti's intense artistic career, particularly the influence he has in renewing the very concept of the altarpiece as a genre. He was a great painter of religious stories but also a storyteller and narrator that looked beyond the story to rediscover and share the landscapes and views of his surrounding world.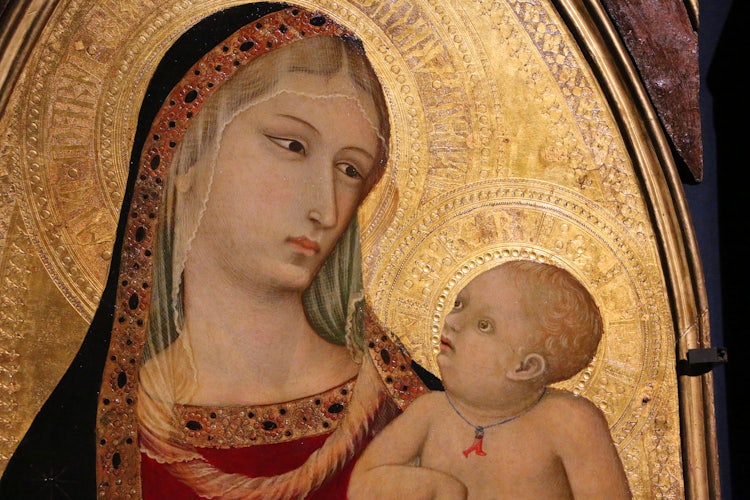 The majority of Lorenzetti's work was created in Siena, for Siena, either private patrons or the city's churches in the 14th century. Incredibly, many of his fresco cycles were extremely famous in their day (considered so when people far away had heard about them) but have unfortunately also been practically destroyed. This is the case for those in the chapter house and cloister of the convent of San Francesco and in the St. Augustus church, both in Siena, and the cycle of frescoes from the chapel of Montesiepi in San Galgano. All of the surviving fragments from the two churches have been restored in a previous event held in 2015 called "Inside Restoration" when Siena was Capital of Culture while the San Galgano frescoes have been removed and restored especially for the exhibit (you'll find them inside Santa Maria della Scala).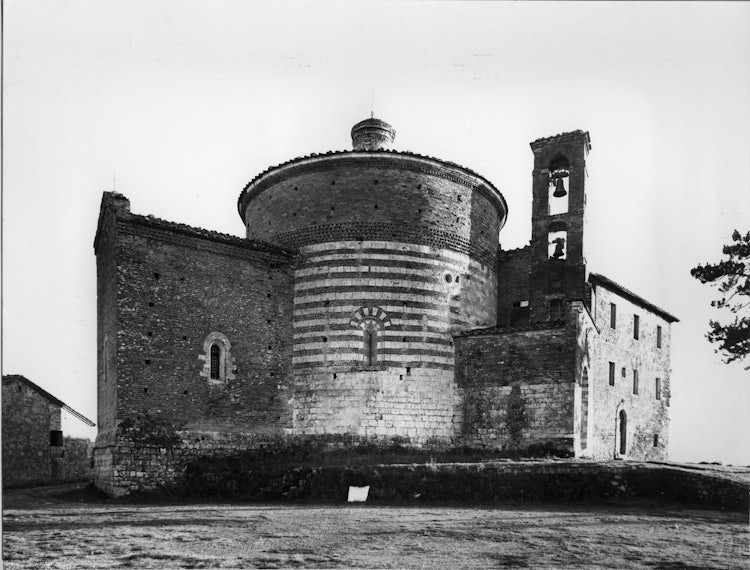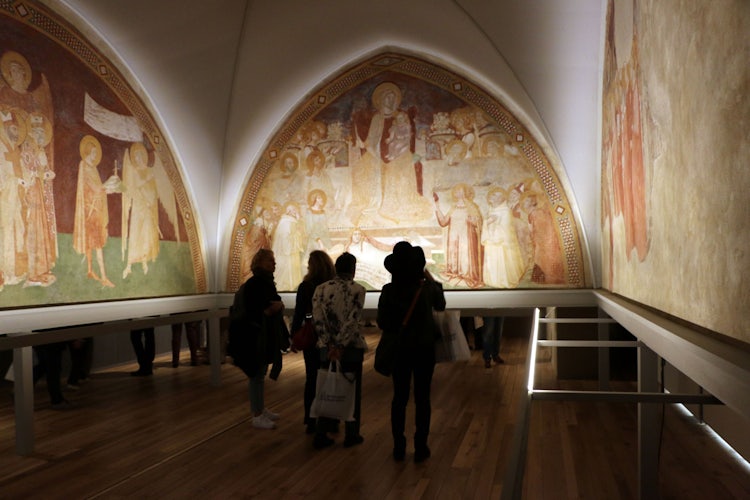 While I visited the main exhibit as a preview to the opening of the exhibit on October 22, I plan to return to revisit the Allegory of Good and Bad Government in the Palazzo Pubblico and visit the churches soon. What I saw at the exhibit is wonderful work, seen up close, which allows us visitors to imagine the importance, skill and creative genius of this artist for his time. Consider that the frescoes in San Galgano were considered "so far removed" from the religious iconography of the time that the chapel's patrons demanded substantial changes be made shortly after they were completed. This iconography through the centuries has actually become the norm, the tradition of what is expected in religious paintings.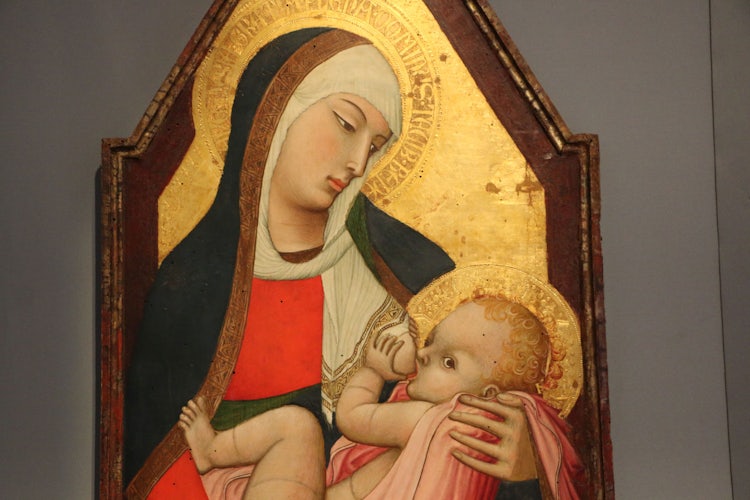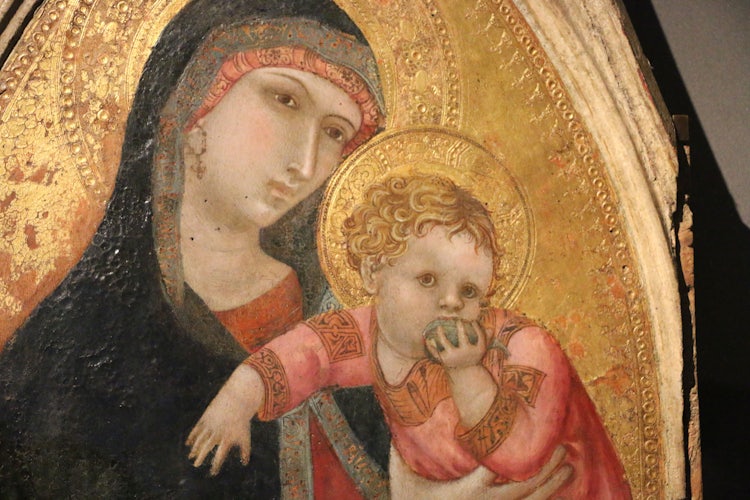 I particularly enjoyed seeing the various Madonna with Child's spread out through the exhibit and his career. Lorenzetti not only created the standard altarpiece of the Madonna but transmits the special bond between mother and child that goes beyond faith. Witness the caress between mother and child in one, the adoring fazes in another, the child that eats a fruit in another. These types of messages through his style certainly would make all women admiring the painting feel a connection as a human as well to the adoration of the Madonna.
Plan Your Visit
To aid your discovery and exploration of Lorenzetti's work, you can rent out an audio guide to take along your visit (available in 5 languages), as well as stop and watch the videos you find along the way. Very worthwhile would be to actually join a guided visit, you can find times and book by emailing ambrogiolorenzettisms@operalaboratori.com.
During the three months of the exhibit, combo tickets will be available to visit the main exhibit along with the Museo Civico in Palazzo Pubblico while you can use your exhibit ticket to receive discounts on visits to the Pinacoteca Nazionale in Siena or to other museums across the Siena countryside: from the Civic Museums in San Gimignano to the ones in Montepulciano and Montalcino.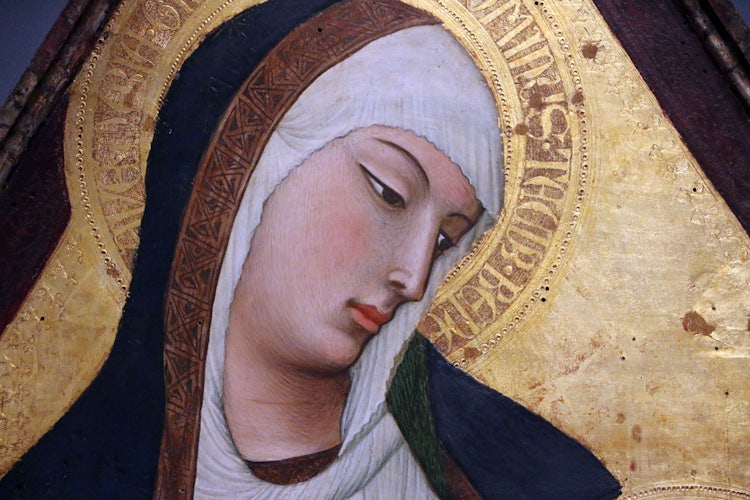 In particular, make sure to make your way to the churches of San Francesco and Sant'Agostino in Siena during this time (entry is free) to see the frescoes that have been restored over the last 2 years and admire them in their original locations! Times for opening are listed below.
The Pinacoteca Nazionale di Siena is also currently devising a series of collateral events and planning to devote a number of rooms to paintings and other works by Ambrogio Lorenzetti's contemporaries, while the Archivio di Stato is planning a documentary section devoted to, or built around, the figure of Ambrogio Lorenzetti himself.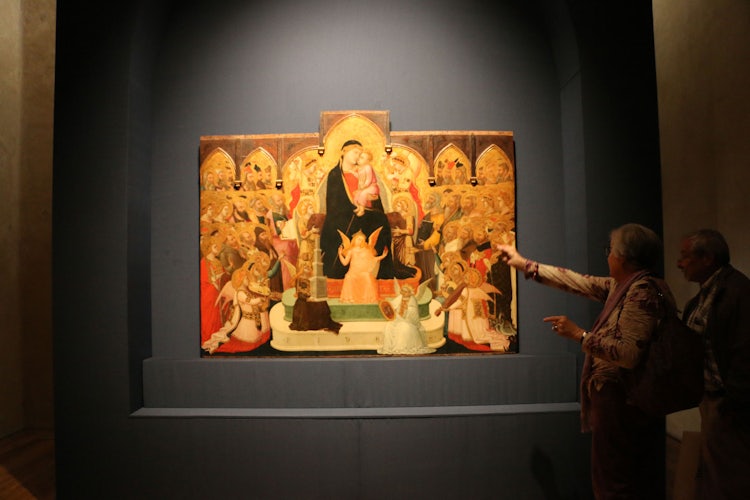 In Siena with kids? Take them along to explore Lorenzetti's work
If you're in Siena with your family, make a note of the special weekend workshops planned for kids and their parents. Every weekend during the exhibit, there are workshops for kids over 6 and special "baby" workshops for kids 4-5 years old. From days dedicated to a general "Discovering Ambrogio" workshop to exploring the history hidden behind the subjects depicted in the frescoes to the fashion of the times, studying the clothing and characters within the paintings. To book these workshops, you need to email bambimus@comune.siena.it at least by 1pm of the day prior to the workshop day. Check out full details of the workshops on this separate post.
Ready to discover Ambrogio Lorenzetti? Here are all the things you need to know before you get to Siena!
What
Ambrogio Lorenzetti
Where
In Siena, at the Santa Maria della Scala complex (in front of the Duomo), Basilica of San Francesco, Sant'Agostino Church, Palazzo Pubblico (Piazza del Campo)

When
October 22, 2017 - January 21, 2018 (Extended until April 8th, 2018)

Monday/Wednesday/Thursday: 10.00 am to 5.00 pm (no admission after 4.30)
Friday: 10.00 am to 7.00 pm (no admission after 6.30 pm)
Saturday and Sunday 10.00 am to 8.00 pm (no admission after 7.30 pm)
Tuesday: closed
October 30/31 and November 1: 10.00 am to 7.00 pm (no admission after 6.30 pm)
How much
Full price: € 9.00
Concessions: € 7.00 – teenagers aged 12 to 18 – seniors over 65 – students – members of the Armed Forces – Toscana Trenitalia season ticket holders or holders of one-way tickets to Siena, FS group employees – categories with special agreements; Free: children under 12 – disabled visitors' carers – journalists – tour group leaders
Groups (min. 15 people): € 5.00 per person
SMS full price + Exhibition € 14.00
SMS concession + Exhibition € 12.00
Museo Civico + Exhibition € 14.00
SMS + Museo Civico + Exhibition € 20.00
Exhibition + Acropoli € 25.00
Exhibition + Acropoli LOW SEASON € 20.00 (November 1 – December 24 / January 7 – February 15)
Exhibition + Acropoli Plus € 30.00
Exhibition + Acropoli Plus LOW SEASON (November 1 – December 24 / January 7 – February 15) € 25.00
Educational Kids/Family Workshops € 7.00
Special Trenitalia "2for1" (for holders of Frecce tickets to Florence and for Cartafreccia holders)
Special "2for1" Unicoop Firenze members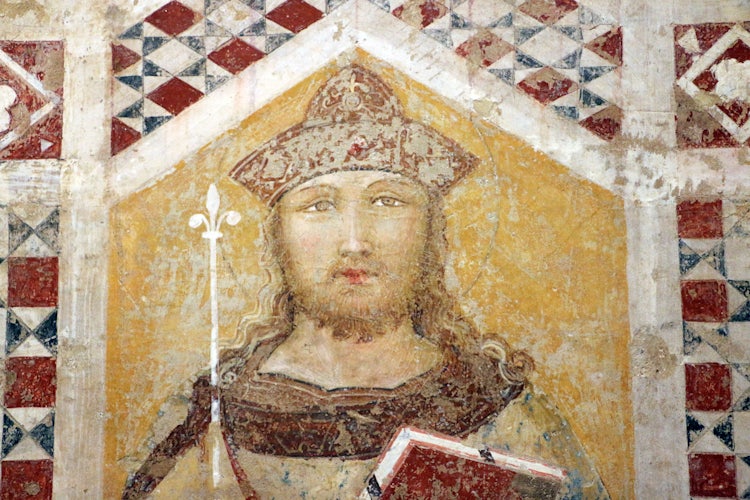 To complete your Lorenzetti experience in Siena during this period, don't miss the frescoes restored for the occasion in the Basilica of San Francesco and in the Church of Sant'Agostino. These will of course remain open beyond the exhibit.
Admission is free of charge, these are their hours:
Basilica of San Francesco, Piazza S. Francesco
Ambrogio Lorenzetti, detached fresco, The Martyrdom of Six Franciscan Friars
Ambrogio Lorenzetti, detached fresco, St. Louis of Toulouse Makes His Solemn Profession
Pietro Lorenzetti, detached fresco, Cruxificion
Open to visitors on Friday, Saturday and Sunday and on 1 January 2018
Opening hours: 7.30 am – 12.00 noon; 3.30 pm – 7.00 pm
Church of Sant'Agostino, Prato S. Agostino
Ambrogio Lorenzetti, fresco, Maestà
Admission is free of charge.
Open to visitors on Friday, Saturday and Sunday
Opening hours: 11.00 am – 5.00 pm
For more details, contact the Santa Maria della Scala museum at infoscala@comune.siena.it. To book, you can email to ambrogiolorenzettisms@operalaboratori.com or call +39 0577/286300 (Monday-Friday 8.30-17.00 local time).
Remember you can roam around Tuscany as well and get discounts to other museums in the area once you've visited the exhibit. Check out the official site here, where you can also download the list of times and other museums in a handy PDF file here.
Want to preview the exhibit's halls right now from wherever you might be? Here's the official video to give you a glimpse of the halls and works. Towards the end of the video you can also hear a brief interview (in Italian) with director of Santa Maria della Scala Daniele Pitteri.