Classic Tuscany at Villa Dianella
The perfect way to enjoy the best of Tuscany is to go straight to the source: a Tuscan estate that offers great views, a gorgeous villa B&B and spectacular wine!
You can enjoy wine & food tastings as well as a winery tour - and even a cooking class - while enjoying the best of Tuscan hospitality. You can accomplish all of this by staying at Villa Dianella!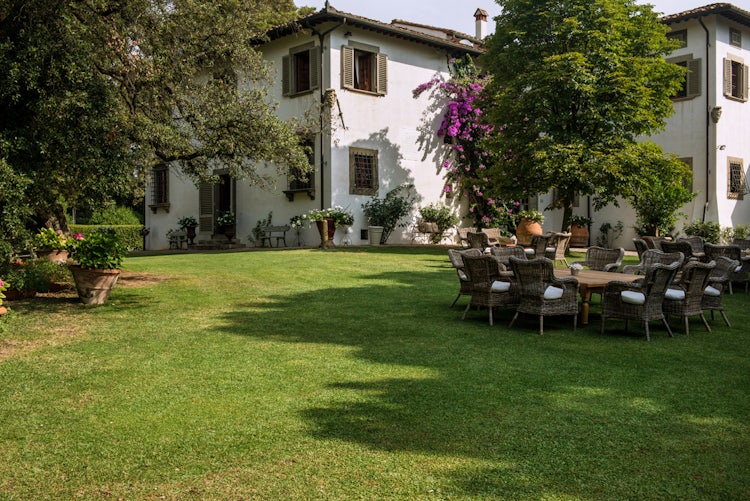 I met up with Veronica and Francesco, the owners who take on the daily challenge of the wine estate outside of Vinci, on a sunny summer day. It was warm but as I stepped out of the car, I highly appreciated the villa's position at the top of a hill as a strong breeze could be felt. It was perfect. I walked into the reception area and was immediately offered a glass of cold iced tea, which I quickly accepted. This would be hot tea and cookies in a different season, I was told, as Veronica arrived.
Book Direct with Villa Dianella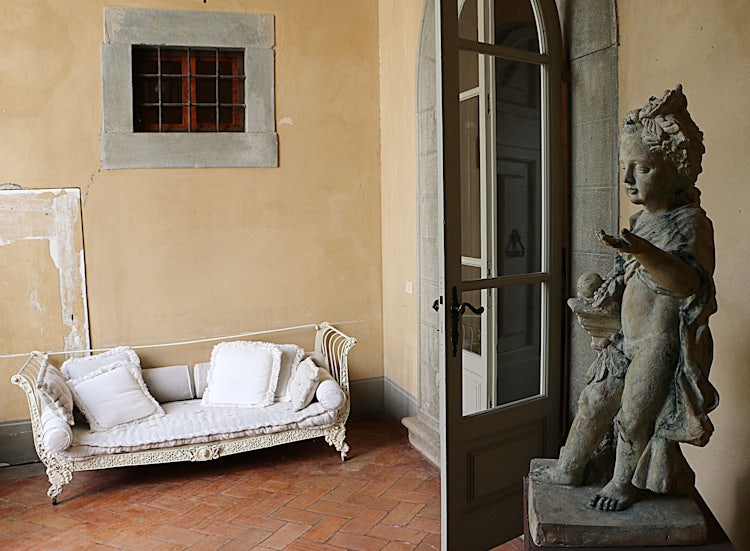 Veronica is a very active person and you can tell she loves what she's doing. She emits enthusiasm and energy as we set off to explore the villa and grounds. She proudly shows off the work carried out over the last 10 to 15 years on the estate, from the start of the B&B about 10 years ago to the full replanting of all of the vineyards in 2000 which have already led to award recognition for their wines the last two years, as well as for wines made before reknown enologist Franco Bernabei came on board in 2014.
The wine cellars were fully renovated just 8 years ago and these are gorgeous!! The cement cellars used to ferment wine decades ago were no longer in use; it was Bernabei that recommended they be restored and used. Every year since then something new has been updated or added to the winery's offerings. While the main focus is wines (they make two Chianti DOCG wines and 3 red blends, a white, a rosé and a sweet wine), the estate is also surrounded by hundreds of olive trees that produce the estate's fine extra virgin olive oil.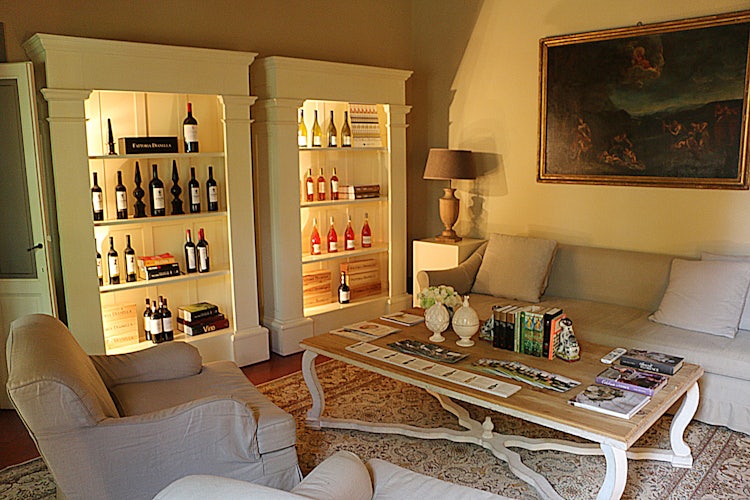 Experience life in a Tuscan villa
The villa dates back to the end of the 16th century. It was used as a hunting lodge by the Medici family from Florence. It was later the home of 18th century Italian poet Renato Fucini who mentions the villa in several of his poems. The villa came into Veronica's family in the early 20th century and this is where Veronica grew up in. I had the chance to meet her father as we were walking around and who proudly talked of his daughter and the work she has put into the villa.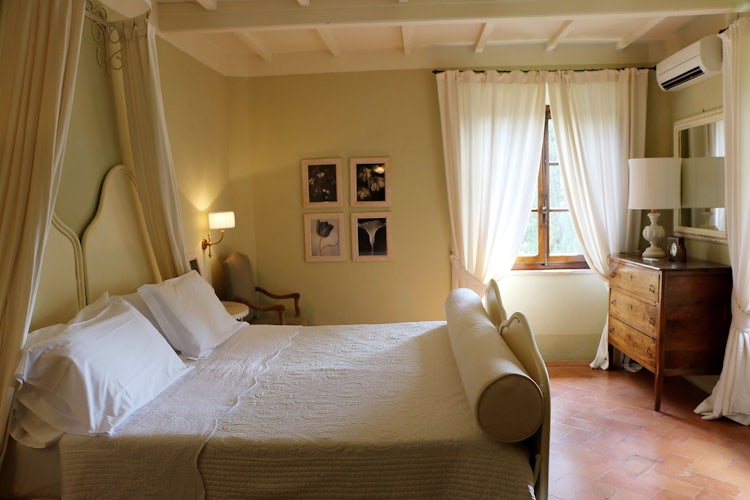 A Review of Villa Dianella
We loved: the spacious rooms, the garden and terrace with gorgeous views of vineyards, the cellars and hospitality
Ideal for: couples, wine lovers and anyone seeking the perfect base from which to explore Tuscany
The elegant lawns and cushioned chairs in the garden and terrace invite you to sit down and admire the gorgeous views of the vineyards and olive trees that surround the villa. I can perfectly imagine sitting out here and enjoying a book and a glass of wine every evening as the sun sets. I was actually at Villa Dianella for a friend's wedding several years ago and can only say that the villa is magical even without such a special occasion being celebrated on its lawns. It is obviously the perfect setting for a Tuscan wedding!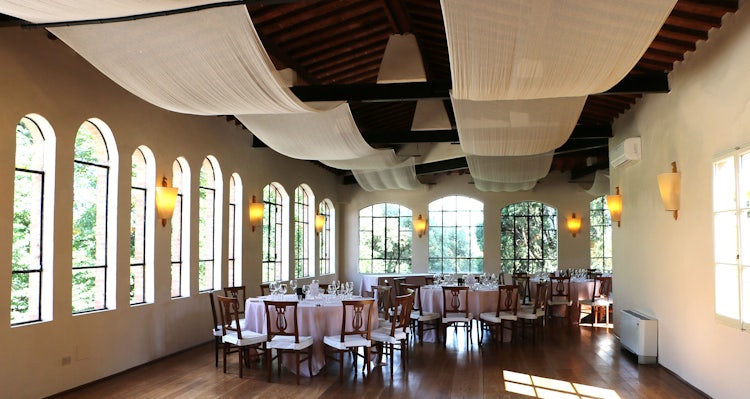 Inside, the villa has just 3 bedrooms for guests, providing a very intimate stay for those that choose Villa Dianella as their base in Tuscany (perfect for the couple who chooses to celebrate their wedding here as well). The old stables behind the villa, in disuse for decades, are currently being renovated to enlarge the rooms offered at Dianella. They should be open by fall 2018.
The current rooms are spacious and delightfully furnished in a country style, while the bathrooms are enormous by our modern standards! Cozy and romantic, I would not know which room to choose if I stayed here as all three are very beautiful. The scent of the fresh flowers in each room meets us as I take a peek in; the fresh flowers are something Veronica confides she loves to use to welcome guests to Villa Dianella. She says she wants them to feel at home, and I can certainly feel that is what this B&B transmits: a warm welcome.
While the B&B is small for now, all the services of a hotel are present, from free Wi-Fi to a delicious breakfast served every morning, either directly in-room or in the garden or in the lemon greenhouse which faces the garden. Veronica, and Francesco as he rejoins us, makes sure to add that they, as well as the estate staff, are always on hand to provide any help or information to guests seeking recommendations for local restaurants, places to visit and more.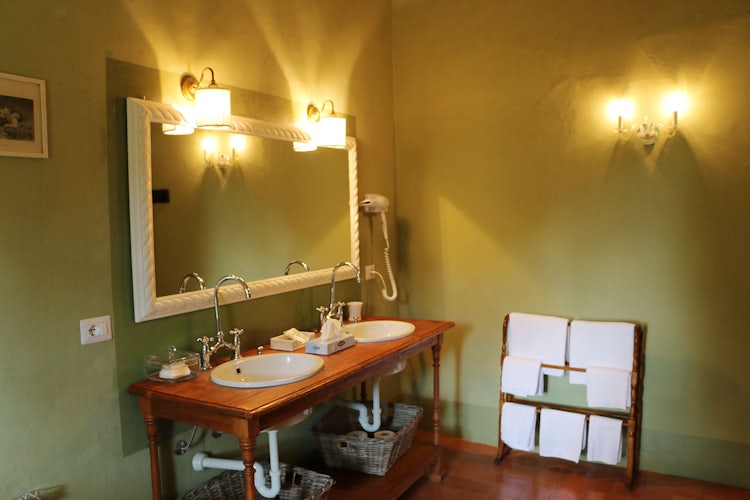 The scent of wine
Villa Dianella at a Glance:
Type: B&B (luxury villa De Charme)
Location: Vinci is 7 km away (15 minutes)
Distance: Florence (50 min) & Pisa (60 Min)
Transport: a car is necessary
Rooms: 3
Sleeps: 6
Type of board: Breakfast, with also wine tastings, cellar visits and cooking lessons on offer
The interior of the villa is cool in the summer day, inviting us to keep going down to explore the cellars. They are simply spectacular! Wine tastings, dinners and other events are often held down here. The magical atmosphere of being in the cellars with the open spaces set up with couches invite one to sit and relax and enjoy the scent of fermenting grapes in the air. These open spaces are full of activity during the wine period in fall and early winter.
A visit to the cellars includes the rooms where the wine-making process begins in modern stainless steel vats where the grapes are protected during their first, short fermentation. You'll also see the wood barriques or barrels where their Chianti wines are aging, while the recently renovated cement cellars are pretty neat, I don't believe I had ever seen the like before!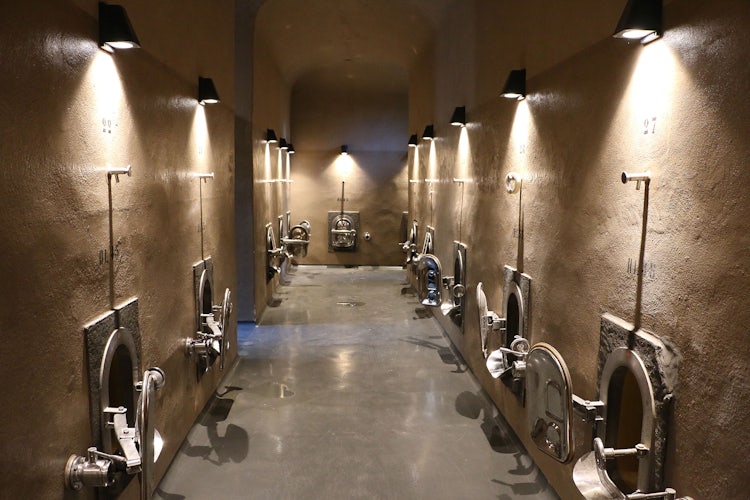 Along the route in between, there are tools from the past used in the wine making process: each has its own story and use, from filtering wine to corking and labeling the bottles. A small museum to the art of wine making in Tuscany, your guide will let you know what each was for.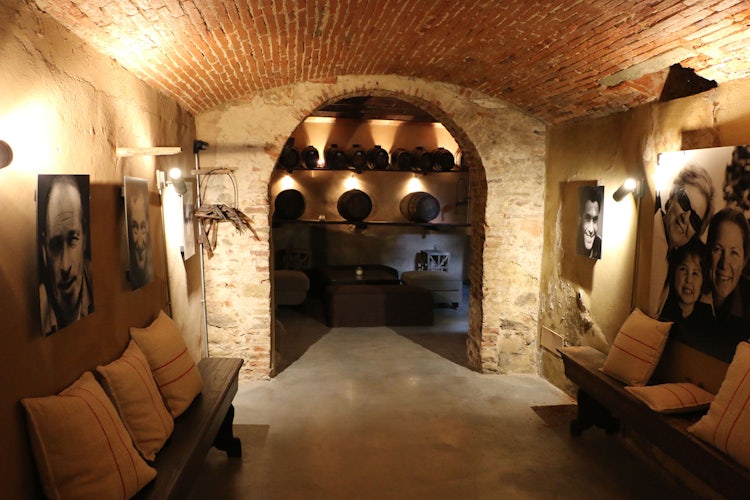 At the end of the visit, you'll enjoy tasting some of the estate's wines! The winery tour and wine tasting is open to everyone, not just for the guests. To better serve each and every single group that shows up, Veronica says she prefers you call ahead - even that same morning - as to ensure you can have individual attention and not have several groups overlap at the same time. A tasting can be of 2 or 4 wines and a plate of local salami, cheeses and bruschetta to go along with your wines ;-). Ask for details on the various packages on offer when booking.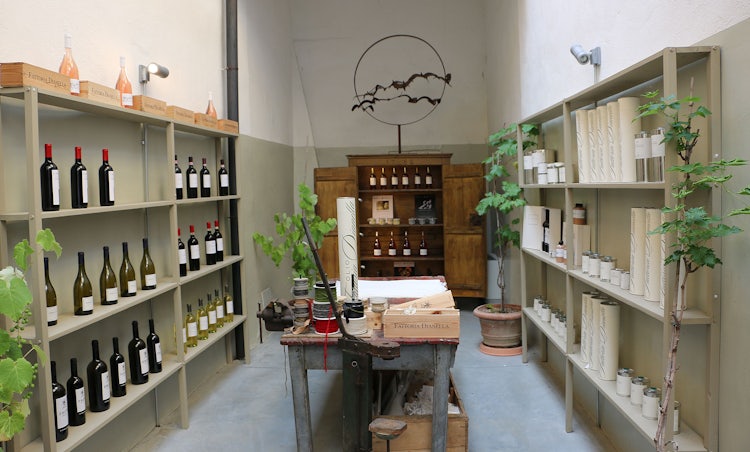 Guests will be able to enjoy the estate's latest products directly in their rooms: soap, shampoo and shower gel made with the estate's olive oil and wine extracts. You can buy these along with their wines in the cellar shop, with the addition of body scrubs made with wine must and essential oils!
A cooking class to create & enjoy a Tuscan meal back home
Guests and anyone staying in the area can also take advantage of the special Tuscan cooking classes organized in the Villa's kitchen. Whether it is for a few people or a larger group, the courses will teach you to prepare a full Tuscan meal from appetizers to dessert - and then you get to enjoy it for lunch or dinner!
The courses are kept very informal so that all guests can enjoy and have fun preparing their Tuscan meal, along with the culture and history of each dish. The classes last about 3 hours and are offered in English and Italian, depending on the group's request. Cost is 150 euro per person.
Perfect for Exploring Tuscany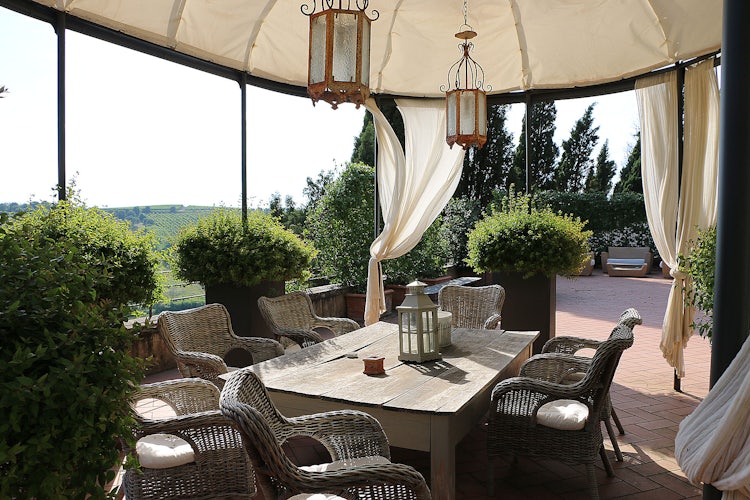 The villa is located in Vinci territory, the land of Leonardo da Vinci! We are sure the views and landscape here will inspire you just as they did the Master from the Renaissance. Villa Dianella is quite close to the outskirts of Empoli, making it easy to reach using the Fi-Pi-Li expressway that connects Florence to Pisa and the coast. It is thus in a perfectly central location to use as a base for visiting Tuscany: Florence, Pisa and Lucca are all just about 30 minutes away each (in different directions), the beach is 40 minutes and San Gimignano is 45 minutes away.
I came away from Villa Dianella that day wishing I could stay and enjoy a few days there... and with a jar of white must scrub in hand that I've already enjoyed and is simply divine!! I recommend it as a "must" for yourself and as gifts for your loved ones back home ;-). Whether you stay here or just stop for a visit to the cellars and to taste the estate's wines, you will surely leave already planning on your return.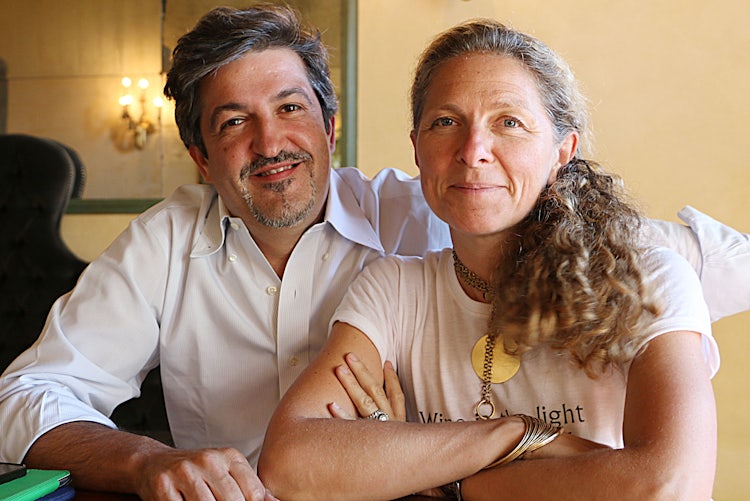 This is a Sponsored Article but reflects the honest opinion and experience of the author. More details »