Recharge, explore and... repeat!
What's your perfect vacation in Tuscany look like? If it includes a spacious villa with a wide expanse of gardens around it, a large swimming pool and cool summer breezes as you soak in the Tuscan sun, then the holiday apartments at Osservatorio di Montignoso will be perfect for you and your family!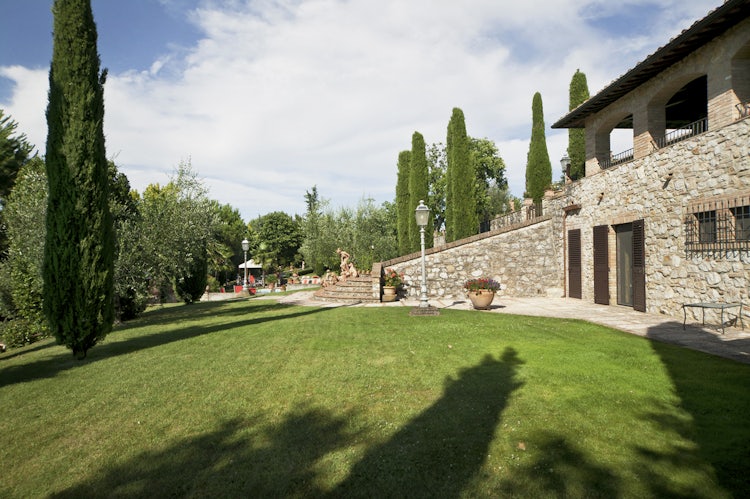 The stone villa home is located in the outskirts of Gambassi Terme, at the top of the tallest hill between Volterra and San Gimignano receiving cool sea breezes straight from the coast (30km due west). The location is ideal for visiting all of the main sights in Tuscany, being centrally located with San Gimignano, Volterra, Siena, Florence, Chianti and Pisa all easy to reach, perfect for day trips. Fields of grain and vineyards cover the hills as you make your way here, with many wooded areas covering the top of this hill sitting at 500 meters above sea level. The elevation keeps the villa cool in warm temperatures, ideal for enjoying a summer in Tuscany exploring the area. This same elevation makes it quite cold in the winter, so the villa is closed from November through April.
Book Direct with Osservatorio di Montignoso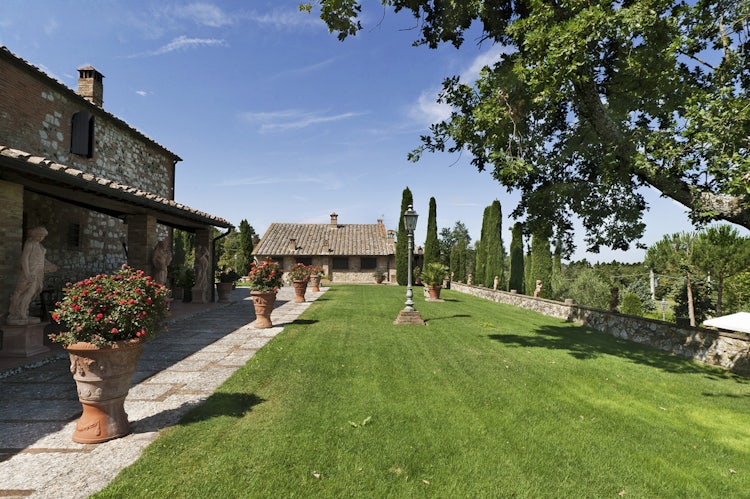 Peace and quiet
This is the place you go to recharge your body and spirit. As I made my way here, I gradually left the most trafficked roads and there were few cars along the way. I arrived and it was quiet. The villa is surrounded by gorgeous gardens, with a terrace made for enjoying the Tuscan sun and a spacious patio right by the pool, perfect for cooling down in the water and then, relaxing under the sun soaking in the silence of the countryside and the coastal breezes.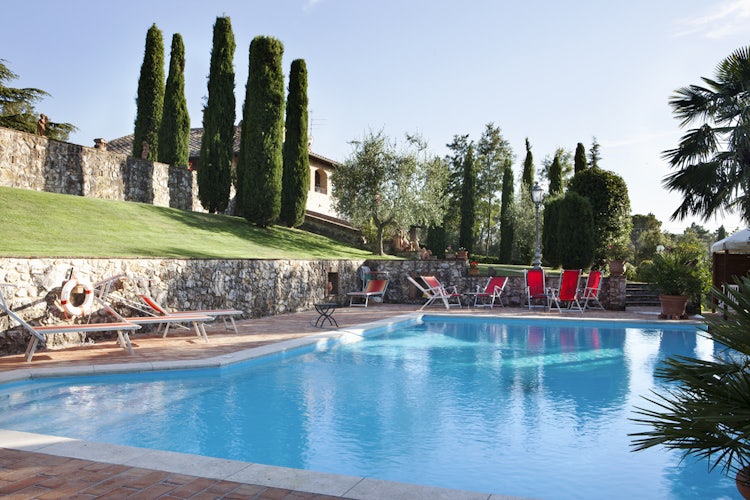 A Review of Osservatorio di Montignoso
We loved: the quiet, impeccable and spacious lawns, the pool and the many sitting areas across the property
Ideal for: couples and families, perfect for exploring all of Tuscany given its central location
I met with Neva and Giovanni, the owners of this stupendous property where they offer hospitality in a villa right next to their own home. The couple has lived in the area their whole lives, falling in love with this particular property long ago and restoring it to its former glory. Talented artisans of bricks and mortar were able to return the stone villas and property to a gorgeous retreat, and the doors to this marvelous place opened over 30 years ago.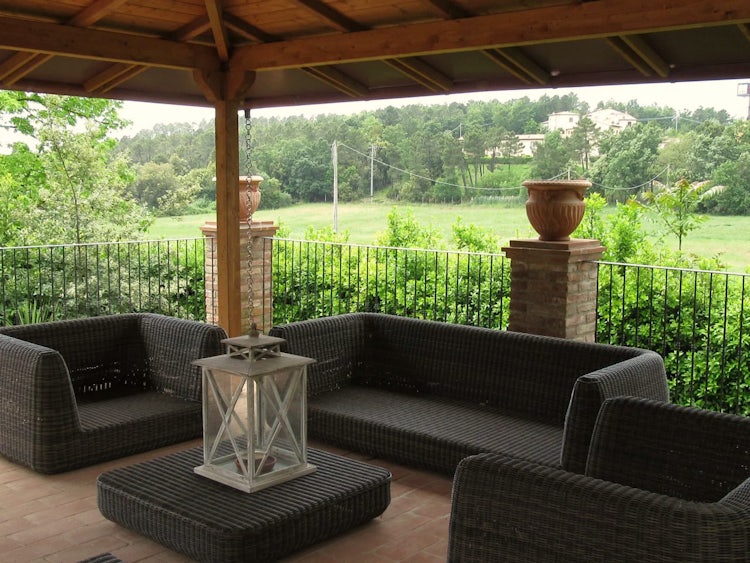 Because they don't speak fluent English, they have always depended on someone else to manage bookings and arrival, so don't be deterred if you don't directly correspond with Neva while planning your vacation here. They live right next door so are available if anything arises but their warm hospitality and kindness will be clear once you arrive. Their policy is to give guests privacy and will be respectful and keep their distance to make all guests feel like they have the place to themselves. It is part of how they choose to welcome and share their gorgeous property with people from across the world.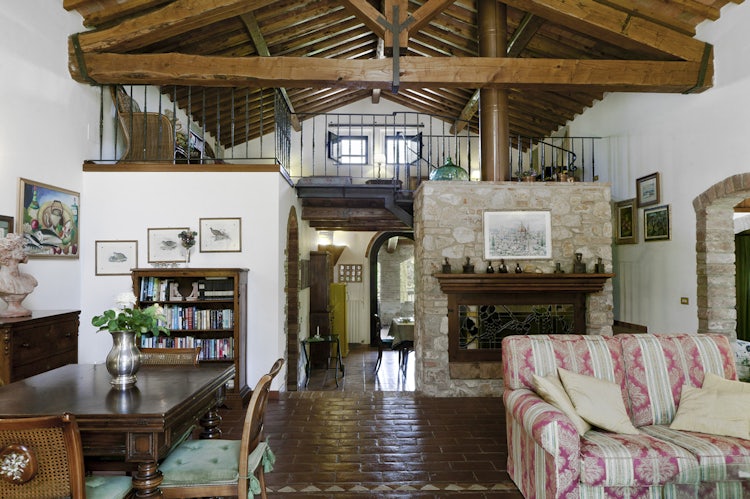 The two villas are surrounded by well-maintained gardens, in spring you'll enjoy the colors of the roses and other flowers in bloom providing color in any direction you look. The holiday villa is divided into 2 spacious apartments, called Orione and Acquario. Each one has three bedrooms and Orione can host up to 6 guests, while Acquario can host up to 5 guests. Sitting on the hill, the villa hides a floor on one side but essentially each apartment has an entire floor. You can rent the two apartments together to have exclusive use of the villa, perfect when 2 families or groups are vacationing together, for a total of 11 guests.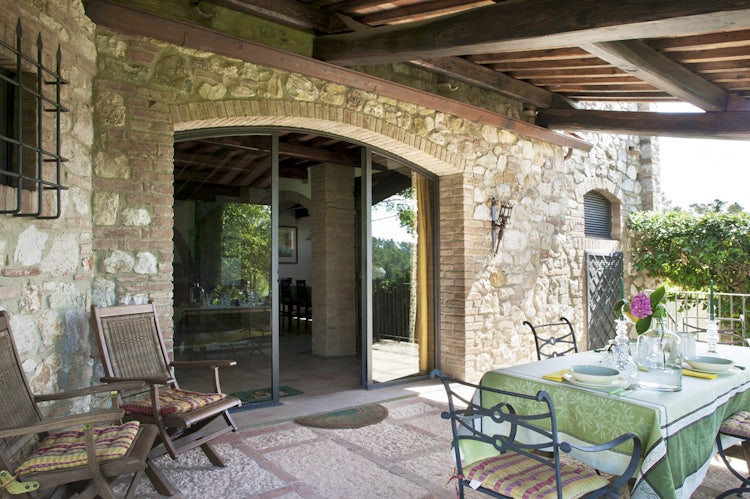 Osservatorio di Montignoso At-a-Glance:
Type: 2 self catering apartments
Location: near Gambassi Terme, 8 km (10 min)
Distance: San Gimignano (18 min), Florence (60km, 70 min), Pisa (65km, 1 hr)
Transport: a car is necessary
Sleeps: 11
Type of board: self-catering, but you can request chef service or cooking class directly in your apartment
On one side of the villa you'll find several patios, several covered, with sitting areas spread out between the villa and the swimming pool area. Each apartment has its own dining area right outside the kitchen or front door. Orione has a marvelous covered loggia with large dining table and outdoor chairs for enjoying sunsets setting over the nearby hills. Acquario, sitting below, also has its own spacious covered patio and wide expanse of lawn right outside the front door, with direct access to the garden from the two double bedrooms.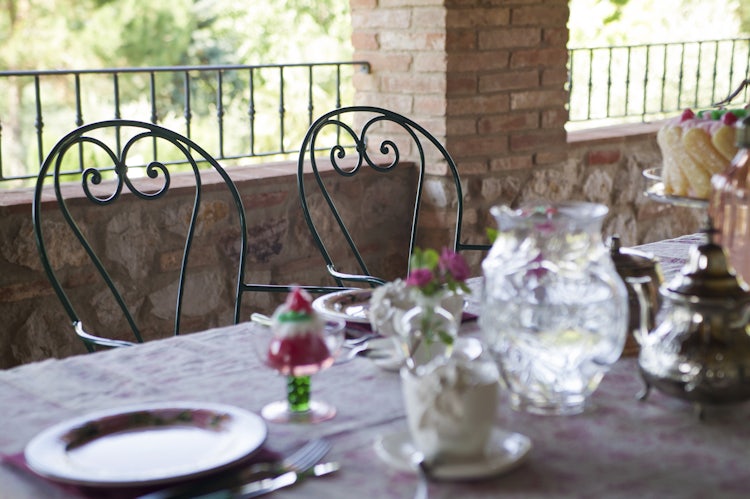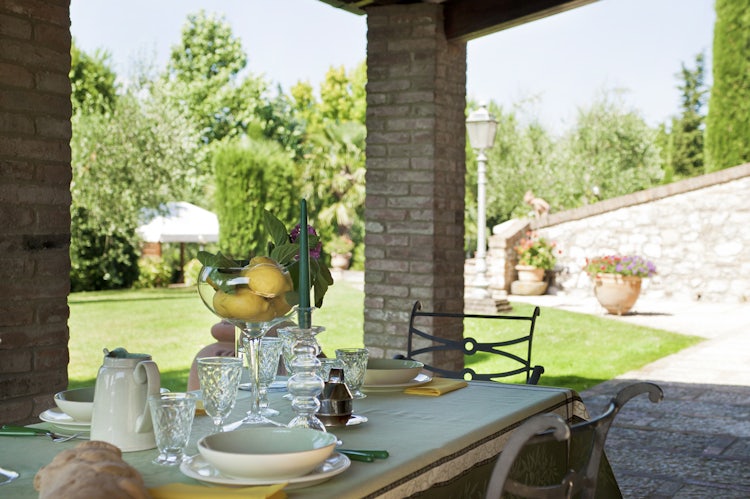 Orione has stunning beam ceilings, a large living room with comfortable sofas and decorated with many pieces of antiques. Bright light enters through the large windows, providing a comfortable areas ideal for relaxing and reading. Two of the bedrooms have their own bathroom, one opening up into the terrace. The mezzanine level has two single beds, which if not used as a bedroom offer an extra area for relaxing. Even when the temperatures outside rise, the stone house remains insulated and cool. You might actually need a light sweater on summer evenings as you sit outside past sunset! The loggia has both a dining table and lounge seating area perfect for enjoying the view over the gardens.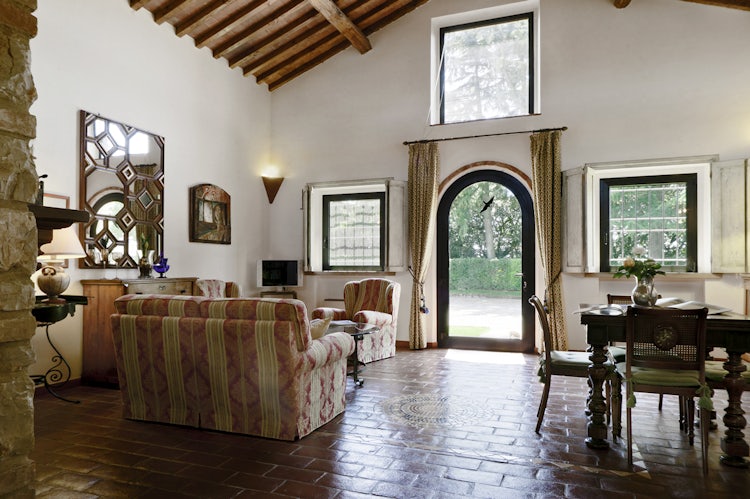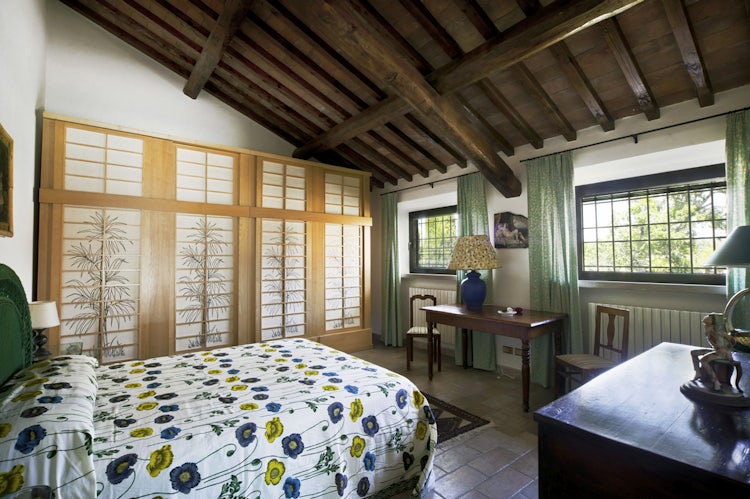 Acquario is located on the lower ground level, accessed through a wide stone staircase. The arched ceiling also boast large wooden beams, the original 18th century front door has been restored and tasteful and well conserved antiques decorate the living area spaces inside. A wide hallway leads to the bedrooms, which includes two double bedrooms with direct access to the gardens and a single bedroom.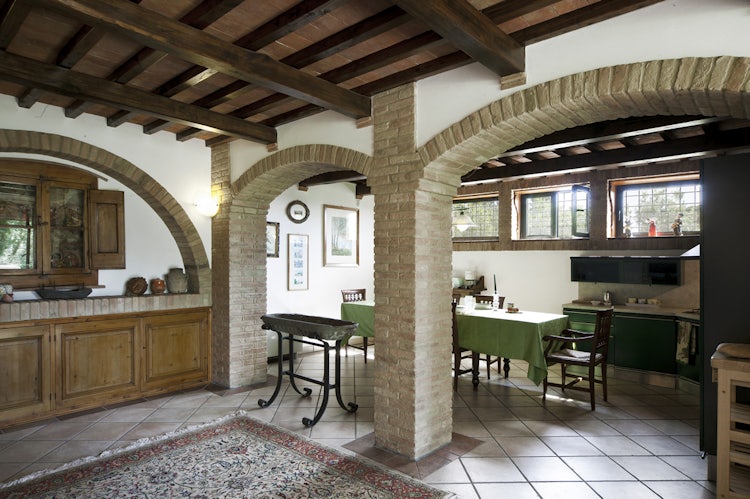 Each apartment has everything you will need to make it easy to enjoy your vacation in Tuscany, including dishwasher and pool towels. Laundry facilities are available to use, but you need to ask Neva who will provide.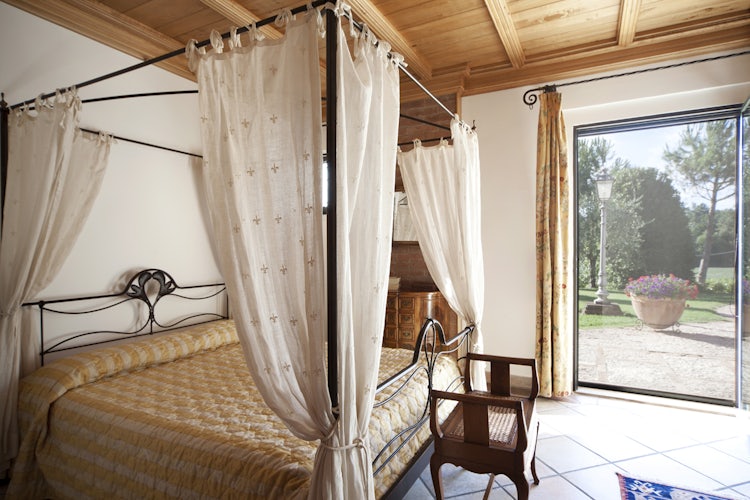 The gardens and swimming pool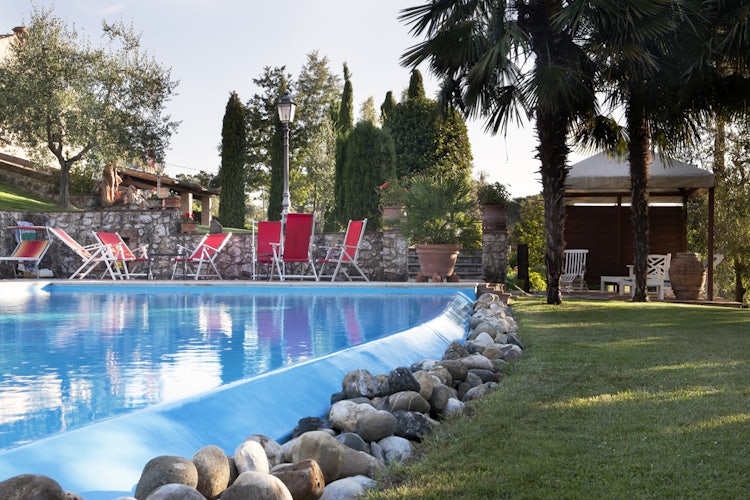 The villa apartments at Osservatorio di Montignoso are the ideal place to stay at if you're planning to fully enjoy your vacation recharging and relaxing. The villa apartments come fully equipped with a full clean kitchen with microwave oven, so that you can plan starting the day outdoors with a simple yet a delicious breakfast, head out for the day and return for a dinner in by using the large BBQ grill near the pool. If you wish to dine out, there are restaurants and pizzerias just 10 to 20 minutes away. Supermarkets are within 15 to 20 minutes away in Gambassi Terme and Castelfiorentino that can provide basics as well as more selection.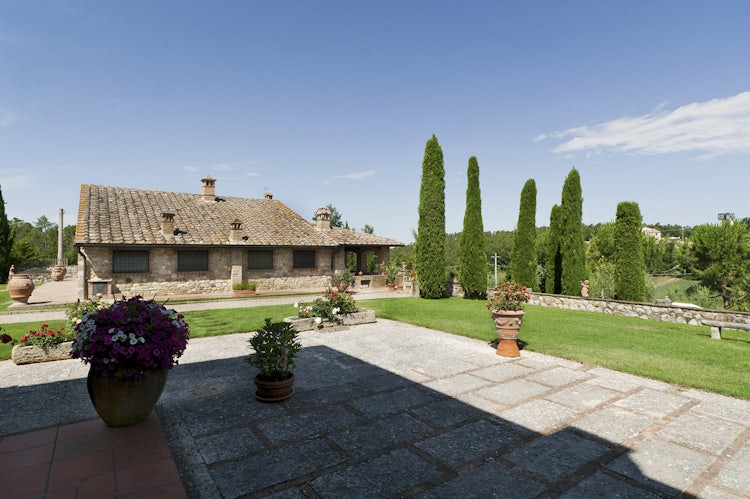 If you also would like a home cooked meal, you can request a meal prepared directly in your kitchen to enjoy during your stay... or a cooking class! That will also end with a meal by the end of the class.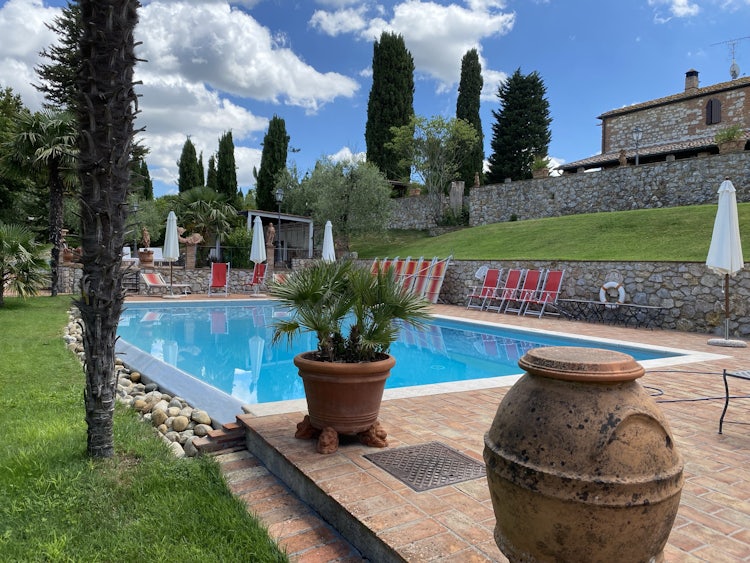 For families, the large gardens and pool are perfect for playing and running around and have something that will appeal to all ages. There are many lounging shaded areas across the gardens, including a covered terrace right by the pool with loungers. You can choose a different area to relax in and enjoy a glass of wine every single day of your stay!
I found the bottom edge of the large swimming pool lovely, as it has the water falling over like an infinity pool with stones along the border. It creates a lovely relaxing waterfall sound so the pool area will be one of your favorite places for relaxing.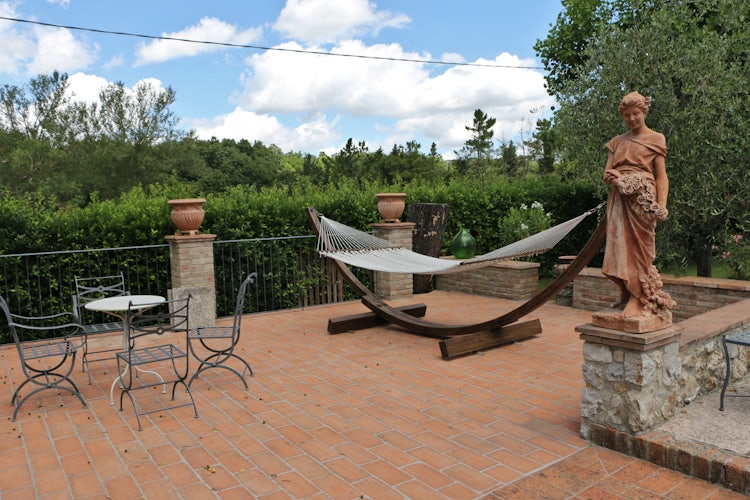 Central location, easy to go everywhere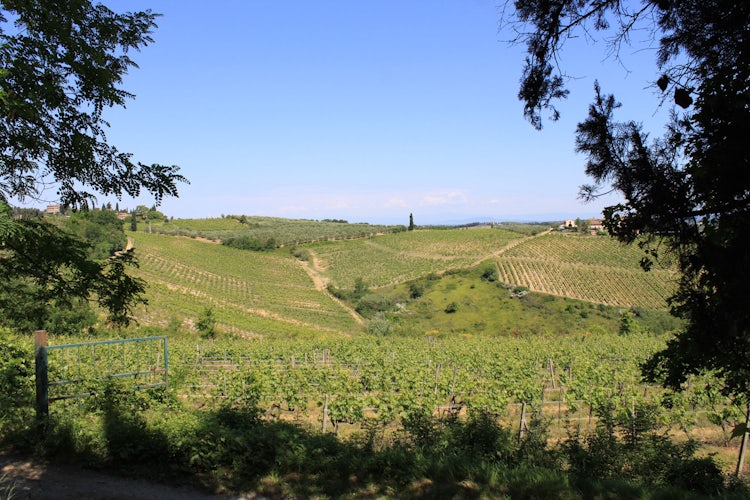 The villa is located in a rural area, with the closest shops and restaurants from 5 to 20 minutes away. A car is essential for staying at the villa and for exploring the area and towns across the region, from Florence to Siena and the wine region of Chianti. The countryside is lovely around the villa, so driving to nearby towns will always be a pleasure as you enjoy the stunning views in all directions.
San Gimignano and Gambassi Terme are the closest towns with shops and restaurants and are about 15 minutes away. San Gimignano will be a favorite, particularly enjoyable in the early mornings and evenings, perfect for dining out.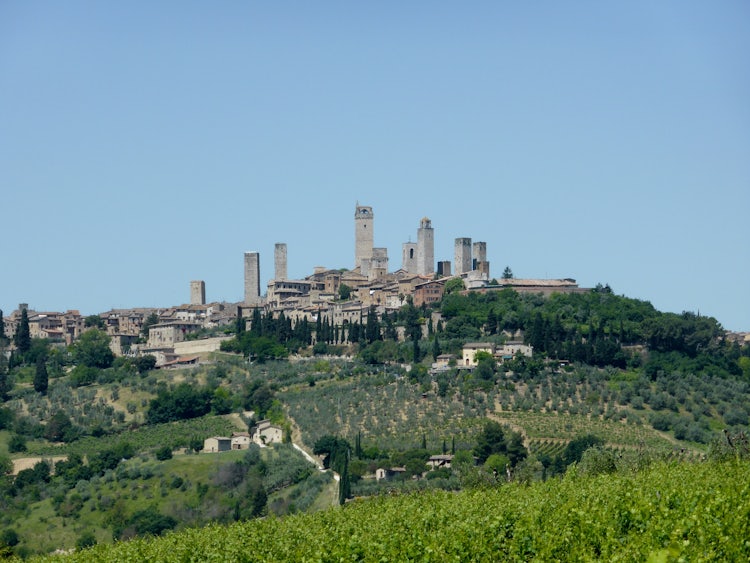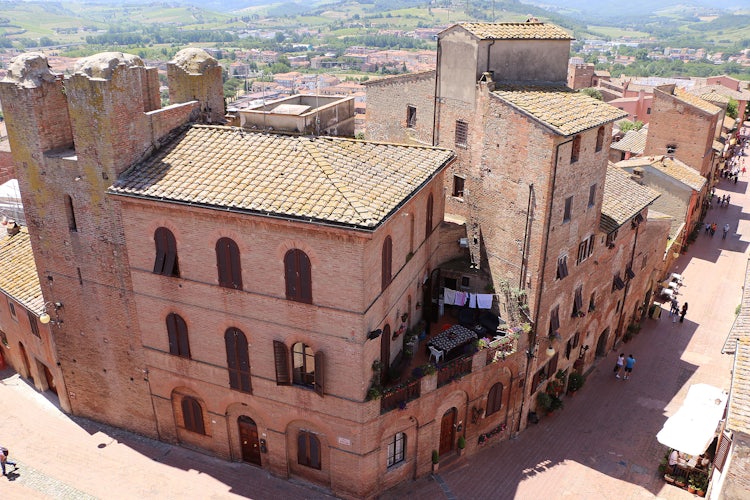 The towns of Volterra, San Miniato and Certaldo are about a 30 minute drive, while the airports at Pisa and Florence are both about an hour and fifteen minute drive. If you love golfing or horseback riding, there are facilities within 20 minutes from the villa. Siena will also be a favorite during your stay, the medieval town has much to offer as well as far as evening dining goes. The coast and beaches at Cecina, for example, are just about an hour's drive. Every day you can choose to head in a different direction and enjoy exploring Tuscany, as well as decide to stay close and enjoy relaxing by the pool or in the gardens.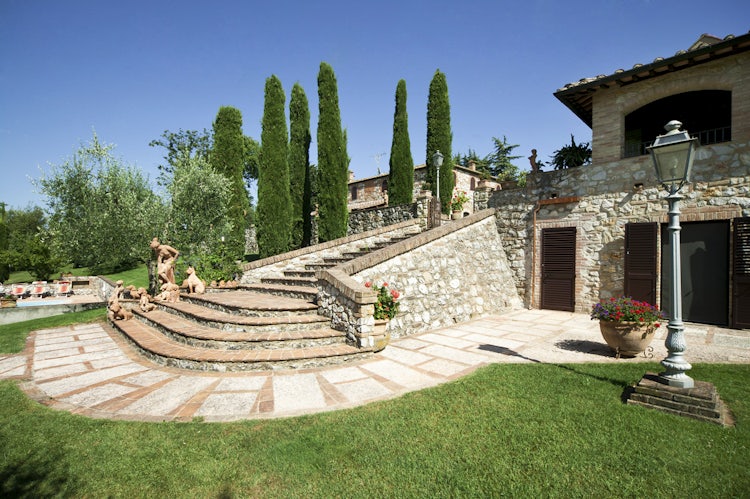 Book Now at Osservatorio di Montignoso
So if you were looking for the perfect place that is both central as well as off-the-beaten path to experience the best of Tuscany, then Osservatorio di Montignoso is the place for you and your family!