The essence of Tuscany while on Holidays
Sometimes it is hard to distinguish one holiday rental from another but the self catering apartments at Romitorio di Serelle are absolutely unforgettable. The typical Tuscan white road that winds through the countryside and opens to an island floating above a wide expanse of vineyards will leave you speechless.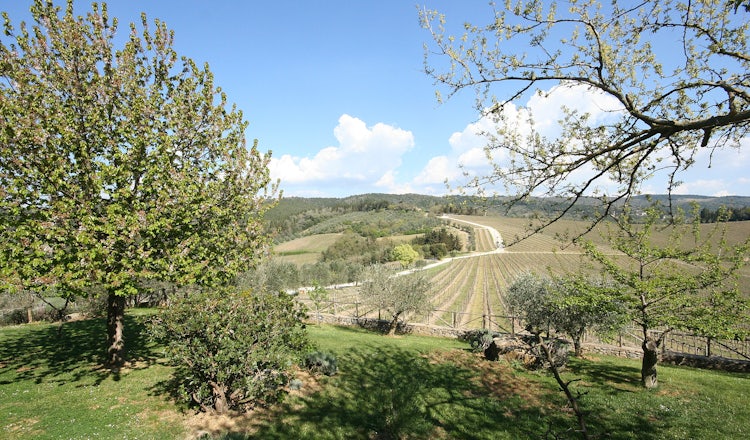 Book Direct with Romitorio di Serelle
Or perhaps, like me, you will be totally pulled in with the friendly welcome that awaits you with Roberto, Lorella and Marco, your hosts, at the helm? Though to be quite honest, I am sure that the sunset happy hour followed by an exquisite meal at the onsite restaurant could also be a large factor.
However, I encourage you to not overthink it too much and just relax in the pleasant scenery, charming decor and good food - because it's your vacation and you deserve to just feel good without any real reason!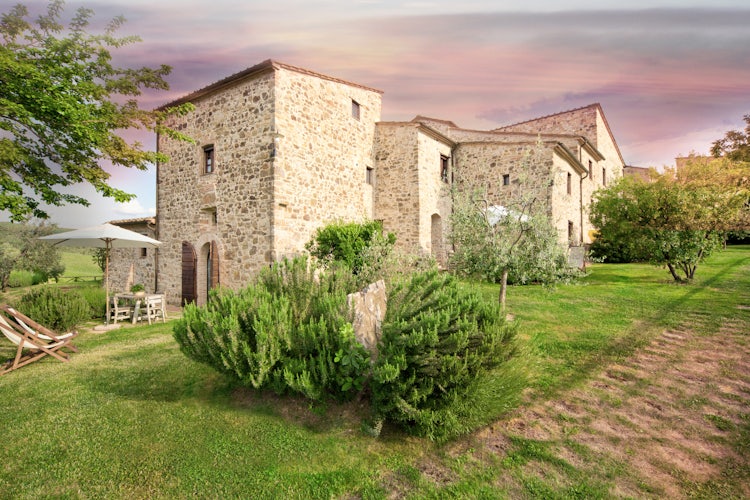 The holiday rental apartments spread throughout the estate will accommodate from 2 to 9 persons, thus offering various solutions for friends and families exploring Tuscany on vacation. After you stay here, literally surrounded by the Ruffino vineyards, tall cypress trees, and the grassy areas shaded by olive, oak and fruit trees, you will hardly need to leave Romitorio di Serelle to say you saw all of Tuscany. Add to the mix their onsite restaurant and inviting common areas and you will understand what it means to truly recharge your batteries while enjoying the best of the area.
De Luxe Accommodations
The 15 apartments, featuring one, two and three bedrooms, are carved out of what was once a hermitage from the Middle Ages. The entire structure can be divided into two parts dating back to the 1100's and to the 1400's. However, today you will find that the interiors reflect comfort and well being with a selection of modern accessories, elegant decor and extra services — with only the architecture to remind you of its past function as a refuge.
While maintaining a high standard of luxury throughout the structure, each of these holiday vacation rentals features a unique personality, preserving the original beauty of the Tuscan architecture. Especially noteworthy are the wood beam ceilings, and worn stone walls. The polished wood furniture, the red terracotta bricks and the mix of antiques and traditional country furniture, lends to the beauty of the setting. The various apartments all have access to the park that around Romitorio di Serelle, some with covered patios, or grassy gardens and some with a wooden gazebo and garden furniture.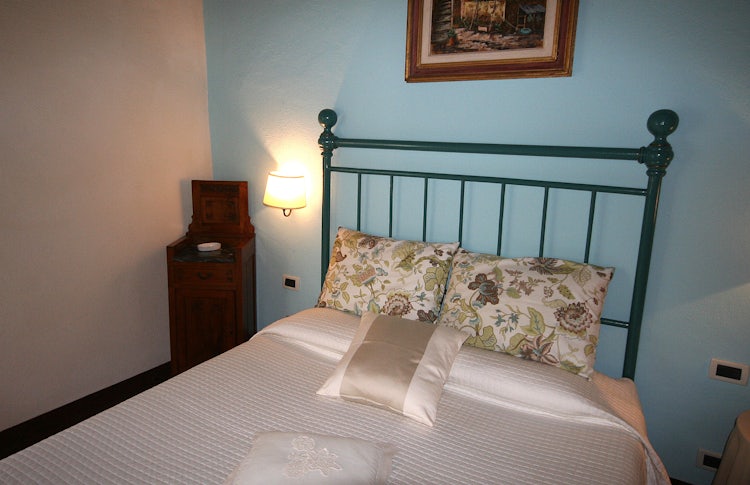 Among the accessories that Romitorio di Serelle includes in all the apartments you will find heating, SAT TV for shows in original language, a telephone, screens on the windows and safe for your valuables. There are some apartments which also include a fireplace. Internet and WiFi are available throughout the property, especially in the common areas where you can choose to relax and browse your emails, photos and update the family on what a lovely time you are having in Tuscany.
The name "Romitorio" comes from an Italian word which means "hermit, solitary person devoting himself to meditation". This little corner is aptly named because it is "a silent and secluded place where you can breathe peace and serenity"
The apartments are fully stocked with all necessary bed, bath and kitchen linens. In the kitchen you will find everything you need to prepare breakfast, lunch and dinner...or if you prefer, just a light snack and leave the cooking to the chef on site. There is a small fridge for keeping a bottle of wine and a hunk of cheese chilled and a stove for making a dish of yummy pasta.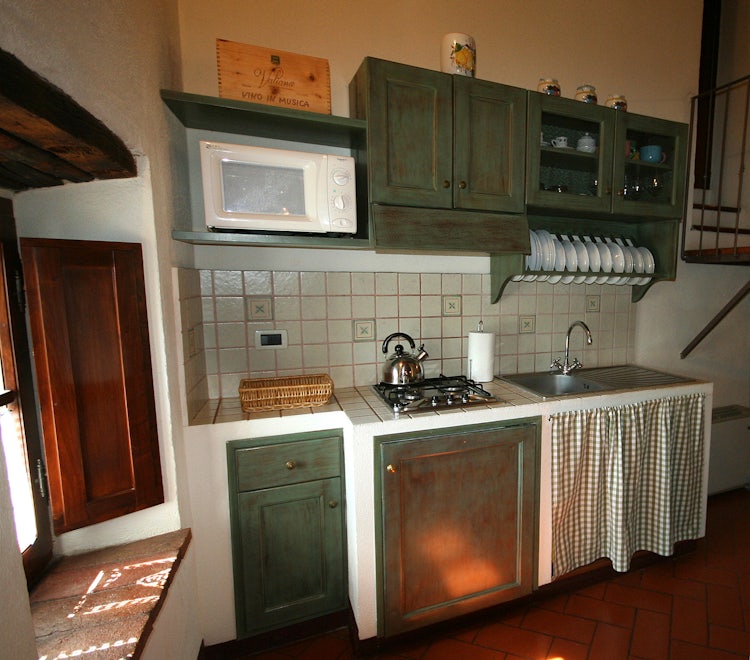 There are two apartments with three bedrooms and bathrooms, La Capanna and Il Moro, with the possibility of adding extra beds for up to 9 persons. They both feature a main bedroom with a private "portico" or balcony. There is a wide selection of one bedroom apartments, with queen size sofa beds, which lend themselves to either a romantic getaway or a small family or friends travelling together. Lorella, Marco and Roberto are available to assist you in choosing the perfect right solution for your holiday program.
The Scenery is Spectacular
A Review of Romitorio di Serelle
We loved: the panoramic position and the many little corners available throughout the property from which to admire the views.
Ideal for: travelers who are in love with the Chianti landscape, vineyards, stone built hamlets and Tuscan foods
Lorella described the vacation accommodations as an island in the middle of the vineyards. Sitting on a hill that seems to rise out of the undulating rows of grapes, this green oasis promises a stunning panorama that seems more like it is from a movie set than real life. The recent addition to the Romitorio di Serelle gardens includes a fabulous gazebo with a fun mix of furniture that creates a truly romantic and peaceful alcove. Bring a bottle of wine, request something special from the bar or maybe just a good book or a few minutes of meditation, this terrace will soon become your favorite place. Scattered along the borders of the property are several little special corners, even more secluded, that allow you to simply soak in the beauty.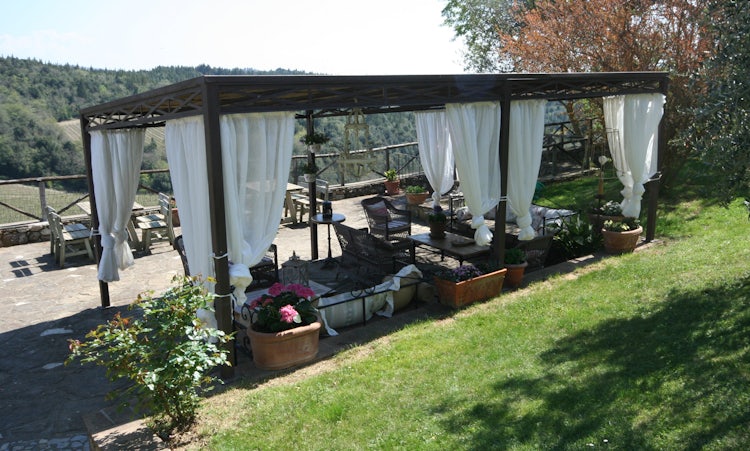 Romitorio di Serelle, though presenting a tasteful and sophisticated atmosphere, has many features that make it exceptionally kid friendly. Besides the kid's menu and babysitters upon request, you will find a play area on the fenced property and a large pool for a good old fashioned romp in the refreshing waters. The yard with lots of shady corners, trails in the forest and bikes for some quality family activities are more examples of the opportunities available to entertain the whole family.
The pool area garners an abundance of sunshine from morning to night. It is here, on one of the loungers, that you can work on your tan or catch a quick catnap among the fragrant and colorful Tuscan blossoms. The super size pool with its convenient Roman steps (8x12 meters) is located close to the panoramic terrace and the apartments, but not too close that a little bit of rambunctious activity will disturb those appreciating the silence at "home".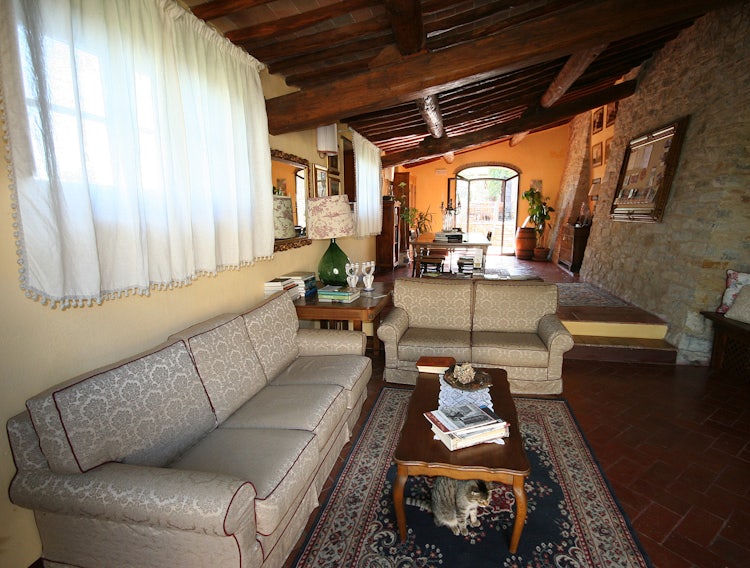 Romitorio di Serelle in a Glance:
Type: self catering holiday apartments
Location: San Donato in Poggio, 7 km
Distance: Florence (50 min) or San Gimignano (40 minutes)
Transport: a car is necessary
Apartments: 15 apartments
Sleeps: 68
Type of board: Breakfast & on-site restaurant
Food is Always Apart of the Tuscan Equation
Your chef at Romitorio di Serelle is vegetarian, but you will always find those famous Tuscan meat dishes on the menu. However, it does mean is you will also find a vide variety of home cooked recipes that will tantalize your tastebuds at any time. Marco, when he is in the kitchen creating for others, explores traditional flavors with that of today's trends. He will present you with a daily menu of succulent solutions with the fresh ingredients.
We found mom & dad liked, after a day out in the car with the kids, to prepare a light meal for them and then either put them to bed and grab the baby phone or arrange for one of our babysitters. At this point they can treat themselves to a romantic evening on our candlelit terrace.
Chef Marco takes his responsibility for showcasing the best of the Tuscan kitchen very seriously. Together with your hosts, he searches out the freshest sources for fruit, veggies, cheese, and more for a rich and hearty breakfast! He also understands what it means to travel and have to watch what you eat; vegetarian, vegan, celiac recipes and other options are always readily available with a little warning. Romitorio di Serelle, also knows that kids don't always appreciate the same flavors as their parents. A simple yet nutritious kids menu is available with accommodating prices. The restaurant is closed on Wednesday and Sunday.
You are practically in the heart of Tuscany's most famous region for wines, so take advantage of the wine tasting opportunities on site. Just let your hosts know you are interested in participating, and they will take care of the rest.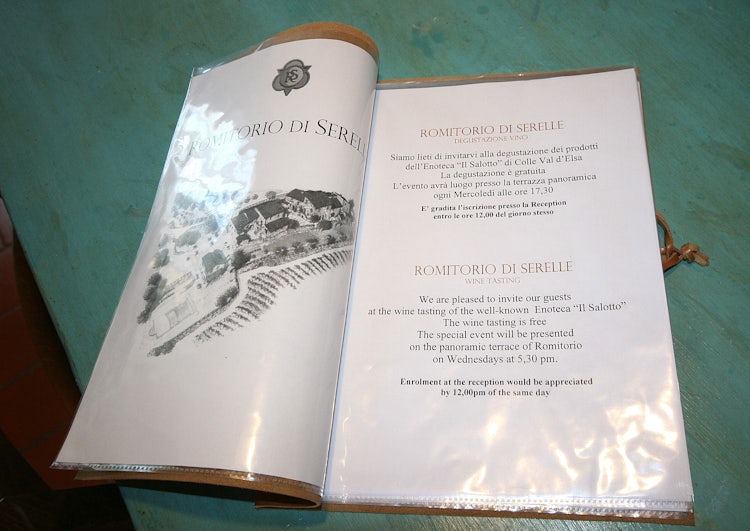 So Many Destinations to Choose From
The location of Romitorio di Serelle is almost the same distance for anyone of the major attractions, especially Florence, Siena and San Gimignano. So while staying in these family friendly and romantic self catering apartments you are free to make plans to visit all over Tuscany and not just those places that everyone knows about! Your hosts have a few ideas of places that will show off the beauty of the area, while leaving you free from the crowds.
Lorella had two perfect suggestions for small towns that she prefers because they are often overlooked even though they promise a picture perfect destination with a rich calendar of events. San Donato in Poggi is small with a few great little restaurants and lots of photo opportunities especially during the fall when the harvest starts to change the colors in the vineyards. Certaldo, totally restored in its rich red brick, is a fabulous little town that invites you to step back in time in the quiet vias especially during their many fairs.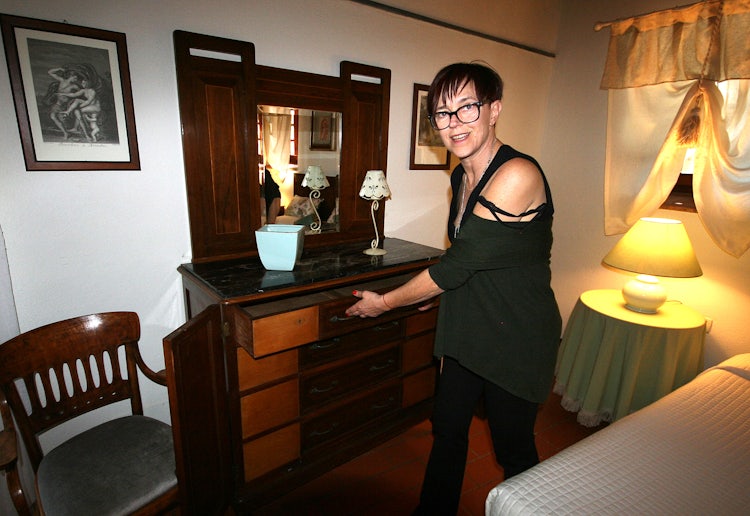 Marco, thought that the towns of Monteriggioni and Gargona were both enticing. I could see his boyish enthusiasm, as he explained that both of these places were fertile ground for imagining Tuscany as it used to be in the Middle Ages with knights in shining armor, watch towers and cobblestone roads. Especially Monteriggioni which hosts several medieval fairs during the course of the year.
I was surprised that though they all agreed that no one would want to miss out on visiting Chianti, Volterra and Pisa they all choose something unique and different when it came to an adventure in the small towns. Roberto seemed to look for local charm, and tranquility, he preferred a visit to Montefioralle above Greve and the little known Castello of Barbischio. He also suggested that many would be surprised at the many points of interest for adults and kids in the little town of Poggibonsi.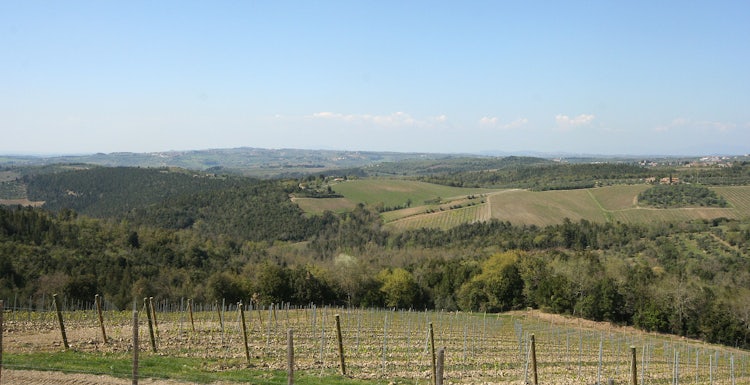 Reserve Now at Romitorio di Serelle
The vacation rental apartments at Romitorio di Serelle, not only put your comfort forefront with an engaging combination of typical Tuscan hospitality, modern accessories and top quality services but they are truly in a posiiton that offers easy access to everywhere in Tuscany. Your hosts are always close by with helpful information about where to go and what to visit, a glass of wine or an idea to keep the kids entertained and enjoying Tuscany as much as their parents. For those looking to simply enjoy stunning scenery and tranquil days watching the grapes grow, then the terraces, gazebos, common rooms and gardens of Romitorio di Serelle are waiting for you.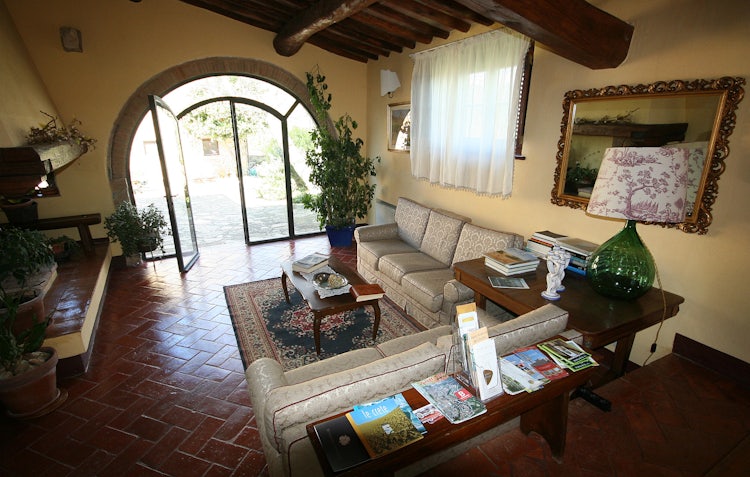 This is a Sponsored Article but reflects the honest opinion and experience of the author. More details »