Relax & Pamper yourself at these Spa Hotels in Tuscany
Wellness and relaxation: while you're on vacation, this is the essence of what you should do to recharge and take time off your normal routine. Often, however, we have visitors planning their vacations trying to go down a checklist of all there is too see (lots and lots in Tuscany!) and not knowing how to fit it all.... returning home more tired than rested, particularly when they had little time to begin with.
We encourage all of our visitors to plan to visit Tuscany in a more relaxed style, including some down-time to rest and relax into their itineraries! Whether it is just spending time by the pool or enjoying a fine meal over an hour or two, it is important to take time to pamper yourself. It becomes easier if you plan your vacation around this concept, particularly if you choose to stay at a hotel or villa that has a wellness center which offers a sauna, massages, hydro-massage and the like. You don't have to go far to get some attention to your body and soul.
Since hot springs are a source of relaxation, we've used this as a launching pad to compile a list of some of our top choices in some of the centers in Tuscany well-known for their thermal/hot springs. They will be the source to encourage you to RECHARGE and PAMPER yourself! Some of these areas offer establishments around the hot springs, some already include a natural outdoor area where you can enjoy bathing in the hot springs and the majority also offer rooms to stay there as well. Take a look at our recommendations below to get your relaxing vacation planning started.
Montecatini Terme // Monsummano Terme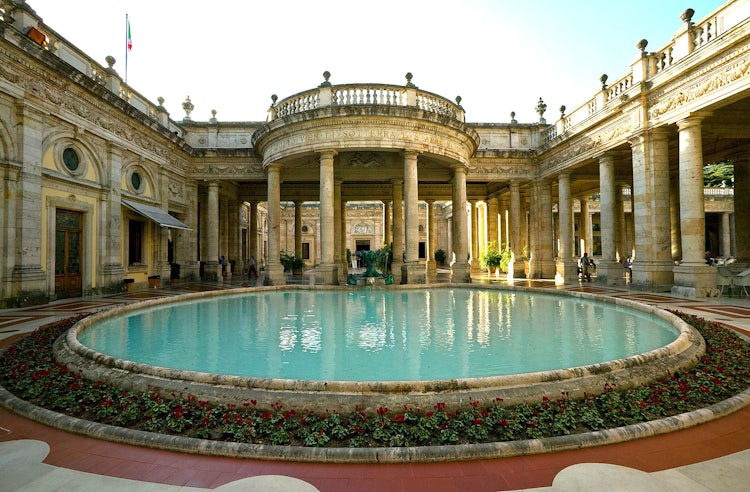 Montecatini Terme, located between Pistoia and Lucca, is considered the most famous in all of Italy for its wellness centers surrounding the use of its mineral waters and hot springs.
Its hot springs are in the heart of the city, around a large thermal water park, so it is easy to move around and visit both these establishments as well as the city center. While they were already known and used in Roman times, it wasn't until the 19th century with the Grandduke Leopold of the Lorraines that actual establishments were built here, the first ones being the Leopoldine and Tettuccio baths. All throughout the 20th century, Montecatini drew people who wanted to cleanse their body by drinking its thermal water but the city has grown and offers many opportunities to just relax and enjoy taking care of oneself, enjoying mud baths, massages and more. The beauty is thus that you have both the hot springs as well as an active city center, with shopping, theaters and other events you can enjoy while staying here.
Monsummano Terme is Montecatini's lesser known twin, just 5 km away. It's hot springs were discovered relatively recently, in 1849, in several grottoes where you can enjoy vapor baths from its 35° waters.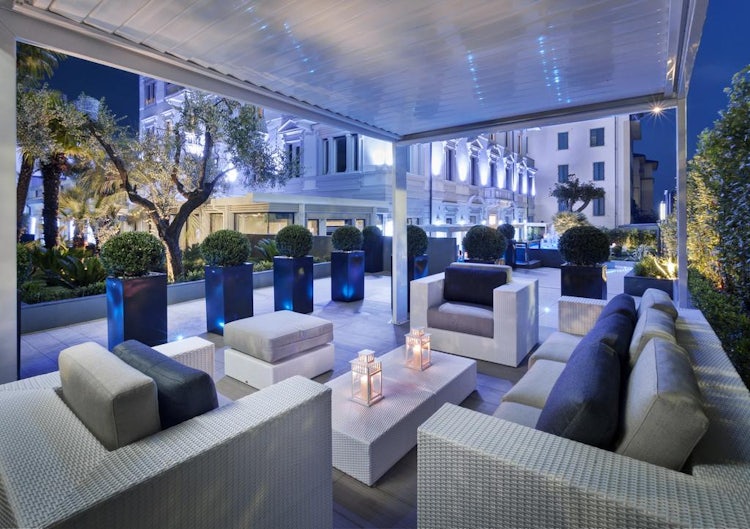 This 5 star hotel is in an elegant, Art Nouveau building from 1910. Its rooms offer air-conditioning, free WiFi, a free outdoor rooftop pool and fitness center. All of the bathrooms have bathrobes, slippers and free toiletries for guests. You can take particular advantage of its in-house restaurant or enjoy drinks on the veranda. Its wellness center includes a sauna, Turkish bath, ice room, sensory shower and indoor pool with hydro-massage, and chromo-therapy.
It is just 700 meters from the town's thermal parks, with a large park nearby perfect for strolls; there is lots of shopping opportunities nearby. Check out LHP Hotel Montecatini Palace & Spa.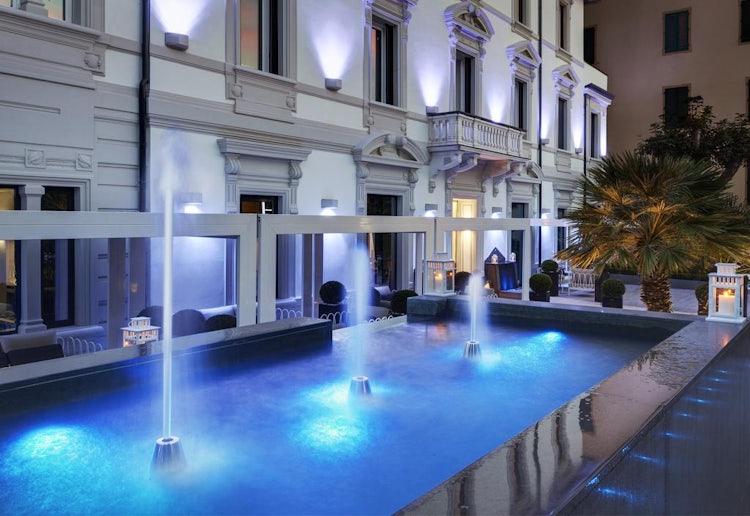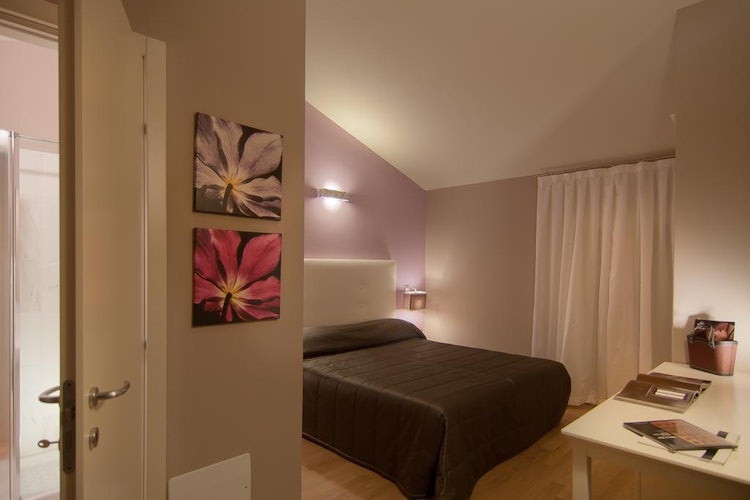 This hotel is "only" 3 stars but it has services and amenities of a higher level, consistently receiving great reviews for its great staff and for the good value. It is just 200m from the Montecatini train station, with its own on-site restaurant and free WiFi. Its wellness center includes a Turkish bath, sauna, hot tub, and offers beauty treatments and a relaxation area. It is walking distance to all thermal establishments and shopping in Montecatini. Book your stay at Hotel Arnolfo »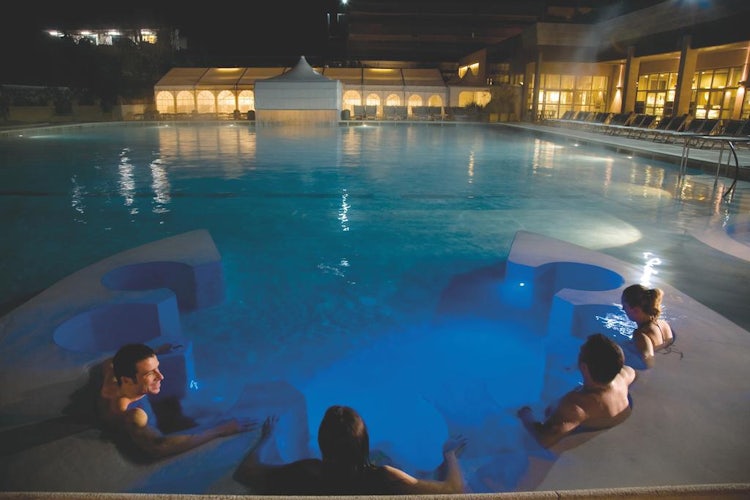 Set in a 19th century villa in a private park, this super hotel offers elegant rooms and top class amenities in Monsummano Terme. Staying here gives you free access to the wellness center, including its outdoor thermal pool with waterfall, hydro-massage jets, natural cave with steam bath, plus its outdoor Bioaquam thermal circuit.
All rooms include a marble bathroom with soft bathrobes for use around the entire establishment, some bathroom bathtubs even have thermal water and some rooms overlook the park. You will enjoy fine evening meals at its "La Veranda" restaurant on site if you don't wish to leave the estate in the middle of your relaxing break! Book your stay at Resort Grotta Giusti now »
Saturnia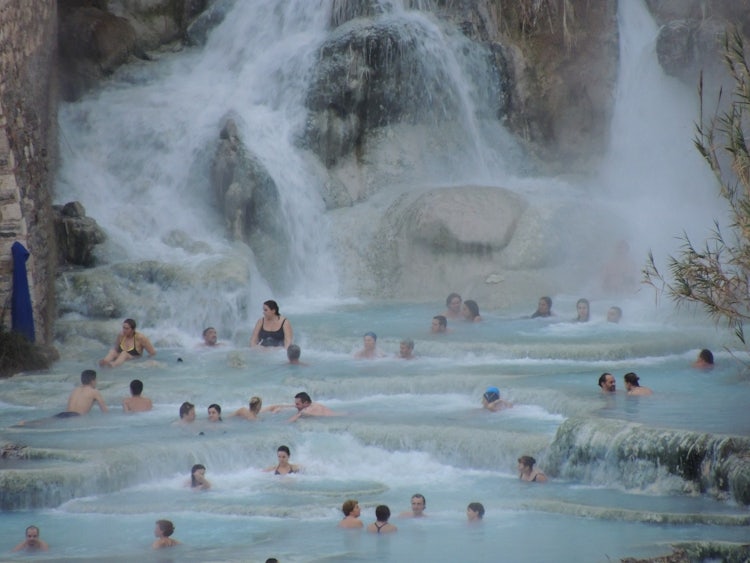 Located in Maremma in southern Tuscany, the Saturnia hot springs are natural sulphurous waters between Manciano, Scansano and Pitigliano. The site has been known since Etruscan times and known through time for their curative powers. They come out at 37.5°C at 800 liters per second, with a large concentration of sulphurous hydrogen and carbon dioxide. They relax you just by sitting in them! They are recommended for all types of skin problems as well as cardiovascular conditions since they lower blood pressure. They reduce tension in the respiratory system, making it easier to breath. So in general, very good for you, even if you have no ailment ;).
While the outdoor waterfall is gorgeous (you should definitely try it! it does get crowded in the summer months and weekends), it has no services whatsoever other than a bar for snacks - there are no changing rooms or showers to take away the smell of sulphur after your dip in the water. If you want the benefits of the the hot springs here with a bit of pampering, we recommend trying the Spa resort Terme di Saturnia!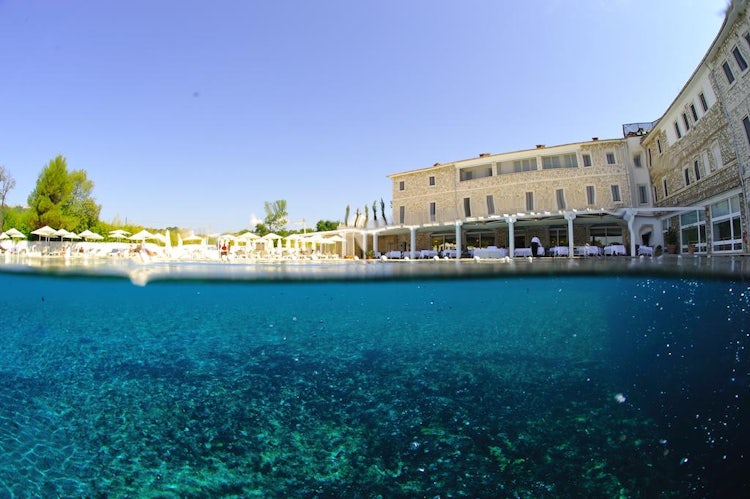 Enjoy world class services of a luxury hotel, with an 18-hole golf course, Roman baths and natural swimming pools. All of the luxurious rooms have bathrobes and slippers to use in the natural outdoor pool fed from the hot springs source. The hotel offers treatments and massages on site, as well as a hot tub, Turkish bath and sauna, as well as on-site restaurant. Check out the Terme di Saturnia to book your stay!
Bagno Vignoni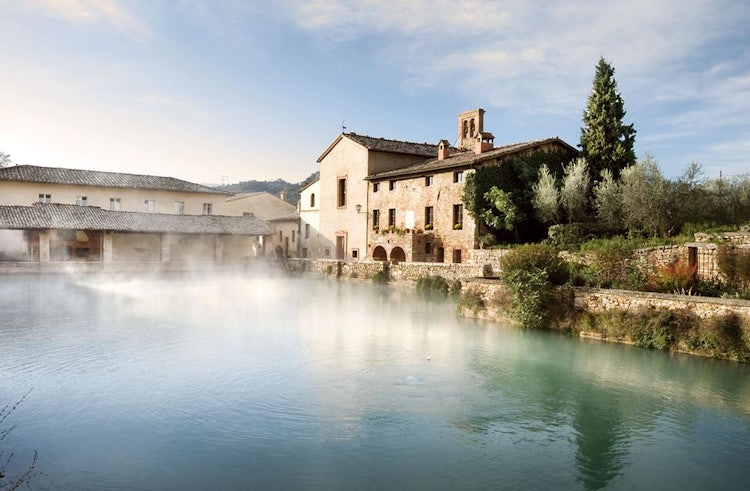 Bagno Vignoni is the most famous hot springs in the Val d'Orcia, the splendid area located to the south of Siena. It is famous for its very unique central square, which is basically a large basin with water from the hot springs. While it is a small town, the hot springs are a favorite destination for a quick weekend getaway and for relaxing vacations with great visual impact. You cannot fault anyone: the views in every direction as also splendid, including ones across a ridge behind the town that show the castle of Castiglione d'Orcia.
The hot springs have been known for centuries, it is likely that they are particularly known because they are not too distant from the Via Francigena, the pilgrimage road that heads south to Rome. Famous historical figures, including Popo Pius II and Lorenzo the Magnificent, enjoyed the hot springs at Bagno Vignoni on a regular basis.
The hot springs in San Quirico d'Orcia have always allowed water to flow even during the warm summer months, thus several water mills were constructed along the Orcia river over the centuries. These ancient mills, along with a complex system of water canals and gorges today constitute the Park of the Mills created in the 1990s.
The hot springs at Bagno Vignoni come out at 52°C and are thus the hottest in all of Tuscany. They are thus considered hyper-thermal and sulfate-bicarbonate-alkaline-earthy mineral waters. This makes them particularly recommended for treating the skin, as well as therapeutic treatment of the skeletal system (such as osteoporosis and arthritis). They have a relaxing effect on muscles and general well-being considered the high temperature. Bagno Vignoni is often recommended to women: they help efficiently drain cellulite and also get over those monthly cramps we are afflicted with (the heat helps with muscle spasms).
The main hot springs structures are: Santa Caterina, the historical establishment right next to the main square. It is the one aimed for curing ills, from mud baths to inhaling the mineral vapor, such as arthritis, osteoporosis and other pains. Then all around there are 3 main wellness centers that use the hot springs for their treatments and services: the Hotel Adler Thermae, Hotel Posta Marchucci and Hotel Le Terme. As far as enjoying the hot springs "freely", you will need to do a short hike from the town: follow the small canals to the left of the main square, then the path down the hill. You will find a large rectangular pool at the bottom as you go through the "Park of the Mills". The water is not as hot as at the source at the top of the hill so they are perfect for those that suffer from low blood pressure and anyone who does not like very hot water.
This luxurious 5 star resort has a large wellness center where you will find a Finnish sauna, Turkish bath, outdoor and indoor pools, herbal caldarium, well-equipped gym, many treatments and massages. The temperature of their pools is at 36°C. Includes an on-site restaurant and panoramic views of the Val d'Orcia countryside from most of its rooms. Book your stay today!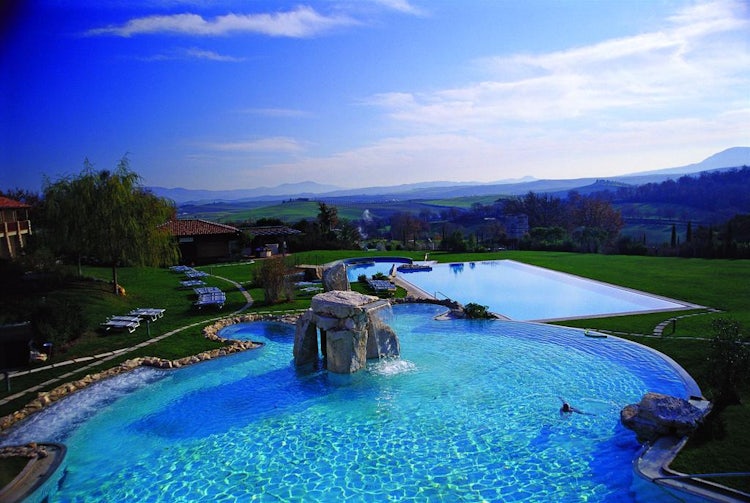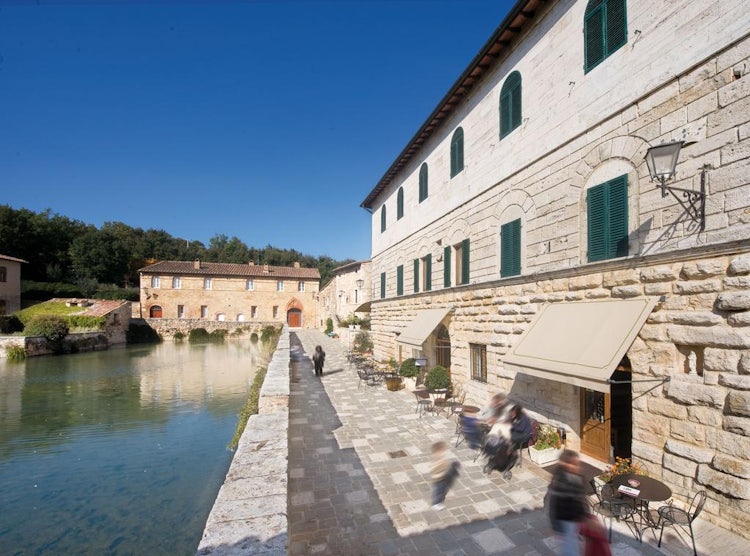 While this is a 3 star hotel, it sits right along the eastern side of the main pool in the center of Bagno Vignoni and offers quality services, hospitality and a view! Guests have access to the hydro-massage bath (at 32°C), the Roman sauna with therapeutic pools (at 40°C) and the main thermal hot springs pool (at 38°C). The vast assortment of beauty treatments and massages let you decide what you need to pamper/treat/cure! Includes on-site restaurant and a beautiful historical setting to your entire stay in this small, family-run hotel (with only 36 rooms). Check out Hotel Le Terme and book.
Come back soon, as I'm adding more places across Tuscany!