What do we love to do when the weather gets warm outside? Enjoy the refreshing power of water, especially on our skin! We head to the beach or we head to the pool, right? Water is refreshing but also essential for our well-being. For that reason alone, we recommend you head to Asmana Wellness World in the summer!
Whirlpools and waterfalls are part of the fun at Asmana, with many options both indoors and outdoors. The outdoor area is particularly lovely in the summer, with lounge chairs all around the main pool welcoming you to also bathe in the sun's rays in between your dips in the water. The nearby pool bar offers all the refreshments you'll need when you get thirsty or hungry.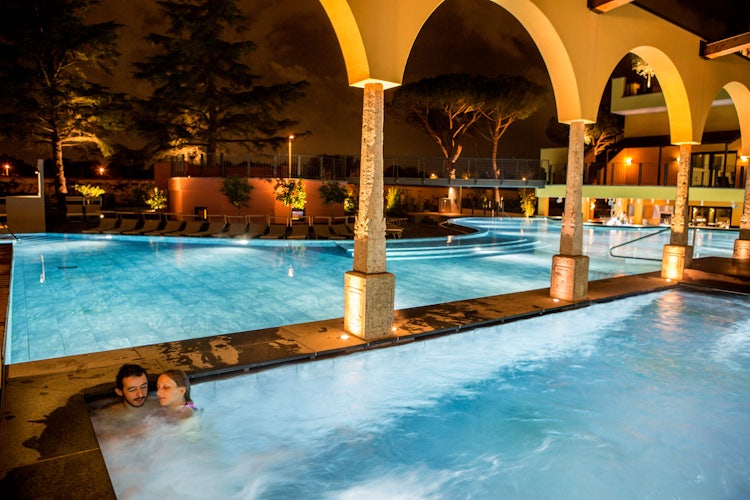 Water is the heart of Asmana
A day of relaxation
Take advantage of our partnership with Asmana which gives you 10% OFF your day at relaxation! Just print and hand over our coupon when you check in.
A spa center as beautiful, relaxing and successful as Asmana depends on the grand force that the element of water – but also fire in the form of heat - offer our bodies. These elements can calm and relax, cleanse and rejuvenate. You exit Asmana feeling like a brand new person if you allow the power of water and heat to soak into your skin and quiet down your soul, nurturing both your body and mind as a consequence.
As you walk in, you'll find a large internal pool, a grotto and a dedicated area for a foot soak as the main attractions. There are, of course, other services such as the restaurant and bistro, the pool bar, short facials and massages on offer but let's focus on the main elements you're at Asmana for ;-).
Outdoors, you'll find a large pool divided into several sections: a saline pool, another with water jets to massage your body and the vortex. What is the vortex, you ask? The easiest way to describe it is to say this area of the pool recreates a river: strong jets underwater push you along a circular route mimicking the current of a river. For fun, let the currents take you along, its shape and jets are designed to go round and round. If you wish to reactivate circulation and get a bit of a workout, try to walk against the current instead!
Know Before You Go
Read our review on Asmana to get info on costs, hours and other details to plan your visit to the spa center.
Where to start?
I'll assume you've read our review on Asmana already so you know to take general beach wear with you: a bathing suit, bath sandals, towels and a robe (you can rent or buy any items you're missing). After changing in the locker room, leaving your phone and bag safely behind, all you will need is to head on in.
Warm up first, from the bottom up
First stop is right in front as you exit the locker rooms: the foot bath. By just getting your feet wet first in warm water, you start warming up slowly and preparing your body for full immersion in the saunas as well as the outdoor pools. This is particularly nice in the summer time, as it can also be refreshing. You should most definitely head back here after a dip in the pools, to just hang out or to enjoy some down time as you get a quick facial.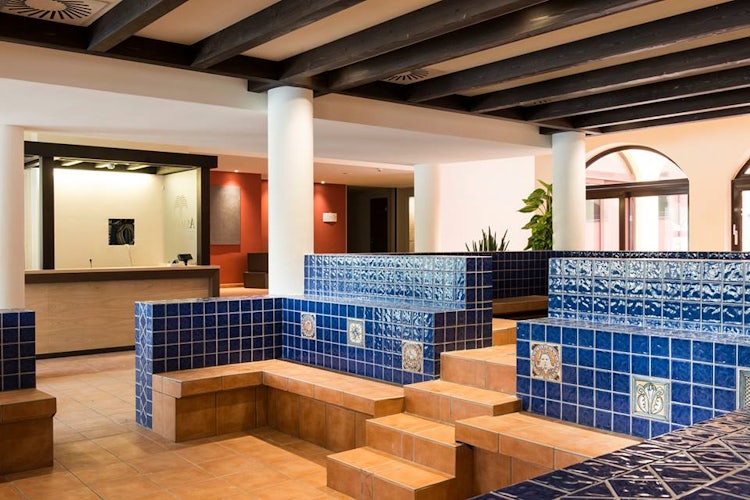 Warm bubbles and natural moisturizers
Next, head straight outdoors: the saline pool and warm water whirlpool will further take you along the path towards complete relaxation. Start with whichever one attracts you most, as both offer benefits. Salt water is good for your skin, leaving it smoother and softer as it acts as a natural moisturizer and exfoliator. Salt water also contains bromide, a mineral that helps relieve aches and soreness from joints and muscles. The saline pool will thus have you feeling particularly refreshed after, as the stress we carry everyday on our shoulders melts away.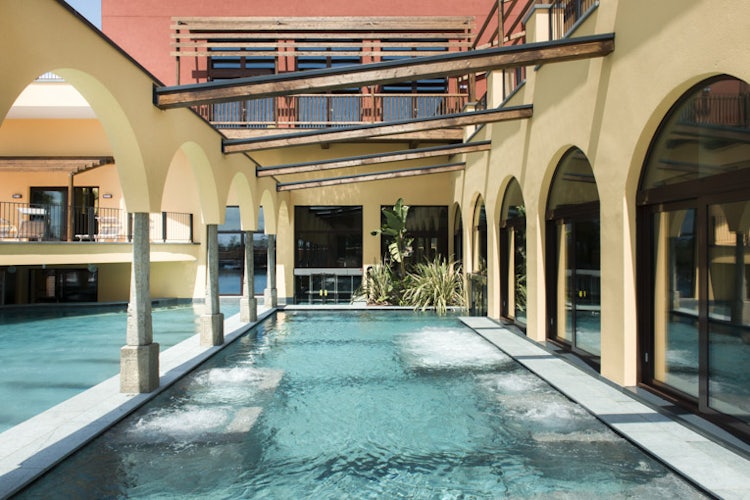 The whirlpool pool, on the other hand, will cuddle you in its warm, gentle bubbles. It will also act as a soft massage on your body, helping to ease muscles and any aches you have, improving circulation as well and helping you relax. Think of how a relaxing bubble bath might feel at home, multiplied by 20.
The outdoor pool, gardens & summer events
Once you have started to relax your muscles, you can continue on to the large outdoor pool, heading to the vortex on the left end or to the right to the outdoor Tropical pool bar for a quick break. I suggest the vortex first, then the pool bar ;-).
You can enjoy the sun's rays for a warm sun bath, including a magnificent sunset at the right time in the evening, a light lunch or dinner at the on-site restaurant that overlooks one corner of the large pool or just hydrate yourself at the bar. During the entire year, there is an "apericena" every Friday evening: during the winter, the light dinner and cocktails are served inside but when the weather permits, you can also enjoy it outdoors. In summer, there are additional events during the week to take advantage of the longer hours of daylight, such as Paella & Sangria which offers a large serving of paella, sangria and Spanish music on the restaurant terrace loggia overlooking the large outdoor pool. Mid-August Read more about weekly events at Asmana here.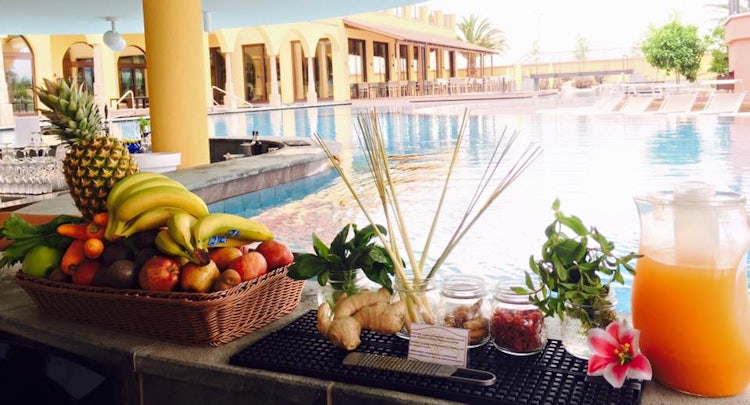 Stopping here for the day or evening would be enough, but I suggest you take advantage of the one of the best attractions at Asmana, the grotto with its waterfall, before you decide to call it a day.
The Waterfall inside the Cave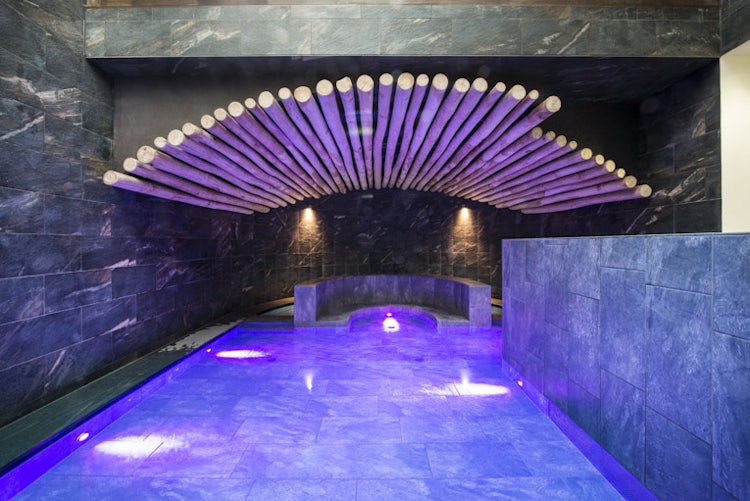 The suggestive grotta, or cave, can be accessed near the indoor pool. Leave your bathrobe, towel and slippers at the entrance and prepare to enter into what might seem a tropical jungle at first, with both heat and water and calming sounds. You'll find water flowing down from over 8 meters above, whirlpool bubbles around the main pool perimeter and color-changing light! Yes, chromotherapy, the use of colors to adjust body vibrations to a frequency that can promote harmony. It is said that each color has frequencies of a specific vibration, each vibration related to different physical symptoms. By experiencing the whole spectrum of colors and vibrations, whatever might ail you should be on its merry way out the door! ;-)
A refreshing nap, facial or massage
The perfect end to a few hours at Asmana could already be here, having enjoyed the world of water at Asmana and its gardens. Last step could be a refreshing nap, maybe after a short facial (found near the entrance to the locker rooms) or massage (these are extra, you can ask more info when you arrive at Asmana). You could just enjoy one of the many chaise lounges available in this area or enjoy a nap in a smaller, enclosed area upstairs. On the first floor you will find various rooms, from the Room of Nests with sounds of nature around you while you climb into one of the hanging cocoons that resemble a nest to the Room with Hay or the room with heated water beds. All offer various options for resting your eyes and mind, restoring your body with a short nap. There are more Rooms of Relaxation in Asmana, including the Temple, Gold Room, the Salt Room or Fire Room: I invite you to visit to explore them all!
The world of heat at Asmana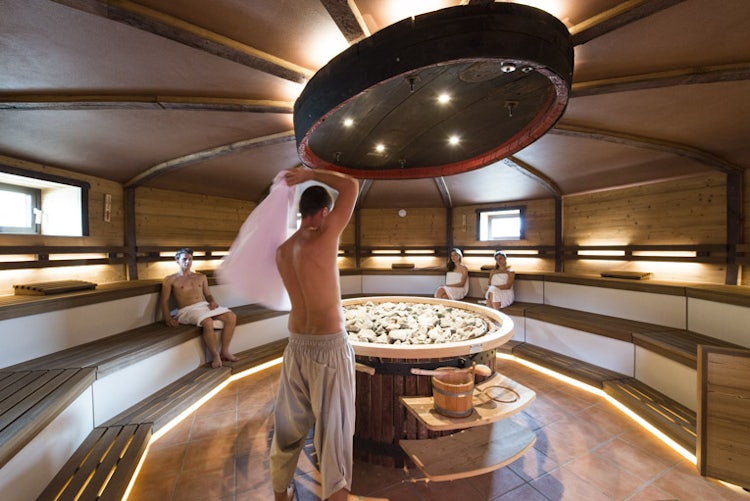 Having said you could finish your time at Asmana with just the world of water, I don't want to leave out the world of the saunas and Hammam altogether. I think you need a whole day to get to fully experience both, so if you can, plan for at least 4 hours but more would be better to enjoy this part as well, even in the summer.
Even when you can find warmth outdoors and under the sun, after you've refreshed yourself at the various pools you will be enticed to enter into the sauna and Hammam at Asmana. There are three saunas – the Biosauna Zen, with a temperature of 60°C, and the Herb Sauna, with a temperature of 70°C (these are both on the first floor) and the Wine Sauna, with the highest temperature at 80°C (half-hidden outside in the middle part of the garden). In each of the three saunas, special ceremonies of wellness called Aufguss are carried throughout the day (an idea in the video below). These also take place in the Hammam. They consist of music and a Master of Ceremonies explaining the benefits of the essential oils that will be shared in the room, whether through an ice ball melting in the central heating grill in the Herb Sauna or in special salts given out to exfoliate your skin in the Hammam. This part of Asmana is pure pampering of your skin and mind. For more details about the various special ceremonies and other events, read this post.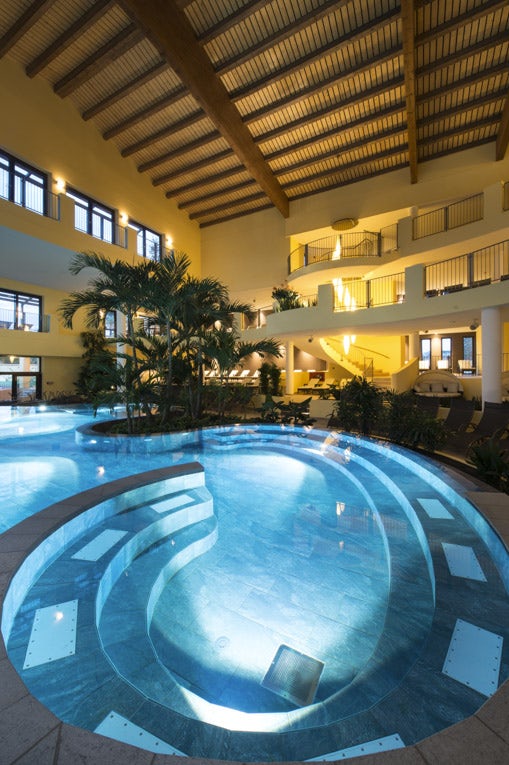 If you don't want to go into the saunas with its high temperatures, the various sections of the Hammam await: the temperatures there start at 35°C (in the Tepidarium) and go up to a max of 45°C (in the Purifying Bath room) and have higher humidity levels. You might actually enjoy the Soap Bubble Room the most: it has lower heat and faucets that release soap bubbles you use to gently massage and cleanse your body. You relax and at the same time, exit with the softest skin imaginable ;-).
Relaxed body, rejuvenated soul
Have I managed to convince you to give Asmana a try any time of the year, including summer? Give yourself some time to pamper yourself along with your partner, a friend or two and you will surely end your day at Asmama feeling like a new person.
Just remember that no mobile phones are allowed at Asmana, nor kids under 18. This ensures that everyone there has a peaceful, relaxed environment in which to recharge. For more details on costs and opening times, make sure to read our presentation on Asmana.
Get 10% off at Asmana!
Don't forget to print our coupon and take advantage of our partnership with Asmana to receive 10% OFF your day of relaxation! Just hand it over at the reception when you first arrive.
This is a Sponsored Article but reflects the honest opinion and experience of the author. More details »