Did you know the first, original location of the Hard Rock Cafe was in London and opened in 1971?
Isaac Tigrett and Peter Morton were two shaggy-haired Americans who just wanted to find a good American burger while living in London. Their solution was to open up their own American style diner in an old Rolls Royce dealership, calling it Hard Rock Cafe. In 1983, the second Hard Rock Cafe opened in Los Angeles and thus began the "global" spread of the diner.
While the brand has expanded and includes casinos, hotels and more - and is now owned by the Seminole Tribe from Florida - at the very base, the Hard Rock Cafe remains what it always has been: a place to find great food when you are on the move. Any time you're in Tuscany and in need of some delicious food, head to the Hard Rock Cafe in Florence!
Book your table on Open Table »
Book a special menu with Viator »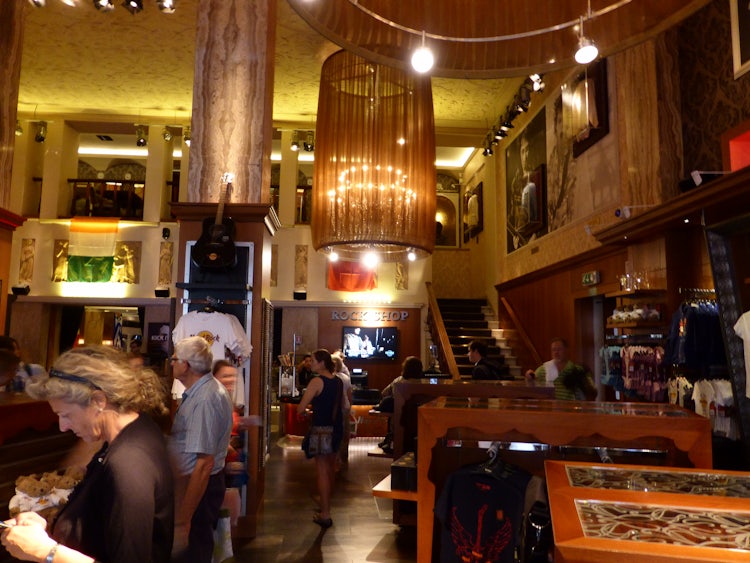 The Hard Rock Cafe in Florence
Free gift!
Our Discover Tuscany readers can take advantage of a special offer: present this coupon with a €35 purchase in either the Cafe or Rock shop and and receive a special free collectible Hard Rock Cafe gift!
The Hard Rock opened its cafe in Florence on June 14, 2011, on the 40th anniversary of its very first London diner opening. The cafe took over the space in the historical palazzo that had housed the Gambrinus cinema for decades in the heart of Florence, just a block off Piazza della Repubblica. Read more about this historical palace here. It is very easy to reach, as it is less just 2 blocks from the Duomo and less than 10 minutes walking distance from the main train station, Santa Maria Novella.
In 2021, the Cafe in Florence celebrates its 10th year anniversary while the global brand celebrates its 50th anniversary: you will find limited-time collection for this special event in the Rock Shop.
Great Quality Food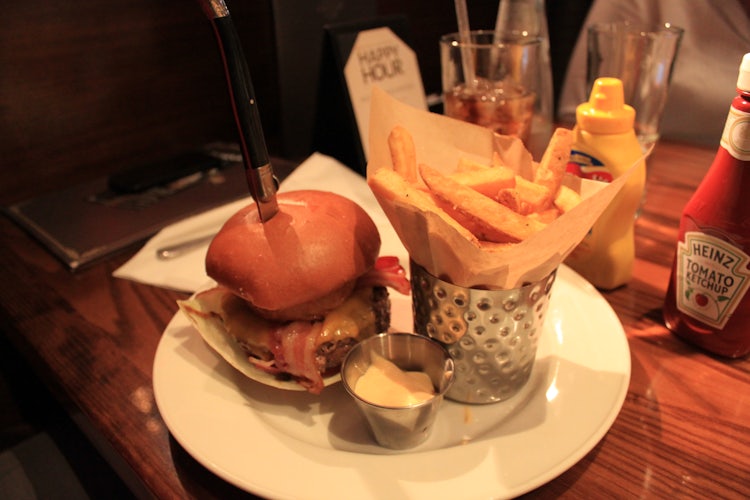 What you can find at all Hard Rock Cafes is a pretty classic menu, including the use of high quality ingredients. From fresh local produce and meats, the main dishes are all prepared with high quality ingredients to ensure that every dish on the menu is delicious. While a few particular ingredients are still imported to make some iconic dishes (such as the Hickory brisket to slowly create all of the Smoke House items on the menu, made in Florence), the Florence restaurant is following the philosophy that as much as possible should come fresh from not too far away, always maintaining high quality.
Consider then that the succulent burgers, while inspired by American flavors, are still made with locally-sourced meat, the burger buns are made by a local bakery made to order a Hard Rock recipe to ensure they meet the cafe's standards for flavor, freshness and softness.

At any time of the day
If you're staying in Florence, you could head to the Hard Rock Cafe for a delicious breakfast which offers both Italian as well as international options. Starting at 8:30am, the coffee bar and lounge area (as well as terrace outside) are open and offer Italian as well as American choices such as scrambled eggs, bacon, toast, pancakes, bagels and more. A late morning snack or break would be perfect here. You can check out the breakfast menu online here.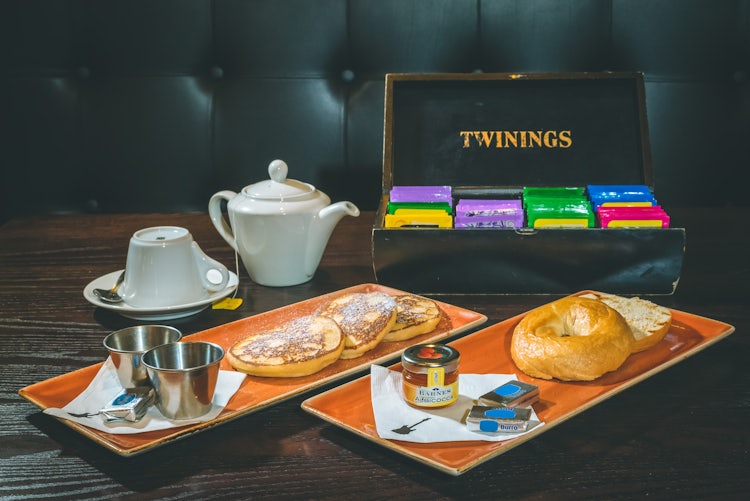 If you have no fixed schedule and not sure when meals will be in your itinerary, then the Hard Rock Cafe is perfect! The restaurant is open from 11am to midnight. When you are out and about (or visiting museums at lunch time), this is the perfect place to grab a great meal without worry about a specific time for finding places open for lunch or dinner.
Book a "Skip the Line" voucher on Viator »
If you're planning to go to the Hard Rock in Florence, make sure to print this coupon to get a complimentary collectible gift, a special gift just for our Discover Tuscany readers.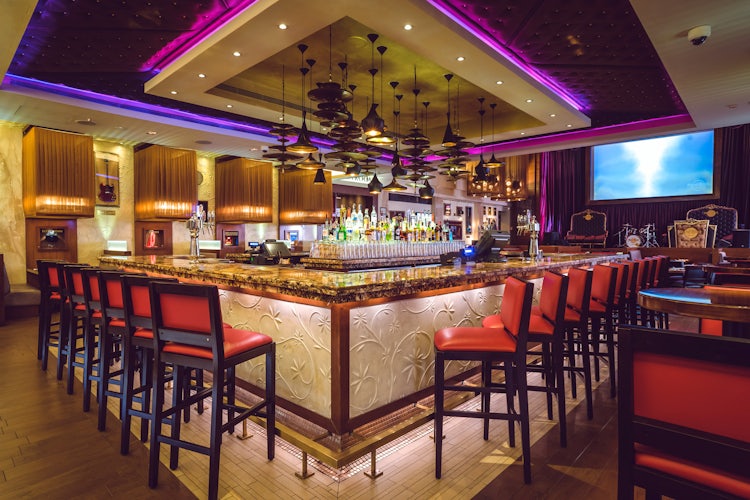 Happy Hour and Live Music
How about enjoying a Happy Hour with cocktails and appetizers? From September through June, from Sunday through Friday you will find Happy Hour from 5 to 7pm. You can find the Happy Hour menu here.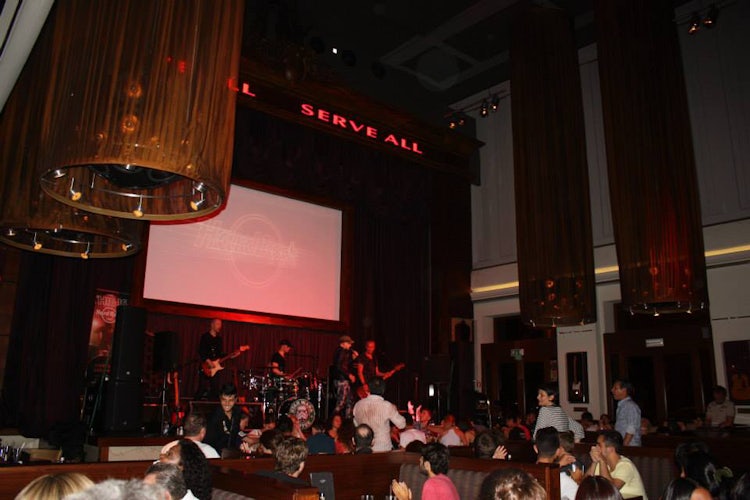 Hard Rock's very first live music at the London diner was an impromptu performance by Paul McCartney and the Wings in 1973.
Today, all of the cafes host live bands... and finally this spring 2022 live music returned to the Cafe in Florence on Fridays. To keep up to date to what's going on in Florence, I suggest you check their webpage and follow their Facebook page to see the month's current schedule and to stay updated on other special events and offers. Just note that if you're coming in a month or more, their website only shows planned concerts for the current month. Go back and check once you're in the month you're coming to see updated info.
The Hard Rock Memorabilia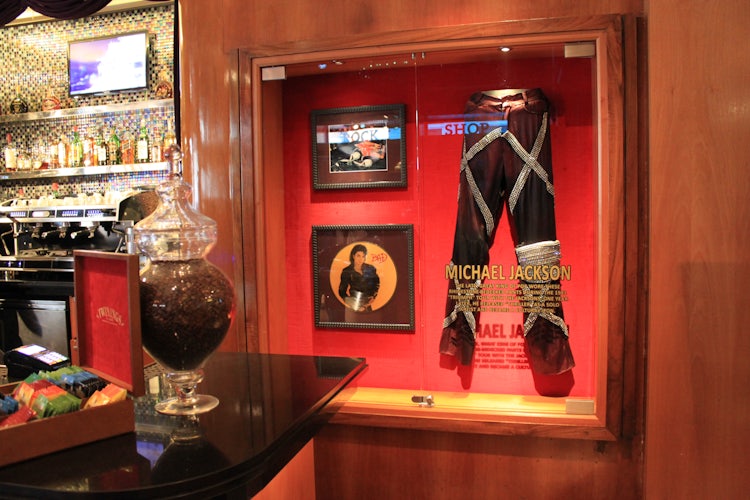 How did the rock memorabilia collection start? By 1979, Eric Clapton, one of rock's most incredible and enduring guitar gods, was a regular of the Hard Rock Cafe in London. Eric asked Isaac to hang his guitar over his favorite bar stool to "mark his spot." A week later, a package arrived with a guitar and a note that stated, "Mine's as good as his! Love, Pete." Pete was, in fact, the one and only Pete Townsend, guitarist extraordinaire for The Who. And so the collection began as a good old fashioned one-upmanship battle between two of rock's greatest guitar players.
Today, the collection has over 80,000 pieces which are distributed across the world and keeps growing every day. Pieces are donated by artists themselves, and others are purchased by the cafe. In Florence, you'll find many unique pieces, including
Michael Jackson's stage pants from the Jackson 5's 1981 Triumph tour (by the cafe bar)
Jimi Hendrix's shirt worn onstage at his Imperial College performance in London in 1967 (I read about this but now can't recall if I saw it... if you go, let me know where it is!)
the Vespa scooter used in The Who's 1979 film Quadrophenia (as you walk into the bar area, photo below)
John Lennon's black leather jacket worn in the 1967 film How I Won the War, directed by John's friend Richard Lester, who also directed A Hard Day's Night and Help! (above the front door)
from Italian rock band Litfiba: Piero Pelu's pants worn during "El Diablo" concert tour and Federico "Ghigo" Renzulli's guitar
Ask for a guided tour of the Memorabilia collection!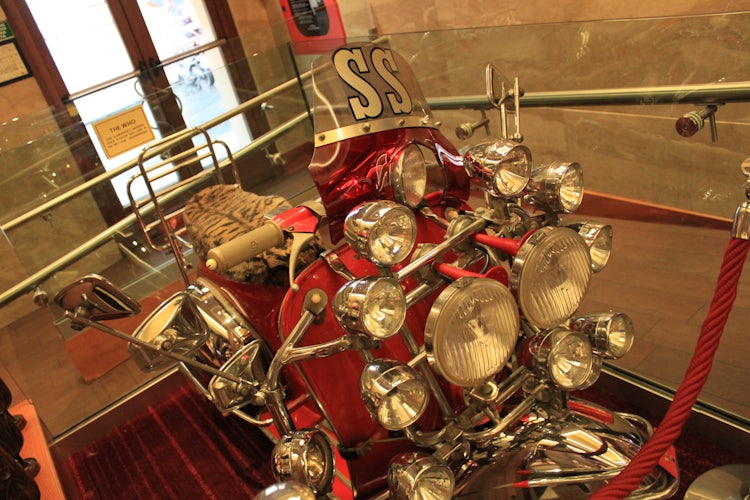 The Rock Shop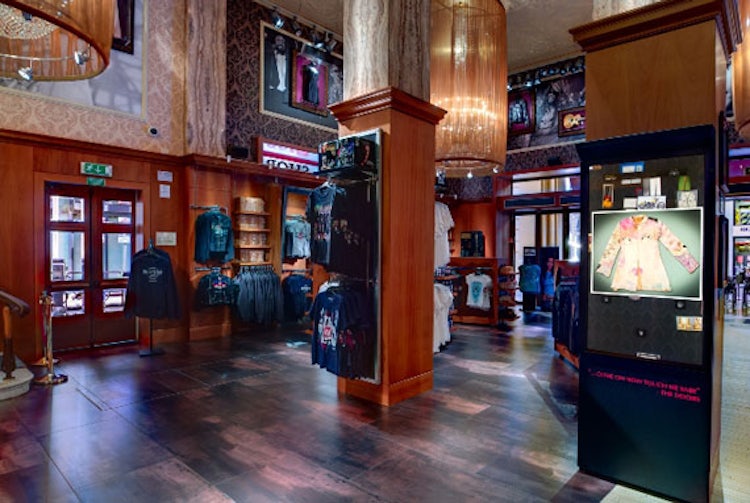 In 1974, the London cafe sponsored a local soccer team, featuring the simple logo on shirts for the team. Extra shirts were returned to the cafe and given away to loyal customers. Pretty soon people started showing up and wanting to buy them, so Isaac and Peter knew a good opportunity and began to sell them.
The Rock Shop in Florence is open every day from 8:30am to 11pm. It offers a lot of choices, from the classic tees to the annual collection of Hard Rock Couture to collectible pins as well as the Roxtars collection dedicated for kids, with 5 mascots and many ideas for cute gifts for them.
Arriving into Livorno or La Spezia?
If you're arriving by cruise ship in Livorno or La Spezia and planning to visit Florence, you can either organize your own transport into Florence or join a tour from your cruise ship called "shore excursions" such as this one.
If you're on your own or with a large group, you can ask for a guided group tour of the Memorabilia collection! You can also take advantage and have lunch there, but groups are encouraged to arrange ahead of time a personalized menu to save on time (especially limited when you are on a shore excursion when you are on a cruise vacation). In that case, get in touch ahead of time by email: florence_sales2@hardrock.com.
If you're visiting Florence with very limited time, I'd recommend you get the "Skip the Line" voucher below to book your visit and save time on lunch - while enjoying a delicious meal!
Book your special menu on Viator »
Book your table on Open Table »

Traveling during holidays
If you're traveling around Christmas, Halloween, Easter or Fourth of July (to cite just a few), the Hard Rock Cafe always organizes special evenings to celebrate! If you're in Florence over a holiday and are interested in participating, all you need to do is plan a bit ahead and contact the Cafe at the email florence.sales@hardrock.com to ensure you book your table!
To keep up to date and follow Hard Rock Cafe in Florence, check out their site and make sure to follow them on Facebook and Instagram.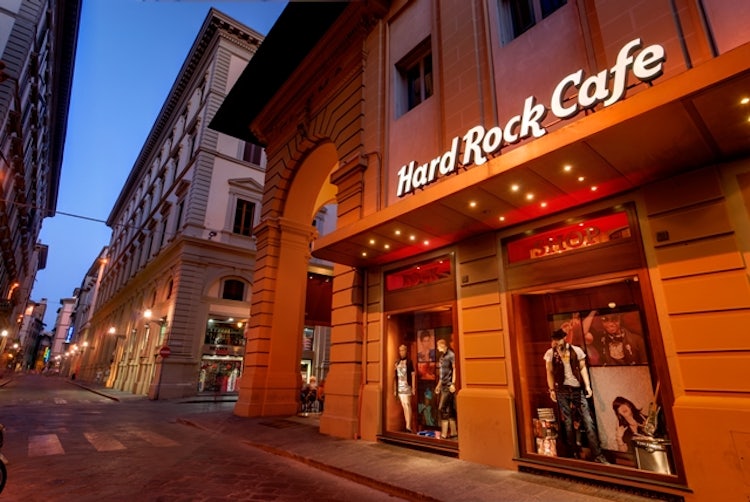 LAST UPDATE: June 22, 2022
This is a Sponsored Article but reflects the honest opinion and experience of the author. More details »