Elba, pearl of the Arcipelago Toscano National Park, is a destination of such inexorable tourism which can both be considered its ruin as well as main source of income. Elba is the island where Napoleon Bonaparte was exiled after his forced abdication and lived for 10 months, the island where for thousands of years populations at all times have settled (and keep on settling) and have wholeheartedly defended this wonderful piece of land between the Ligurian and Tyrrhenian Sea.
Elba, the pearl of the Mediterranean…
... or, to be more precise, as legend has it, a pearl of the necklace that Aphrodite (who was born as a woman from the foam of the sea) lost while she was trying to reach her beloved Eros on the coast. That's why Elba's destiny - to be a precious jewel - has always been determined! If you've never dropped by to see Elba for yourselves(what are you waiting for?), but for me, every time I visit seems to be like the first one!
My greatest excitement has always been the moment before arriving at the port, when the ferry slows down and gets ready to approach the quay, setting down hordes of tourists who will crowd the island in the summer - and I enjoy every second of that long wait that divides me from the pleasure of discovering this land of such rare beauty!
As the retaliation law of Dante has it, there's no greater excitement than to leave the island from the same port, with the same ferry turned into a wicked, open-mouthed monster that silently waits for all those unsuspecting passengers just as Charon ferried the lost souls from one bank to the other of the Hades river.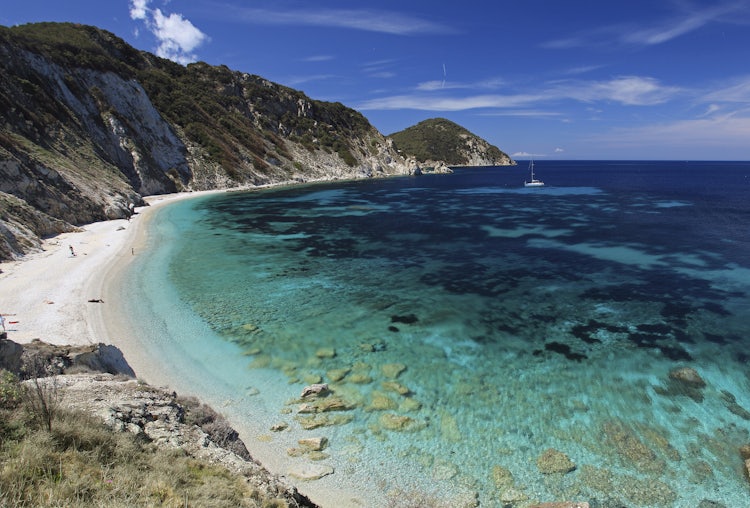 A landscape... more unique than rare!
Why should we talk about leaving even before discovering the beauties of this charming island? The Mediterranean shrubs is the main feature of a territory which has a variety of natural characteristics that are impressive: golden beaches with clear waters give way to cliffs rising steeply from the sea, craggy coasts and thick forests rich in protected wildlife!
Are you maybe surprised of reading about thick forests and land animals? You could be, if you think about Elba just as a little land surrounded by the sea. Are you also convinced that, if you consider local food, for example, its specialities are bound to the sea? Well, you're wrong! Remember that this island is only about 10 kilometers from the Tuscan coast, which at one time it was connected to. That's why some natural animal and land characteristics are really similar. And meanwhile, the chance to come across a wild boar mother with its babies, while you're peacefully hiking in an oak forest, is not as distance as you may imagine (it really happened to me during my last visit!). You could even take a seat at a typical local restaurant and find out that its special dishes are tasty stewed wild boar and t-bone steak!
I'm pretty sure that Elba has become such a desirable sea and mountain destination thanks to its natural variety. Mount Capanne, just to mention an example (the highest in the whole province of Livorno, which the Tuscan Archipelago is part of) has plenty of hiking and trekking paths, besides being rich in flora species, worthy of being included among the best herbal collections! That reminds me of my first visit to the island, when I was in high school and a school trip to Elba was organized to collect all the endemic flora of Mount Capanne and create a catalog once we were back home. Sunburns aside (it wasn't July or August, but April!), it was a really interesting and exciting experience!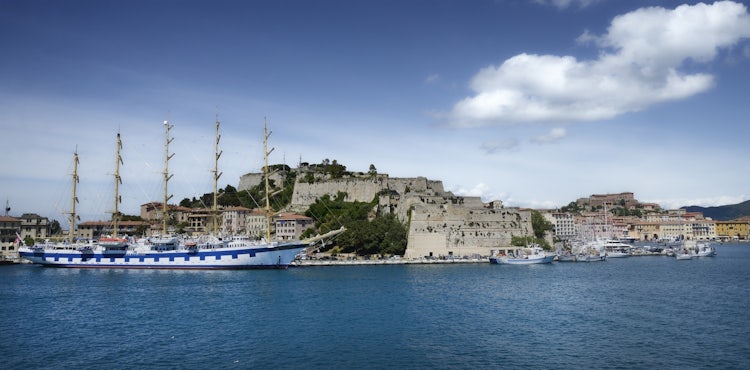 Some Notes on Elba's History
The reason this island has always been so attractive through the ages is not based on its natural beauty alone, but in its mineral resources. It's rich, in fact, in deposits of iron (aside from the Mount Calamita, located on the southeastern coast... where there's plenty of magnetite on the island that, as legend has it, made ships lose their bearings... until the invention of GPS!!), thanks to which lots of people found settlements and developed their civilizations here, among these the Etruscans (read more about them in the Gulf of Baratti as well) and the Romans (or actually, the rich patricians of Ancient Rome, who used to spend their vacations on Elba, to testify that nothing has actually changed in spite of the inexorable passing of time!). Could we leave aside the French Emperor Napoleon Bonaparte who, forced to abdicate in 1814 after his last defeats in Europe, was "obliged" to spend his exile there, in that maximum-security prison! The two villas dei Mulini and San Martino in Portoferraio simply testify to how difficult and hard his stay on the island really was!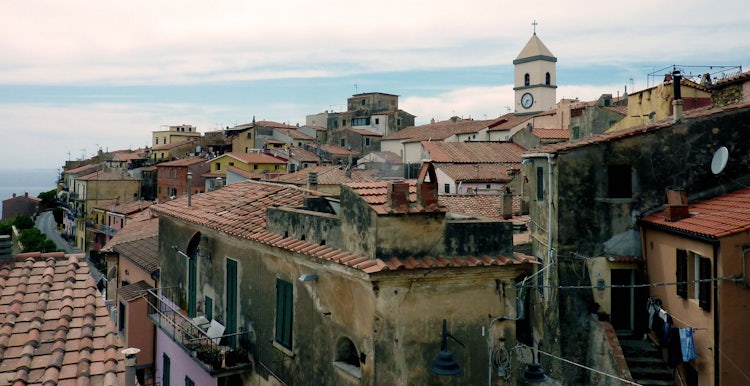 Useful info and recommendations
If you may appreciate a few suggestions about the best period for visiting Elba, I strongly recommend you avoid the high summer season, even if I perfectly know that most of us can go on vacation during that period. If you can, try to avoid the months of July and August, when beaches and villages are crowded with thousands of tourists that may spoil your long-awaited holiday. Travelling nose to tail, queueing everywhere, sun umbrellas placed one over the other with no space left, but mainly... very high prices! Actually, this is the sad and negative aspect of an island that, after the iron industry extraction crisis of the 1970s, has relied heavily on tourism as its main source of income.
So, if you are able to carve out some time in Spring and up until June, or in the autumn, you'll really enjoy the rare beauty of this island, the pearl of the Mediterranean... even from an economic point of view!
One last suggestion before leaving: as I said before, you're going to taste traditional Tuscan kitchen on Elba, which includes, however, local specialities, such as the polpo briao - red-wine braised octopus - even if, to be more precise, it's a typical dish of the whole Tuscan coast. What you can't miss is the dessert: schiaccia briaca. This recurring word maybe needs to be better explained: it's a Tuscan spelling of drunk... which means that dishes are made and cooked with wine! In this case, dessert is baked with aleatico, the renowned sweet wine made on Elba!
How to get to Elba
I think it's pointless to say that, being an island, you need to board any mean of transport you're planning to use once arrived at destination.
Elba is sea-connected with the mainland via 4 main ferry companies: Corsica-Sardinia Ferries, Moby Lines, Toremar and Blu Navy. The most popular and busy route is Piombino (going south towards Grosseto from Livorno) and Portoferraio, the main city located on the northern coast. There are also ferry routes to the Eastern coast (to Cavo and Rio Marina). You may choose to take your vehicle on board (whether it be a car, camper or motorbike) or get your rental vehicle once you arrive at your destination. Prices may vary according to the ferry company and the period, but we may generally say that price per person is about 10 euro, while per vehicle cost varies from 20 to 40 euro. Travel time is about 30 minutes, while the number of ferries may change according to the period: from October to March, there's a ferry every two hours, from April to September ferries travel every hour.
There's also a little airport in Marina di Campo, on the southwestern coast, connecting the island with the two main Tuscan cities, Pisa and Florence, but I think that ferry is the cheapest and easiest way to get there.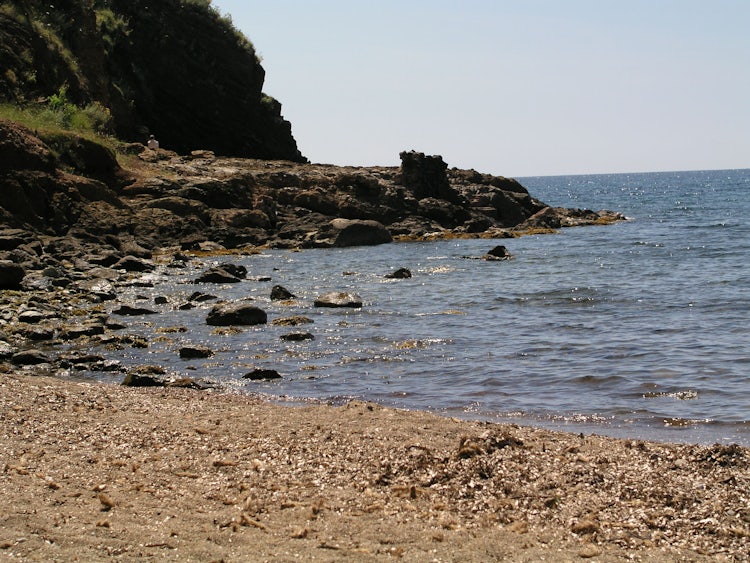 Getting around on the island
If you've decided to take your car on board during the summer, be prepared to find long queues once you arrive. Despite having just said that, car is the easiest way to get around on the island. As anyone knows, if you choose to use public means of transport, you need to be... very patient! So if you've chosen to leave your vehicle on the mainland or don't have one, you may choose to get around on the island by bus (find bus timetables here to plan your itinerary) or to rent a car or scooter at one of the various rental companies near the docks in Portoferraio (there are a few in Cavo and Rio Marina as well). As an example, a scooter can cost about 30-40 euro per day, while a car might 45-55 euro per day. It really depends on the season.
Are you ready to enjoy the beautiful island of Elba?