A guide to the main markets in Tuscany, city by city
Lots of markets during the Christmas season make them the ideal place to seek out gifts for yourself, friends and family! Wherever you may be, it is likely you'll find a market nearby on the weekends (and early holidays) starting in November and throughout the month of December. Many will occur on the same days, so you'll have to choose where to head to.
Here is a selection of the main ones we recommend!
IN FLORENCE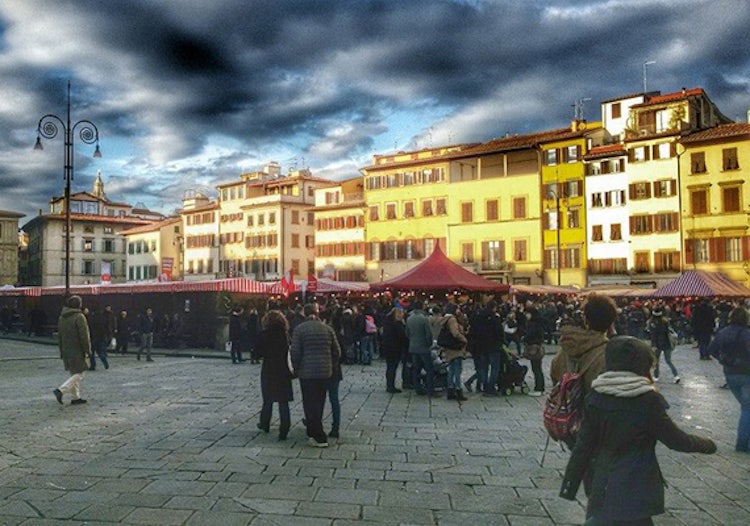 photo credit Mercato di Natale Firenze
Every year, there are various Christmas markets in Florence (and surroundings) where you can will find great gifts as well as get the chance to taste delicious food specialties while you roam... or just enjoy a little of the festive atmosphere that abounds!
Here are my favorite Christmas markets in town:
WEIHNACHTSMARKT CHRISTMAS MARKET - PIAZZA SANTA CROCE - November 28 to December 20, 2018 from 10 am to 10 pm
The Weihnachtsmarkt Christmas market is Florence's "traditional" market held in Piazza Santa Croce. The market appears as a small Christmas village with typical wooden houses popular in Christmas markets in Germany and in the north of Italy. Here, you will find Italian and international products that make perfect gifts, including Christmas decorations, candles, tableware, clothing and much more, as well as food and wine specialties to be enjoyed on the spot or taken home. Admission is free.
OPEN DAY FOR THE ISTITUTO DEGLI INNOCENTI - FOUR SEASONS HOTEL IN FLORENCE - December 16, 2018
The luxurious Four Seasons Hotel in Via Borgo Pinti in Florence opens its doors to its beautiful park for a fundraising event in favor of the Istituto degli Innocenti. On December 16, from 10 am to 4pm, , the large park of the old della Gherardesca estate will host many stands where you can buy Christmas gifts, food and wine and enjoy many culinary specialties. A perfect event for families with children, for which there is also entertainment. A minimum donation of 1 € is required to enter the gardens and market.
MAGIE DELL'AVVENTO (MAGIC OF THE ADVENT) AT PALAZZUOLO SUL SENIO - December 8 -9 - 15-16, 2018
These four days are devoted to Christmas in Palazzuolo sul Senio, in the upper part of the Mugello, go to add to another reason why people are drawn to this small town: for the many nativity scenes that fill the village during Christmas time. The "1000 Presepi per Palazzuolo" (1000 Nativities/Cribs for Palazzuolo) will be on display until January 6.
NATALE IN CORSO | Barberino di Mugello | December 8 -9 -16 and 23, 2018
Market through the historical center's streets with various entertainments, live statues, street artists and nativity scenes.
FIOCCHI DI NATALE | Firenzuola | December 9 and 16, 2018
From 10am, in the historical center: artisan crafts and more perfect for gift giving, music and games for children to celebrate the holiday season.
If you're interested in events around Christmas and December in Florence, take a look at this article.
IN SIENA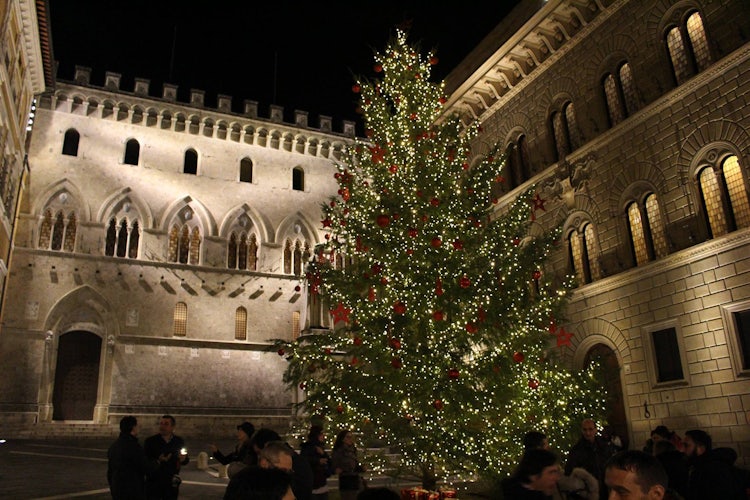 photo credit Siena Mercato Nel Campo
MERCATO NEL CAMPO IN SIENA - December 1 - 2 2018 from 8 am to 8 pm
The stunning Piazza del Campo in Siena will host the stalls of "Mercato nel Campo", which isn't just dedicated to Christmas, but a weekend where you will find many handicrafts, food and wine, gifts, decorations, books and other ideas that are still perfect as Christmas gifts.
CITTA' DELLE FIACCOLE - ABBADIA SAN SALVATORE - December 8, 2018 to January 6, 2019
The town of Abbadia San Salvatore every year offers a series of interesting events related to Christmas. Abbadia San Salvatore is known as "la città delle fiaccole" due to an ancient tradition that takes place during Christmas eve, when several small bonfires are set afire along the streets of the medieval town and people celebrate Christmas with carols and tastings of typical local food products. The celebrations start on December 5 with the construction of the first piles for the bonfires and continue until January with a calendar of events that will enrich the magic of this local tradition.
CHRISTMAS MARKET AT MONTEPULCIANO - November 17, 2018 to January 6, 2019
Montepulciano at Christmas is transformed into a Christmas market (free admission) with over sixty wooden houses where you'll find handicrafts, delicatessen products, decorations and gifts. Inside the Castle of Montepulciano, instead, children can enjoy the Christmas village set up just for them (this does charge an admission fee).
More details: http://www.nataleamontepulciano.it/ENG/
IN PISA
MARKET IN PIAZZA VITTORIO EMANUELE II IN PISA
A Christmas market offering many items perfect for gifts and decorations will take place in Piazza Vittorio Emanuele II from November 24 to December 24, 2018.
IN AREZZO
DECEMBER ANTIQUES IN AREZZO - December 1 - 2, 2018
The traditional antiques fair which takes place on the first weekend of every month in Arezzo will be Christmas-themed in December. So you will get the chance to find great antiques and much more!
AREZZO CITTA' DEL NATALE (The Village) - November 17 to December 26, 2018
Arezzo becomes nothing less than the "A Christmas Village" during the festivities! Held in the Piazza Grande there will be an authentic "Tirolese" market with many stalls of products from northern Italy (open to the public every day).
You'll also find workshops for children, the home of Santa Claus, open on 17-18-24-25 November / 1-2-8-9-15-16-22-23-24 December, from 10 am to 1 pm and from 2 pm to 6:30 pm.


CHRISTMAS IN CORTONA - November 17, 2018 - January 13, 2019
A Christmas market with local crafts and food specialties will take place in Piazza Signorelli every Friday, Saturday and Sunday from December 1st to December 16th and every day from December 21st to January 3rd. Near the Santuary of Santa Margherita you can also visit the House of Santa Claus from December 9 to January 5.
IN LUCCA
Generally until the second Sunday of January Lucca will be illuminated by projections and Christmas decorations and on the weekends there will be held several events and street markets in the neighborhoods of the historic center. There are no more details for the 2018.
IN MASSA CARRARA
CHRISTMAS IN MASSA CARRARA - December 2, 2018 - January 6, 2019
Massa Carrara organizes various events for Christmas for kids and adults.
A Christmas village especially for kids will take place in Piazza Alberica, Piazza delle Erbe e Piazza Duomo from December 2nd to January 6, from the 3 pm to 6pm.
IN GROSSETO
CHRISTMAS EVENT - CALDANA IN GAVORRANO - December 7- 8 -9, 2018
The tiny village of Caldana near Gavorrano hosts a Christmas market, witt Christmas goodies, local crafts and fun for kids on Dember 7,8, 9 from 10 am.