Planning your vacation or just a short getaway in September? This month is rich in events and festivals all across the region. Tradition and historical reenactments will guide you this month in the exploration of the region and its history. While Tuscany is wonderful as a place to spend your holidays, it also offers many chances to glimpse the daily life and take part in the traditions and history, art and culture of locals who organize these events for themselves. September in Tuscany offers the bright colors of Lucca and Arezzo, the deep-seated competition between Pescia and Asciano, and sweet aromas from Prato.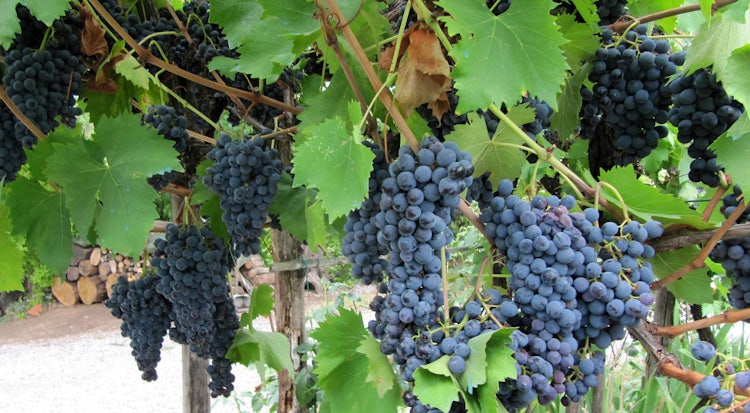 Here is our roundup of some of the main events taking place across Tuscany throughout the month of September to help you choose where to head off to. This is also the month when you can find lots of exciting things happening in vineyards throughout the region, read here to find out some of the more popular events in wine this month.
We are constantly updating the dates for the new year, if they have not yet been posted by official sites then we write in TBA (to be announced) - so keep checking in with us...or write us on the Forum.
With so much to choose from, we have divided this month into a few separate calendars so you we can list more activities and so you can focus on what interest you the most:
No matter what corner of Tuscany you are visiting this September, you will find fantastic possibilities to enjoy genuine food and colorful reenactments.
Tuscany | #DomenicalMuseo | 1° Sunday in September
A standing appointment every month
How about enjoying a bit of art, history and culture on a Sunday? How about enjoying it with free admission? Then mark the first Sunday of the month on your calendar and make note of the following State museums (and archaeological areas) across Tuscany where you can take advantage of free entrance.
See a List of State Museums in Tuscany
---
Pistoia | CAPITALE CULTURALE D'ITALIA | 2017
the Cultural Capital of Italy for 2017
Celebrate together with Pistoia! Between classical music concerts, art exhibits, cultural activities, blues & jazz in the town squares and so much more, this stunning little Tuscan town is prepared to show the world their true colors when it comes to their cultural prowess. Each month they are planning over 200 events including theater, music, book presentations, learning labs and more. Check in here every month to see select highlights from the Pistoia calendar.
---
Arezzo | FIERA ANTIQUARIA | September 5 - 6
The oldest and the biggest antique fair
Many years ago, Ivan Bruschi gave life to one of the oldest and biggest antique fairs in Tuscany...maybe even all of Italy. He transformed his love for the old, unique and precious into an event that fills the streets of Arezzo every first Sunday of the month and the Saturday that precedes it that month.
---
Panzano in Chianti | APRILANTE | 1st Sunday in September
Handcrafts & Vintage
We know they call the fair "April"ante, but it really goes all year round! This monthly market in the streets of this charming town in Chianti is where you will find hand crafts, vintage and delicious typical foods and all of it this is just outside in the countryside surrounding Florence.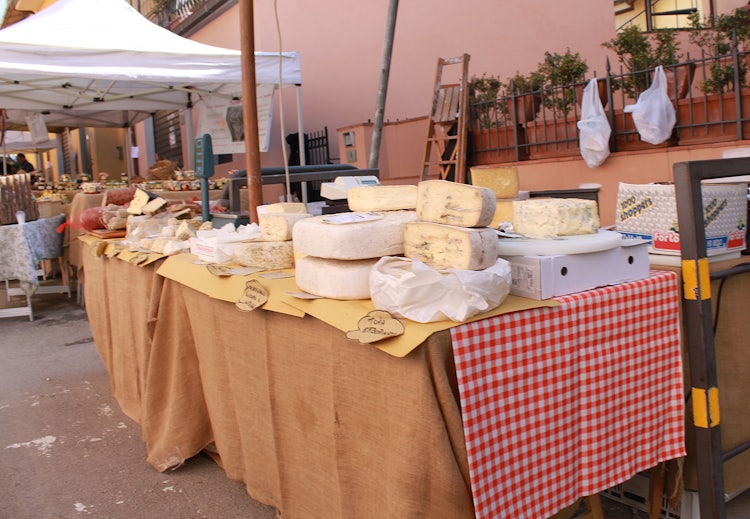 ---
Greve in Chianti | IL PAGLIAIO | Every 4th Sunday of September
Organic and Artisan Market
Piazza Matteotti is filled with locals who feature goods from their gardens, their kitchens and their workshops. Often you will find not only great bargains, but music and opportunities to do some taste testing.
---
Arezzo | GIOSTRO DEL SARACINO | first Sunday in September
Medieval games deeply rooted in the city's history
It's one of the most eagerly awaited events that Tuscans love to celebrate, during which the whole city turns back into a medieval town to recreate the atmosphere of yesteryear. Festivities start a week earlier, giving life to a rich calendar of daily events and culinary meet-ups that end with the Joust on Sunday. A competition between the 4 quarters of the city to win the Gold Lance, with parade in historical costumes, drummers and flag-throwers.
Read here for More Info More Inf.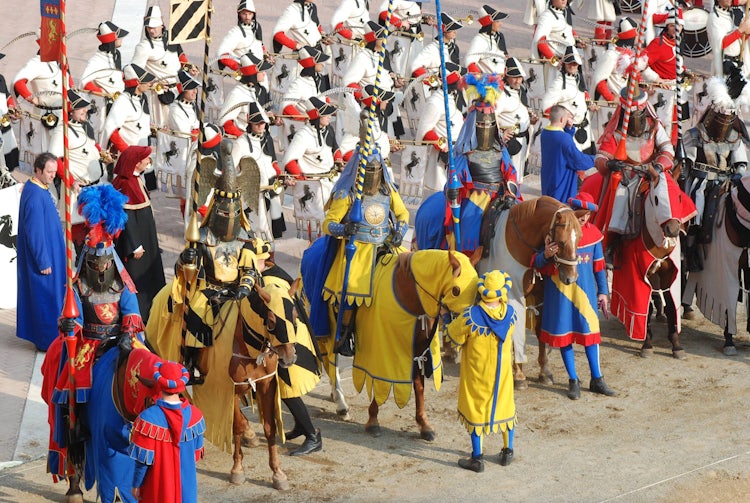 ---
Sansepolcro | PALIO DELLA BALESTRA | August 31 - September 10
just east of Arezzo, rich with re-enactments
A crossbow contest between the men of Gubbio and Sansepolcro who dress in medieval costumes and use antique weapons (on the last Sunday in May, in fact, the crossbowmen of Sansepolcro travel to Gubbio in Umbria for the first match of the Palio)
---
Pitigliano | SETTEMBREdiVINO | August 31 - September 3
and the Festa delle Cantine in southern Tuscany
This fun little play on words - a Divine September - or a September filled with wine. Either way it is a fascinating way to get to know the wine cellars of this town carved from stone.
---
Vaglia | FESTA DELLA MORA, DEL BOSCO E DEI SUOI FRUTTI | September 1 - 3
Fruit of the Forest
What could be more delicious than blackberries from the Mugello forests? That's right, three days of celebrating not just blackberries (mora) but other tasty morsels that grow in the shade of these age old forests.
---
Lucignano | MEMORIE DAL PASSATO | last weekend of September
Memories of the past, with traditions & food
A jump back in time in Lucignano in the province of Arezzo. But only as far as the last century offering scenes of daily life from the 1800-early 1900's.. History is brought back to life in reenactments of traditional crafts and trades in costume. Stroll along the city center streets and enjoy the magic of this 20th century atmosphere, while breathing in the aromas of the typical recipes of yesteryear.
---
Lucca | SEPTEMBER LUCCHESE | September all month
A whole month dedicated to fun and amusements, traditional festivals & celebrations
Besides food stands, agricultural fairs, traditional markets, handicrafts expositions, this manifestation brings to town one of the greatest amusement parks in Tuscany which is hosted in Piazzale Don Baroni just outside the city walls. A place that every year draws thousands and thousands of people of all ages as they await the arrival of the warm apple, rollercoaster, dodgems and the "tunnel of fear" to take a thrilling ride! September Lucchese is also synonym with the sweet specialty that defines this manifestation (and has gradually become one of the most characteristic aspects of the local culinary tradition): the frati (sugar covered fried doughnuts).
---
Lucca | FESTIVITA' DELLA SANTA CROCE | Sept. 14
An age old ritual that celebrates the Holy Wooden Cross
The festival consists of a procession that leaves from the Basilica of San Frediano, runs through the town to the Cathedral, to pay homage to the Holy Wooden Cross. The most interesting aspect, of what can be considered one of the most important annual event of the town, is the "luminara", which creates a truly spectacular effect with candles every where in the town. If you are interested in knowing more about the Holy Cross Celebrations.
Take a look at our article
---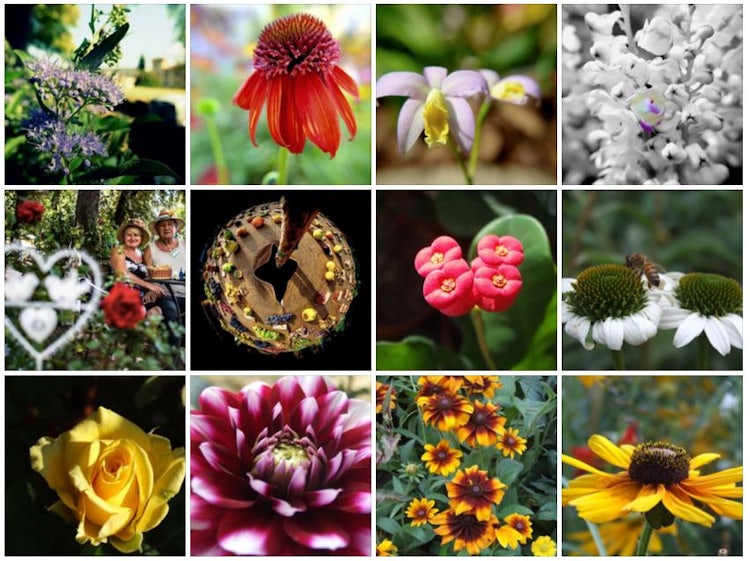 Lucca |MURABILIA | Sept. 1 - 3
high-quality gardening expositions
The marvellous backdrop of Lucca's Renaissance city walls will host Murabilia, which offers more than 200 specialized stands, conferences, workshops, lessons with the participation of special guests and uncommon plants and flowers species from all around the world. If you love flowers and plants, you should not miss this!
Official Website for the program
---
Camaiore | ALLA SCOPERTA DI CAMAIORE MEDIEVALE | Sept TBA
Discover the Medieval times and the via Francigena
Camaiore and the Old Francigena Road will be the absolute protagonists of two events dedicated to medieval reenactments and the celebration of the old pilgrimage road: Alla Scoperta di Camaiore Medievale (Exploring Medieval Camaiore), during which the whole city turns into an authentic medieval hamlet to explore the habits, recipes, arts and crafts of the past.
---
Greve in Chianti | CHIANTI EXPO | Sept. 7 - 10
wine, wine and more wine
However, if you would much rather celebrate the finished product, then you need to head to Chianti and the wine EXPO. Local producers will have bottles to sample with the purchase of a souvenir glass, you can then stroll through the small town with the stands showcasing their finished products and inhaling the atmosphere of Greve in Chianti and the vendemmia (grape harvest).

---
Monteriggioni | SLOW TRAVEL FEST | Sept. 23 - 24
three days of slowing down to enjoy the landscape
The colorful area of Monteriggioni, Abbadia a Isola and the antique roads of the Via Francigena are the setting for the Slow Travel Fest, an event totally dedicated to the culture of traveling at a slow and easy pace by foot or bike. The festival proposes something different everyday: meeting travel authors, themed excursions - like the Monteriggioni Underground On the 23rd of September, nature talks and shows, as well as concerts in the evening.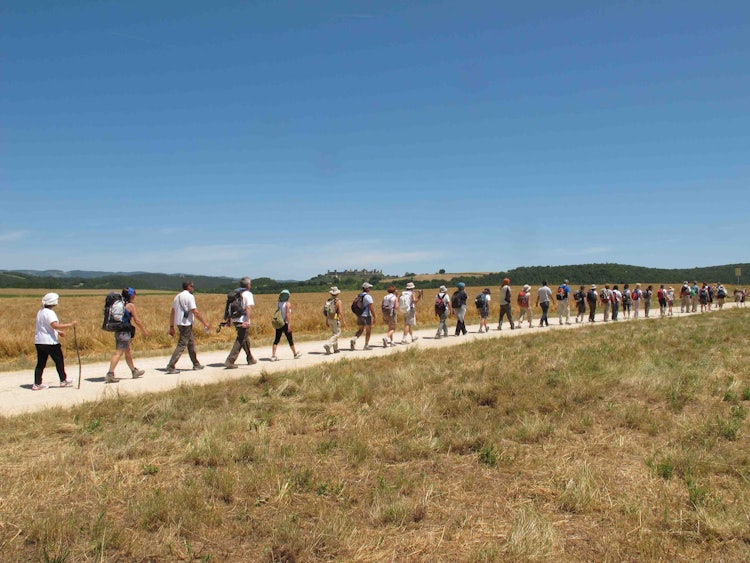 ---
Nozzano | IL CASTELLO RIVIVE | first weekend of Sept
Nozzano, a quaint village in the province of Lucca, where you can live between reality and fantasy (Sept 2 -3, 2017), in a historical reenactment in medieval style offering traditional markets, street artists, acrobats and jugglers, jesters and innkeepers ready to delight you with their medieval delicacies.
---
Verrucole | ASSEDIO AL CASTELLO | Sept. 6 & 7
The Castle Comes Alive Once Again
Another event held in an authentic medieval castle is the Assedio al Castello di Verrucole in Garfagnana. It is a feast that evokes the assault from the Lucca troops in 1170: medieval markets offering typical products and delicious dishes prepared according to the recipes of yesteryear, musicians, jugglers, jesters and two amazing battles.
Program & Prices (in Italian only)
---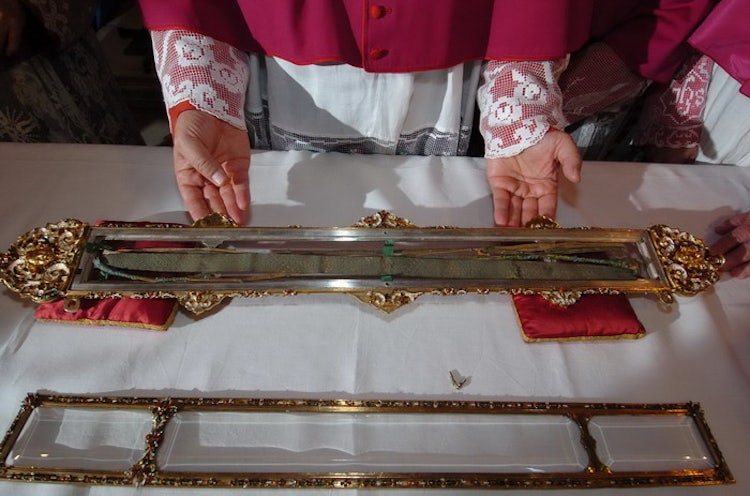 Prato | SACRA CINTOLA | Sept 8
a treasured relic inspires fun in the city
September 8 is a very important day for Prato's religious tradition, since it is one of the very few rare occasions when the Virgin Mary's Girdle is displayed amid much religious pomp and drummers in cathedral's square (another is on December 25 and 26). The relic is, in fact, kept under heavy lock and key year-round in a chapel of the Duomo where an enchanting Agnolo Gaddi's fresco cycle "The Legend of the Holy Girdle (1392-95)" recounts the arrival of the girdle in Prato.
Official link
---
Poggio a Caiano | ASSEDIO ALLA VILLA | Sept 15 - 17
just outside of Florence near Prato, a siege takes place
Stepping out to the province, Poggio a Caiano, famous for being home to one of the most beautiful Medicean villas in Tuscany, will be home to Assedio alla Villa from September 17-20 (Italian website only). Being in its 31st year, this event consists of a historical reenactment that will turn the whole town into a Renaissance village. Visitors will feel like traveling back in time, with itinerant performances, handicraft markets and fairs, enjoying the old arts and crafts. An incredible fireworks concludes the manifestation on the last day.
---
Scansano | FESTA DELL'UVA | Sept 16 -17 & 23 - 24
49th Edition of Morellino wine tastings
Heading into the Grosseto area, it is possible to start tasting the wine especially the protagonist of this event: DOCG Morellino di Scansano! A festival filled with food, wine and activities not to mention over 60 local artisans and their handmade products.
Check out the Program (in Italian only) for more details.
---
Carmignano | FESTA DI SAN MICHELE | Sept 29 - Oct 2
Not just a donkey race, but true art
Carmignano, located just outside of Florence and Prato, will be home to Saint Michael's Feast, with folkloristic parades and the Palio of Donkey at the end of the event, a race on donkey all around the historical center of Carmignano, during which the local rioni (districts) will compete against each other to win the Palio banner. An fascinating twist combines this traditional race with a "Street Theatre", where all four quarters work had over the year to perfect their perform of suggestive choreographies, dances and different exhibitions to bring on stage with a unique theme.
---
Montevettolini | IL RONDO' DI MONTEVETTOLINI | Cancelled for 2017
Check back next year when it will be new / improved!
The medieval festival Il Rondò di Montevettolini, a jump into the past where visitors will be completely surrounded by such a suggestively authentic atmosphere that they will hardly be able to distinguish fantasy from reality. Enjoy falcon shows, theater pieces and much more as the city comes alive in the most unexpected of ways.
---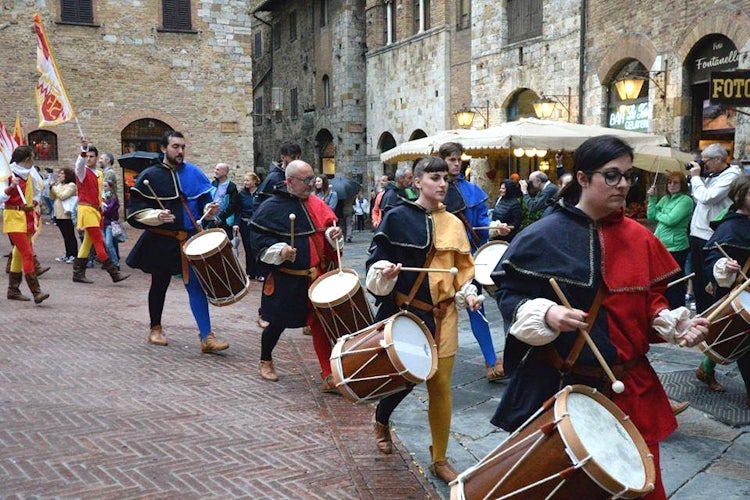 San Gimignano | MEDIOEVO IN ROCCA | Sept. 1 - 3
Middle Ages at the Fortress
At the top of September's events in the province of Siena, there's San Gimignano with its Medioevo in Rocca: visitors will be totally immersed in a surreal atmosphere, with historical parades, drummers and jugglers exhibitions, musicians and offering a lot of fun occasions for both children and grown-ups. Free entrance.
---
San Gimignano | VIII EDIZIONE DEL FESTIVAL BAROCCO | 10 - 16 - 24 Sept at 6pm
Baroque Music in the most charming setting
During the hour-long concerts, you will be regaled with pieces from the best known repertoire of Opera (Mozart, Bellini, Donizetti, Puccini, Verdi, etc), Italian Baroque (Monteverdi, Scarlatti, Pergolesi, etc) and Sacred Music (Bach, Pergolesi, Mozart, "Ave MAria" by Schubert). The performers are all virtuoso Italian and international singers and musicians.
---
Asciano | PALIO DEI CIUCHI | second Sunday in Sept
The traditional donkey race
A recurring tradition throughout all of Tuscany! the donkey race between the 7 districts of the town is held in the stadium. Before the competition takes place, a wonderful parade winds its way through the historical center to get to the stadium, where visitors can enjoy an amazing show by the city's flag-throwers. Festivities, with gastronomic events, wine-and-food tastings and lot of music, will start a week earlier. Official link
---
Radicofani | PALIO DEI BIGONZI | September 10
A new tradition in southern Tuscany
Though a recent addition to the annual calendar of events, this palio promises fun and excitement. It consists of two athletes racing a barrel, much like that which was used to carry wine...but carrying an empty barrel would be too easy between the contrade, so they start with an archery competition which establishes the handicap...exactly how many kilos are to be added to the barrel and carried across the finish line.
---

Vicopisano | FESTA MEDIEVALE DI VICOPISANO | Sept 2 - 3
Adults and kids join in the fun in the province of Pisa
At the Rocca del Brunelleschi, the fun is on! Including many events especially aimed at kids plus an authentic medieval-style dinner, organized in the square in front of the Palazzo Pretorio, surrounded by the rare beauty of the historical center of Vicopisano, with its massive Fortress designed by Brunelleschi as the backdrop.
---
Pontasserchio | FIERA D'AUTUNNO | September TBA
less than 10 km from Pisa
The Autumn Fair in the province of San Giuliano Terme is aimed at promoting local specialties with typical products and handicrafts stands, antiques and exchange markets and stands with a bit of everything, from home furniture to decorative objects and art-crafts, to the most innovative technologies for domestic use and much, much more.
---
Florence | RIFICOLONA | Sept. 7
celebrates the pilgrimage of hundreds of peasants and farmers
The festive atmosphere of Summer continues filling the air in September with a contagious magic and folkloristic style, and this festival celebrates the pilgrimage of hundreds of peasants and farmers from the surroundings on their long trek into the city of Florence to celebrate the birth of the Virgin Mary on September 8th.
---
Florence | CARRO MATTO | last Sunday in September
a wine tradition in Florence
An event deeply rooted in the Florentine tradition and culture, aimed at celebrating one of the most representative aspects of the city and its surroundings, the Carro Matto puts wine production in the spot light. This event is accompanied by a wonderful historical parade, musicians, drummers and flag-throwers: something you should get to experience if you are nearby around the end of the month.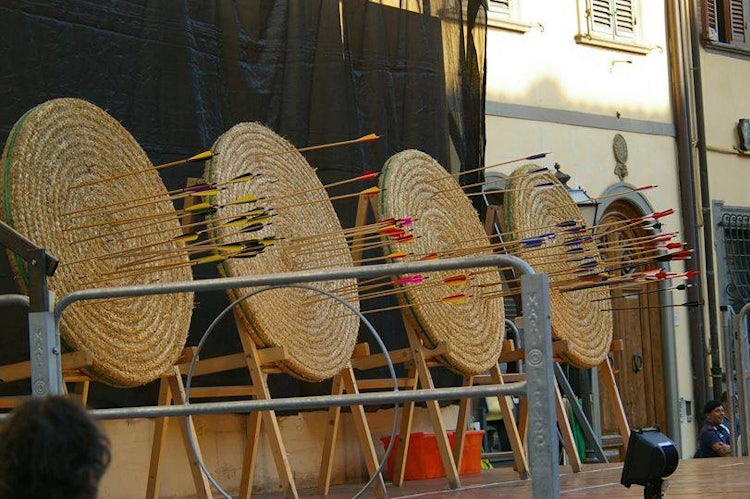 ---
Pescia | PALIO DEGLI ARCIERI | the first Sunday in September
Festivities start a week earlier (August 27) withbauthentic reenactments of the old games and culinary competitions among the districts of the town, historical parades, drummers and flag-thrower exhibitions. The town is covered into the bright colors of the rival rioni, creating a lively atmosphere throughout the week. On the first Sunday of the month the grand finale plays out, the Archery Palio: 4 archers per district will be competing against each other to win the treasured banner.
---
Scarperia | DIOTTO | Sept. 8
the city of knives just outside of Florence
This too is another important event that many eagerly await! Celebrating the foundation of the town Scarperia over 600 years ago, the manifestation consists of several contests between the rioni (or districts), an enchanting parade in historical costumes and flag-throwers. The festivities are preceded with a beautiful Renaissance fair (the so-called Renaissance Days) spread out all over the charming village.
---
Montalcino | SETTIMANA DEL MIELE | Sept. 8 - 10
the sweet varieties of honey
Revel in the sweet flavor of honey at this week long celebration with talks, demonstrations and even taste testings at Montalcino.
---
Bacchereto | SAGRA DEL FICO | Sept. 2 - 10
41st edition of the fig food festival
Everyday of this sagra features a different dish including penne pasta with figs! They are bringing out the fall flavors and their figs are one of the best not to be missed.
---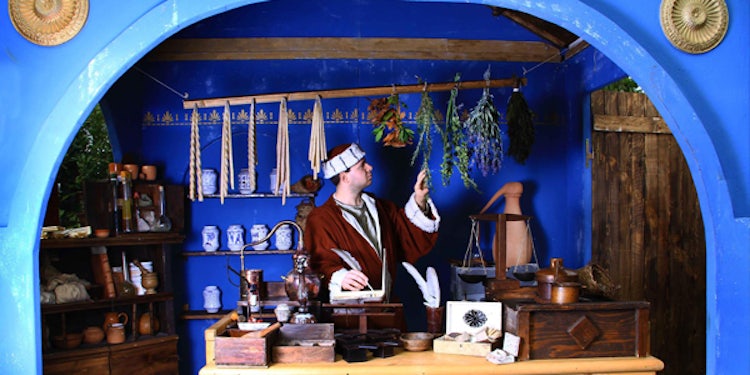 Pian del Bichi | SAGRA DELLA ZUPPA DI PANE | Sept. TBA
Tuscan Bread is the main ingredient
Located near Roccastrada in the province of Grosseto, everyone loves to visit this sagra, a savory soup based on bread followed by live music and dancing.
---
Arezzo | STREETFOOD ITALIA | Sept. 14 - 17
A Collection of Flavours from all over Italy
One the largest displays of flavors and fingerfood from all over Italy. Join the crowds in savouring fried specialties, hamburgers from quality meats and artisan desserts and beers.
---
Pievescola | SAGRA DEL FUNGO | Sept. TBA
An extra special Tuscan specialty: Porcini mushrooms
Between enchanting sculptures and delicious food, this festival will spark your imagination in the most fun of ways.
---
Massa Carrara | SEPTEMBERFEST | TBA
Authentic Bavarian Beer Floods the main square
The sister cities Ingolstadt in Germany and Massa Carrara celebrate over 20 years of cultural exchange by transforming their town into a gastronomic, musical and of course with lots of beer representation of the Bavaria.
---
Montagnano | SAGRA DELLA NANA | Sept. TBA
Food festival based on duck in all its flavors
The word "nana" is a bit slang for anatra (duck in Italian) - and though not everyone will know what nana is, when they sit down with a plate full of roast duck...they will fall in love immediately with this culinary tradition. THis manifestation deeply rooted in the gastronomic culture of the quaint village, with local recipes typical of the rural tradition using duck as the main ingredient.
---
Venturina Terme | BAVARIA FEST | Aug. 25 - Sept 10
a mix of cultures
Towards Livorno, on the coast of Tuscany, the festival (Bavaria Fest) has brought Bavarian culture and gastronomy to Tuscany. As you enjoy the delights of a Bavarian styled restaurant, sipping a beer mug, you can enjoy a bit of the magic of the Oktoberfest tradition: every night Bavarian music alternates with international music, a typical German original orchestra will perform at the Beer Festival and will entertain you with cheerful Bavarian music, prosit and fun gags
---
Fucecchio | SALAMARZANA | Sept. 2 - 3
8th Edition of the Medieval Festival
Set in the city center of Fucecchio this fair revisits the historic games, entertainment and foods found along the via Francigena. In the streets, courtyards, gardens and town squares lend themselves to recreate an special ambiance in costume including visits to the churches, towers and palazzos. You will find stands with artisans, military camps, music, magicians and dancers and more which will drag you back into yesteryear.

---
Castelnuovo Berardenga | FESTA DELL'UVA | TBA
The Grape Harvest & Vendemmia
The quaint little village of Vagliagli near the heart of Chianti opens its streets to several stands for tasting & buying products typical of this area between Florence and Siena, especially the wine from Chianti. The festival includes a parade of allegorical floats derives with themes from the countryside lifestyle accompanied by locals in traditional dress.
---