Every year Tuscany and some of its most beautiful villages are the perfect setting of numerous Medieval fairs, animated by characters in historical costumes, minstrels and storytellers, wandering musicians, flag throwers and many others simply interested in playing with the thought of stepping back in time.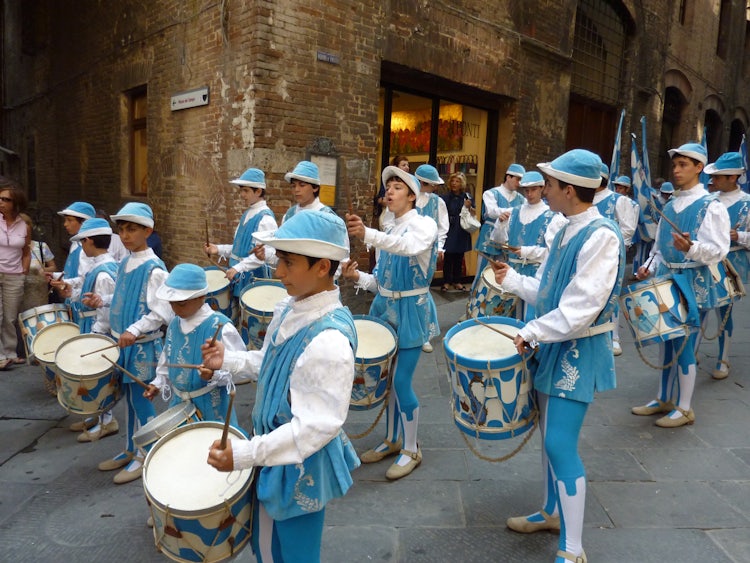 Tuscany, with its many beautiful villages and towns with Medieval origins, is ideal for a medieval fair or historical reenactment. These events are organized throughout the year, with many of them concentrating in the seasons with better weather given that they all take place outdoors.
The best and most entertaining aspect of these fairs is seeing 100% participation of its citizens - they all dress up in different roles and then are in charge of presenting an aspect of daily Medieval life to visitors. From small entertainment shows and activities dedicated exclusively for children, citizens dress up in full costumes paying attention to every detail and set up tables showcasing the various crafts that were practiced at one time such as blacksmith, candlemaker, tannery and more. Many set up shops as they once were - on the street and ply their craft to the enjoyment of the crowd.
Below is a list of some of the Medieval fairs we know take place every year in Tuscany. If you can't make it to one this year, this might help plan a future vacation. If you know of any others we have not included in the list, let us know by following the link at the bottom and we'll add to spreading the word!
Have fun stepping back in time!

May - June
Medieval Fair at Malmantile - Lastra a Signa (Florence)
The last weekend in May and the first weekend in June
The festival takes place in the Medieval village of Malmantile, close to Lastra a Signa.
Official site: www.festamedioevalemalmantile.it
Medieval Festival Bianco Azzurra at Castiglion Fiorentino (Arezzo)
The last weekend in May through to the first weekend in June
The fair takes place within the castle Rocca del Cassero in Castiglion Fiorentino.
Official site: www.festamedievale.it/
Middle of June, around the weekend of June 16
More info at www.cavalieridisantafina.it
La Disfida della Valdelsa at the Parco Archeologico di Poggibonsi (Siena)
Towards the beginning of June
This fortress sits on an archeological dig which has been transformed into a small little town to visit and learn about life as it once was...but they also hold events like this re-enactment for the beginning of June More info at www.parco-poggibonsi.it/
Tria Turris (Chiusi)
Towards the end of June
You will find yourself in the middle of the 1300's in the free city of Chiusi, life in the medieval with tournaments and games. More info at www.triaturris.it/

July
The first half of July
The events are within the city walls of the small medieval village of Monteriggioni, offering a very particular setting.
Official site: www.monteriggionimedievale.com
Medieval Times at the Court of the Ubaldini - Palazzuolo sul Senio (Florence)
The second half of July
Official site: facebook.com/OsteGhibellina
Fortezze di Verrucole at Fivizzano (Massa Carrara)
July & August
Events every weekend bringing to life this well maintained fortress
Official site: www.fortezzaverrucolearcheopark.it
---

August
Medieval Times in the Borgo of Roccatederighi (Grosseto)
On the first weekend of August
This medieval fair takes place in August within this beautiful Medieval village in Maremma.
Official site: www.roccatederighi.info
Medievalis at Pontremoli (Massa Carrara)
16-19 August 2018
Medieval dress, fire on the river and games & food fill the open space under the antique bridge in this small little hamlet on the via Francigena every August.
Official site: www.medievalis.org
Volterra AD 1398 at Volterra (Pisa)
Third and fourth Sunday of August
We've been to this Medieval fair twice already and it is a lot of fun! A whole section of the town dedicated to the fair is the perfect setting and there is entertainment and something to see at every corner.
Official site: www.volterra1398.it/
---

September
The Castle Lives Again! - Medieval reenactment at the Nozzano Castle (Lucca)
First weekend in September
Official site: www.ilcastellorivive.it
Medieval Fair at Montevettolini - Monsummano Terme (PT)
Mid September
Official site: www.rondomontevettolini.it
Medioevo in Rocca San Gimignano (Siena)
Towards the beginning of September
We are back in San Gimignano for another Medieval festival! www.cavalieridisantafina.it
Igneus 1069 (Florence)
Trial by Fire
St. Ignatius, named Abbot only after passing the test of fire on 13 February 1068
Fortezze di Verrucole: The Siege in the province of Fivizzano (Massa Carrara)
The first weekend of September
Re-enactment of the siege of the defensive buildings by the military troops from Lucca, a particularly dark moment in the history of the fortress
Official site: www.fortezzaverrucolearcheopark.it