In the countryside but just 10 minutes from the beaches in Follonica, Casa Conti di Sotto offers the best of what Tuscany has to offer.
If you're looking for a place where you can relax and recharge while in Tuscany, close to the coast and its beaches, then Casa Conti di Sotto is the place for you! We've fallen in love with the location: the Upper Maremma is great for anyone that loves being outdoors, either at the beach or hiking or fishing nearby. Above all, we've fallen in love with all of the amenities that Laura, the owner, has added on to her home to make this a dream location for anyone wishing to have fun, relax and recharge in Tuscany.

THE LOCATION: Gavorrano & the gulf of Follonica
Casa Conti di Sotto At-a-Glance:
Type: self-catering holiday apartments
Location: Gavorrano (1 km)
Distance: Follonica (15 min), Grosseto (25 min), Florence (2 hours) or Rome (2 hours)
Transport: a car is necessary
Lodging: 9 apartments and villas
Sleeps: 50
Type of board: Accommodations only, weekly stays from Saturday to Saturday in high season, shorter stays on request
You could go off and explore some of the best beaches in all of Tuscany along the gulf of Follonica, with the island of Elba directly in front and Punta Ala and Piombino at each end. The sea here is calm and gentle, white sand and low transparent water ideal for small kids to play in, but also perfect for long, romantic strolls along the beach at sunset. There are both private beaches with all amenities, as well as stretches of "free" beaches. The gulf on the left ends with rocky beaches, coves and the famous beach of Cala Violina while on the right the gorgeous sandy beaches and clear waters at Torremozza beckons.
For those planning day trips in the area, you can also head inland to the splendid town of Massa Marittima and then on to explore the medieval towns of Roccatederighi and Roccastrada. You could go north to the Etruscan Coast and on to Bolgheri wine country. Or south to the Park of Uccellina for walks in nature and to the Monte Argentario for sailing or to catch a ferry to the island of Giglio. A horseback riding school, golf resort and hot springs nearby offer more choices of leisure activities.
If you're traveling around the area with an e-bike or with an electric vehicle, we'd like to point out that the estate has recently installed charging stations! This will ensure you can head out in the mornings and come back and charge back overnight.
Whether on an e-bike or regular bike powered by your legs, consider the estate the perfect base for cycling and exploring the area, with the possibility of heading out each morning in a different direction and returning at the end of the day to enjoy relaxing and recharging by the pool and with a delicious meal at a nearby restaurant. If you don't have your own bike, the estate rents bikes to guests and also offers a work station where you can make any repairs to your bike, if the need arises.
In less than 5 minutes, in Gavorrano, you can enjoy evening meals at the Tuscan restaurants and pizzerias, or head to local wineries for visits and tastings, including the famous Rocca di Frassinello by Renzo Piano.
Having listed all of the attractions nearby, let's take a look at why you might actually decide to spend most of your time at Casa Conti di Sotto.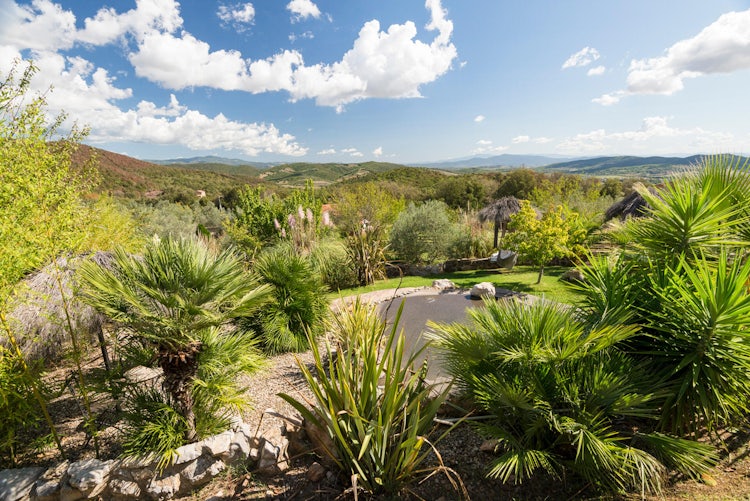 THE ESTATE: A relaxing retreat at Casa Conti di Sotto
Laura and her family have owned the property and spent summers here since the late 1960s. In the early 1990s, the family estate was transformed to welcome guests and share this corner of their paradise in Tuscany. Over the over 20 years of experience, Laura has been fine-tuning and perfecting all that the property offers to make guests feel pampered and at home.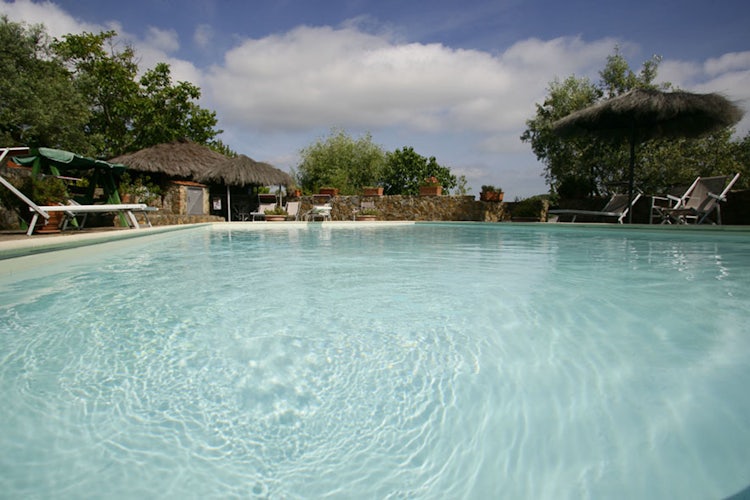 The estate is spread out over several stone buildings to offer in total 9 self-catering houses and apartments of various sizes so whether you're a couple on a romantic getaway or a family on vacation with kids, you should find the right size to meet your needs. You will be able to relax together and enjoy what will become your retreat in the Tuscan countryside.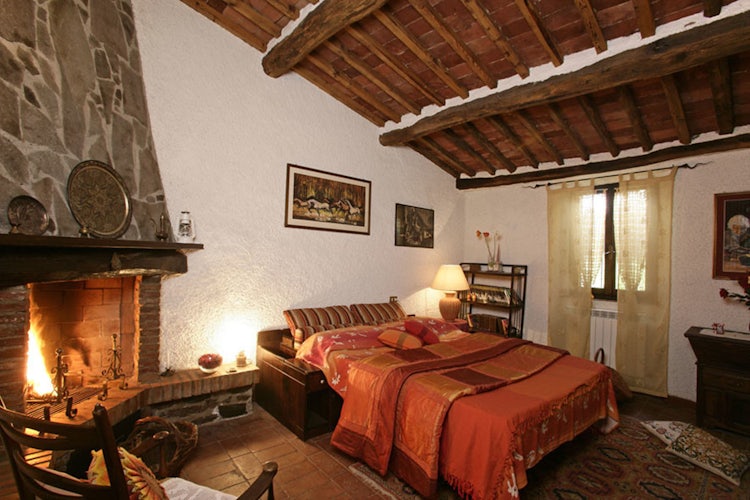 Each of the holiday villas have their own kitchen and living areas, hosting from 2 to 8 people. A few that sit right next to each other can be combined for larger groups. Two of the apartments are set apart from the rest, so that you can also have your own villa with privacy away from the main nucleus of the estate.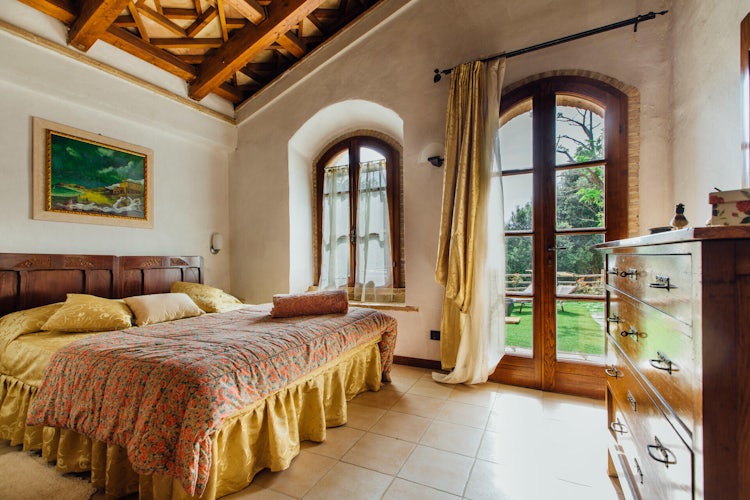 What we love about Casa Conti di Sotto:
PERFECT FOR FAMILIES AS WELL AS COUPLES: the property is large and offers many areas of play for children, but also many private areas for each apartment as well as the wellness areas that are reserved for adults.
OUTDOORS LIVING: the spacious gardens and play areas, barbecue grills and outdoor tables and chairs encourage guests to enjoy spending time outdoors.
RESTAURANTS & WINERIES NEARBY: while you can enjoy being in the countryside, you still are very close to a town with trattorias, pizzerias and shops to get what you need and there is lots to see and do in the area, including wine tasting. The property makes organic extra virgin olive oil you can taste and buy to take back home, offering other local products to guests.
The apartments each have their own outdoor private area and independent entrance, and all have WiFi access, air conditioning and heating systems, fireplaces, SAT TV with DVD player, mosquitoes nets on the windows, dishwashers and hair dryers. The living areas all offer sofa beds, all with memory foam mattresses to ensure the sleeping comfort of guest's sleep. They are furnished in rustic Tuscan style, with wooden beam ceilings, terracotta, marble and stone walls and fireplaces. Each has something that makes it different than the other, such as a hydro-massage shower (Villa Mirto) or a fireplace in the bedroom (Villa Mimosa)... or a skylight over the bed to stare at the stars right before falling asleep (Villa Mirto).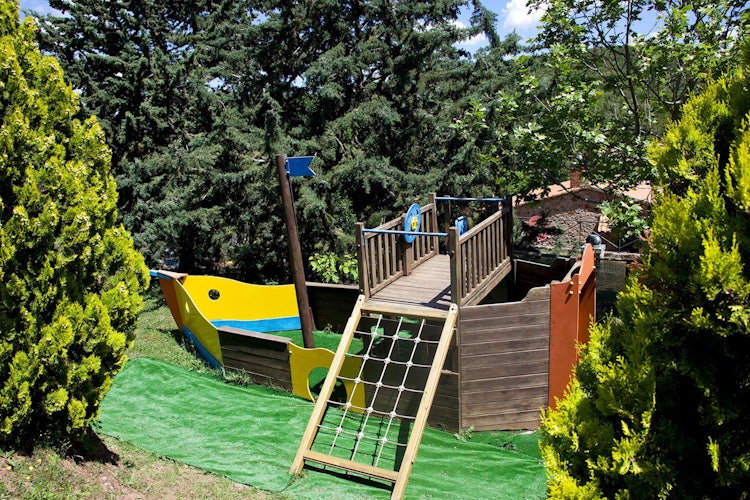 If you're traveling with small children, you often need to travel with lots of accessories. Laura has thought to provide many things to help her guests, free of charge, from a stroller to a crib, from a high chair for meals to small tubs for baths (since the apartments have showers). Many places have showers and no tubs, so the extra thought of a small tubs is really great!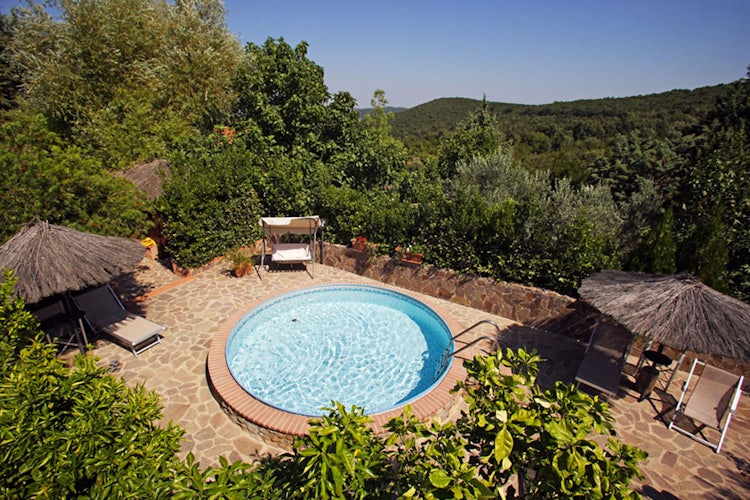 The heart of the estate surrounds 2 swimming pools, one is smaller and heated, dedicated to small kids set away from the first. Near the kid pool, there are 2 dedicated playgrounds with swings and slides, as well as a ping pong table, a large chess game and table soccer game. Families with kids will enjoy spending time in this area, where tables under the shade encourage picnics and time relaxing.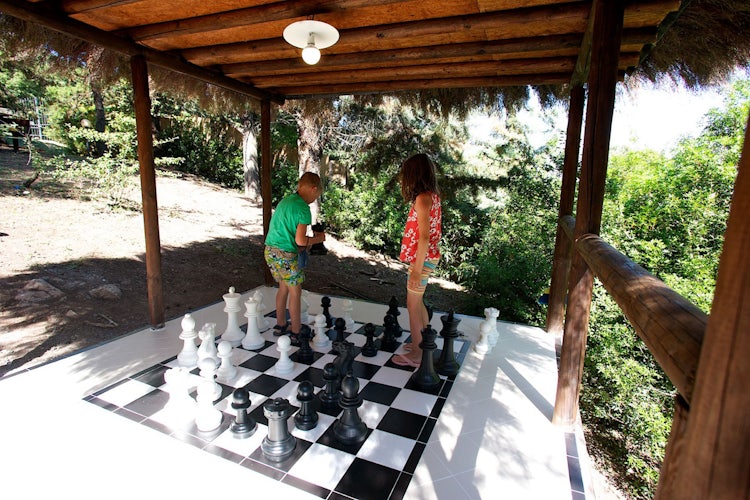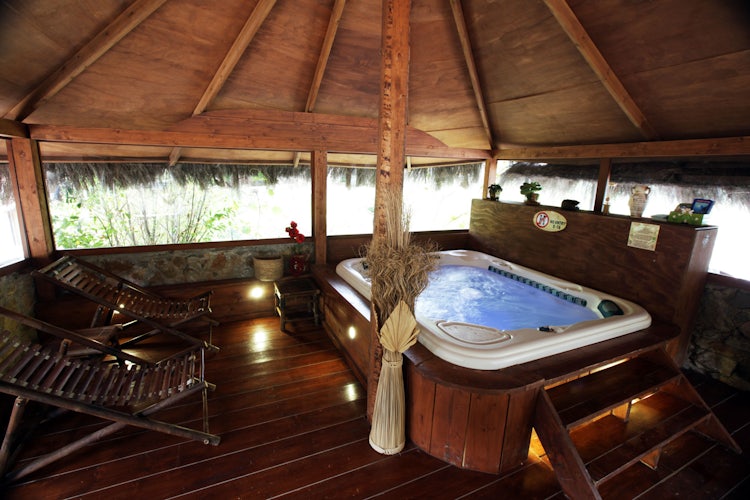 Guests can enjoy the pools and indoor and outdoor fitness areas, several outdoor wellness areas that include an area with a sauna, an outdoor Kneipp area (with cold and hot water to stimulate circulation) and a hot whirlpool tub/Jacuzzi. There is also La Sorgente, a natural pool where you can get your toes wet while admiring the surrounding views.
A new indoor wellness and Spa area is also year round with sauna and Turkish bath with a cold water immersions so that you can enjoy a relaxing day at a Spa even in the winter months. This area is also open to guests not staying at the agriturismo.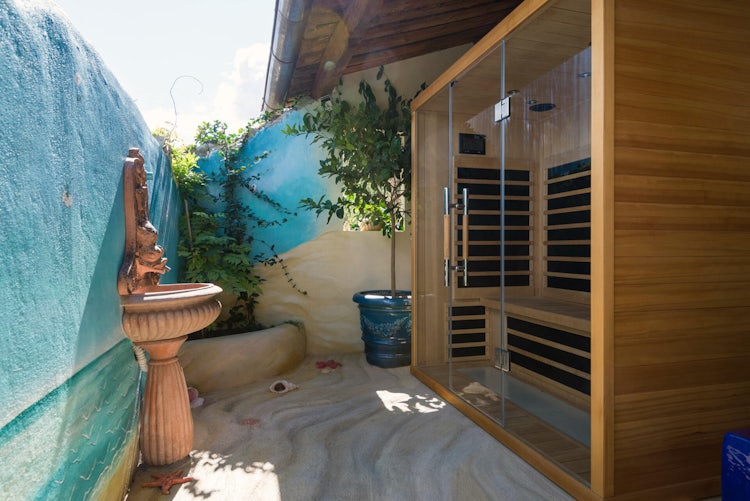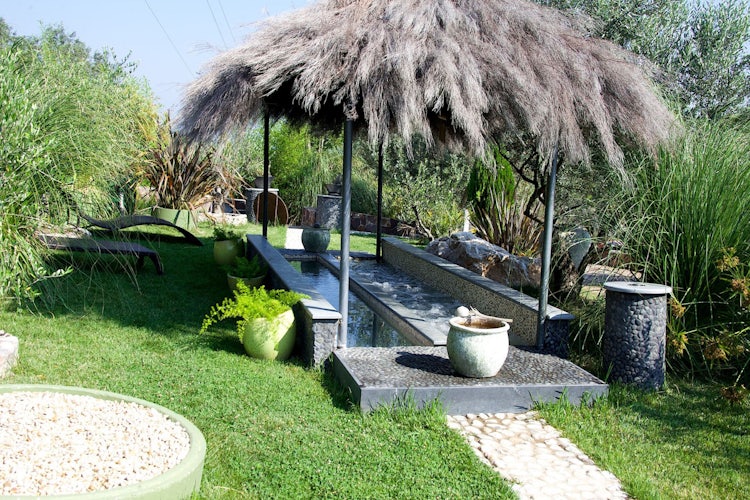 For those that wish to keep in shape while away from home, the indoor gym offers an elliptical machine and weights while the outdoor areas have stationary bikes. If you love to read or play music, there is a reading and music room with lots of books and comfortable sofas where you can sit and read or you can play the keyboard and other instruments.
THE VIP AREA: Extra privacy & services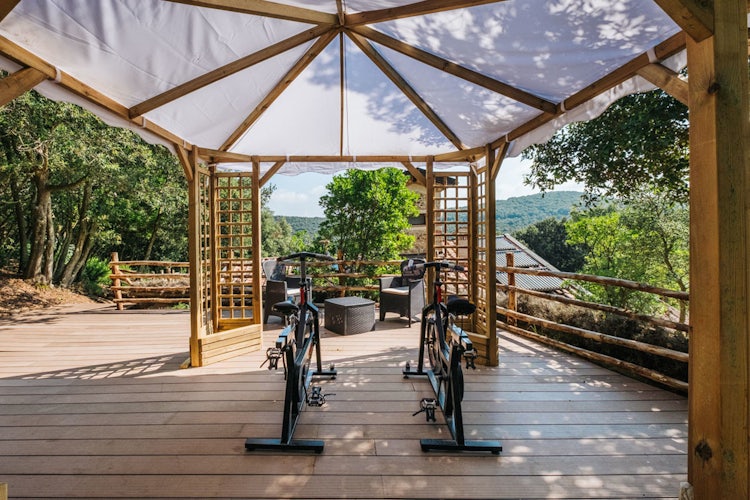 While two of the villa apartments are right by the large pool for those who want to be in the middle of things (La Sugherella and Il Corbezzolo), you might want to have a little more privacy. Just 200m away, the villa that sits in front and to the side of the main estate is in practice a separate property, with its own set of amenities and thus perfect for anyone that wishes to have their own space and more privacy. The area is called the "VIP area" to highlight how they offer more privacy by being set apart.
There are 2 apartments here, Villa Gelsomino and Villa Biancospino, each with its own outdoor area with a covered gazebo, sun chairs, barbecue grill, garden with a whirlpool hot tub and a small outdoor fitness area. They can be rented together to host up to 15 guests, or separately for up to 7 or 8 guests each. Indoors, both apartments host bathrooms with crystal box showers with hydro-massage jets.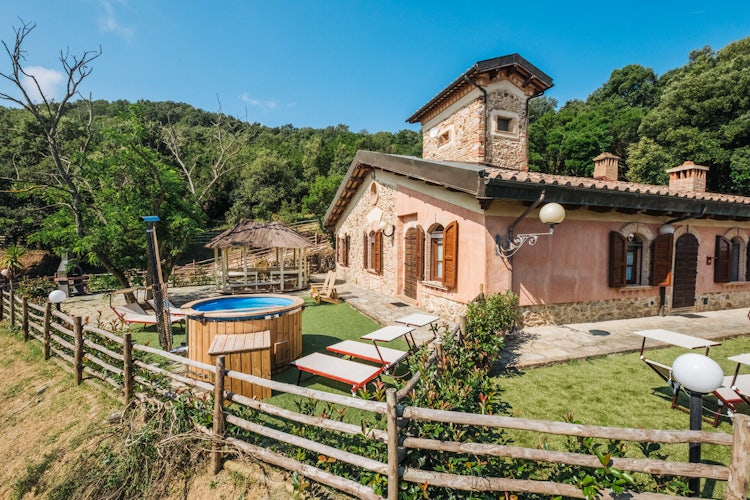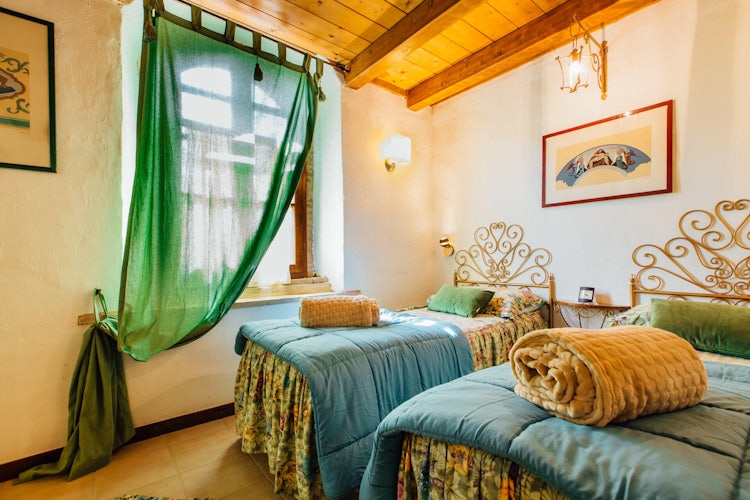 Nourish your body - and your belly, too!
The estate is surrounded by olive trees, from which Laura makes the estate's organic extra-virgin olive oil. The estate hosts bees and chickens, so guests can have "home grown" honey and fresh eggs and seasonal fruits right on the property. Want to make some roasted potatoes or a barbecue and need fresh herbs? Laura has chosen to plant not only flowers across the property but many fresh herbs and fruit trees that offer the chance to have what you need on hand: all you need is to step out and cut/pick what you need.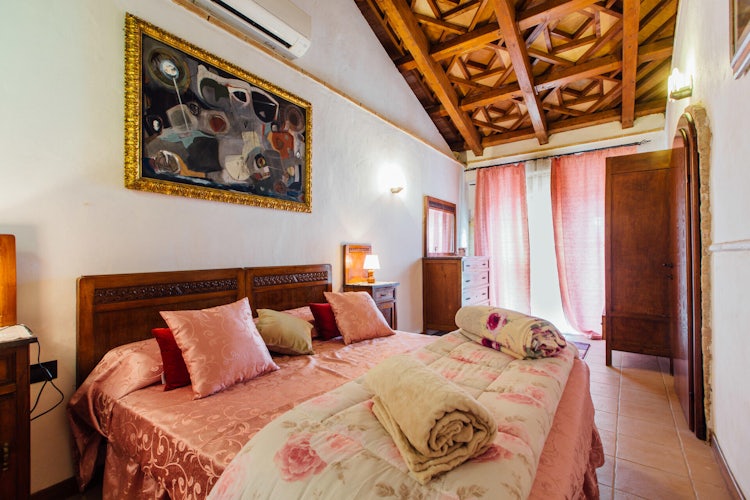 The estate is just a kilometer (half a mile) outside of Gavorrano, where there is a supermarket open 7 days a week and many restaurants, pizzerias, pharmacies and other services. You will be able to enjoy the best of the Tuscan countryside without being far from all basic services. A car is definitely needed to reach Casa Conti di Sotto and move around this area of Tuscany... but once you're there, the estate offers so much to enjoy, a chance to relax and recharge, that you might head out for basics but quickly return to enjoy just being there.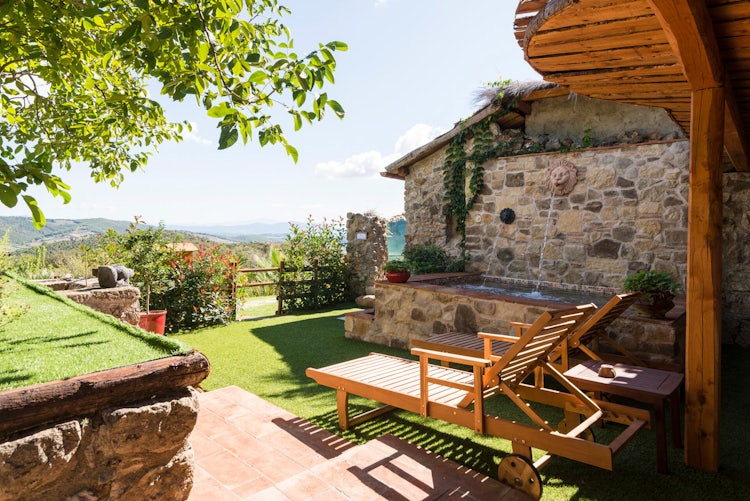 What more is there to say? If you are looking for a place to stay in Tuscany at any time of the year, in the countryside but not far from the coast and its beaches, where you can completely relax and have fun, then Casa Conti di Sotto is your place!
Check out their website for more photos and details on each of the apartments, then contact them to book your vacation today.
Go to Casa Conti di Sotto's website
This is a Sponsored Article but reflects the honest opinion and experience of the author. More details »