See more of Pisa than just the Leaning Tower, in just 2 hours
Pisa is obviously known for its Leaning Tower and there is no denying that is the main attraction that draws thousands of visitors every single day. It would be a real loss, however, if you only saw that and nothing else once you're in Pisa, as the small college town has other jewels spread across its small historical center worth discovering. Many people don't know about them so cannot plan to go see them: you don't either, but if you're curious as to Pisa's history and why there is a Leaning Tower to start off, why not explore it further? With a few more hours in Pisa, you can head back home with a more complete picture of the role of Pisa within Italian history.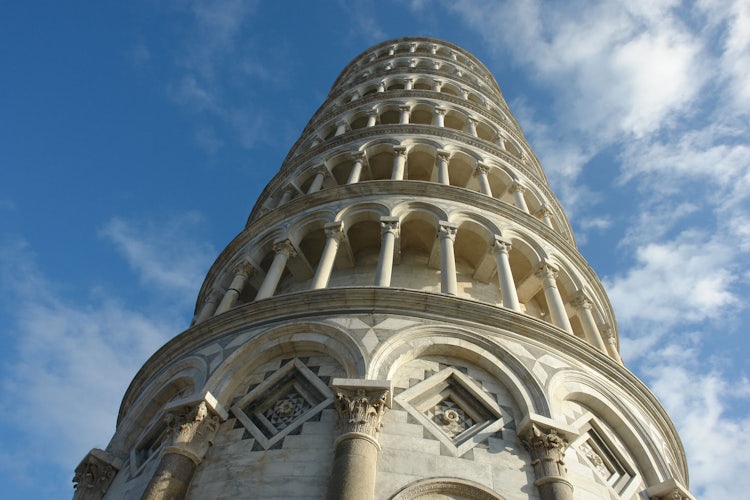 A short walking tour through Pisa is the perfect way to do so! While we also love exploring new towns on our own, we highly recommend skipping any advance reading and just heading out with a local that can give you the most interesting information right on the spot.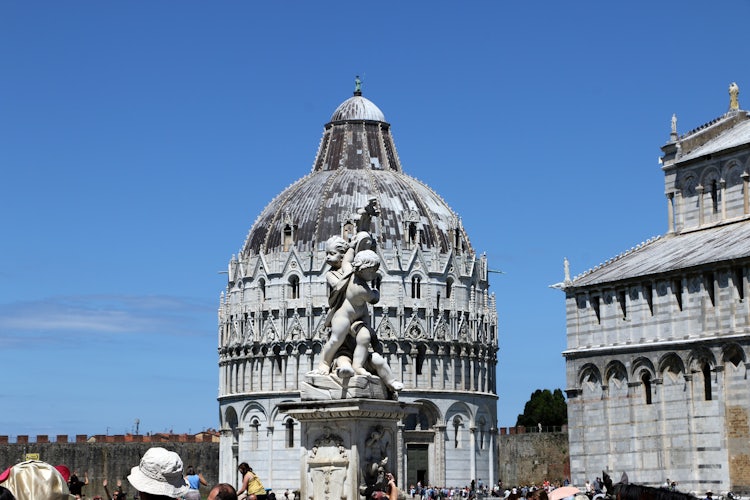 This page contains affiliate links. More details »
Did you know?
One of the first things we learned from our guide David was that Pisa was surrounded by 7km of walls! About 70% of it these walls are still standing, I had never realized this. You see a small section of the walls right by the Piazza dei Miracoli, and the walls keep on going beyond. In early summer of 2018, a section of the walls has been opened to the public so you can walk along the top, which right by the Square of Miracles offers a great view! Cost for the walls is €3, kids under 8 are free. For more info: http://www.muradipisa.it/
Last time we were in Pisa, we decided do just this ourselves. We chose the 2 hour, small group walking tour called "Pisa Off the Beaten Path" to get a quick introduction to Pisa. We also had two small kids along, so we didn't want something too long. Two hours were perfect, as our guide Davide took us along Pisa from the Central train station to the Square of Miracles, pointing out buildings, plaques, and introducing us to the various historical periods that heavily impacted the city's history. We found the tour to be the right combination of interesting pieces of historical details presented in light, conversational fashion and walking as well as time commitment.
The tour at-a-glance:
2 hours, long enough to leisurely cross Pisa's center
morning departure
small group - max is 15 people
easily to walk, all flat ground so wheelchair/stroller accessible for families with small kids
cost 19€ per adult, children under 10 are free
starts in Pza Stazione, ends in Pza dei Miracoli (where you find the Leaning Tower)
Our morning tour starts in front of the Pisa Centrale train station, then winds its way north through the medieval streets, across the Arno river and through the various districts into which Pisa is divided. Short stops along the way highlight how the city has changed over the centuries and you get to see what it is today, a small but lively college town (there are 3 universities here!). You get to see what locals experience in their daily lives, away from the main tourism crowds in the Square of Miracles.
The tour is not in chronological order, but our guide does start with an introduction of Pisa as a Roman town, surrounded by a lagoon. The sea was much closer than it is today, so Pisa was actually a port city and very rich and powerful for this reason, a great Marittime Republic. Can you imagine that Florence enjoyed having to pass through Pisa as a port or pay Pisa for commerce that had to go by sea? Of course not!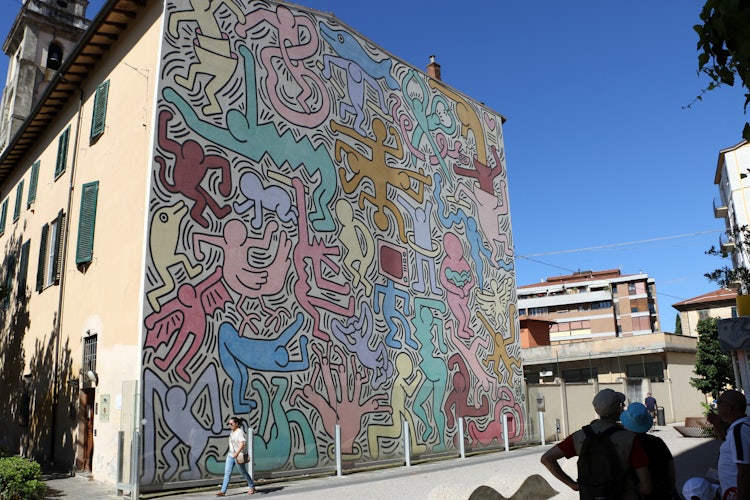 You will quickly be brought to more modern times as the area around the train station is relatively "new": Pisa was heavily bombed during World War II so most of this area has been reconstructed. In addition to this, not far from the station, on the side of a building on a street you would not ever go down, you will find a modern attraction: a huge mural by the late, 20th-century American artist Keith Haring. The largest mural and the only one to be intended as a permanent mural by Haring himself, the colorful jigsaw-like design of brightly painted figures invite you to stop and appreciate the theme of peace and harmony in the world in this piece entitled "Tuttomondo" ("Allworld"), created in 1989 a few months before his death in 1990 and therefore his last public work.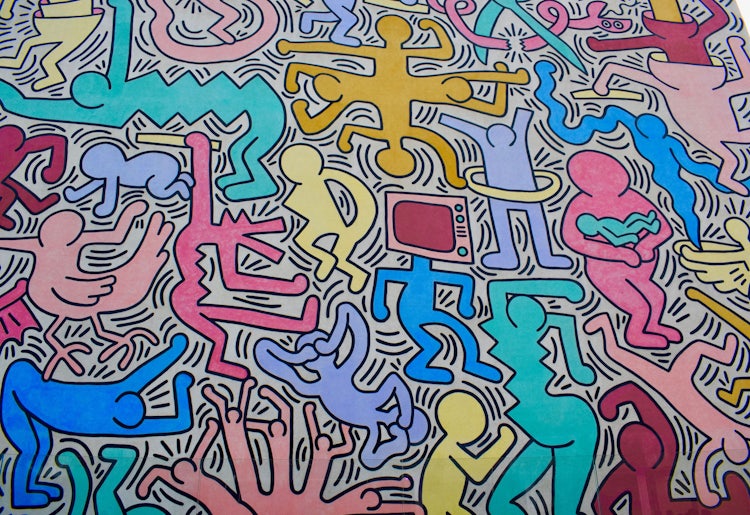 Then you're off again back in time as you navigate north on Corso Italia, the main shopping street in Pisa but that was built along a Roman road. A look at the buildings around us, as Davide recommends, sees us seeing more than just the stores at street level. Buildings were rebuilt in Gothic style, there are medieval facades (fake since they don't go back that far), more "modern" Renaissance buildings. One such one, the Palazzo dei Vicenti, houses an H&M store as well as a gem: murals inside one of the stores, with clothes below and a view of Pisa of the past on its walls. We surely would never have ventured inside on our own or known about the palace's history.
Book this small group Pisa tour »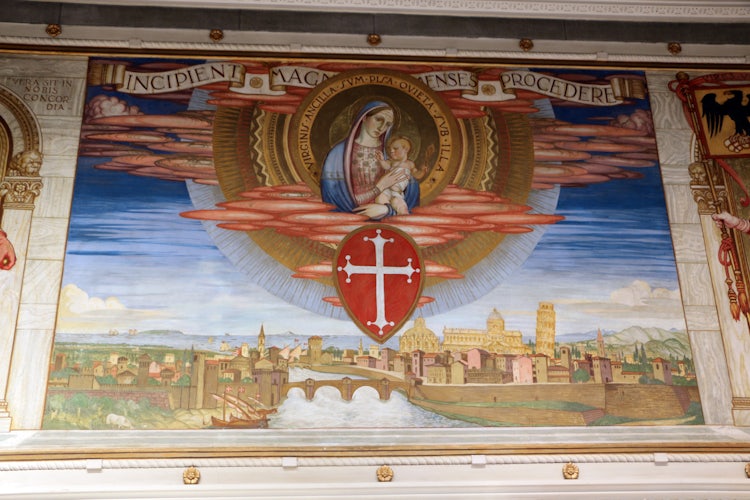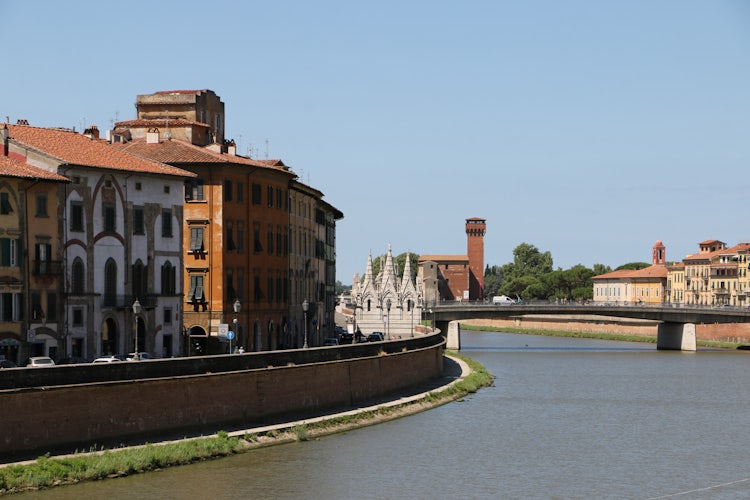 Once we reached the Arno river, we soaked in the views over the riverbanks but before crossing the river, learned of the districts of San Antonio and San Martino and how the city has been divided into 4 districts for centuries. Once you cross over the Ponte di Mezzo and the Arno, site of the Giugno Pisano city events (LINK) of the Gioco del Ponte as well as the Regatta di San Ranieri in June, we wander down the Borgo Stretto and into the district of San Francesco, once home to Galileo, and that of Santa Maria.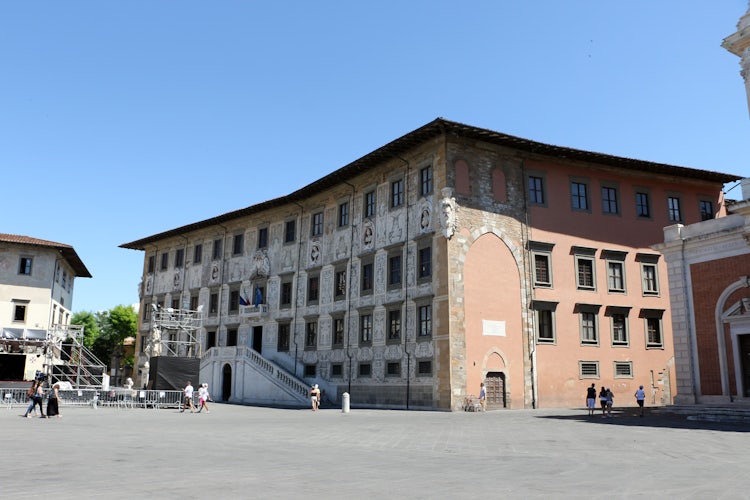 A stop in the splendid Piazza dei Cavalieri, formerly the epicenter of the medieval maritime republic of Pisa, will also allow you, like it did us, to better understand the importance of Pisa in history. The piazza itself was stunningly redesigned at the end of the 16th century by Florentine architects, housing today the main campus of the Scuola Normale di Pisa.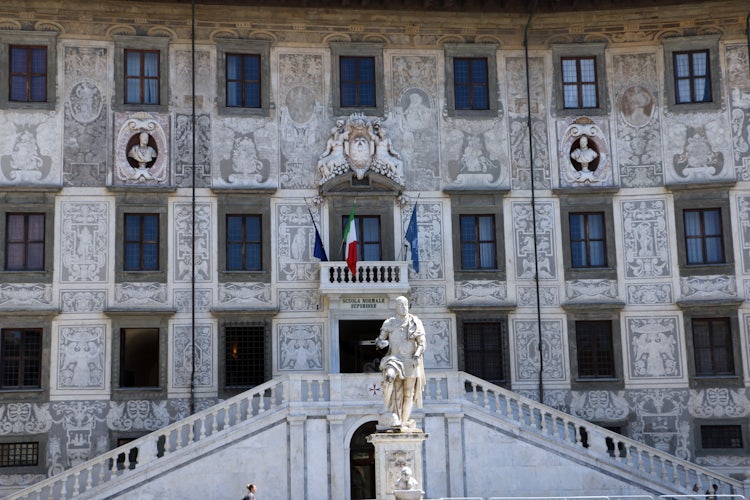 The tour ends in the magnificent Square of Miracles, the monumental complex where you find the Cathedral of Pisa and its bell tower, better known as the Leaning Tower of Pisa. You also have the Baptistery and Camposanto, which I highly recommend you visit. While our tour presents its history and importance of the buildings, it is overall an overview and the tour ends here. It is perfect, as a visit to the square and its various monuments requires more time and you're at the right spot to continue your visit to Pisa.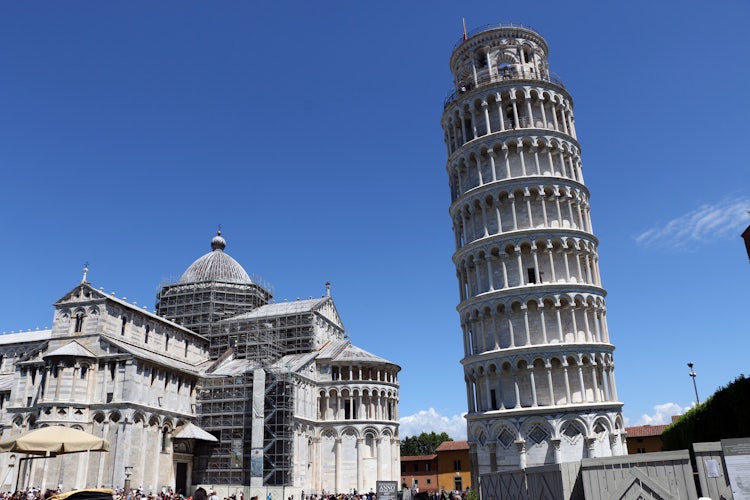 DISCLOSURE
This page and website contains affiliate links. This means that if you make a purchase after clicking on such links (to Viator.com, Italy-Tickets.com, Booking.com, RentalCars.com, etc), Discover Tuscany will get a small percentage of the purchase price, at no additional cost to you. Thanks for your support! Read more details.