San Gimignano: With a Car or Public Transport, there is always something to explore
Many will make San Gimignano their holiday base, either within the city center or in one of the farmhouses or villas that dot its landscape. And this is an excellent choice! The city is an UNESCO world heritage site and rightly so, since when you walk the streets it seems hard to believe that the Medieval era is no longer alive. The tall towers, the monumental palazzos, the narrow streets and small bottegas work together to create an unforgettable souvenir of memories.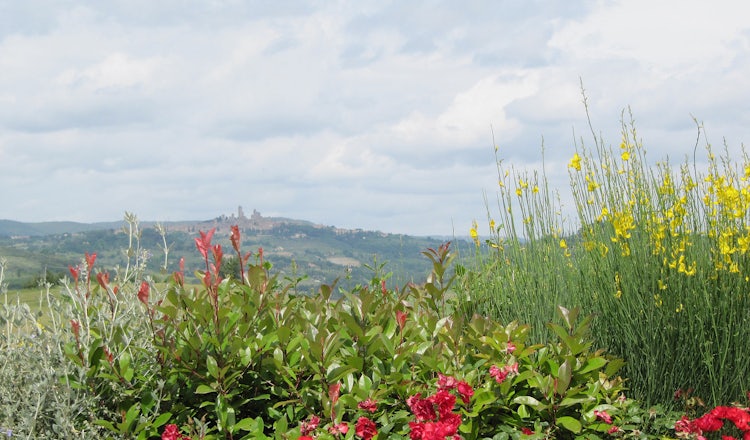 From a vacation accommodation based in or around San Gimignano there are many directions you can travel in Tuscany that will enrich your itinerary with either beauty, history or natural phenomenons. Some of which are reachable by public transport - easy one stop rides, which you can do on your own, while others require a car if you want to make it there and back again in a day.
Here is our list of place to consider when on vacation in Tuscany and based in (or close to San Gimignano).
The Three Big Stops
These three options practically need no introduction - Pisa, Siena and Florence are pillars of beauty and historical importance in Tuscany. We include them only because it would be remiss to skip over them, however our intent with this article is to give you some options that are "outside of the box".
Pisa
Driving Time: 1 hour 30 min
This is furtherest away from the small town however, not so far that it is impossible in a day trip, especially since Pisa (once you have bought your tickets in advance online) can easily be visited and appreciated in less than a day. The Leaning Tower needs no introduction, however the other monuments in the Square of Miracles are less famous - the Cathedral of Santa Maria Assunta, the baptistery and the Camposanto.
Ideas about what to see in Pisa
Siena
Driving Time: 50 min or with Public Transport (Siena Mobilità bus number 128)
The city of Siena is easily reached with public transport, and offers an enormous patrimony of art, architecture, history and fun. Just the wide range of savory delights that come from this city make it worth the visit but, then you really can't compare the Piazza del Campo, the art museums and the Duomo with a plate of panforte, ricciarelli and delicious wine...or can you?
Learn more about where to go in Siena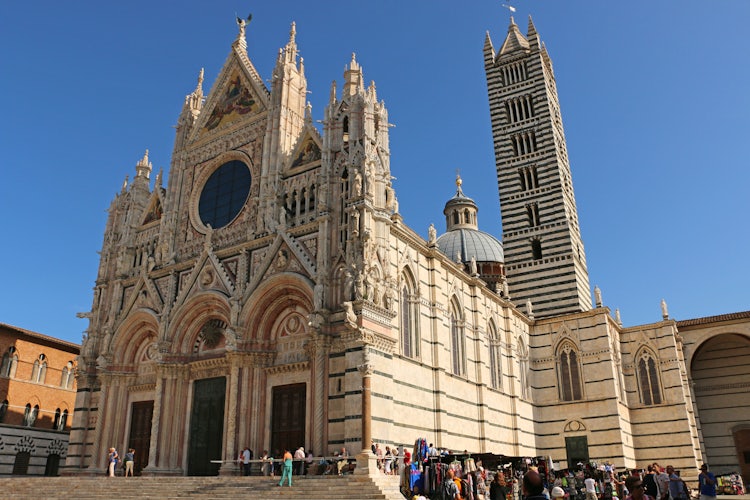 Florence
Driving Time: approx. 1 hour 15 min
The capital of Tuscany, Florence, is home to a long list of monuments, museums, cultural points of interest and perhaps one of the most beautiful Duomos -- the largest in all of Tuscany. Florence will have something that appeals to everyone, no matter the age or language.
Choose your Itinierary for Florence
10 Day Trips for Those Based in San Gimignano
Our next suggestions list towns with varying points of interest, reaching north, south, east and west of San Gimignano, thus offering you a wide range of landscapes, opportunities and experiences.
1. Certaldo
Driving Time: 25 min or with Public Transport (Siena Mobilità bus number 128)
History shows that the hills upon which Certaldo are built many not be natural but rather of Etruscan and the Roman origins, thus making this a town of many surprises. Small, quaint and well maintained, Certaldo is a marvelous stage for admiring the red brick architecture which originates with the emperor Federico Barbarossa in 1164. The restoration of the streets and buildings have created a one of a kind stage for several historic reenactments, folkloristic events, markets and town dinners. Between the small restaurants, the picturesque streets and the lovely countryside, this town is a perfect place to spend the morning or afternoon, perhaps on Wednesday when you will also find the weekly market in the morning.
Read our overview for more about what to see and do in Certaldo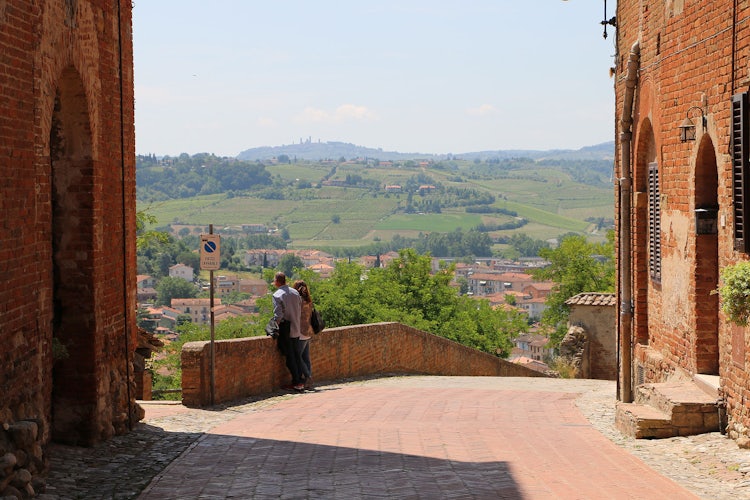 2. San Miniato
Driving Time: approx. 1 hour 10 min
Make it a day of visiting small little towns just north of San Gimignano. This route will have you practically following in the footsteps of the pilgrims who travelled the via Francigena hundreds of years before and have left many reminders of their trek.
Your panoramic route will take you right by Gambassi Terme, known not only for its thermal water spa but also for the part it played in the "via del Sale" (Salt Roads). These trails were the main via di communication where the precious mineral was transported, giving the inhabitants of Tuscany the possibility to perserve foods for the long winters. It is also one of the more picturesque tracks of the via Francigena. Definitely plan on a visit to the small town, the main church (Pieve di Santa Maria Assunta a Chianni) with its stunning facade and, why not?, a stop at the spa.
Afterwards, on to Montaione, where you could drive right by this little town without ever realizing that the historic center encompasses a fortress, an ancient castle from the 1200's, distinguished by its medieval towers. This bustling little town is where you will find many little shops, restaurants, cafes and photo opportunities. The area surrounding it is a mesmerizing landscape, rich with savory flavors like that of the white truffles and chestnuts. Useful Information for visiting Montaione
Your final destination is San Miniato, a small hill top town with striking architecture and an interesting history. Read here for more information about San Miniato.
3. Volterra
Driving Time: approx. 40 min
The evocative medieval aspect of Volterra is where you can appreciate the atmosphere of the comunale age. The landscape around Volterra is a mix of rolling green hills, snuggly in place between San Gimignano and the sandy beaches of Tuscany. Plan a day that includes not only the city museums (the Museum Etruscan, the Civic Art Gallery, the Museum of Sacred Art and the Ecomuseum of Alabaster) but also the several historic building such as the Medici Fortress, Renaissance palazzos, and the Duomo.
Ideas for visiting Volterra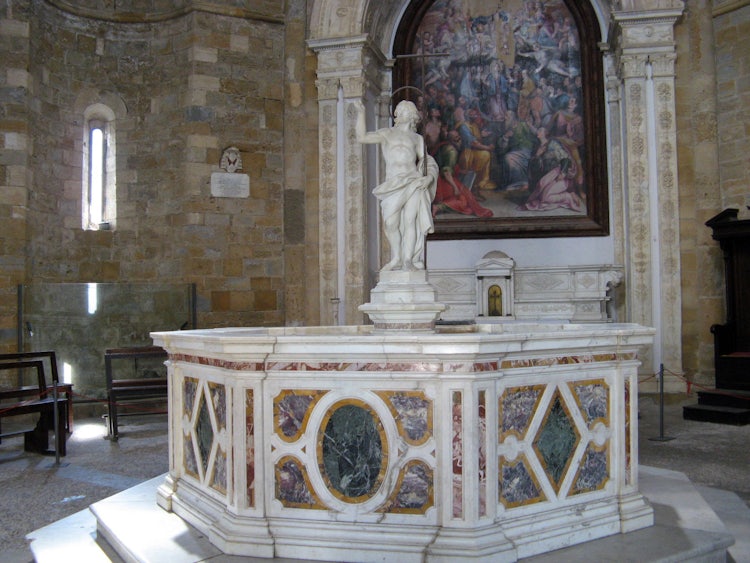 4. Montescudaio/Guardistallo
Driving Time: approx. 1 hour 15 min
These two little towns are practically neighbors, though each has a very distinct personality. Montescudaio has maintained a historic center characterized by stone buildings, contorted streets and stunning views. This is just the place you want to go if you are looking for a bit of tranquility shrouded in the charm of yesteryear. There are a just a few restaurants where you are sure to be able to try the Montescudaio DOC wines. Follow the cobbled stone streets to the oddly shaped, small main square and wander till the roads dead-end - it definitely is worth the stroll, giving you lots of photo opportunities.
The little town of Guardistallo, is a bit more modern even though it has origins as old as Montescudaio. The main street includes little shops, restaurants and a cafe or two for a quick espresso or a glass of prosecco. The main theater has been totally restored, and makes a stunning backdrop to a civil service wedding. From these hill tops you can glimpse the coast and sandy beaches which are not too far off. The specialties of the area include several dishes with mushrooms, wild boar and polenta.
5. Larderello and the Valle del Diavolo
Driving Time: approx. 1 hour 15 min
The origin of the name Valley of the Devil (or Devil's Valley) seems quite evident when you first crest the hills and see the white columns of steam reaching for the sky. It is an eerie image, one that should make you curious … and not scare you away. Larderello gets its name from François Jacques Larderel, a industrialist from Livorno who perfected the boric acid extraction from the sludge of so-called "lagoni" (big lakes).
The fumaroles ("soffioni boraciferi") are violent emissions of water vapour which escape from fissures in the ground. These emissions are made of boric acid, ammonia and water vapour released inside the magma chamber.
Thus the mystery of the tendrils of smoke is resolved! Visit the valley and the museum to learn more about the pioneering experiment in geothermal energy production which was carried out here and the world's first geothermal power plant!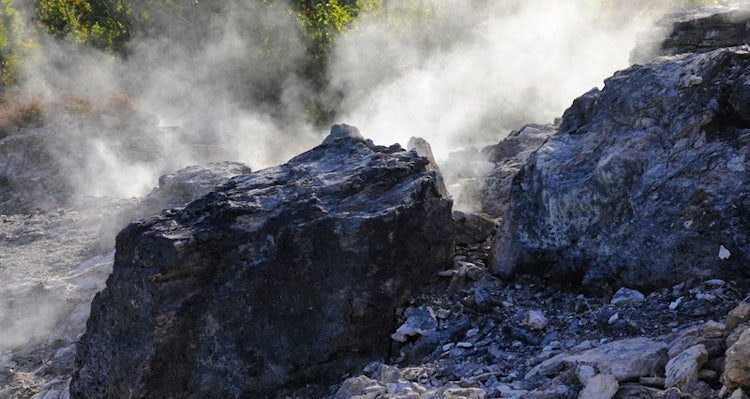 6. Radicondoli
Driving Time: approx. 1 hour
This small town is the perfect companion to Larderello, located south of San Gimignano in a landscape that distinguishes itself with tall hills covered with forests. The center is a fortress and it was first documented in the tenth century as being of strategic importance. A walk through the town streets will take you to see the Porta Olla, the Church of the Crucifix, Berlinghieri Palace, the Monastery of St. Catherine and the Convent of St. Francis of the Observance. But this is not a town of just buildings, it has a history which incorporates the areas strong presence in renewable energy sources, focusing on geothermal energy.
A day trip to Radicondoli
7. Castellina in Chianti
Driving Time: approx. 45 min
Many try to combine San Gimignano with a trip into Chianti, and granted there are many little towns close by, but both San Gimignano and the many sites in Chianti truly merit their own time to be appreciated in full. Castellina in Chianti, only a short, panoramic drive from the towered city makes an excellent and representative stop in the valley of the Gallo Nero (Chianti Classico Wines to be precise). Plan your route to include San Donato in Poggio and the panoramic secondary roads that wind through Chianti.
at Castellina, you will find a town center with shops, restaurants and cafes, a large main square, an excellent museum and the panoramic views from the Civic Center tower. In short, this little town seems to have it all! Did I forget to mention the many wine tasting opportunities? - my bad!
Read here for tips on how to get the best out of a visit to Castellina in Chianti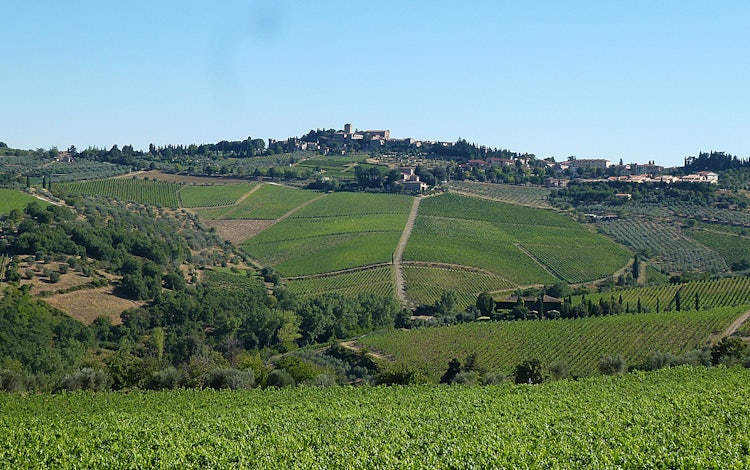 8. Monteriggioni
Driving Time: 25 min or with Public Transport (Siena Mobilità bus number 128)
This is truly a small little town (its parking lot is probably just as large as the town!) But this doesn't mean that it isn't a great place to visit. The main square is home to a medieval fest that merits a visit and the walk along the perimeters of the wall is quite adventurous. Surrounded by fields of olive groves that give it a sense of timelessness, you can easily imagine it as one of the important stops on the via Francigena. This is a stop that beckons you to leave the car behind and venture forth either by bike or by foot to enjoy the Tuscan countryside.
A few ideas for enjoying Monteriggioni
9. Colle di val d'Elsa
Driving Time: 20 min or with Public Transport (Siena Mobilità bus number 128)
The name literally means the hill in the valley of the river Elsa, a river which starts around Siena and heads east towards the town of Cecina and the Tuscan coast. Colle di Val d'Elsa is mostly known for its crystal glass production (95% of all crystal made in Italy), but it also offers great views of Tuscany, a medieval atmosphere, nice restaurants and a beautiful Duomo.
A mix of old and new, you will find the impressive castle and the walls hide a city within that is alive with shops, restaurants, hidden alley ways and several photo opportunities. Worth a visit are the Archeological Museum, Crystal Glass Museum and the Civic and Diocesan Museum, and if you have a chance, the first Sunday of every month you will find an open air demonstration of the crystal production.
A day visiting Colle di Val d'Elsa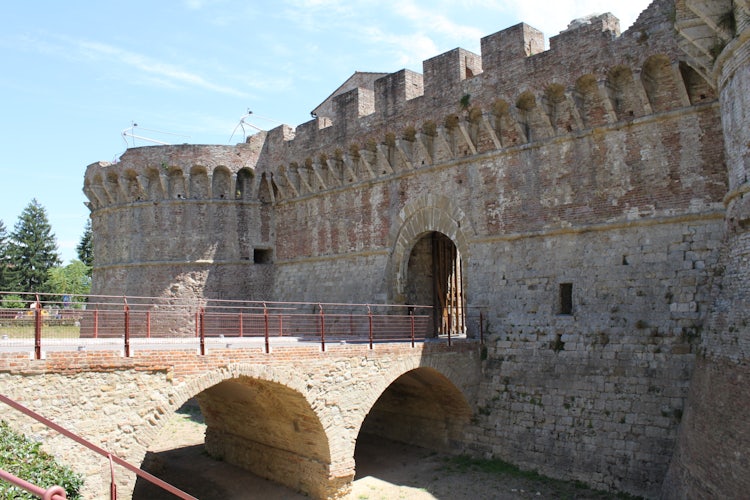 10. Poggibonsi
Driving Time: 20 min or with Public Transport (Siena Mobilità bus number 128)
This town could easily be overlooked, but that would be a mistake! Even the Florentine government made a big deal about this little town, namely the Fortezza Medicea di Poggio Imperiale. To be truthful the historic center is a bit chaotic and navigating it with a car is tedious even for a local!
However, this is a town that has been thriving and growing since the beginning of time, so many of the more historic aspects can also be seen outside of the city center, like the Archedromo, the Fonte delle Fate and the Convento di San Lucchese. Extra plus, they are within walking distance of the city so if you arrive with public transport you can still enjoy a visit to these sites. If you do arrive with a car, then make time to visit the Rocca di Staggia - this castle will awe young and old in the group.
7 Reasons why you should include Poggibonsi in your itinerary