Visiting Siena with children is definitely enjoyable. Besides hanging out on the Piazza del Campo letting the children run around or go exploring in the narrow streets around it, there are several fun places to enjoy with the little ones. Some locations can be tricky to find, so for directions take a look at the map below.
Playgrounds
A pleasant way to take a small break from the busy tourist areas, which may not be very exciting for children, is to find a playground where they can expend their energy while parents take a break on a bench. Here are a few of them.
Playground 1: Located at Piazza Amendola, it is the largest playground. Besides several slides, swings and a good sized climbing frame it also has a big grassy lawn. It can be found a little outside the center; 5 minutes by bus (number 9 or 10 from Piazza Gramsci) or around 20 minutes by foot.
Playground 2: This one is very central, just a few hundred meters from Piazza Gramsci. It is located on two sides of a small park with trees – on one side there is a climbing frame with a slide, and on the other there is a playhouse, a fish spring rider and a small pond with two swans and ducks.
Playground 3: Located 5 minutes by foot from Piazza del Campo is a park called Orti Dei Tolomei. This park is wonderful! It has benches with tables, olive trees, plenty of open grass, a great view of Siena and a climbing frame. Entrance is from Via Sant'Agata. Follow the signs for parking "Il Campo" and then take the path going right. If it is in your interest, it is close to the Natural History Museum (see description further below) and the Botanical Garden.
Orto de Pecci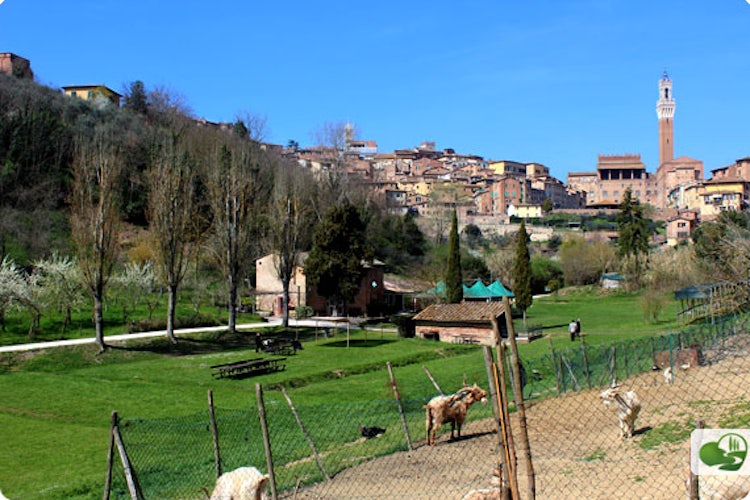 This delightful park, where you can easily spend half a day, can be reached in 5 minutes by foot from Piazza del Campo at Via Porta Giustizia 39. The park is situated in a valley looking up at the city. It has a large green lawn, a small goldfish pond and a fenced area with goats, a donkey and peacocks. There are also ducks and geese allowed to walk freely in the park so you might want to bring some bread crumbs for them. As an extra plus, the park has a café/pizzeria which offers coffee, drinks and snacks during the day. For lunch (starting 12.30 pm) or dinner (starting 7.30 pm) you can enjoy their pizza or pasta sitting outdoors under the vines. You can also enjoy your own picnic on the grass or the benches with tables. If you follow the path through the park you will reach a medieval garden, taking you back in time showing you how gardens were kept during medieval time.
To get to the park from Piazza del Campo, take the narrow street just left of Tower Mangia, turn right through an even narrower street until you reach Piazza del Mercato. Cross the market place and follow the street downhill. The street turns right and takes you through a gate which leads into the park.
For more information and to check out specific events in the park (there are also some especially for children) check their website http://ortodepecci.it/cms2/.
Swimming Pool Acquacalda
If you are in Siena in the summer (July and August) and are about to get a heatstroke, then the swimming pool in Acquacalda is a very good place to go for the day. There are two outdoor pools: a large one with space for both swimming and relaxing and a smaller one for children. You can unwind around the pool either in the free pool chairs or you can pay for a sun-chair (remember to do this when you pay for entrance). You can also, free of charge, bring your blanket or towel to use on the large lawn, where you will find shade from the trees and where your children can easily run around. On the grass, you are welcome to consume your own food, but there is also an outdoor café offering coffee, drinks and light meals.
To get to the pool catch bus number 9 or 10 from Piazza Gramsci, the ride lasts around 15 minutes. Ask the bus-driver where to get off, and then walk as if taking the road to Florence (Via Luciano Banchi) – the pool is on your left hand side in a sports center. The outdoor pool is only open in July and August, opening hours varies, but is usually from around 9 am to 7 pm.
Natural History Museum
The most interesting section for children at this museum is located on the first floor where you will find all kinds of stuffed animals – birds, fish, lions and many others. There are also skeletons of a few animals. On the ground floor, you will find fossils, rocks and minerals. Taking the small stairs going down to the basement you will arrive at an exhibition about the universe. Though not so child-friendly, it might be fun for children to walk around there as it is like an underground labyrinth. The museum is open Monday to Thursday 9 am- 1 pm and 3 pm – 8 pm, closed Thursday afternoon and on weekends. Entrance is free. Arriving at the door, ring the bell and someone will open for you. For more details: http://www.accademiafisiocritici.it/index.php/en/
Children's Art Museum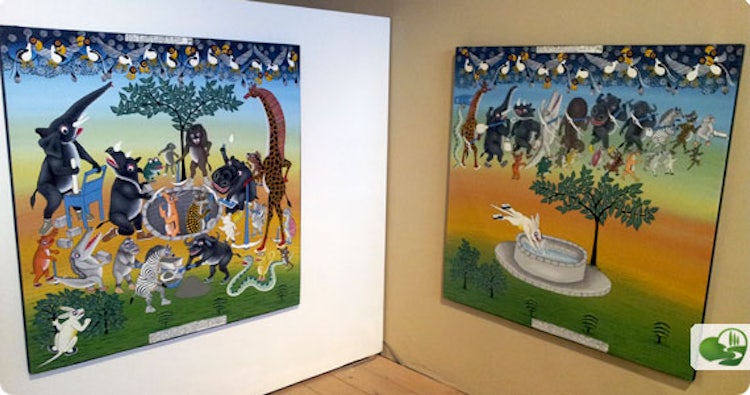 This small exhibition directed to children is a part of the large and very astonishing museum Santa Maria Della Scala located opposite the Duomo. At the moment (March 2014) there is an exhibition about traveling which includes paintings and sculptures from different parts of the world. There are also a few interactive installations where children can be active themselves. They offer workshops for the family or children if there is enough request, but you need to contact them ahead of time at bambimus@comune.siena.it
Entrance to the whole museum is EUR 6 for adults (EUR 10 from April 6 - November 3, 2014 when exhibition "Sergio Staino" will be hosted) and free for children under 11 years old.
During the exhibition, opening hours are 10:30am-6:30pm and open every day. Once the exhibition ends, the complex closes at 4pm and is open Thursday – Sunday.
If you discover any other corners of Siena that your children love, feel free to share with us and we'll update the information above.