Numbers, Money, Driving and Dining
It almost seems the same, but there are some very fundamental differences which can change the outcome of your holiday. Be forewarned, and even if you can't avoid the situation, you will have a good idea of how to navigate it. If you need information about important phone numbers (taxi, police, hospital, airports) click on this link for practical information while in Tuscany.
Numbers
» The dates in Italy and on Italian documents are dd-mm-yyyy (gg-mm-aaaa)
(Fun note, many of the older generation never refer to their age...but the year they were born. I am from 65, means I was born in 1965 - you do the math)
» The Orario (time schedule) is always shown in the 24 hour format (sometimes known as military time). Times are indicated with a comma…for example: 11,30 means 11:30 AM and 14,15 means 2:15 PM. There is no need for AM or PM, you know that by the number.
00 - 12 (after midnight and before noon)
13 - 23 (after 12 noon until midnight)


» Italians live on the metric system: 1 mile = 1.6 km / 1 meter is 3.2 feet (and they always indicate their height in cm...5'7" is equivalent to 173 cm.)
» Metric also means their temps are in celsius - so 32 °F = 0 °C. (Click here for more general weather information)
Calculate anything between 0-13 °C probably means you want to have a jacket - gloves - scarf and more.
13 °-17 °C it may get warm but a light jacket will be necessary.
17 °-20 °C is warm to hot, but you will still want a jacket nearby.
20 °C and up….we are getting hot.
Anything over 28 ° means keeps water handy, don't go out in the afternoon and keep in the shade as much as possible.
» They use the comma as a decimal point. 1.000 = one thousand and 1,34 is one point three four.
Money
» Italy is in the European Community and it uses EUROS as currency
» The Euro is divided into 100 cents (centesimi) much like the USD. There are 1, 2, 5, 10, 20 & 50 cent coins, plus a 1€ and 2€ coin. Then you have 5€, 10€, 20€, 50€ and 100€ bills.
» Keep an eye on the 1 & 2 euro coins, they begin to add up. Coins are normally worthless when you leave a country so, spend em' or lose em'. (unless you are travelling to another country in the European community and then you can always spend the money you got in Italy there)
» There are two decimals after the comma (not a decimal point). A price written: €13,52 means thirteen Euros and fifty-two cents. Except when you are looking at gas prices which are 1,309.
» Tax or IVA is included ALREADY in the price- UNLESS otherwise stated. If the item has a price tag of €10,50, then you will pay out ten euros and 50 cents because tax is already included
» Ask for the receipt... it's the law. No receipt means both the store and YOU can get fined. It is one way to cut down on under-the-table transactions but as a visitor to Tuscany, make sure you always ask for a receipt even if it is for a bottle of water.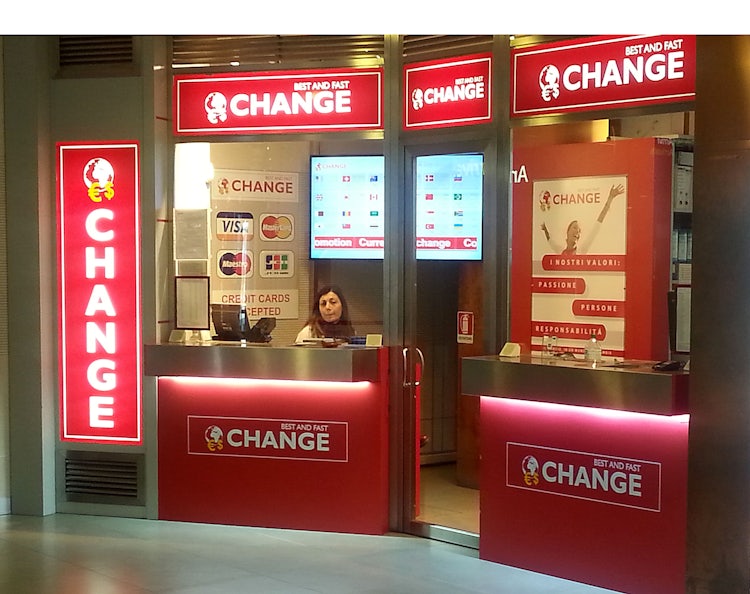 » Paying with travellers cheques is unheard of. No one accepts them anymore unless you go to an American Express office or possibly (and that is a big "maybe") a bank.
» ALWAYS call and tell your credit card company that you are going to be traveling abroad, they are so tech savvy and worried about potential fraud, that when they see charges in a foreign country they will block your card.
» While you are letting them know you will be abroad, ask them about their conversion costs and ATM charges. Visa and MasterCard charge a processing fee on international transactions, and most card-issuing banks add their own fees on top of that. They equal to generally a percentage of your overall purchase price, sometimes as high as 3% extra. American Express and Diner's Club charge even more. This commision often gets passed on to the vender - which is why they prefer cash - but not always.
» You can find ATM machines all over Italy - however, they seem to have a higher than average failure rate. So it is wise to have a little cash in Euro when you land - enough to pay a cab and get a cup of coffee (50-70€). Yes, you will find ATMs at the airport, but they are subject to Murphy's law: empty when you land, Saturday or Sunday & there is no assistance on hand, or it's just plain GUASTO (the Italian word for broken). Ask your bank back home about "sister banks" in Italy, they might be affiliated with international banks to cut down or eliminate the fees for having used an ATM out of their network.
» I don't know why everyone thinks they can use their US dollars in Italy... the Americans would never accept Euros in payment in the States. Use the local currency and avoid uncertain or exceptionally high exchange rates.
» Again, it is highly suggested to always get some Euro back home before traveling, as well as bringing some extra US dollars (50-100$). Cards have a way of failing/getting demagnetized, banks can go on strike, ATM machines may be scarce... at least with some cash on hand you have a valid alternative for changing money into euros.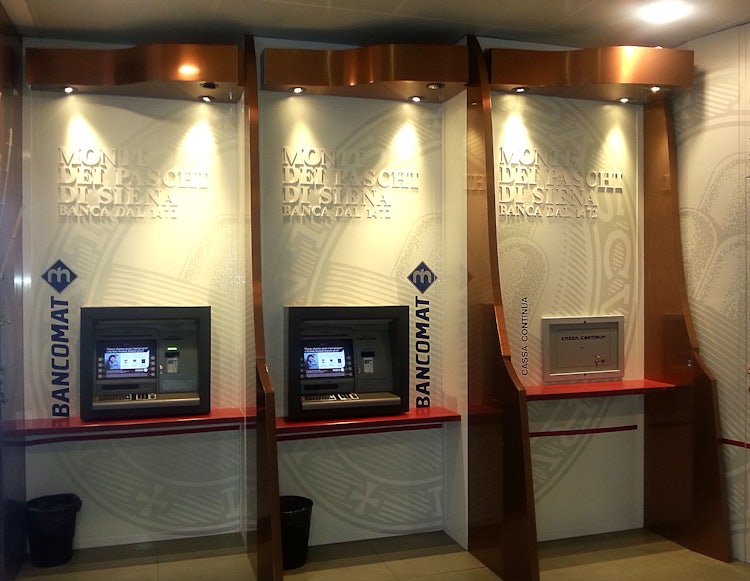 Driving
» This is not NYC and these are not yellow cabs. If you want a cab, you need to call and reserve or go to a taxi stand, usually located close to main attractions. More tips about using taxis in Florence here.
» The Italians can afford to be wild on the road because they have a certain amount of trust that people will follow the rules of the road... for example, never drive on the left lane of any two lane highway unless you are passing. If unsure, stick to the right lane.
» Another rule, if you're on a two lane highway and are on the left lane and someone flashes their brights behind you, it's because they want you to move to the right lane so that they may pass. Move...and quickly (even if you are doing the speed limit...just move)
» It is highly unlikely that you will get stopped for speeding - but don't be fooled into thinking you got away with it. They got your number. The autovelox machines will take a picture of your car's license plate and the rental car company will pass on your contact info so that you get the fine, generally months after your vacation in Italy (if they don't just automatically deduct if from your credit card). The law requires all speed traps to be clearly indicated within 150 meter area before the camera (there are no secrets). Beware, they can be quite a bomb on your vacation ($200+).
» Standard or stick shift gears are standard issue in Italy. You need to ask for an automatic car and you are not guaranteed anything. Click here for more information on car rentals
» Ask for a navigation system in your rental car - contrary to what everyone says about not being accurate - they help. HOWEVER, if the owner of the vacation rental you selected tells you NOT to follow the GPS, listen to them and follow their directions: they live there, they know.
» Paying for gas with a credit card or ATM card is a hit or miss situation: either catch the gas station when it is open, that way there is someone to take your card or have cash handy. Many gas stations will allow for you to fuel up after hours using an ATM card but make sure your card circuit is accepted. BUT that is only if it is working....
» When filling up, you are normally looking for benzina (which is unleaded gas), but some stations also have diesel, metano (methane) and gas (which is propane!). Make sure to check the gas cover in your rental to put in the right type of gas/petrol!
For more Information, check our our Driving in Italy.
Dining
» Restaurants open and close for lunch from 12 - 14 (or 12 noon to 2 PM) and then they open again for dinner normally from 7:30 PM and onward. This is more relevant when you are in the countryside, generally you can always find something to eat in a larger city such as Florence or Siena.
If they are open through lunch the sign will tell you "Orario Continuato" which means "continuous" hours.
If you want to eat something between 2 pm and 7:30 pm, hit a bar, a panino shop or pizza-by-the-slice shop.
» Coperto or cover charge: this is not a tip! It is a normal practice and ranges from 1-3 Euro per person. So even before you get your first glass of wine...you have already spent money...but well worth it after that first lovely sip.
» Tipping, again things are changing. By now, the restaurant workers are "used to" getting some kind of tip, so it's not fair to say DON'T TIP... but the truth is wait staff in Italy earn a normal wage, so they don't need the tips to round off their salary. If you really feel the need to leave a tip, then just round off the tab (never more than 10%)… and if you are doing it because you really like the server, then don't ever leave a tip on a credit card, leave it in cash.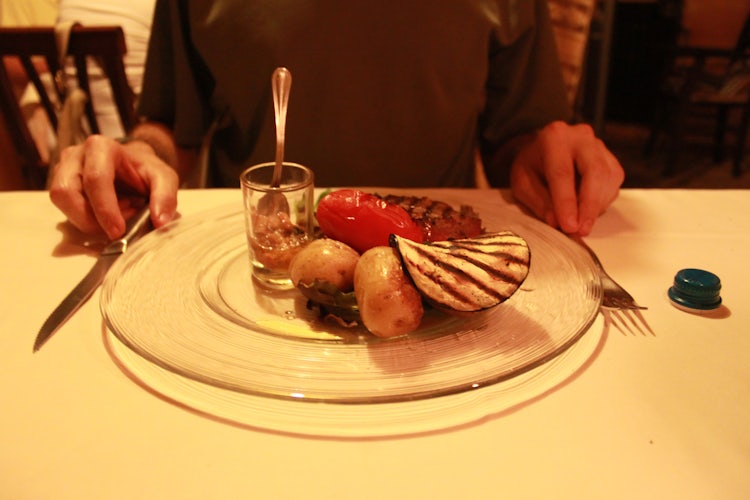 Check out this section for more tips on Restaurants, Pizzerias and Gelato Shops
More
» It is getting harder and harder to find a payphone, in fact, sometimes I think the ones you do find are just there as vintage pieces (like the red phone boxes in London). You will need a cell phone, for long term stays, you should consider getting a local phone, though personally, even a short term stay could merit a phone.
» Italians are very internet savvy, you will find free WiFi points almost everywhere you go. If you don't see a sign in the window then just ask. In the larger cities like Florence, Pisa and Siena you will find them all over, but even the smaller towns are adapting quickly.
» Public restrooms - few and far between. You will find public restrooms but the cleaning schedule appears to be seasonal - and often the necessities run out fast (toilet paper, soap, paper towels). If there is a bathroom with a "guard" - shell out the coins and go for it, they will be much cleaner. Personally, I search out the large supermarkets... and if really necessary, I go to a bar. It seems contradictory, but order a glass of water and ask for the bagno. PS Ladies don't be surprised if you find a toilet that is simply a ceramic hole in the ground...they are old and being replaced but, hey at least those hours at the gym doing endless squats will come in handy.
» Remember the voltage in Italy is wired for 220V, 50HZ electricity. You will need an adapter, don't count on the hotel, B&B or agriturismo to have one for you - but many of them will have a hair dryer (no curling irons). Just avoid bring any small appliances if you can.