Top 11 Romantic Spots in Tuscany
What is your type of Romance in Tuscany?
Selecting the top ten romantic places in Tuscany gave us a bit of a flutter, how can you choose only 10 out of the many wonderful and extravagant possibilities? Therefore, we gave ourselves a few guidelines.
We have defined romantic in this selection of top ten as places that have bedrooms with a whimsical decor or furnished with prestige. Spacious bathrooms and most definitely modern amenities. We looked for B&B's with a slow and leisurely breakfast, apartments in a panoramic position where sunsets were guaranteed and villas where there were abundant quiet corners in the garden for a bit of private time.
We also searched out places that offered top class restaurants, helpful yet discreet services and those places where you can indulge in the fun of being in love, enjoying thermal water spas, long walks and small Tuscan towns.
Take a look at the ones we've selected!
We are going to start with an extra special choice, which can double as a romantic accommodation and a wedding destination venue!
Villa il Poggiale - San Casciano Val di Pesa, Florence
Villa il Poggiale combines the stunning Chianti setting with typical Tuscan architecture to create a fairytale accommodation for a honeymoon, wedding venue or even a romantic adventure. The immaculate grounds which surround the stunning B&B rooms have many perfect corners for setting up the dance floor, unique photos and buffet tables with genuine Tuscan flavors and wines. The interior decor is scrumptious with rich colors, particular attention to detail and antique furnishings. And the exquisite hospitality will spoil you while on holiday.
1. B&B del Giglio - San Donato in Poggio (Chianti)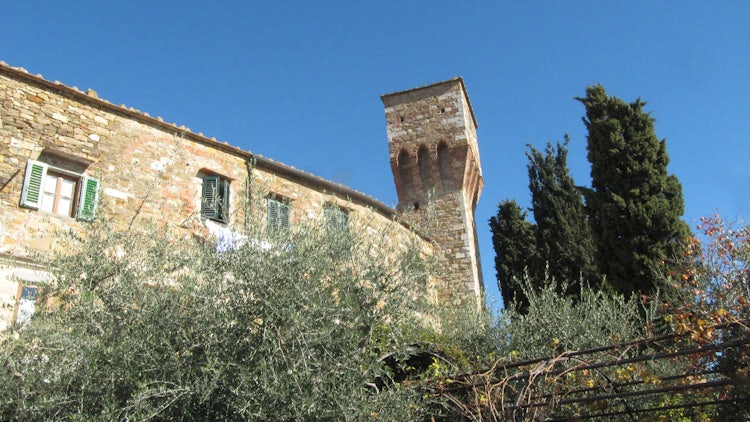 The B&B del Giglio is within the walls of a hilltop village in Chianti and has been carefully restored to keep its original look in the shadow of the medieval towers. Stepping out the front door into the enchanting village of San Donato and walking up to the old center is something that can't be described - it needs to be experienced. The family home features only two double bedrooms, for a very intimate introduction to Tuscany and its many beauties. Just the view from your window and the private garden open to the vineyards, olive groves, and castles in the distance will convince you that this is the most romantic place ever.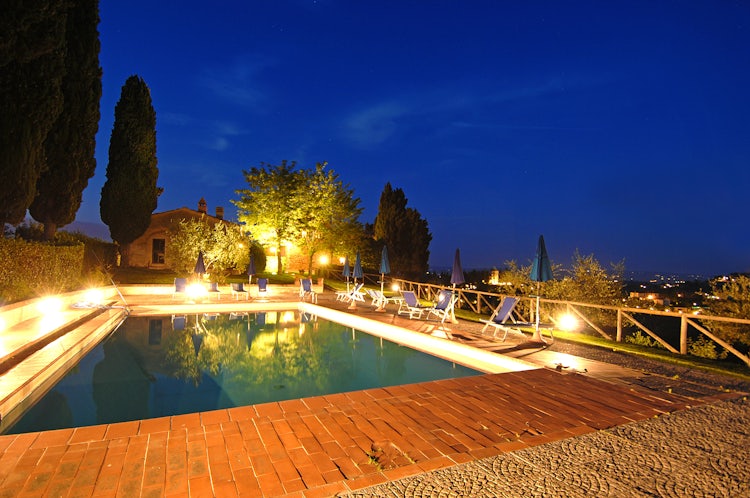 This is a sensorial adventure near San Gimignano with perfect views, enchanting bedrooms and a delicious restaurant which will tempt you with decadence. Though Villa Arnilù definitely covers the aesthetics of romance, our attention was drawn to the on-site restaurant with candlelit dinners and visits to the characteristic "cantina." For those who associate Tuscan with good food, they will have found their romantic match here near the tower town of San Gimignano.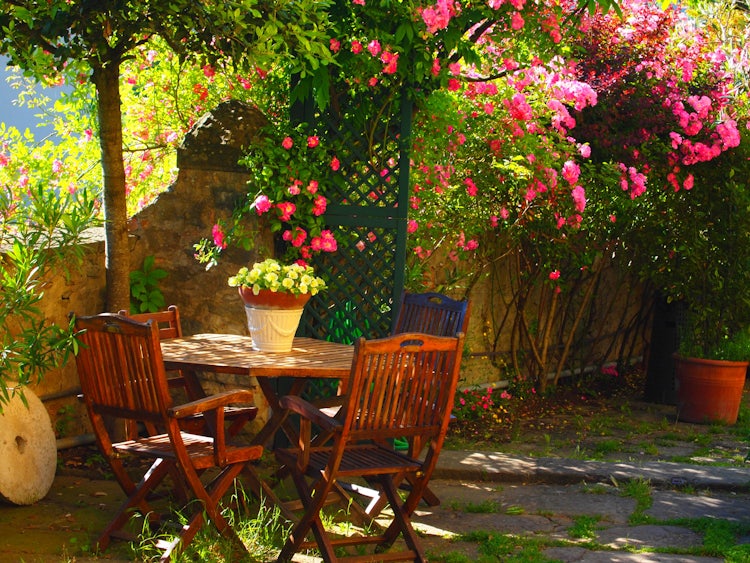 A fairytale destination for lovers of all ages. Il Sole del Sodo offers a charming example of country chic, with a whimsical garden area for sunning, romancing and stolen kisses. Not only did we delight in finding our own secret corner in the meticulously maintained garden but we savored each and every meal made fresh by the family. Close to everything, even a walk into town, this bed, and breakfast, located to the south of Arezzo, is everything we dreamed about in Tuscany.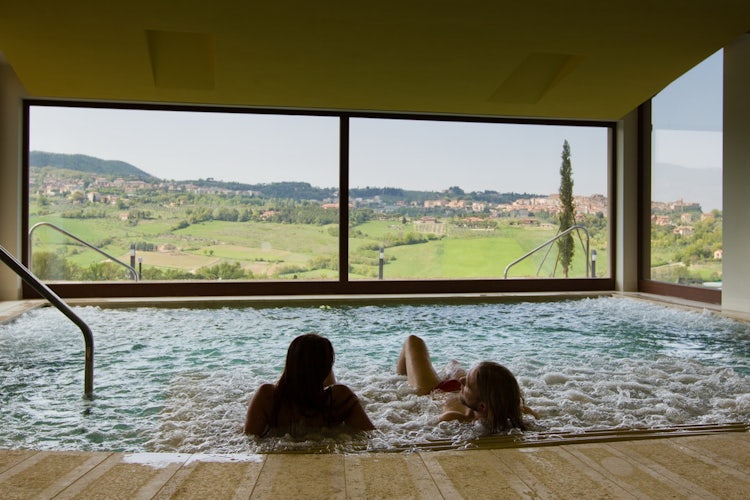 This 17th-century farm has been a family vineyard for 6 generations, but that is not why we suggest Palazzo Bandino as your perfect romantic spot while in Tuscany. They have passed down the love of the wine, olive oil, horses and of Tuscany throughout the years to their guests and family, but what really attracted us, was the very panoramic indoor pool. In addition to the lovely spa services which include a sauna and massages for couples, these self catering apartments are located equal-distance from Florence, Siena and Val d'Orcia and they offer a very comfortable and tranquil environment. Plus there is an on-site restaurant for the guests where you can truly relax with a bottle of wine and the flavors of Tuscany.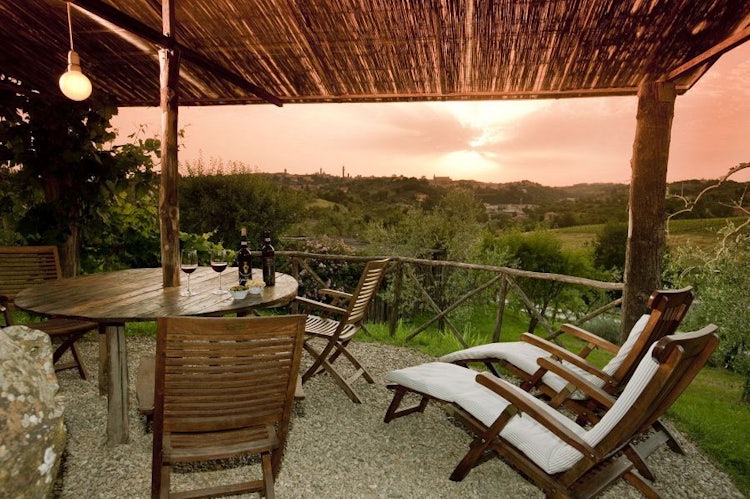 Both inside and out, Frances' Lodge Relais has created several little corners for you to relax, romance and enjoy the wonders of Tuscany. The owners have created an "adults only" B&B retreat with only 6 bedrooms, far from the tension and stress of everyday life: you will find the opportunity to do everything — or nothing at all. For breakfast, you will feast on homemade jams, local cheeses, and Frances' fresh plate of pancakes or French toast, served with her own special recipe for lemon syrup - homegrown in her very own garden. And in the evening choose your favorite corner of the garden and soaking in the genuine Tuscan colors in during the twilight hours.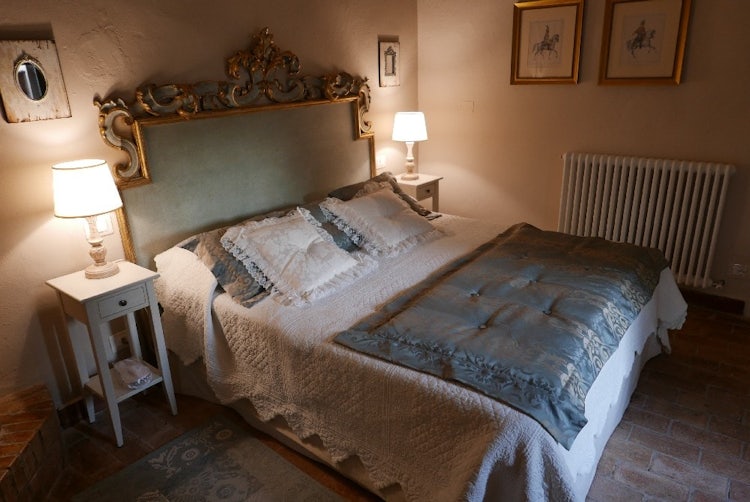 The three adult friendly holiday rental apartments at Agriturismo La Pieve were designed to exalt the traditional beauty of Tuscany by using a modern & elegant decor. The charme and romantic settings found here provide its guests with private gardens, a solarium where you can relax, have a drink and enjoy a splendid view on the Siena hills and olive groves and many little-unexpected corners on the main property. In addition, you can lounge poolside and perfect your tan or you can request an "apericena" or a light meal to be served at sunset. We also like the "no-car" option, for those looking to travel without driving, ask about the shuttle service.
The completely restored 16th-century villa is the result a group of friends pooling together their creative talent and giving birth to a decidedly romantic & whimsical B and B. The most suggestive option is the Honeymoon Suite, with its spacious interiors, a super-sized private bathroom and a decidedly dreamy four-poster king size bed. Discovery and romance begin in the kitchen at Casa Capanni; starting with a well rounded international breakfast including fresh local products, cheeses, cold cuts and lovely seasonal fruit. The unique ownership of this B&B lends itself helping guests find the best way to spoil themselves in a luxury environment with an avant-garde decor and an international flair for beauty.
There really is so much to like about this family-run organic vineyard Agriturismo Marciano, but what really caught our attention was that is was in the countryside - yet walking distance from Siena. What an awesome mix! You can tour the vineyard and eat meals with the family or you can take a stroll into town and dine at one of the many top class restaurants. Their newest suite is on the ground floor and boasts a beautiful view of their grounds with a private garden area. Positioned so that landscapes of Val d'Orcia are at your fingertips and easy access to major roads for day trips to Florence, Arezzo and San Gimignano.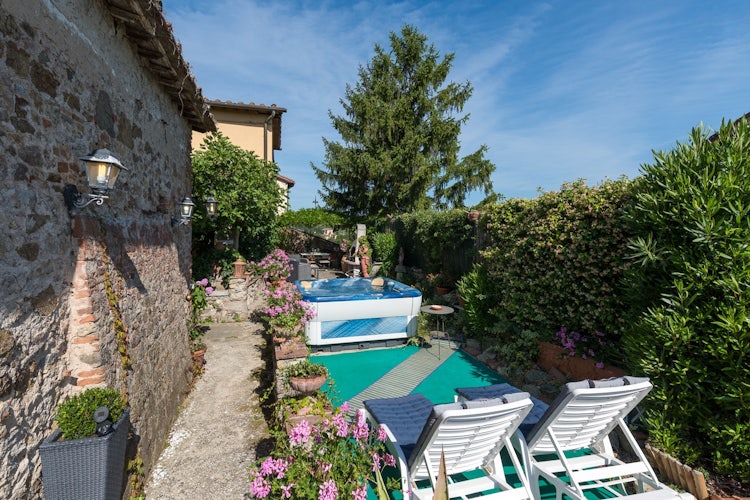 Only a short distance from the city center of Florence, this little Tuscan hamlet is well served by public transport and close to major highways which means Villa Lysis is in a great position for easy day trips to the many local sites. As they restructured the apartment, they found a secret vault and unearthed several antiques that now grace the interior of the holiday rental. The medieval cellar boasts stone walls, a curved vaulted ceiling and has been transformed into an area to enjoy the local wines in a suggestive setting. There is a king size wrought iron, 4 poster bed, tapestries and a view of the wood beam ceiling. It may be larger than what you need but it is an authentic taste of beautiful Tuscany, so go no further than the private panoramic garden with a hot tub and BBQ area to get it all.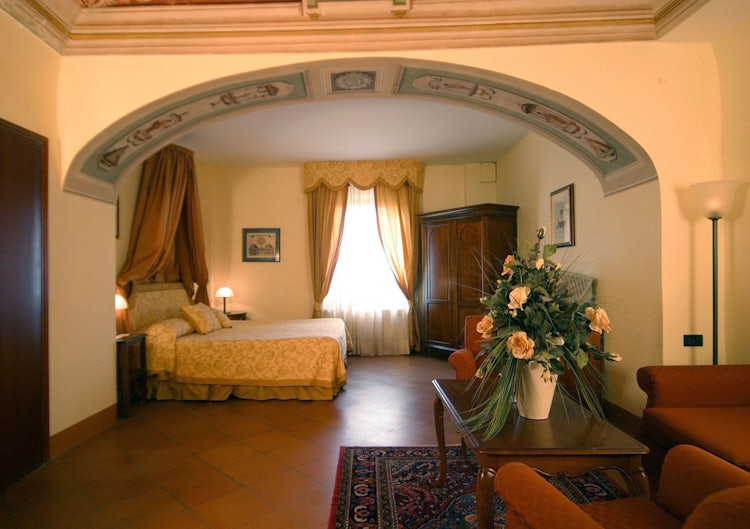 This deluxe relais in the city center of Pienza presents an idyllic atmosphere for a romantic interlude, destination wedding or renewal of vows. The prestigious gardens, romantic decor, and detail to attention create an unforgettable ambiance. We can't help but admire the frescos on the arches and small murals in many of the rooms. They are just the perfect delightful touch, recalling yesteryear and the age of romance at Relais il Chiostro di Pienza. The colors, the intimacy, and the views just captured our romantic whimsy.
A new entry on our list of romantic charmers in the heart of Chianti Classico, the independent apartment rental Art Rebus Tower sits in a historic tower in the town center and combines the luxury of being within walking distance of shops, restaurants, and cafés as well as fabulous views from the private terrace overlooking the vineyards and lovely Chianti sunsets. The newly renovated apartment features all the comforts of home as well as many new modern accessories. Check it out and decide for yourself.
Need More Romance
The above are just a few of the many places to stay all over Tuscany which promise to add a touch of romance while on vacation. However, if you are looking to make Florence your holiday base, then you will want to view our top choices for Florence.
Chianti is also another excellent base for your holidays and an exciting destination in Tuscany. If you prefer to concentrate your search in this area, then check out our list of the best romantic lodgings in Chianti which covers this fabulous wine region.
We also suggest browsing this link comprised of hand-picked B&B, rental villas and private apartments of romantic accommodations in Tuscany. This list invites you to book direct with the owner, and we at DiscoverTuscany always suggest going direct for the best price and sometimes, extra-special offers ;-)