Knowledgeable, Friendly Service, Great Bikes and Full Support Make for a Great Day!
When you first meet Piero and Elena, your first impression is how friendly and down-to-earth they both are. Together, they run "Bike Florence & Tuscany" tours and they love what they do! You can see this in the way they talk about what they do and why: they readily transmit their passion of Tuscany and cycling to everyone that has the luck to find and book a tour with them to explore Tuscany on a bike.
I've known Piero for years as he was co-owner of one of the largest bike stores in Florence where I got several of my bikes (so you've got excellent bikes and an expert on hand at all times). I get around most everywhere on two wheels but the hills out of Florence are usually my greatest challenge. For this reason, I was excited to meet up with both of them to learn more about what they do - and to try out their tours, to see what they offer!
Asking them about their project, it is amazing and thrilling to see someone turn what they love doing into their daily job. It is a tiring job, to be sure, particularly "once the season turns warm and we are out on the road practically every day", Piero admits. While they have trusted assistants during the high season, they pretty much do this out of love of the outdoors and cycling so they will likely stay a small operation. And that's a good thing, my friends, when you are looking for a special experience in Tuscany and they care about ensuring you have one!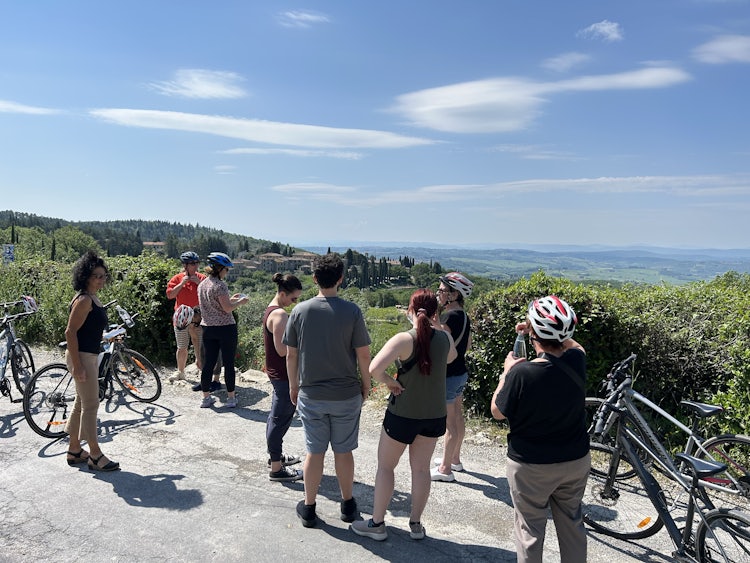 Ready for some cycling?
Tuscany Wine Lovers
One of the most popular tours is the one that allows you to do both cycling and wine tasting! The Tuscany Wine Lovers tour is great for those who want:
Guided wine & olive oil experiences, at small family owned wineries
Great views of Chianti
A good ride, about 10-13 miles long
Chance to visit the walled medieval hamlet of Monteriggioni
Whether you're an occasional rider, cycle only on the weekends or are an avid cyclist, the Tuscany and Chianti bike tours offered by Piero and Elena will be the perfect way to experience the best of Tuscany no matter what shape you're in. You get to challenge yourself during the ride, and enjoy first-hand some of the greatest things the region has to offer: great views, delicious wine & food, see history come alive as you stop to explore medieval hilltop towns and even do some shopping! The tours are offered for all levels, but they truly are customized to each group, which is never more than 7 people.
I joined in a recent tour and got to experience first-hand their great professionalism and can tell you that all of these precisely define the tours that Piero and Elena offer. First, they pick you up and drop you off in downtown Florence/Chianti area at or very close to what is most convenient to where you are staying, then offer guidance and full van support the entire time you are on the bike. I am a very occasional rider (although I do bike everywhere in Florence) so was nervous to see whether I could do the ride or not, and my experience was so positive and personally exhilarating that it has made me want to dust off my road bike and go out again!
We did the itinerary through Chianti from Florence to Siena and, while most of it was downhill and perfect for anyone, the last stretch included several hills and getting to the top of them was definitely exciting! We stopped along the way to take photos and even though the sky was overcast, the day was terrific and I loved the views of all the vineyards and countryside as we went by. The van support provided reassurance that you were never going to be left behind should your legs not be strong enough to take you the whole way. I cannot stress this enough, as cycling for a novice or occasional rider can be highly mental: if you feel the support is there, as I did, it was much easier to push myself and to actually do it!
The small group was perfect at providing an intimate experience and highly personalized experience. Elena and Piero already knew the basic background on everyone and then provided tips as well as practice time with gears in Castellina before we took off. Of course, slightly larger groups can also be accommodated as part of a custom tour, as well as families with young children (who have basic cycling experience) but, in general, every single tour that they head out on is customized to the people participating on that day.
Back Roads to See Off-the-Beaten-Path Tuscany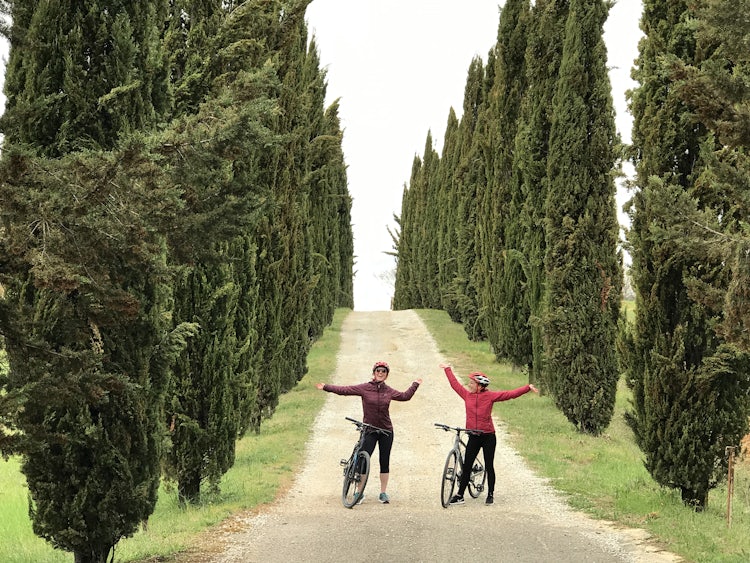 Would you like to take on the challenge of biking in Tuscany, without any worries?
If you do, consider Bike in Florence & Tuscany Tours for the following reasons:
departure from Florence, Chianti or where you are based with pick-up/drop-off directly or close to where you are staying at
tours for all levels
small groups up to 7 ** very important as it creates an intimate, friendly atmosphere in the group, bringing together people during the bike ride
back roads away from traffic
van support at all times
private/semi-private tours ** you can join in on already planned tours as well as request a private tour for yourself
Elena highlights that their tours offer a different way to experience Chianti and Tuscany with a bit of a challenge (the cycling) while having fun. In the end, "our tours are actually day tours of Tuscany rather than bike tours", Elena explains. You will see beautiful scenery, stroll through the enchanting medieval hilltop towns of Chianti, enjoy great Tuscan wines and food and do some sightseeing as well.
All things you can, of course, "do from a car, to be sure" but getting on a bike actually takes you "into Tuscany, into the scents and colors of the country." The way Elena describes these tours, you gather that they are about enjoying a special overall experience and that no one aspect dominates over the other. I agree with her assessment: while the tour takes place on a bike, you also get the chance to enjoy the countryside, the small towns, do wine tasting and visit a wine cellar and enjoy lunch and sightseeing in Siena (for our tour).
You get a taste of various things in Tuscany, not just one, which turns out to make the entire day a great experience.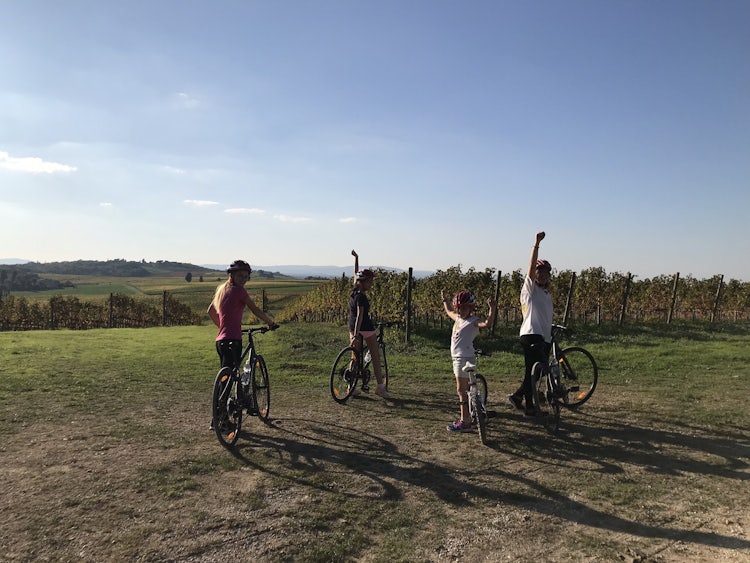 Worried about the hills? The most important thing to remember is this: you always have the support van nearby. If you need a break, you can climb on. "Once I demonstrate how fast I can put the bikes on and off the van, everyone is reassured that they can take advantage without creating a problem for anyone else," says Piero. The tours bring together people from all walks of life and ages but are organized by length/skill level. So you should be out with others in your same fitness level. But it can still turn out to a hot day or a windy day and your energy supply might need replenishing. Piero and Elena have got your back, with water, snacks, and stops along the route.
Both Piero and Elena have taken the time to personally explore all of the back-roads and design routes that take you away from road traffic, providing views of Tuscany that you likely would not have seen from a car on the main roads.
While their "San Gimignano to Siena" and "Tuscany Wine Lovers" tours remain their most requested ones, there are several other tours in Chianti as well as routes in Mugello, Valdarno, Florence and are open to creating a fully customized ride for anyone who is interested. Just ASK!
Here's a short video of our group as we get back on the bikes after our wine tasting. 😉
Explore Tuscany on Bike with the family... and Florence, too!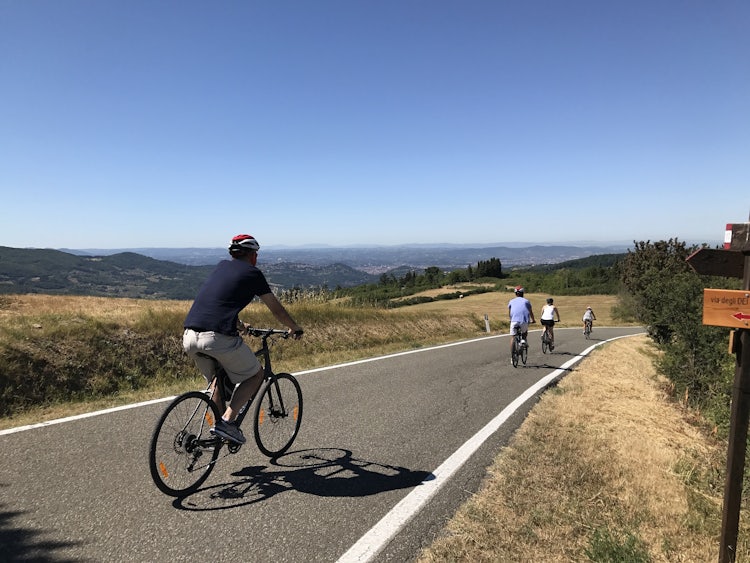 If you visit Florence as a family with kids (minimum age 12 years old) and are looking for an outdoor adventure, their "Downhill to Florence" bike tour gives you the chance to be active as a family with a scenic, fun and easy bike ride from Fiesole. You start with the monastery in Montesenario, make your way across the hills of Mugello to arrive alongside the Roman and Etruscan ruins in Fiesole before heading down toward the Arno river. The entire family will love enjoying a gelato at the end!
Lastly, if you don't have the time to get out into Chianti or Tuscany but would still to experience riding a bike while in Florence, their "Enchanting Florence" tour offers another great way to see the sights while stretching your legs. The tour concentrates on the Oltrarno area where many local Florentines still populate the city center before heading uphill to enjoy some of the most beautiful views of the city from the Piazzale Michelangelo and San Miniato.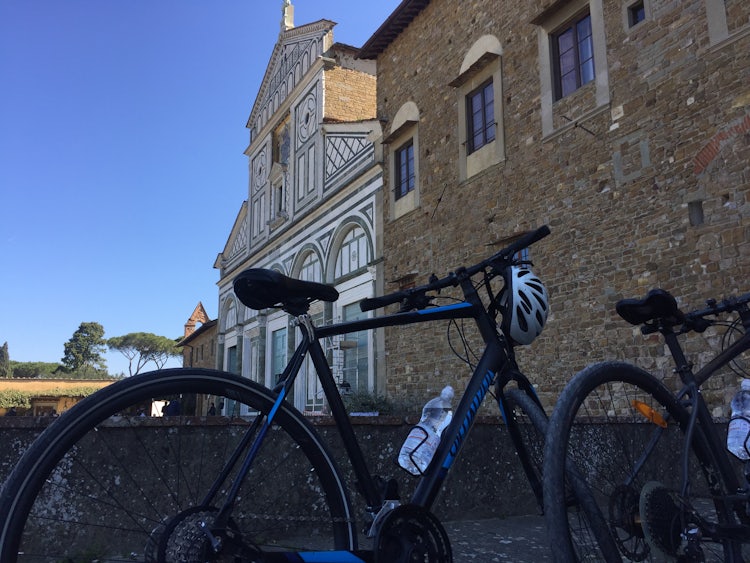 The reviews I found online all express the greatest satisfaction at Piero and Elena's great hospitality, knowledge of the region and professional service. While Piero admits that the days can be long, they are "deeply satisfying". To know that everyone that participates in their tours "ends the day being thrilled with their accomplishments, often bonding with other members of the group and always saying the day's experience is the best part of their trips," says Piero, "is what makes our job wonderful and worth doing every day."
If you are looking for a great experience of mixing biking in Tuscany with seeing many of its treasures, I suggest you take a look at the tours Piero and Elena offer. I can personally recommend their tours as perfect for anyone at any fitness level, whatever you accomplish with remain in your heart and become a treasured memory of your time in Tuscany. I thank them both for having me along on the adventure of cycling Chianti 😉.
This is a Sponsored Article but reflects the honest opinion and experience of the author. More details »