The geographical location of Lucignano, in a dominant position between Siena and Arezzo, has made it strategically important since ancient times and, over the centuries from 1200 to 1500, resulted in the continuous passages of jurisdiction between Siena, Florence, Arezzo and Perugia.
The small village of Lucignano is one of the most extraordinary examples of medieval town planning, with its elliptical concentric rings, which have remained intact over the centuries. Walking through the narrow streets, between houses of stone and brick, we reach the heart of the village: the square of the Tribunal, which is overlooked by the Town Hall, the Church of St. Francis and the Collegiata.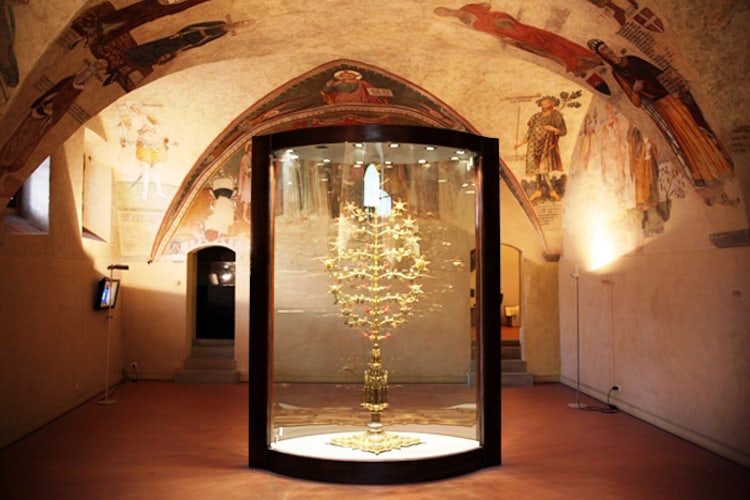 Inside the XIII century Town Hall building is the Museum, the keeper of Lucignano's treasures: works of art from the Tuscan Middle Ages and Renaissance, among which stands the magnificent Golden Tree. Its impressive size (2.60 meters high) and the richness of the decoration (corals, crystals, miniature on parchment ..) make it an attraction for tourists from all over the world. The Tree is within the Sala delle Udienze, the Hall of the Audiences, all painted with frescoes dedicated to Illustrious Men, created on commission by the Priors of Lucignano in the XV century.
Next to the municipal building there is the Franciscan complex dating from the XIII century that consists of the church and monastery. The church has a Gothic facade, realized with horizontal bands of sandstone and travertine, a clear influence of Siena, with an impressive travertine portal and a rose window in sandstone.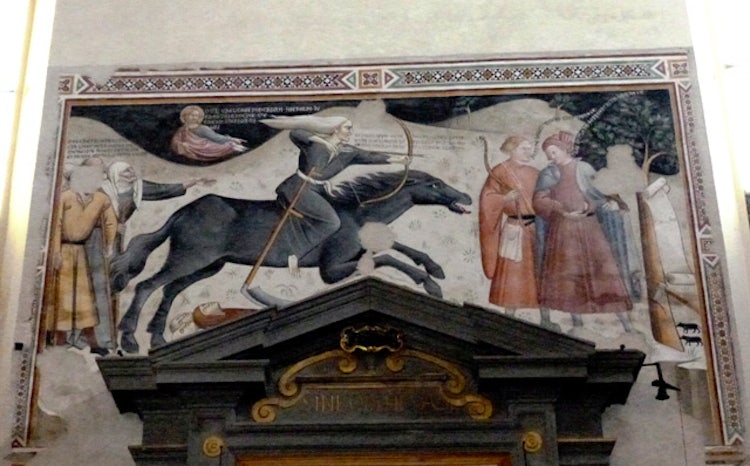 The interior of the church contains a cycle of frescoes of the XIV-XV century, focused on the life of St. Francis, whose most famous image is the scene of the Triumph of Death painted by Bartolo di Fredi.
The main church of Lucignano, however, is the XVI century Collegiate Church, located at the opposite end of the square and fronted by a beautiful travertine staircase designed by the Jesuit Father Andrea Pozzo, that matches the design of the ellipsoid urban structure of the town.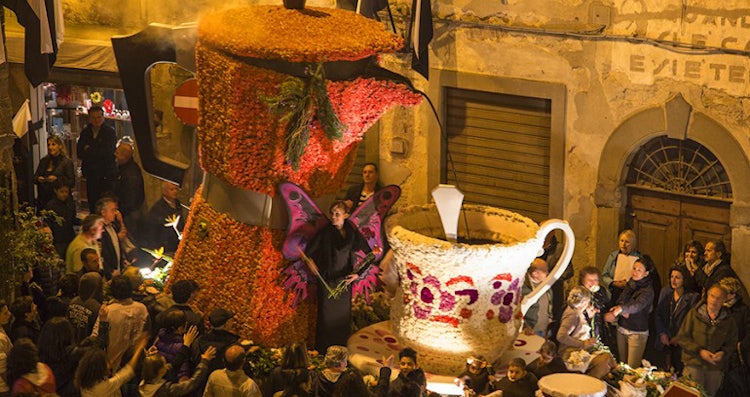 In May, the village is colored and scented with flowers of the Maggiolata, a festival which commemorates the ancient rural celebrations for the arrival of Summer. The four districts of the village every year build floats entirely covered with flowers that parade through the streets of the town accompanied by farm carts and folk groups. You can find info about the event here: http://www.maggiolatalucignanese.it/
The town's streets are full of restaurants where you can taste the traditional Tuscan dishes: Bruschetta, Ribollita, Pici and Chianina meat. Lucignano awaits!
Photo credits: Elisa Brunoni