Modern minstrels livening up medieval festivals in Tuscany and beyond
At the Medieval Festival at Monteriggioni - which takes place every July in this medieval village - we had the fortune of getting to know a group of really fantastic musicians, the Compagnia la Giostra.
These Sicilian artists enlivened the evening with their show: a constant stream of parodies, sonnets, vocal and instrumental pieces that had the entire piazza of Monteriggioni dancing and singing along.
Their music is a loose interpretation of medieval and renaissance music, in particular because of their extensive use of instruments from that period such as the bagpipes, the zither, the lyre, a bombard, and flutes. Also very evident is the influence of ethnic and popular Mediterranean and Sicilian music in their style. Many of the musical pieces are an open invitation to dance, others are satirical interactions with the public in the ancient style of storytellers and minstrels.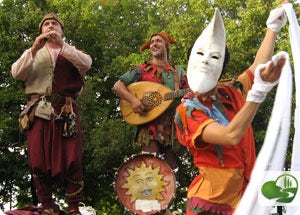 The music created by La Giostra is one of contagious cheerfulness and the public is engaged not only in dancing but in the singing of a few passages in songs such as "the castity belt": a story of a damsel whose husband went off to war taking along the precious key :-).
Satirical pieces are not lacking (the story of the cavalier Gianfrusconi "vaguely" reminds one of a well-known persona...) as well as those of commitment (such as the ballad of Peppino Impastato, a victim of the mafia). A few songs are quite remarkable, such as the beautiful "Comu na Matri", an hymn to the land of Sicily.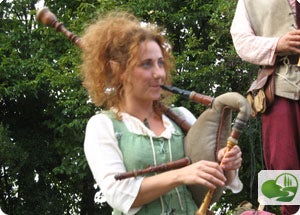 The company is composed of five artists that perform in costume: a bit motley fool, a bit minstrel and a bit elvish (two have pointed ears as seen in Star Trek). Their stage names are Tarallo (Gianfranco Rafalà, at the wind instruments and soul of the group), Furetto (Michele Conti, composer of their lyrics), Ciullo (Fabio Midolo, with a grand voice and stage presence), Donna Lisa (a very skilled and cute elf at the flutes and bagpipes), Luna (Hilmar Pintaldi Funes, on the percussions but above all a spring-coiled dancer!).
La Giostra manages to entertain and transmit positive energy. This is even more evident when it is in close contact with the public, such as the second time we found them at the Volterra AD 1398 festival where they performed in the "canto del diavolo" (devil's corner), a really small piazza in the medieval town. That evening we also purchased some of their CDs that we then sung along with in the car as we returned home.... we have yet to tire of listening to them :-).
You can download a few of their songs in mp3 format on their official website (www.compagnialagiostra.com), where you'll also find more details on the group and their music. The best advice we can give you is to go and listen to them live: you'll likely find them in Tuscany at the Medieval Festival of Moteriggioni and at the one in Volterra where they have been very popular attractions. The group also performs across other parts of Italy and abroad in similar events and festivals; you'll find more details and dates on their website.