A Subtle Blend of Perfection
Walking away from my visit at Il Cellese's self-catering apartments on a sleepy Chianti hillside, I understood exactly why Sergio, the owner, could proudly proclaim to enjoy so many return guests, great comments and referrals. He is exactly the kind of person whose genuine and sunny personality pulls you in and has you feeling at ease, relaxed and part of il Cellese … as if, without you, there is no vacation.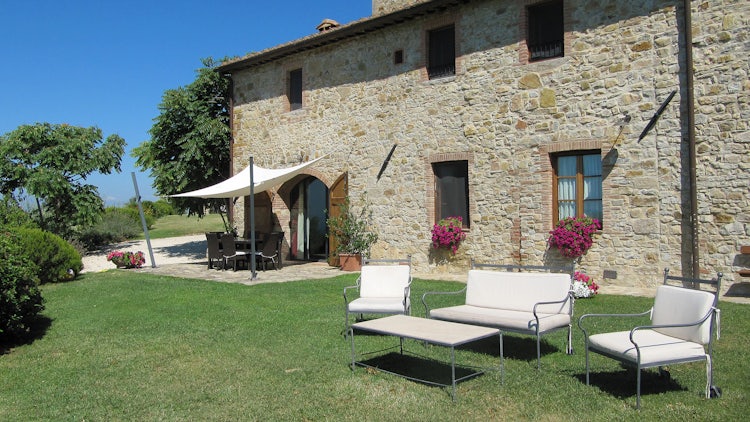 Ten years ago, when Chianti was already boasting to be a prime vacation destination filled with "agriturismos" and vacation homes, Sergio decided to showcase his own personal piece of paradise in the form of vacation rental apartments.
Welcome to His World in Chianti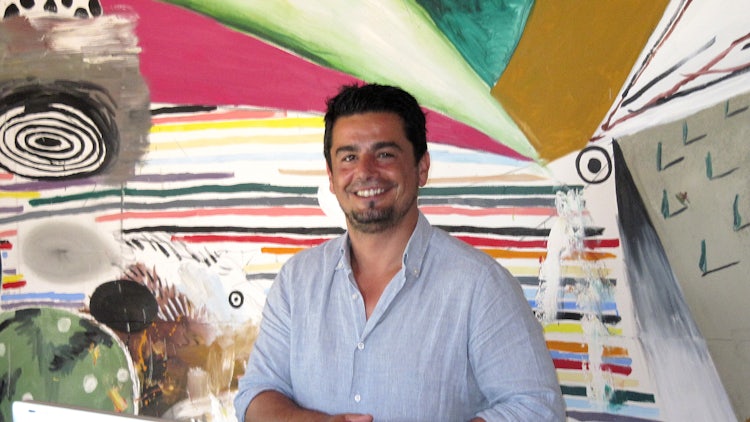 The plan was to divide up the buildings on the property, restore then and wait for the guests to arrive... but a bit of professional curiosity took over and after checking out the competition, he went back to the drawing board. He realized that if the reason for leaving the "family" winery was so he could do something different, then why should he follow the crowds now?
Il Cellese was born out of a desire to invite people to his home, so they could see Tuscany in the same way he did and to live it the way he did. So when he worked the designs, he kept the typical Tuscan architecture, comprised of stone and brick, and chose to create internal spaces that were designed to be luminous, practical and modern... above all else, modern.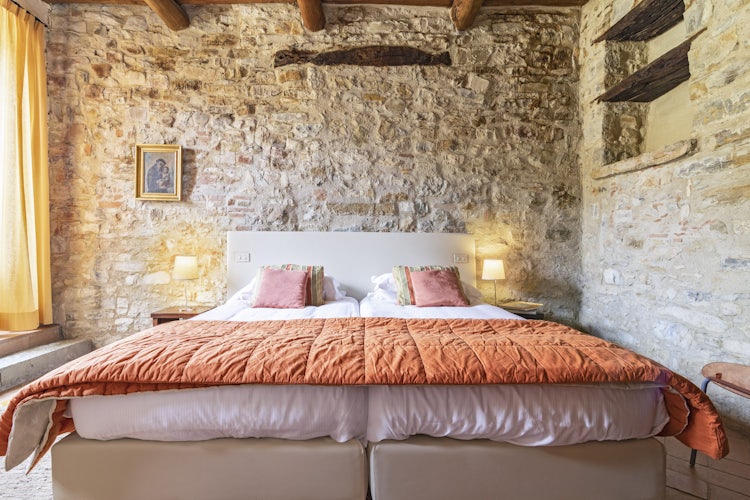 His family in Italy was an inspiration for Sergio. Starting when he was a child with summer vacations far from his home in Seville (Spain), he spent time with his Nonno (grandfather) and Zia (Aunt) learning about the traditions and culture of his family's homeland. Even after testing the international waters and learning English in Scotland and traveling worldwide, the call to go back "home" was strong. So he gave in and went to pick up where his Aunt, one of the first women winemakers in Chianti, left off. He is the first to admit that it was all new to him, and that the four months a year "playing" at making wine while on school holidays in no way prepared him for the hard task of planting, pruning, harvesting and everything else!
When Sergio speaks of his adventure, he radiates with energy and conviction; this passion matured overtime and transformed his youthful enthusiasm into a driving force. He makes it seem so effortless bringing together elegance and comfort and mixing it with a healthy dose of reverence for his heritage, that of the land and even the spirit of Il Cellese.
I found his habit of always responding to my questions with "we" rather curious. We planted, we restored, we built... always "we". It was a bit confusing: wasn't he the owner, making the decisions... who is the we? I could see his good nature seeping through as he carefully worded the answer, "I say we because it's me and Il Cellese. We make the decisions together."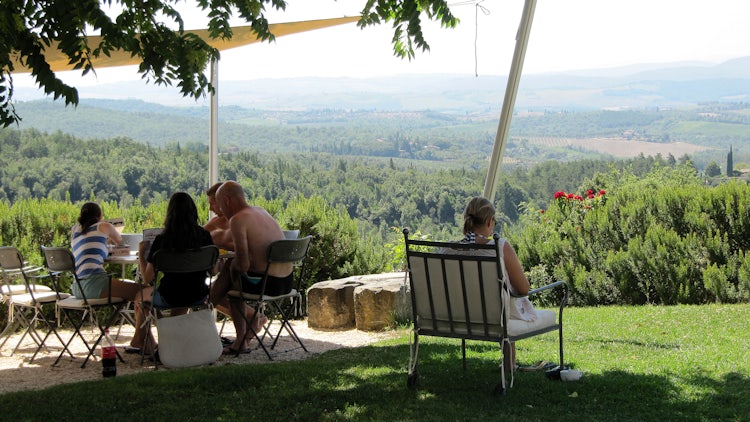 A Review of Il Cellese
We loved: the informal climate at the vacation apartments. A vacation here is like taking a vacation with treasured friends and family
Ideal for: couples, families, children, adults and friends... practically everyone looking for tranquility & relax in a comfortable (and stunning) setting
Expanding your Experience
There are three farmhouses which have been transformed into 7 holiday apartments, carefully thought-out to ensure a cozy environment with a modern and tasteful decor. Even after 10 years, the ambiance of Il Cellese still reflects a timeless sense of comfort accented with color and design. But this is not a surprise with Sergio's cultural background, a mix of Spanish and Italian. He has combined both to create a welcoming atmosphere which brings together strangers and turns them into life long friends, almost family.
The gated property is the perfect representation of Tuscany. Using everything in its power to entice you to the edge, where you stand above the vineyards. The gardens are filled with lavender and fragrant blooms. There are sprawling olive trees and each apartment has a private garden terrace with elegant outdoor furnishings and a shady corner. Meals can be eaten in these cozy corners, savoring the fresh and exciting flavours you have picked up on your day trips into Chianti Siena, Val d'Orcia and Florence.
Gathering together for a Tuscan Meal
Il Cellese at a Glance:
Type: self catering holiday apartments
Location: Castellina in Chianti, 8 km (10 min)
Distance: Siena or Greve in Chianti (40 min)
Transport: a car is necessary
Apartments: 7
Sleeps: 25
Type of board: Mon./Wed./Fri. Dinners & Sunday Brunch upon request
Or you can join the crowd... because somehow I just know there is a crowd on Monday, Wednesday and Friday with Sergio as your host, and Silvia, his cousin, in the kitchen. I didn't even ask about the menu (it seemed a shame to tease me with the list of antipasti, pasta dishes, main courses and desserts) but I do know that everything is accompanied by excellent Chianti Classico wines, olive oils, coffee and maybe even a grappa.
Enjoy Being Special while on Vacation
But this extra has its price! In summer you have to sit outside on the panoramic terrace, overlooking the vineyards and enjoy the new found friendships with your fellow guests... and, of course, that of Sergio. And you might even be roped into counting the falling stars... unless you opt to enjoy the Sunday Brunch and, in that case, no falling stars, just good food and wine. Another extra service that I found particularly enticing is the Start Package. All the apartments have the necessities (salt, sugar, oil, etc) and yet Sergio makes your arrival even easier: with a small surcharge, he will give you a starter kit for your first day of arrival, or upon request, he will do your shopping for the first day - just send him a list!
Il Cellese and the restored farmhouses may present you with a clean, well-organized accommodation where you can plan your vacation but it is Sergio who gives it life and brings it all together. He is spontaneous and generous with his smiles and good nature and especially his passion to offer everyone a vacation based on quality and excellence.
"I am my own first guest. I strive to offer services which mirror those I look for when on holiday. Personally, I appreciate the convenience of having on-site assistance but the liberty to be left alone and relax.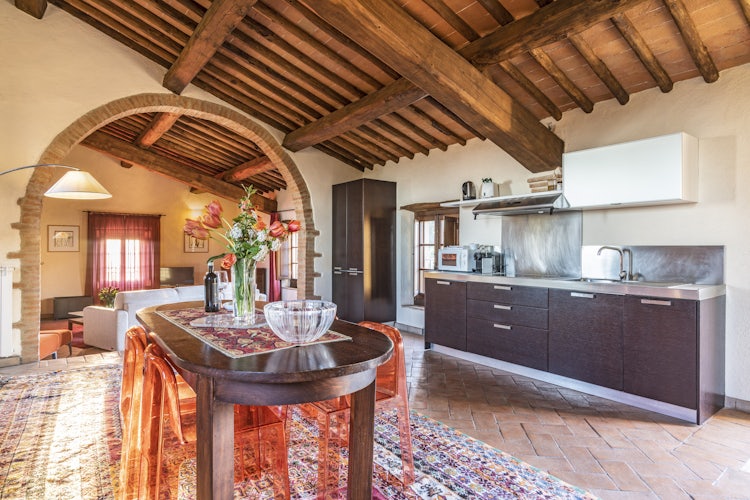 You are in the Heart of Chianti Classico
The final actors on the stage can't be anything other than the stunning vistas and the vineyards. Even with all the different languages that Sergio encounters with his guests (English, Italian, German, French and others), he says its always the same word that sums it all up: "Wow!"
Set 450 meters above sea level, with what seems like an endless panorama, dotted with cypress trees, church towers, more vineyards and small towns, nothing could be more spectacular. At any time of the day, you can get absolutely lost in your Tuscan daydreams. Especially in one of the private and strategically placed lounge chairs or playing games at the tables set under the umbrellas.
Less than 10 km from the vacation apartments rentals, you will find the Cellese "cantina" or winery. With 700 square meters carved out of the Tuscan "tuff" stone in three tunnels dating back to the 1800's. As of 2016, Sergio (and il Cellese) opened the doors to their new restaurant in the wine cellars: be sure to reserve your spot in this magical place with it aging barrels and secret passageways. They will be highlighting good, local food and the flavors of the territory along with their special wines and, of course, your charming host: Sergio.
Il Cellese is not just a place to stay for a vacation, they are holiday apartments where you can enjoy the essence of Tuscany, its colors, flavors and fragrances and a place where you will feel like part of the family, over a cup of coffee in the morning with Sergio or getting to know your fellow guests. The spacious apartments with modern facilities, the large pool and the well maintained gardens will be part of your great memories while on holiday.