An Artist that changed our Perspective
Giotto is certainly one of the greatest artists in art history, as well as an appreciated architect. He was Cimabue's apprentice and really appreciated by his contemporaries, insomuch as Boccaccio described him as "the best painter in the world".
Giotto with his new style revolutionized painting and was taken as a model by Renaissance artists. He made a decisive break with the traditional Byzantine style introducing the technique of drawing accurately from life.
His Life
Giotto di Bondone was born in a typical Tuscan farmhouse around 1266 from farmers in Colle di Vespignano in Mugello near Florence. Legend has it that Giotto was discovered by Cimabue while he was portraying his sheeps on a stone. Thereby around 1272 Giotto is apprentice of Cimabue in Florence near Santa Maria Novella. Together with Cimabue goes to Assisi and Rome.
Around 1290 he opens his own workshop. Another legend has it that was Cimabue himself to suggest Giotto opening his activity when he tried to chase away a fly painted by Giotto. Few years later he goes to Assisi and fresco the Upper Church with the Life of Saint Francis.
In between 1200 and 1300 Giotto works between Assisi and Rome. He is a rich and extremely appreciated artist, overcoming his master Cimabue, as mentioned by Dante Alighieri. In fact he is commissioned to fresco the Scrovegni Chapel in Padua (about 1303-1306).
He comes back to Florence around 1311 as documented by legal documents related to his properties. Between 1320 and 1325 he works in Santa Croce realizing the beautiful Peruzzi Chapel and Bardi Chapel.

He then goes to Naples, since he was called by King Robert of Anjou and realized the Baroncelli Polypthic, today in San Diego CA. In 1327 he comes back to Florence and works as master builder for the Florentine Opera del Duomo. He starts building Florence Bell Tower that is named after him. Giotto dies in Florence on January 8th 1337. He's buried inside the Basilica of Santa Croce.
His Works
Giotto is considered one of the first artists who contributed to the Italian Renaissance. He was a very productive and estimated artist among his contemporaries. Among his most famous works there are the early frescoes of Assisi depicting the Life of Saint Francis and the Life of Saint Isaac in the Upper Church and the later works in the Lower Church.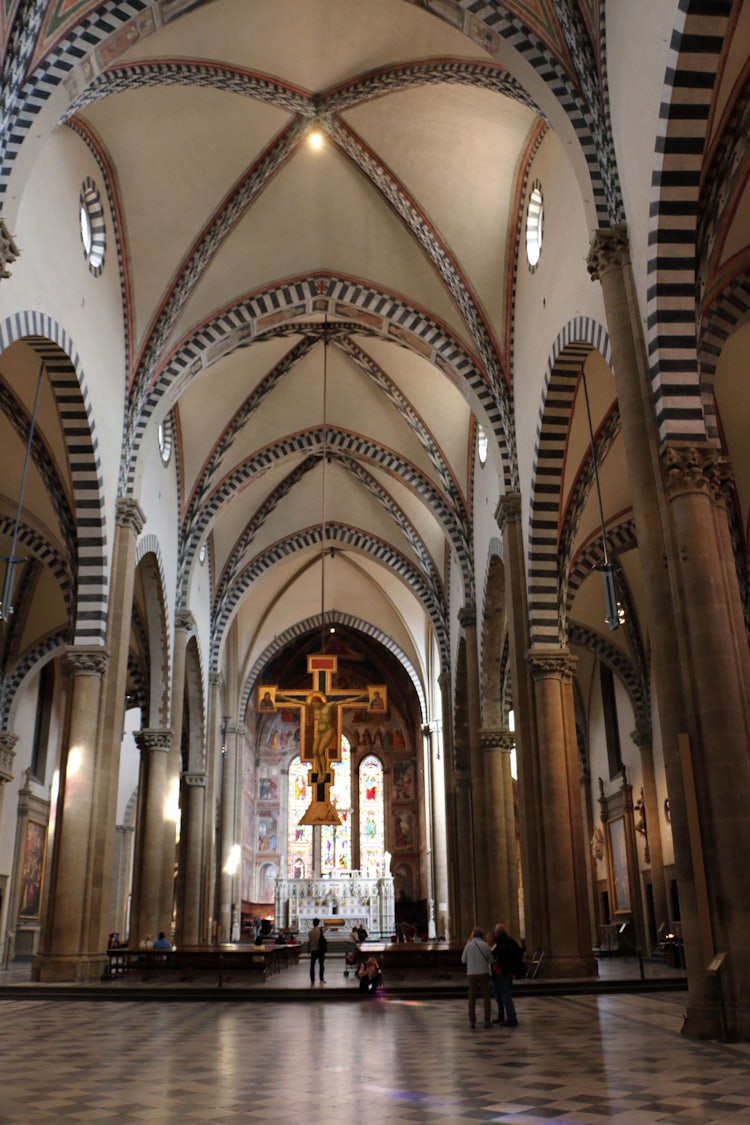 Around 1290 in Florence Giotto realizes the large and beautiful Cross of Santa Maria Novella, that definitely breaks with former painting. Giotto's Christ is no longer an icon but a man crucified. He also paints the enchanting Polypthic of Badia (1301-1304), today at the Uffizi Gallery.
Later on Giotto goes to Padua and frescoes the Scrovegni Chapel that represents an unbearable masterpiece in art history. The fresco cycle depicts the Life of Anna and Joachim, of the Virgin Mary, of Jesus Christ, allegories of Vices and Virtues and the Last Judgement.
Among his Florentine works stands out the spectacular Ognissanti Madonna, also known as the Uffizi Maestà, as well as his frescoes in the Basilica of Santa Croce. The Peruzzi Chapel, frescoed with the Life of Saint John the Baptist and Saint John the Evangelist, and the Bardi Chapel displaying the Life of Saint Francis are worth visiting.
Unfortunately, several works by Giotto have been destroyed or lost. Some of the remained ones are displayed in national and international museums such as the Louvre Museum in Paris and the MET in New York.
Giotto was not just a painter but also an appreciated architect. He worked in Florence as master builder for Opera del Duomo, erecting the first part of the Bell Tower, named after him - Giotto's Bell Tower.