Visit Cinque Terre in a Day with a tour!
If the photos of the colorful villages of Cinque Terre have your heart a flutter, then you definitely not miss visiting the coast and these enchanting villages! The best way to do so is really to spend, at the very least, a night there so that you can divide two days worth of time between the five towns and get to explore them all. But if you have limited time in Italy and want to go for just a day, then in that case, the very best way to make the Cinque Terre happen is to join a day group tour from Florence!
I did it and you can too, although be prepared for a long day. In a nutshell, a group tour offers: faster transportation by bus than by train if you were to go on your own, you will still have free time to explore each village and, best of all, even fit in a boat ride that lets you have wonderful views of the five towns from the sea!
BOOK YOUR CINQUE TERRE TOUR NOW

I don't normally do large group tours but sometimes I recognize it represent a valid occasion of seeing Tuscany and its treasures, particularly when time is limited. There are many times when they are just perfect, including when you don't have the funds to do everything by private tour or small group tours. I'm always willing to try new experiences firsthand to figure out who and when and for whom they are perfect, so here I was, getting up before 6am to go on this day tour of the ever-popular Cinque Terre!
An early start... but you can nap!
First, regardless if you do this group tour or not, prepare yourself: a day trip to Cinque Terre from Florence will be a long day! We took the day tour offered by Florence-based tour operator Ciao Florence on a Friday, thinking the weekend would be insane. It was still a full bus and Cinque Terre was busy even if it wasn't the weekend. Your day will start early since your meet-up point by the Santa Maria Novella train station is around 6:40am to head out of Florence by 7am. Right away, the grand tour bus offers its first advantage over traveling by train: it is faster than traveling by train (it cuts at least an hour but more often a full hour and a half from your travel time. Trains take longer because they often require 1, if not 2, train changes between Florence and the Cinque Terre). Another advantage is you're now part of a group for the day so you can safely close your eyes and take a nap on the way there (and on the way back, too). The bus stops for a restroom breaks near La Spezia.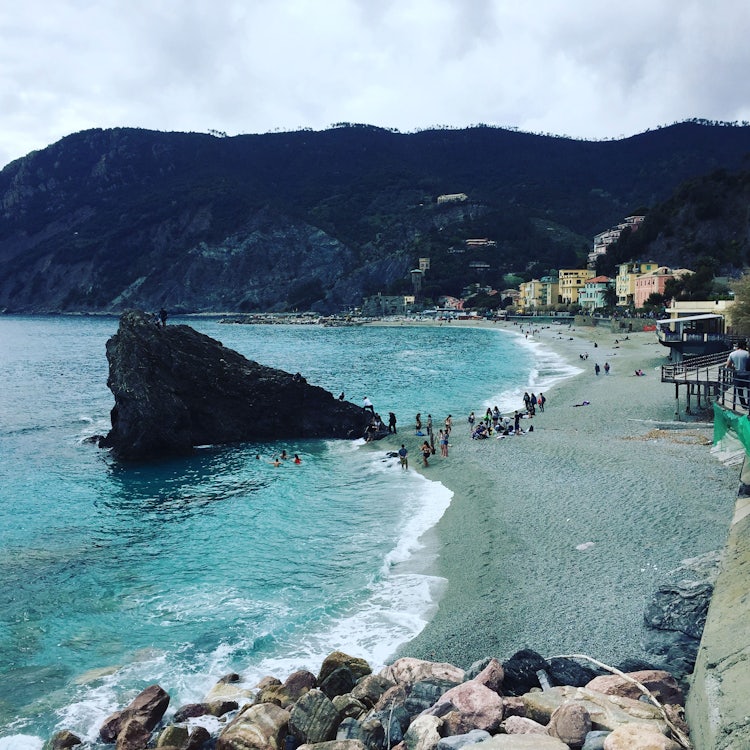 Multilingual guide with free time to explore
Cinque Terre Tour At a Glance
Cost: 105 €
Time: 7AM
Duration: 12 hours
Includes: Travel by coach, expert multilingual guide escort, free time in Riomaggiore, Manarola, Monterosso and Vernazza, train tickets and boat ticket
Days: Offered every day of the week
Language: English and Spanish every day, other languages such as German, Spanish and French are offered on specific days
OTHER OPTIONS: You can also just book bus transport to CT, visit on your own without the guide and the meet up for travel back to Florence (this will cost less). You can also ADD 3 course lunch to the tour with the guide (cost more).
Our group was large and took up the entire bus (we were around 50) and our escort guide, Irene, was multilingual. Irene was not alone, as there was another guide who always went at the rear to make sure we never lost anyone. Based on the group, she'll explain everything in several languages. Irene was great, offering information about the day's program and about the Tuscan landscape as we left Florence and as we neared the coast. She also gave us information on the Cinque Terre as our bus took the narrow, uphill roads after La Spezia and we traveled above the first town of Riomaggiore to drop us off in Manarola, the second of the five villages. From here, we were then to train and boat to move between the towns, meeting up at the end of the day in La Spezia with the bus to head back to Florence.
We walked as a group from the parking lot down into Manarola, and one of the first things I appreciated about this tour was that we weren't going to be led around everywhere as a large group, despite its size. Irene gave us a meeting point and time to meet up again to move on to the next town together, but set us "loose" to go anywhere in each town to explore. This is how the rest of the day proceeded, with our guide giving us information about each town and its layout when we first arrived, a meeting time and point for departure to the next step and then... off you go wherever you want to go!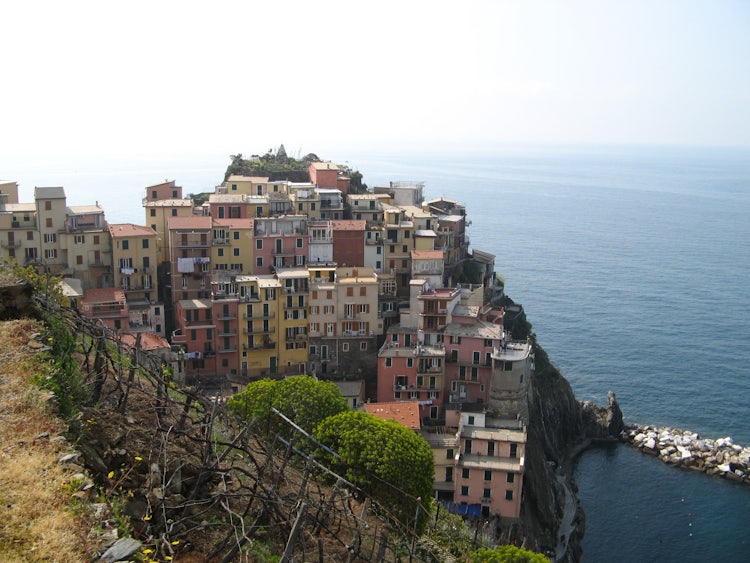 In Manarola, make sure to head down to the small port and walk to the right along the path that will let you enjoy the wonderful view of the town and its colorful houses. Continue walking to the tip, then head up and take the paths upward if you don't mind the steps and climb. The view from higher up is quite spectacular as well, one most tourists don't make. This path takes you past the terraced vineyards and ends up back toward the church at the top and back of the village, and from there you can head around to the other side of Manarola or head back down to the train station or port.
After Manarola, the itinerary takes you along a quick 5 minute train ride into Riomaggiore. Unfortunately, a landslide a few years ago closed down the Via dell'Amore that connects Manarola to Riomaggiore, a beautiful scenic flat path built into the cliffs but it is still unsafe to open it back up. I am truly sad this is the case as the walk along the coast here is beautiful. In any case, the train ride is short and the many steps around Riomaggiore let you explore the colorful houses around the small port and its fishing boats.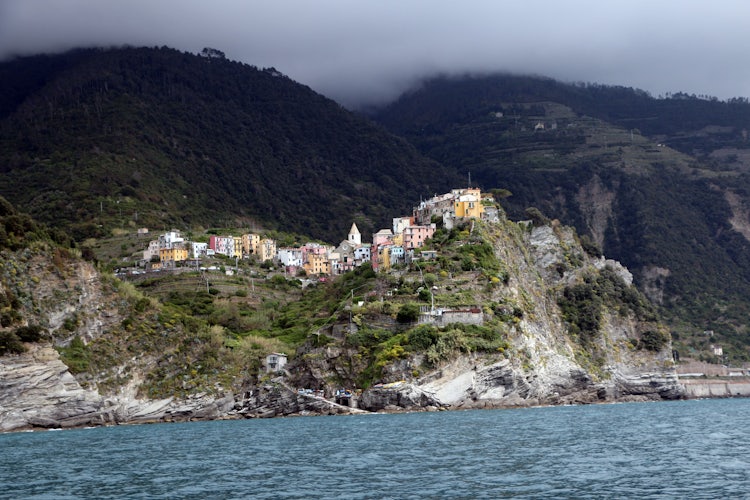 TIPS TO MAKE YOUR DAY TRIP A SUCCESS:
- Remember to pack or wear swimsuit underneath and bring a towel. You have time in Monterosso where there is a sandy beach
- Local specialties to try: anything with PESTO, including pizza, testaroli (spongy pasta) and tigelle (flat bread)
- Go on a weekday to avoid weekend crush
- Nonetheless, better to expect big crowds between May and August (high season)
- Public restrooms: free ones near each of the train stations but often not super clean as the day progresses. In that case, better to head to a bar, buy a snack and use their restrooms. At lunch, make sure to use the restroom before leaving!
- Watch out for pickpockets on the trains as well as platforms as you await for trains. Since there are large crowds, they specialize in getting on and off and relieving you of your funds.
- Last, but not least: Be prepared for lots of climbing. There are steps everywhere as the towns are built on cliffs, so all sidewalks have steps up or down. Whether you want to or not, you'll be doing some hiking so bring not only comfortable shoes, make sure they have a bit of a grip on them as well. They will be especially useful when you find yourself on a small rock outcropping climbing to get a better view and picture of Riomaggiore or Manarola ;-)
From here, we hopped on the boat that takes us north to the last town, Monterosso al Mare. This is another part of this tour that I truly enjoyed, despite the drizzling weather we had on our day. On past trips to Cinque Terre, I've hiked and taken the train but had yet to take the boat - now it will be the one thing I will recommend everyone not miss out on! :D Take the boat ride even if you decide to visit the Cinque Terre on your own (here's the timetable). As it is, I must say I found the boat ride the major plus of this tour! Consider the boat ride on its own costs around 22 euro. From the sea, you'll get to enjoy the magnificent view of each of the towns, truly getting to see the magic of the coast and its enchanting beauty.
The boat stops in each of the towns but we don't get off until the last one, which we reach right around lunch time. Monterosso is definitely a good place to be at lunch as there are many small trattoria and restaurants, as well as pizza and panini shops where you can take your lunch for a picnic on the beach. Yes, the beach! While the rest of the towns are right on the cliffs with rocky ports, Monterosso actually stretches out over a flat coastal area and has sandy beaches. Bring your swimsuit and towel if you want to go for a swim!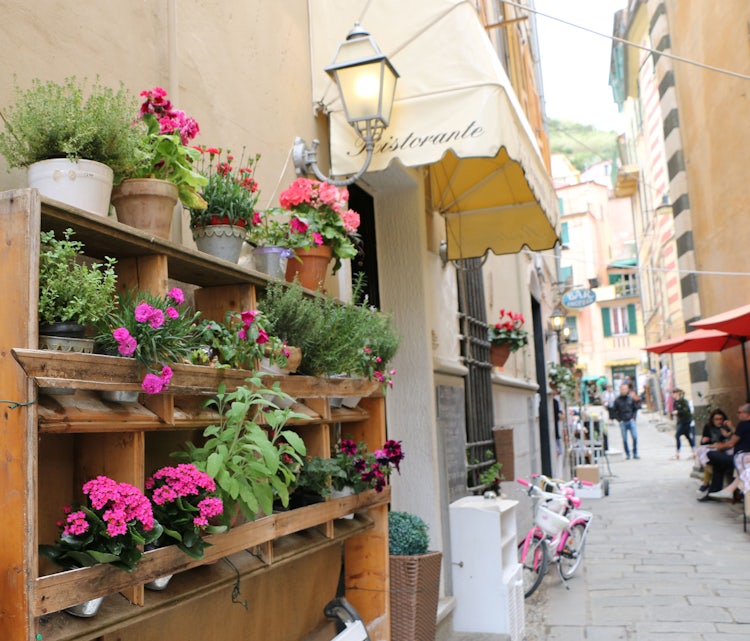 After lunch and a gelato walking along the boardwalk, we head by train back south toward Vernazza. Considered by many as the most beautiful of the five villages, it is the one that can get the most packed. Consider there is more to see than just the main street: there is a castle over the town you can go up to explore, as well as take the narrow streets up and around the town. Once our free exploration time in up here, we jump on the train again to head south out of the Cinque Terre to La Spezia, where our bus awaits us to begin the trip back into Florence. Tired from a day of mostly wind and some drizzling rain, we take advantage and nap on the return trip. A full day of exploring the gorgeously scenic Cinque Terre comes to a close, with dinner out in Florence awaiting us!
BOOK YOUR CINQUE TERRE TOUR NOW