The Perfect Villa Rental Near Florence
Less than 10 minutes outside of the antique doors of Florence sits the 5 bedroom Tuscany Villa La Medicea. Set on three floors with a panoramic watch tower on the 4th floor, Giulia and Elena, your hostesses, provide a fantastic villa, restored in a way that will enchant your senses. This historic residence was once used by the farmers who cared for the vast propery belonging to Villa Corsini only minutes away, which was owned the Medici family in the 1500's.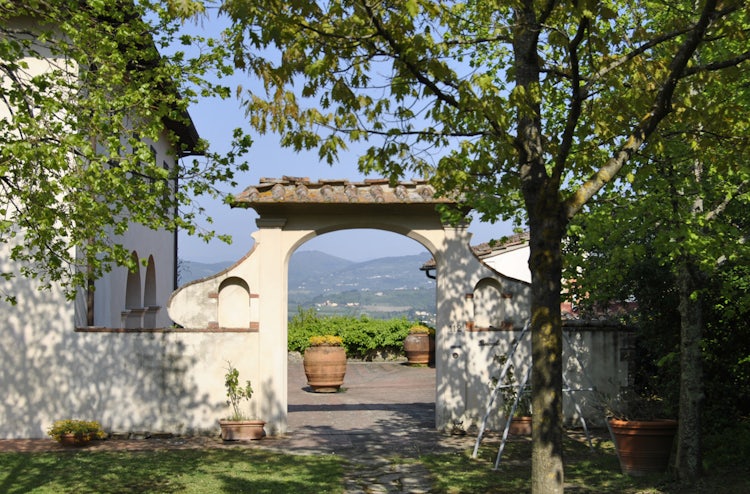 When the family took on the mammoth job of restoring this amazing piece of history, they skillfully combined it with modern architectural accents, quality antique furnishings and artwork. Special touches like the intricate wooden doors, modern kitchen fixtures and spacious bathrooms with hydromassage tubs are some the more striking characteristic of the villa rental.
Book Direct with Villa La Medicea
Let's Start with the Garden
Even on a hot summer day the exterior (and interior) of the villa is extremely refreshing. Giulia took me around the garden so I could appreciate the cool shady places and the super sized swimming pool with a breathtaking view...there is nothing that disturbs the visual of this Tuscany daydream. All you see are the hills, vineyards, small towns and cypress trees and all you hear are the crickets, cicadas and the rustle of the leaves as a soft breeze sweeps in to cool you off. The innovative design of the pool provides a wide ledge which is perfect for young children or sunbathers cooling down - while not missing out on that wonderful Tuscan sun.
I actually caught Giulia with a few extra minutes between her next guests arrived. I found Felice, her husband and their little boy were making good use of the pool. The ledge gave him lots of room for playing around and I could see that it was much appreciated (by both adults and kids).
"I have kids, so I have an extra eye for making sure the house is child-friendly," as she points out the fenced in pool."This was put in purposely away from the house to create a small oasis where kids could be kids, without disturbing those relaxing in the villa"
She was quick to point out the large park around the villa rich with shady corners and soft sunny yards for playing around and sunbathing. The grass is kept short and well maintained perfect for walking barefoot. The outdoor living also includes two terraces, one is covered in front of the house and opens to a typical Tuscan courtyard in red brick. The second terrace opens behind the house and features a BBQ and direct access to the kitchen and an incredible view overlooking the antique cypress lined driveway that leads to the main villa.
A Review of Villa La Medicea
We loved: the awesome outside areas are made to be lived
Ideal for: friends or families with children looking for spacious, child-friendly accommodations with easy access to major sites in Tuscany
Making yourself at home in Tuscany
The rental villa is divided into two apartments but is always let as one complete unit and is especially suited for families and friends travel together while at the same time searching for a bit of privacy and space.
In the apartment Terrazza, the 3rd bedroom is carved out of the tower, a typical characteristic of the Tuscan farmhouse where they used to keep pigeons, doves and dry the grapes for vin santo, this double bedroom is exceptionally luminous. Giulia confided that many times the room goes to the kids who adore the idea of being on the "look out." Go up one more flight of stairs (and forgive the play on words) and you will have a bird's eye view of Chianti from east to west and — it is awesome. There is even a sofa bed for those who chose to fall asleep or take a nap in these lofty heights.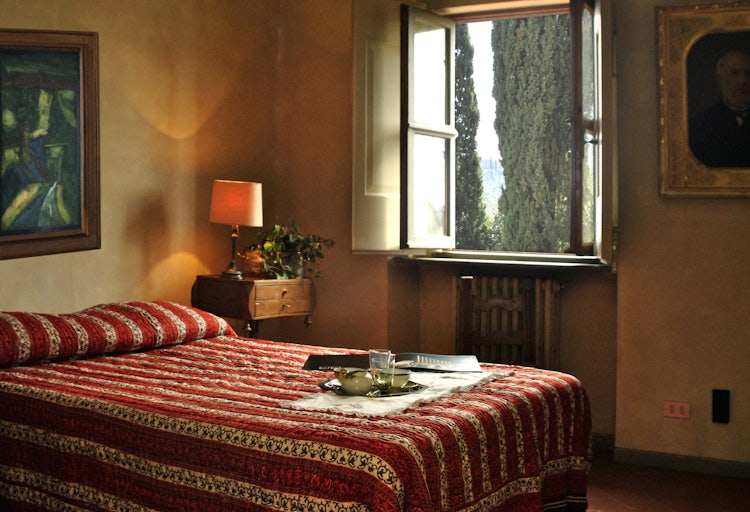 The second apartment, La Loggia, features two bedrooms and one bathroom set on two floors. I particularly loved the large bathroom and the romantic hydromassage tub. The living room is exceptionally large and it features a Renaissance styled fireplace and a formal dining area where the entire group can enjoy making their meals. Ask your hostess about having a chef come in and prepare a special Tuscan dinner or lunch! Or organize a wine tour, visiting the many vineyards nearby in San Donato, Castellina in Chianti and Poggibonsi. The villa is well ventilated, and even after a warm summer day, you can open the windows and enjoy the crisp, fresh air at night.
The Entire Villa Can be Considered a Secret
Villa La Medicea in a Glance:
Type: Tuscany villa rental
Location: 5 km (10 min) from Florence
Distance: Siena (50 min) or Greve in Chianti (30 minutes)
Transport: a car is necessary
Rooms: 5 double bedrooms, 3 bathrooms and one guest bathroom
Sleeps: 10-12
Type of board: No meals provided
It is all a very well kept secret; the olive groves, monumental park and — some say there is even an Etruscan tomb on the property. But this doesn't mean that it is off the beaten track and unaccessible for the average driver. Both Elena & Giulia confirm in 10 minutes you can find yourself almost anywhere you want on the outskirts of Florence; park your car near Piazza Beccaria and head towards Santa Croce; you can head towards Porta Romana and stroll towards the city center passing through the "real Firenze" or what the locals call Oltrarno.
But it is not just about getting to Florence, here at Villa Medicea you are less than 5 minutes from the enchanting little town of Impruneta which offers a full supermarket, great pastry shops —and some have even told me, the best gelato ever.
"When our guests come, they realize they are in another world and many times even with all the best intentions to explore everything, some never even leave the property," Giulia was quite confident, "You will never be bored here."
Finding your way around Chianti
From Impruneta you are only minutes from Chianti Classico and if I told you: wait that's not all? Then you probably wouldn't be surprised to know that in 10 minutes you are at the entrance to the Autostrada and the Florence-Siena highway. This means that your itinerary for exploring Tuscany is all that much easier to navigate from Villa La Medicea.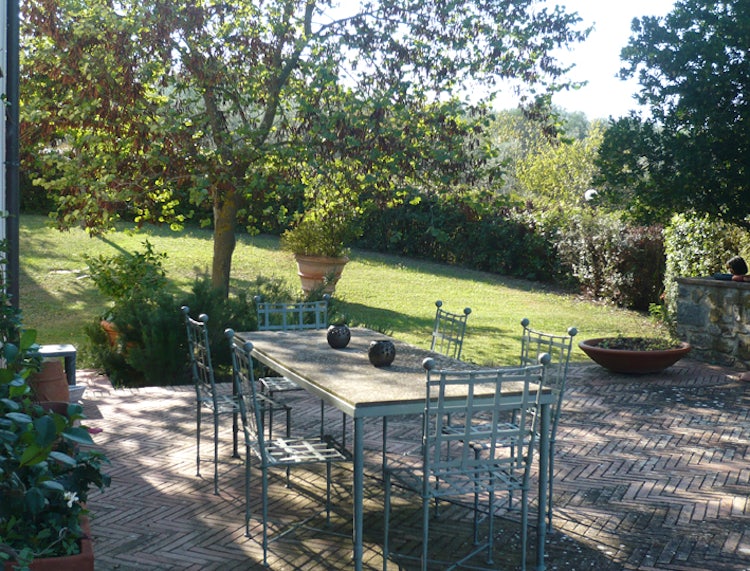 Reserve Now at Villa La Medicea
The Tuscany villa rental La Medicea is fully equipped with modern appliances, WiFi, comfortable and plush furnishings, featuring spacious rooms and lots of natural light. The villa provides several outdoor areas where you can totally enjoy the colors, fragrances and beauty of Tuscany while remaining within an easy distance of all your favorite destinations.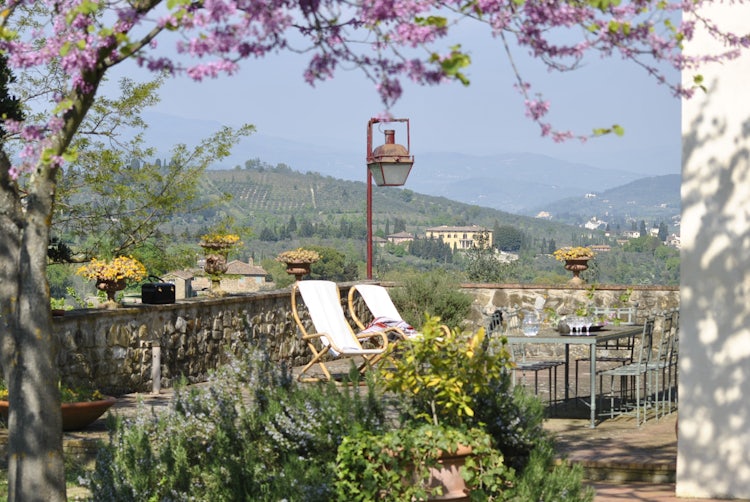 This is a Sponsored Article but reflects the honest opinion and experience of the author. More details »