Tuscany, like a fine wine, has been some time in the making...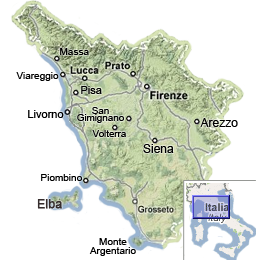 From the Etruscans to the Romans to the Renaissance, Tuscany is possibly the greatest repository of art in the world, from extraordinary paintings and sculpture to frescoes and architectural masterpieces.
Visitors to Tuscany come for many reasons. Many come in search of fine art, others to explore the extraordinary countryside. Gourmets and wine buffs descend on Tuscany to enjoy the simple yet wonderful cuisine and wine. Walkers enjoy the mountain paths, cyclists the rolling hills, summer vacationers the sea coast and islands. Students come to learn the beautiful Italian language and culture.
There is a lot to see and do in Tuscany, the difficulty is really where to start. Certainly most should start with Florence, then continue on to Siena and Pisa. The roll call of città di arte, cities of art, is daunting: Arezzo, Cortona, San Gimignano and Lucca are all striking. The more you come to know the region, the more extraordinary Tuscany appears. Enjoy your visit!
24 November 2015

On a recent Friday morning, I had the opportunity to join in on a tour by Conquibus that takes you across Florence to discover artisan shops, traditional food markets and shops and then get your hands busy making a Tuscan meal. On this morning,...

Continue reading blog post
What to See in Tuscany
Siena's Gothic cathedral is full of treasures, including its marble pavement, Piccolomini library frescoes and incredibly ornate interiors. We highly recommend a visit into this wonder of Siena's past!

Read full article "Siena Duomo"
Accommodation in Tuscany
A more comprehensive guide to accommodation in Tuscany put together by our Discover Tuscany Team! The site reviews a large number of properties which can be easily found by thematic or geographic categories or through a simple search. If you can't find what you're looking for here, you'll probably find it at TuscanyAccommodation.com!

Go to www.tuscanyaccommodation.com
Tuscany Tourist Services
See the main sights in Tuscany in one day, enjoy wine tastings as you explore Chianti, take a walking guided tour of Florence or a cooking class and learn to prepare the best of Tuscan cuisine.... these are just a few of the top tours you can do in Tuscany through our partner Viator.

Go to discovertuscany.viator.com
Events in Tuscany
Read about...
Saturnia is a beautiful town in Maremma famous for its thermal baths, the sulphurous waters well-known for their therapeutic properties. In addition to the spa centers, the outdoor waterfalls are freely available to the public.

Read full article "Saturnia"

Tuscany is a region that offers a variety of things to see and do, but mostly its rich in history, beautiful landscapes and magnificent works of art. Whether this is your first time in Tuscany or not, give yourself 7 days to discover the best of Tuscany with our suggested itinerary.

Read full article "7 days in Tuscany"