The Unmistakable Flavor of Brunello
Wines to Taste & Vineyards to Visit
The Italians would surely cringe, but the story of Tuscan classic, Brunello wine, and the American classic, Coca Cola, have some striking similarities: both "invented" by pharmacists who both wanted a new and improved type of beverage. Of course, to sum-up Brunello as a "beverage" is a bit reductive.
Below we offer to take you on a tour of this Tuscan classic with a brief introduction to where the wine producing zone is situated, what constitutes a Brunello wine, and a list of vineyards that make for a great wine tasting itinerary. Once you have explored the area around Montalcino and savored your first sip then you can judge for yourself if it is more than "just a beverage."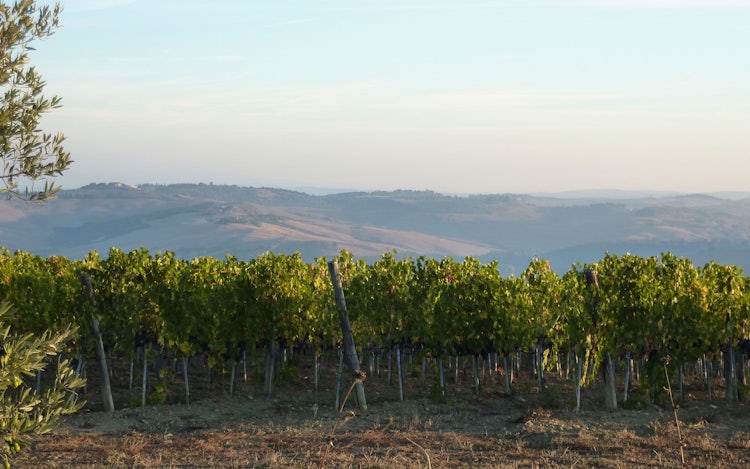 The Land of Rich & Plenty
Located less than 50 km south of Siena, the road to Montalcino passes through some of the most picturesque landscapes of Tuscany including the hills of the Val d'Orcia and the Creti Senesi.
The altitude and climate of the Montalcino region has provided an area where Sangiovese ripens more fully and consistently than anywhere else in Tuscany. These factors contribute to the body, color, extract and tannins commonly associated with Brunello di Montalcino.*
Positioned on a hilltop, the town of Montalcino dominates the valley with its medieval walls and the fortress from the late 1300s. It stretches to include the enchanting Abbey of Sant'Antimo to the south, with San Quirico just to the east of its borders and Bagno Petriolo just to the west.
The territory of Montalcino needs no coaxing to produce quality wines, in fact, archeological findings suggest that even the Etruscans were aware of the intrinsical delicious qualities of the land. The position permits ideal sun exposure which ripens the grapes perfectly for a product that is particularly suited to long periods of aging with a superior flavor, fragrance, and appearance.
The wine growing region of Montalcino covers 24,000 hectares and the square-shaped territory is bordered by the rivers Ombrone, Asso, and Orcia, however, only 15% (approximately 4,000 hectares) is cultivated with vineyards supporting over 200 producers!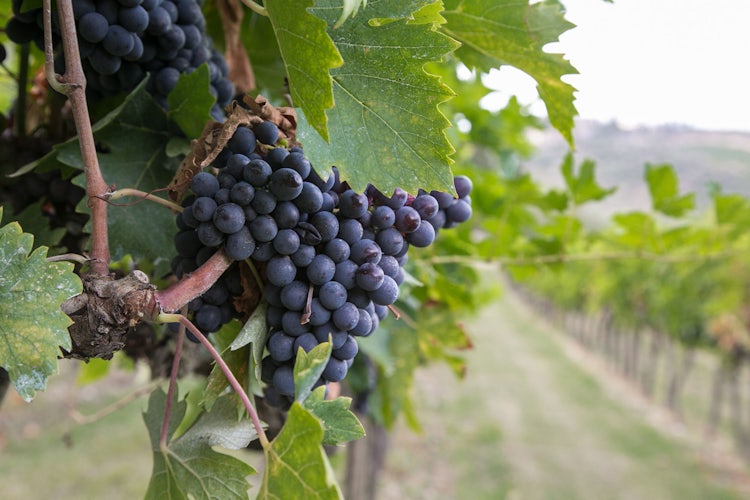 What Makes a Wine worthy of the name Brunello
A fairly new "invention", the Brunello wine was "created" in the mid-1800s after Clemente Santi decided to diversify the wine production in the area which concentrated mainly on a sweet white wine called Moscadello di Montalcino. His experiments resulted in a "bruno" or brown colored wine, thus the name Brunello.
It was in 1869 at the Agrarian Exhibition of Montepulciano that his wine, "a select red wine (Brunello) of 1865," was mentioned and received an award. For many, this is the date which marks the birth of the Brunello wines, standing out from other Sangiovese based wines due to its inclination towards longevity.
It quickly entered into the wine market becoming a worldwide symbol of quality "Made in Italy".
Requirements
Brunello di Montalcino is made 100% from Sangiovese.
You really can't get more basic than that. No other grapes are allowed in a Brunello wine, thus making it singular and different from the Chianti wines which require only 85% Sangiovese and permit a blend of other types of grapes.
In 1998, the requirements were set and these dictated that a Brunello wine be aged for 2 years and at least 4 months in a bottle before release on the market. Perhaps one of the unique characteristics of Brunello is, due to the climate and composition of the grape it is a wine high in tannins, and it actually requires aging (sometimes up to 20 years) before it is enjoyable to drink. This is a striking difference to other wines, which are either not suitable for aging or are better when drunk "young".
What to expect when you taste a Brunello?
As the Italians would say, you should expect "un vino importante" in other words, a wine of prestige, superior quality with the ability to age well for long periods of time.
Brunello di Montalcino is a visibly limpid, brilliant wine, with a bright garnet colour. It has an intense perfume, persistent, ample and ethereal. One can recognize scents of undergrowth, aromatic wood, berries, light vanilla and jam. To the taste the wine has an elegant harmonious body, vigorous and racy, it is dry with a lengthy aromatic persistence.**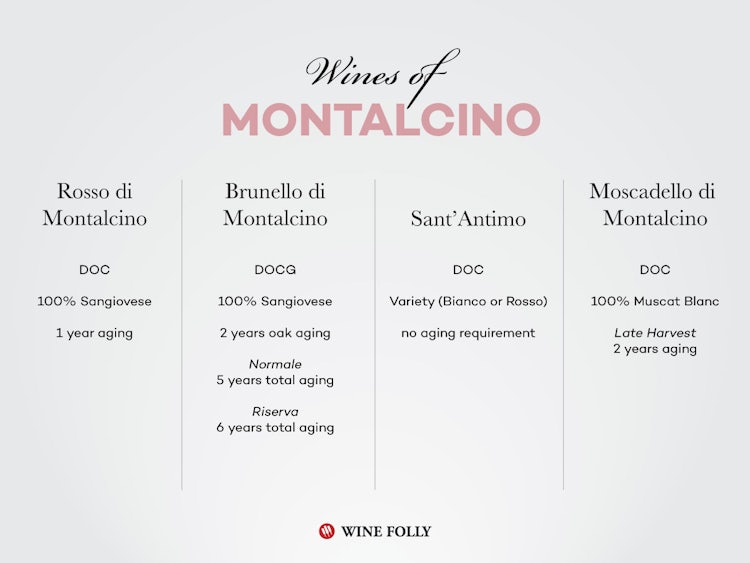 Other Wines in the Area
Long before there was Brunello, there was Moscadello di Montalcino DOC, a wine that has been praised by several famous persons, demonstrating that it was recognized both in Italy and abroad and it is a part of the history of the area. It is produced in three different types: Still, Sparkling and Late Harvest and it is a white wine made with 100% Muscat Blanc grapes.

Another specialty wine is the Sant'Antimo DOC, which is made with any white or red grape variety authorized to grow in Tuscany as single-varietal wine or blend (labeled Bianco/white or rosso/red). In addition, the grapes must come from the Montalcino area and it must be bottled within the province of Siena. In fact, it is a very wide-ranging denomination that covers many wines both red and white as well as vin santo.
And then you also have a Rosso Montalcino, which similar to the Brunello is 100% Sangiovese. The main difference is that even though it can be aged, this is a wine designed to drink young. This is an excellent alternative to the more prestigious and complex Brunello and you can expect a flavor which is "harmonious and dry, with vigor and freshness and good persistence."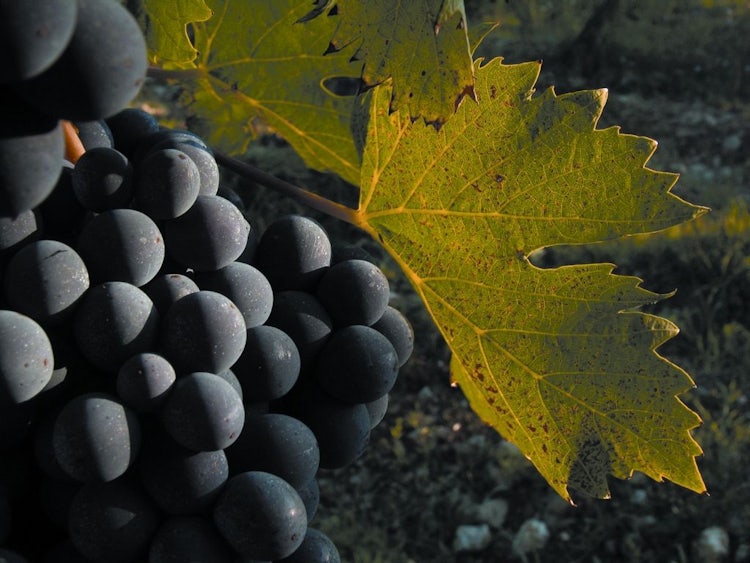 Who to Add to your Itinerary
With over 200 producers in this specific area - it is (almost) impossible to even think about visiting them all. Though we wouldn't fault you if you want to try!
However, if you are traveling with limited time then, perhaps you might want to narrow it down just a bit.
Community Museum & the Story of Brunello
Where:
Hours: TUESDAY to FRIDAY 3:30pm - 7:00pm
SATURDAY – SUNDAY & HOLIDAYS 11 am -1 pm to 3:30pm - 7:00pm
from March 26 to October 31, 2016
Before heading straight to the vineyards, you want to stop by the "Museo della Comunità di Montalcino e del Brunello". Carved out of an old stable on the farm of Fattoria dei Barbi, this museum will guide you through the story of not just the wine, but the community, the people, their culture and their traditions. This tour through time will give you a new perspective with which to access the scenery, the vineyards, and the locals as you tour through their homes.
The selection below is by no means the only ones to visit, they are just a few of the ones we found interesting. Booking a tasting is always highly recommended, you can try just stopping-in, but be advised that these are working farms and they don't always have someone available to show you around and assist with a wine tasting. If you have your heart set on any one of these cellars or if you really want to taste the wines on the property, then call ahead and save the date.
Biondi-Santi
This is the founding father of Brunello and still using traditional harvest methods, the vendemmia is carried out entirely by hand and carried in baskets to the end of the row of vines, where pickers select the grapes, bunch by bunch. Unfortunately, the winery is no longer open to the public and tastings have to be planned elsewhere of their wines (in the wineshops in town). The website now reflects info on their wines.
Altesino
A vineyard with charm and personality, in view of Montalcino. The cantina (wine cellar) makes quite the presentation and comes complete with a ghost story. They have an extensive range of wines including a brandy, grappa, vin santo and IGT wines.
Castello di Banfi
This mammoth wine producer may not be one of the more traditional players on the market - but it definitely is one of the larger, which produce a diverse variety of wines throughout Italy.
Contact Info for Castello Banfi
Bartoli Giusti
One of the more antique names in the area, the brother and sister team at Bartoli Giusti are carrying on a tradition for over 100 years, with only Sangiovese grapes. You can visit their store in the center of Montalcino at via Ricasoli 19, in the antique grain warehouse of the family.
Contact Info for Bartoli Giusti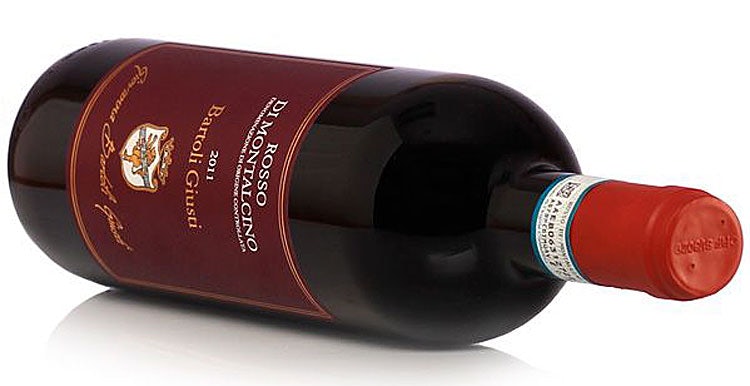 Paradiso di Frassina
Giancarlo Cignozzi otherwise known as The Vine Whisperer has spearheaded the music therapy experiments for the growing of the grapes which have gained international acclaim, as has his wines. Weather permitting, your visit will begin with a walk around the Mozart vineyard, located directly opposite the hill of Montalcino.
Click here to contact Paradiso di Frassina directly
Azienda Agricola Uccelliera
With just 6 ht of vineyards, this family-run farm infuses passion not just for the wine production but for the land and its role in their lives.
Tenuta Fanti
Another vineyard which boasts of over a hundred years of winemaking, with over 300 ha of land, the Fanti family invites you to visit their cantina.
Máté Winery
Not just Brunello - but award-winning Merlots and Syrahs...that's what you will find at this exquisitely restored farmhouse near Montalcino.
Contact Info for Mate Wine near Montalcino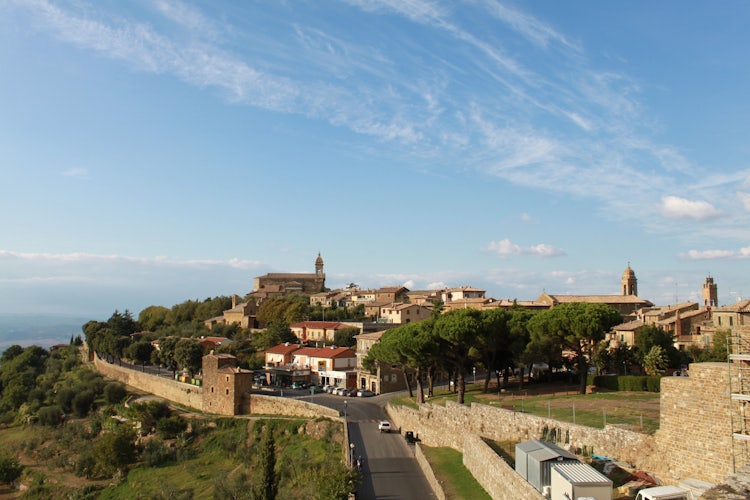 ---
* M. Ewing-Mulligan & E. McCarthy, Italian Wines for Dummies, pp. 159-–61, Hungry Minds, 2001.