Filled with wine, olive oil & great flavors of Chianti Classico
Anyone venturing into Chianti will have heard or read about the "Chiantigiana" (pronounced more or less like this: key-an-tea-jan-a) or sometimes referred to simply as the "222", which sounds rather ominous and perplexing.
Or maybe you haven't heard of this road?
It is a basic itinerary for the Strada del Vino, dell'Olio e dei Sapori di Chianti Classico; a road that leads from Florence to Siena crossing a wide territory full of vineyards, olive groves, picturesque small towns and lots of opportunities for wine tasting.
So if you are wondering if it should be included in your program to visit Chianti, then we would say, you have probably already included parts of it without even realizing it.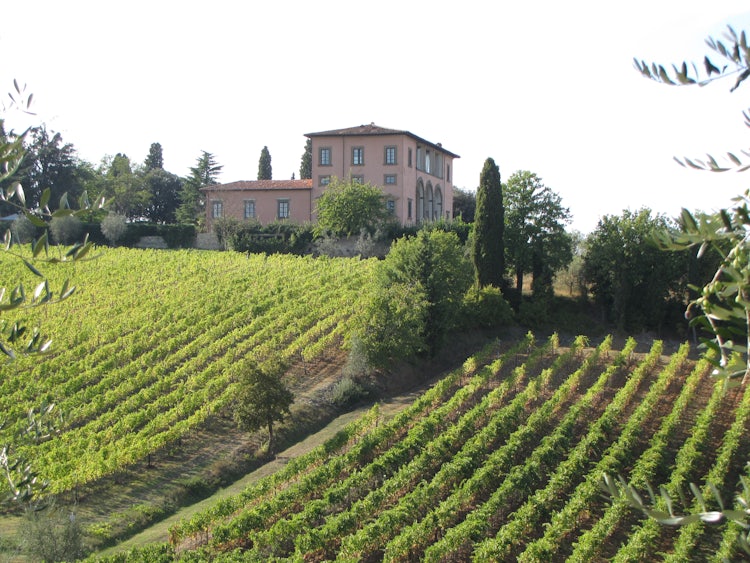 How to Find the Wine Road
Should I Base Myself in Chianti?
There are lots of good reasons why you should consider basing yourself in the area of Chianti Classico:
scenery
vineyards & olive grooves
agriturismo experience
restaurants & shops
town markets
medieval towns
You would be mistaken if you thought it was a straight path or even a circular route. Choosing to go wine tasting in Chianti with a car translates into an itinerary filled with a series of zigzags that would make you head spin (especially if you were stopping everywhere for a wine tasting!) However, in compensation it will lead you deep into a countryside that is sited as being one of the most beautiful in Tuscany.
It is understandable that not everyone is ambitious enough to attempt wine tasting and navigating the Chianti roads on their own! For those still looking to do some exploring, wine tasting and shopping, you should look into one of the many alternatives to driving.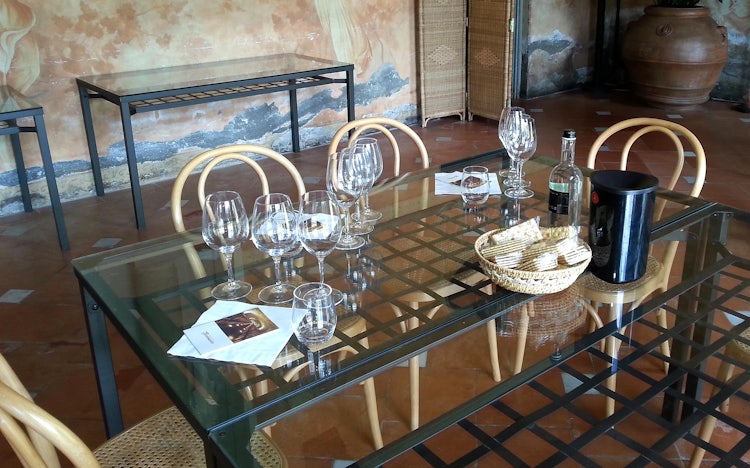 Some of the highlights
on the Strada del Vino e dell'Olio di Chianti Classico
Chianti Classico covers a beautiful territory renominated for its stunning landscape. The borders of this area do not make-up part of the local government, they are instead very carefully detailed in the legislation that regulates the production of products labeled "Chianti Classico". Below we have outlined the towns that are included in this and a brief description of what to see when you visit. The first group includes the full comune or government area and the second group includes names of comune that are only partially included in the denomination Chianti Classico.
Greve in Chianti
probably the most famous town in Chianti and probably the most visited due to its proximity to Florence. It centers around a lovely triangular shaped square, where you can find several weekly markets and events featuring a wide selection of local and organic products.
Read here to learn more about Greve in Chianti
---
Radda in Chianti
the headquarters for the original League of Chianti in the 1300's. Plenty of parking and a characteristic town center, you will want to plan on a short visit, maybe a gelato and time to take lots of photos of the surrounding vineyards.
Read here to learn more about Radda in Chianti
---
Castellina in Chianti
has several distinguishing elements, namely the castle, the adjoining archaeological museum and the tunnel walkways that surround the town. If you have some extra time, visit the nearby Etruscan tombs.
Read here to learn more about Castellina in Chianti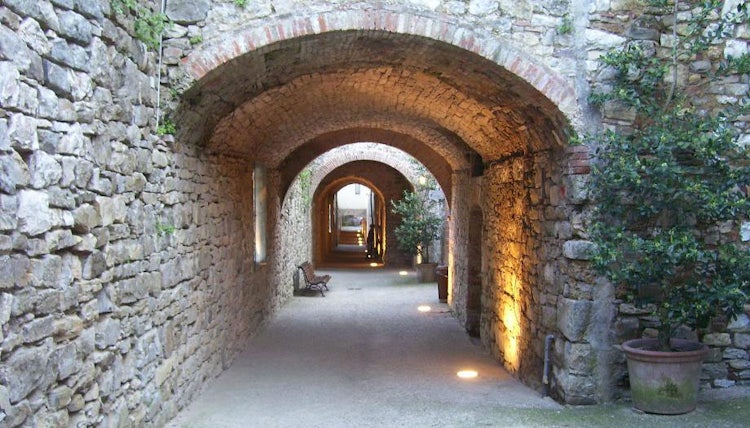 Gaiole in Chianti
very small, but definitely a quaint setting. A stop in Gaiole should include a meal or a visit at the cafè in the main square and you could also consider incorporating the surrounding countryside which is definitely more hilly than the other parts of Chianti
Read here to learn more about Gaiole in Chianti
---
More of Chianti Classico
To a lesser extent, the following areas make up part of Chianti Classico and the Strada del Vino, and though not considered the principle areas - if you are located or travelling close to anyone of these places, you should definitely consider a stop to enjoy the scenery, the history and culture and of course, the wine and olive oil.
Castelnuovo Berardenga
if you are interested in the home of the Chianti Classico recipe then you will want to make a point of visiting here. Castelnuovo is also firmly engrained in Chianti Senese, so you will notice a distinct change in the scenery.
Read here to learn more about Castelnuovo Berardenga
---
Barberino Val d'Elsa
we are now on the west side of Chianti and this little town has a very big past. Caught in the antique power struggle between Florence and Siena, you will find that Barberino has preserved quite a bit of its medieval appearance.
Read here to learn more about Barberino Val d'Elsa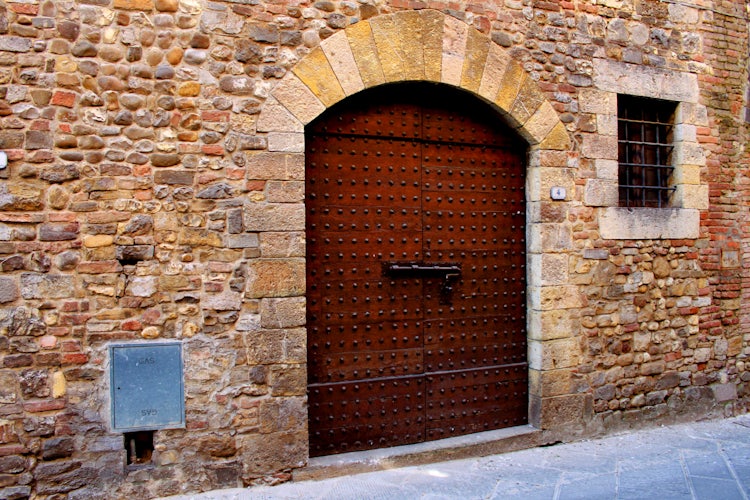 San Casciano Val di Pesa
is one of the first little towns in western Chianti that you will come upon if you decide to take a day trip outside of Florence and a wonderful starting point for discovering Chianti Classico.
Read here to learn more about San Casciano
---
Poggibonsi
is highly forgotten due to its somewhat modern appearance. However, you won't be disappointed in the wide range of activities and historical sites there are to see in this little town. Located just north of Siena you can enjoy the Rocca di Staggia which is close by.
Read here to learn more about Poggibonsi
---
Tavarnelle Val di Pesa
is perhaps best known for the Abbey of Passignano or as the Italians would say Badia di Passignano, a monastery existing since the Middle Ages. You can also visit the picturesque town of San Donato in Poggio.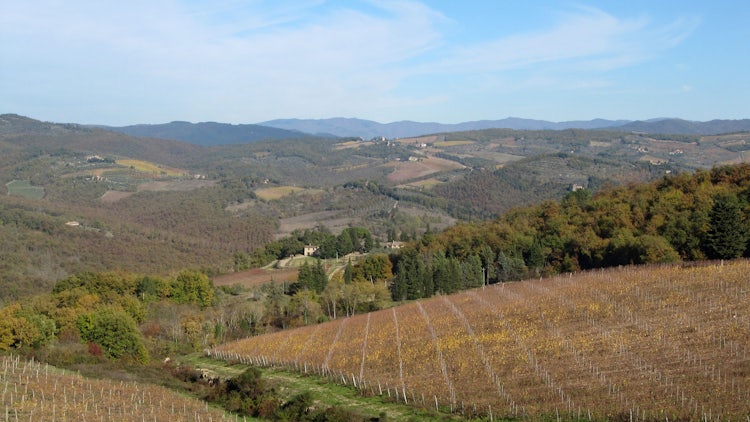 What to look for in Chianti Classico
In this area the main product to look for, is without a doubt, Vino Chianti Classico DOCG. This wine is produced following a rigid regulation. The distinguishing element in Chianti wine is the ever present Sangiovese grape combined with other "bacca rossa" or red grapes such as Canaiolo or Colorino. You will know it is a Chianti Classico because since 1924 it has proudly worn the symbol "Gallo Nero" or the black rooster in a red circle.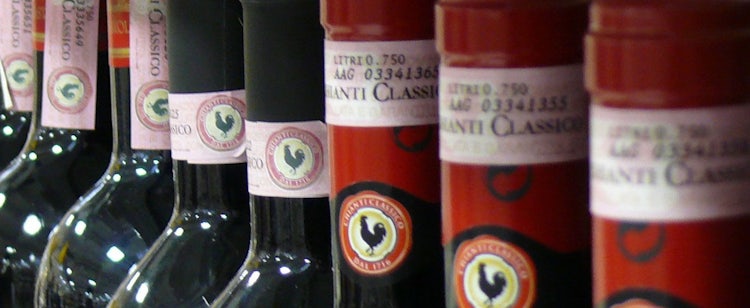 Another commonly found product in this area is the exceptional Olio Extra Vergine di Oliva DOP Chianti Classico (extra virgin olive oil DOP Chianti Classico). This gold/green colored specialty is produced from the cold press of olives derived from specific varieties found in this area: Frantoio, Correggiola, Moraiolo and Leccino.
Less known outside of the borders of Tuscany, yet definitely characteristic of the zone, is the Vinsanto del Chianti Classico DOC, produced from white Malvasia and Trebbiano grapes which have been "appassite" or dried like raisins BEFORE the pressing. This liquor will age for long periods of time, sometimes over 5 years, in small wooden barrels called "caratelli" and is traditionally served with "biscotti".
The area of Chianti Classico promises not only interesting wines, but also a tradition in the kitchen of country style recipes that translate into rich and hearty meals. Especially noteworthy is the, wide selection of hand rolled pasta, the "carne di chianina" (beef from the Chianina cows), and a wide variety of cold cuts made from pork, wild boar and the famous "cinta senese" pig.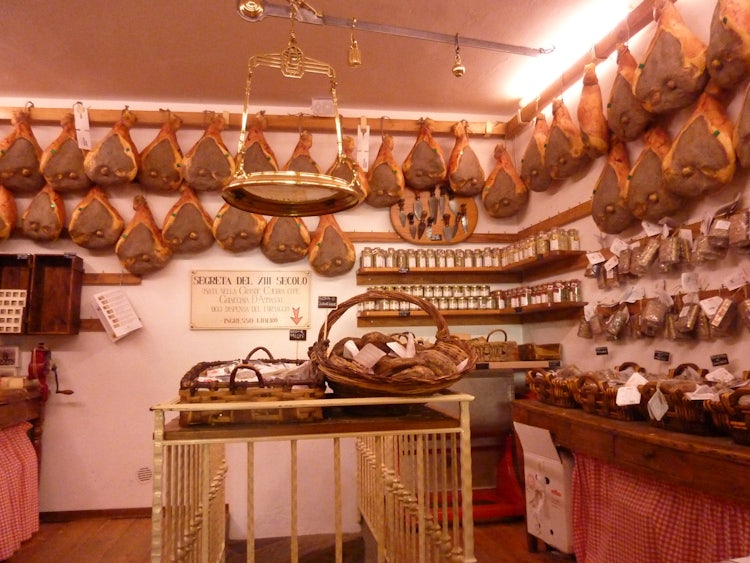 As is true all over Tuscany, there is a strong tradition in cultivating vegetable gardens with artichokes, spinach and tomatoes of every type. And then there are the products that don't grow in the gardens like porcini mushrooms, wild asparagus, truffles and chestnuts. In many areas you will also an interesting selection of local cheeses (both sheep and goat), honey and more recently even saffron has made a comeback.
In conclusion, you may have not intentionally planned on adding the famous Chiantigiana road in your Tuscan itinerary but it has most probably made its way all the same. Between the enchanting small towns and the wide array of flavors, the area of Chianti Classico will be the best part of your holiday in Tuscany.