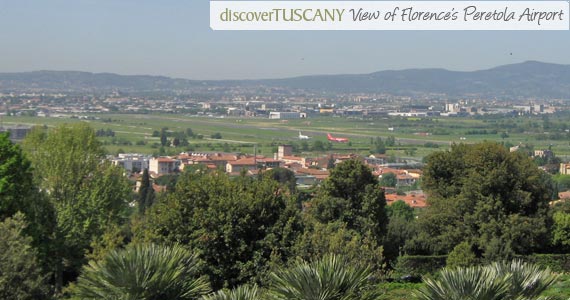 Tuscany » Tourist Info » Getting to Tuscany »
Getting to Tuscany by plane
Tuscany has two international airports, the Galileo Galilei International Airport in Pisa and Amerigo Vespucci Airport, also known as Peretola, in Florence. Located only 80 km apart, the Pisa airport is the larger of the two airports.
Both airports handle flights to major European cities. Pisa handles the bulk of European scheduled flights so it might be easier to find flights into Pisa.
Direct flights from North America are generally more expensive than stopover routes somewhere else in Europe. More affordable fares can be had if one flies non-stop to a major European city such as London or Paris and then takes a Ryan Air (low-fare European airline) flight direct to Pisa. You'll have to change airports in London and Paris, though, as Ryan Air generally uses secondary airports.
From the Pisa airport
The Pisa airport has direct access to both the Firenze-Pisa-Livorno dual carriageway (Pisa Centro - Aeroporto exit), to the Genova-Rosignano A12 motorway (Pisa Centro exit), to the Firenze-Pisa A11 (through the Pisa Nord linking stretch with the A12) and to road SS1 "Aurelia". The terminal is also directly connected to Pisa Central Station by direct train service with many trains to the Pisa central station (there is currently work on the line so a bus guarantees service to the main train station) and with eight trains a day from the Pisa airport to the main Florence train station. The railway terminal is located just outside the departures hall. You can also reach the center of Pisa with bus or taxi service.
If you land in Pisa and need to get to Florence, you can then easily catch either a

Terravision Airport Transfer bus directly from the airport to Florence's SMN train station, or catch a bus to Pisa Centrale and from there take a train to Florence. Either will have you in Florence in about an hour.
All major car rental companies are present at the airport, if you're looking to hire a car right away and drive to your destination in Tuscany.
From the Florence airport
The Florence airport also has direct access to the Firenze-Pisa A11 motorway as well as to the A1 "Autostrada del Sole". The airport is located on the north western edge of Florence; taxis and a bus shuttle connect the airport to Florence's historical center. You can read more about the Florence airport and connections to downtown in this article.
The Bologna, Milan and Rome airports are also larger airports you can fly into. Train service from all of these two the main rail line then makes it easy to reach Florence.
Read about other ways to get to Tuscany...
About Lourdes Flores
An American living in Florence for over 12 years, Lourdes loves to explore and discover new places in Tuscany - trying to maintain the eyes of a "tourist" despite the experience of living in Italy for so many years ;-). She loves to share her experiences through this website, offering help in travel planning on the Forum - if you have questions for Lourdes, post them there!
You might also like:
Getting to Tuscany | Tuscany Tourist Info
Did you find this article interesting? Share it!
Questions? The right place to ask is our Forum!
(questions posted on Comments below will no longer receive replies: so post on our Forum!)