October 9, 2015 by Donna Scharnagl
Siena is dedicating the month of October to the contemporary expression of art, music and dance with a long list of international participants who will invade the urban spaces of Siena and fill them with interpretations of their vision for a movement towards the future.
It is an immense challenge to transform a stage like that of Siena, which is so steeped in history, and show that it can be a setting for the inspiration and expression of today's artistic community. Yet #SienaContemporanea with over 50 events planned throughout the city, will use its historical monuments and urban spaces to diffuse sculptures, performance, concerts and more in an effort to share this "movement" with the community.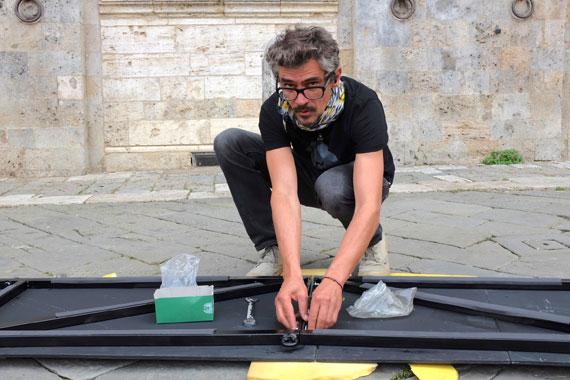 Clet Abrahams, one of the featured artists in Siena Contemporanea, has been sending messages to the community for years about "moving forward". It may have started as "fun" to encourage the onlooker to re-interpret their surroundings yet, he told Discover Tuscany his message is very clear: "Italy – even Europe – and their cities of art need to start moving towards a more contemporary use of their space and urban areas."