Preparing for your first visit to Tuscany and Italy? We've compiled a list of essential things you should both know before coming as well as keep in mind while in Italy. These are some of the things I remember catching my notice from my first time in Italy and that I've grown used to, but that I realize are still particular to Italy at times that will help you mentally prepare before your trip.
In no particular order (read all the way to the end), here we go!
1. Forget all you think you know about Italian food
Italian food is very regional, so don't expect to find cannoli everywhere (they are a speciality from Sicily so make sure to eat lots when you go there!) or fettucini Alfredo, which many say is an Italian-American invention. You can find pasta with cream sauce in some areas, just not called by that name.
If you ask for peperoni on your pizza, you'll get sliced bell peppers, sometimes roasted, sometimes pickled (that's what they are called in Italian)! The closest equivalent of American peperoni on pizza is called "salamino piccante" and is spicier and smaller in size than what you're used to. I love it on my pizza so recommend you go ahead and try it and see what you think of it.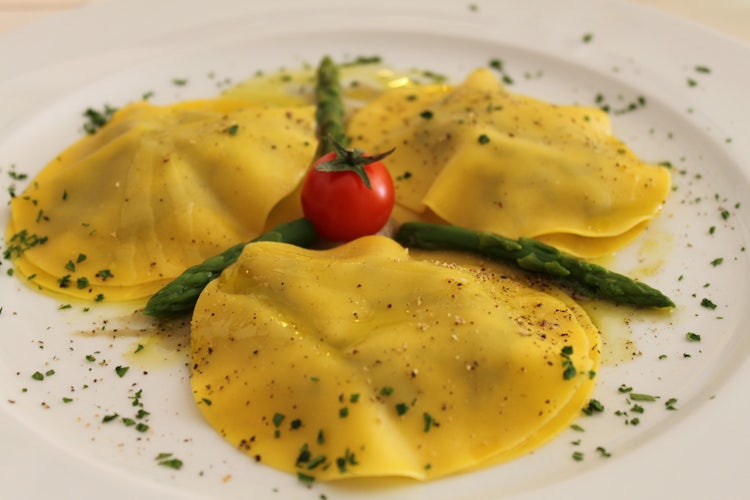 As far as salads go, don't expect a variety of salad dressings, you'll just find oil and balsamic vinegar (and salt and pepper) to dress up those greens.
You'll find Italian staples from bruschetta with fresh tomatoes (by the way, it is pronounced with a hard K sound like brus-ke-tta, not a soft -sh- sound like in church), delicious prosciutto on your pizza, delicious creamy spaghetti alla carbonara with pancetta and pasta al ragù (meat sauce, also called bolognese sauce).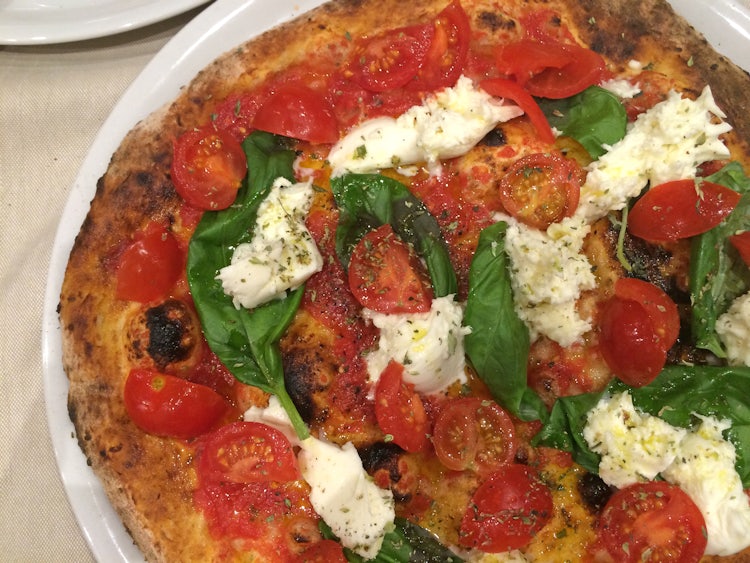 You will often find homemade fresh pasta on the menu (go for it!) and pizza can be either high or very low crust (high is Naples-style, while in Florence it is often very thin but you'll find pizzerias advertise their pizza is "Napolitan" to say they make crust thicker). Here's a bit more info on local Tuscan cuisine and another on our favorite pizzeria places in Florence.
2. Love Cheese? You'll love Italy!
Then you'll be in heaven! Italy, just like France, has many delicious cheeses, many fresh or seasoned and many types. Nothing you find back home will compare, so take advantage while you're in Italy.
In Tuscany, make sure you taste lots of PECORINO cheese, made from sheep's milk, which you can find fresh, semi-aged and aged. Each has its own flavor, so taste, taste and taste some more! Especially if you're in Pienza in the Val d'Orcia area, where it is a local specialty. Read more about Tuscan cheeses here; if you're interested in a private cheese & wine tour in the area, take a look at this one or this one (departing from Florence).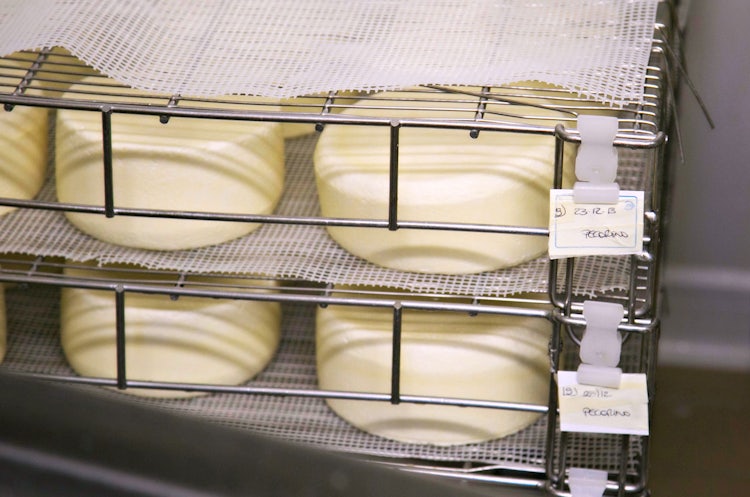 3. Love Wine? Tuscany has many, many options!
Same goes for wine - each region has many wine regions and its own specialties, so take advantage and taste the local wines wherever you are, you will likely discover something new and different you won't find back home!
There are many wine regions within Tuscany alone, so when eating out, don't ask for Chianti Classico everywhere you go. I suggest you ask for what's local in whatever area you are, so that you can try other reds (and whites) from Tuscany that you might never have tried otherwise.
Think of the Montepulciano Wino Nobile, the Brunello from Montalcino, the Morellino di Scansano in Maremma, the Vernaccia from San Gimignano, to name a few other Tuscan wine areas! There are many more!!
4. Choose Gelato wisely
You might think what can be wrong with gelato, but there really is good gelato and crappy gelato as well. You will be able to taste the difference once you have many - so we highly recommend including lots of gelato tasting while in Italy!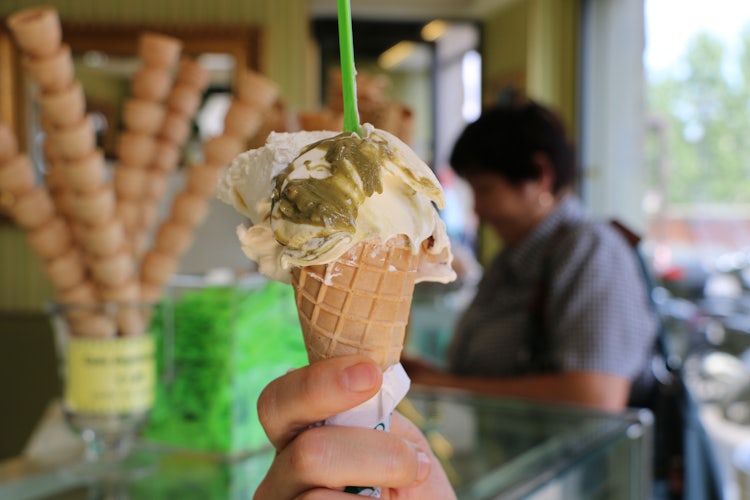 To avoid getting not so great gelato from the start, one simple thing to do from the start is to stay away from the shops with literally a mountain top of gelato. While there are many gelaterias, especially is smaller towns, who still have gelato on display, the ones in the center of Florence that cater to hundreds of tourists a day work on quantity, not on quality. Instead look for shops that say "gelato artigiano/artigianale", which means they make their gelato in the shop, with fresh ingredients. Take a look at our favorite gelato shops in Florence for some suggestions on where to go when in Florence!
5. Summer can get HOT, and air conditioning is not widely used... BUT you might not be need it!
It's important you know this - Italy can be quite hot in the summer! Especially as you plan where to go, where to stay and plan the perfect itinerary for every day you're here, it is important to take this into account. In summer, carry around water with you at all times and plan to spend the hottest hours indoors, like visiting an art museum or one of the many magnificent churches you find all over Tuscany. These are incredibly cool even with no air conditioning!
I think it is the perfect excuse to eat more gelato, of course! ;-)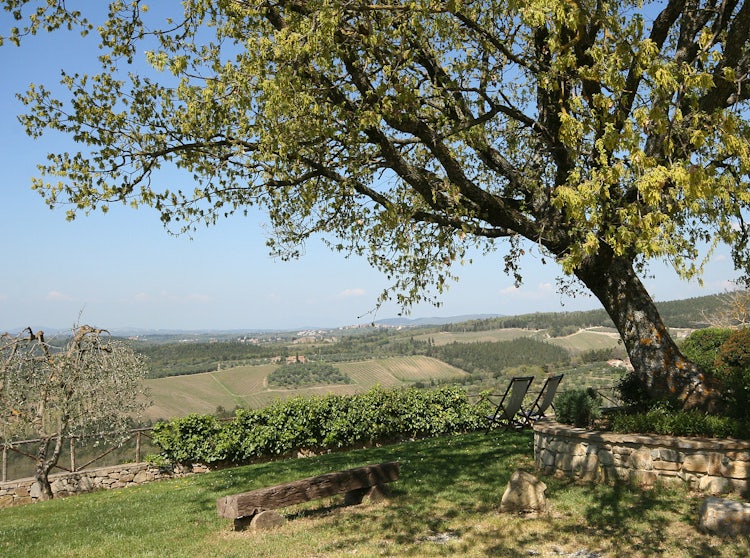 In any case, as far as accommodation goes, don't worry! This is the reason why farmhouses sit atop hills. Also, thick walls keep heat out, the vantage point catches any breezes, especially in the evenings. Evenings do cool down which is when you'll be around. So even if there is no A/C at your chosen lodging, you should still be okay, being able to sleep well at night in summer - and likely needing heating in the late fall and winter.
6. Pickpockets do exist - unfortunately!
I am saying this is so that you prepare for the worst, and not fall victim to a dumb crime we could avoid if we pay a little more attention to our surroundings.
Pickpockets keep busy during the high season months, especially at crowded tourist sights and in the larger cities. Think Piazza dei Miracoli in Pisa, as we all try to pose for a photo of catching or holding the tower up (it happened to us! :-( ) or in Piazza del Duomo in Florence as you admire the cathedral.
If you use public transportation and get on a full bus with people crowded around you, be extra careful of where your wallet is (for example, keep purse in front of you, zip all the pockets up, move wallet to a front pocket) as they like to get on crowded buses and be right there next to you invading your personal space. You might not notice when they slip a hand in and take it off your person.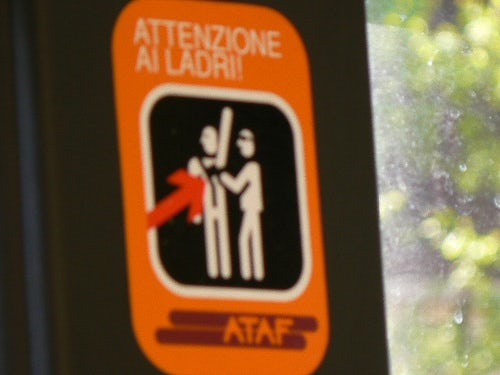 Pickpockets look for the distracted tourist, but locals are hit too. Keep your bags zipped up and close to you, not on your back while you're on a bus or do not leave bags on the ground when on a train (they can sneak from below from the seat behind you!). In general, you'll feel pretty safe in Italy and it is safe to visit but look smart and aware of your surroundings so you won't be targeted.
7. Breakfast is small and quick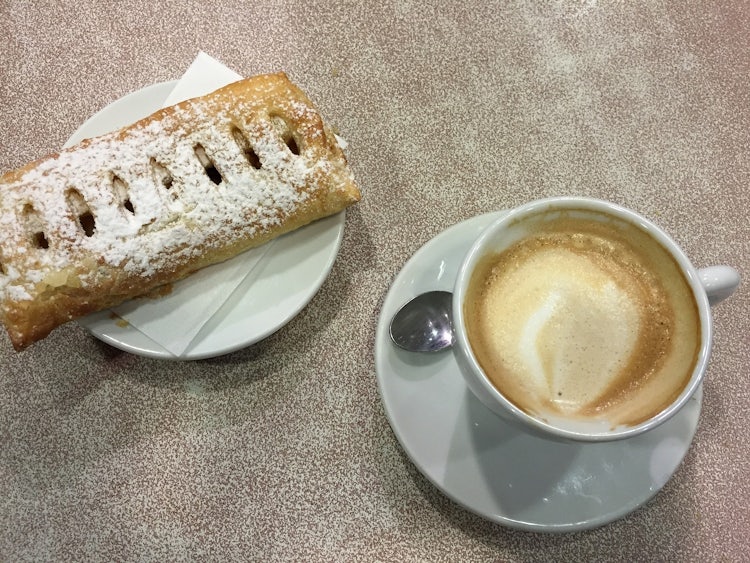 Most common breakfast for Italians is a brioche or small pastry with coffee. It is also very common to eat standing up at the coffee bar counter instead of sitting down, as some places will charge extra if you sit down.
Note that a BAR in Italy is where you drink coffee, not where you go for alcoholic drinks! This is the reason why you'll see so many "bar" signs everywhere you turn! ;-)
8. Wi-Fi coverage is spotty
While Wi-Fi coverage continues to improve across all of Italy, don't expect it as a given everywhere across the country - and in many areas it is spotty even when it is. If it is particularly important to have where you are staying, make sure to ask about how good of a connection they have. We have traveled to places who say they have Wi-Fi or internet, only to arrive and find it doesn't work. Depends on the regions you find yourself in, and between larger and smaller cities. In general, in Tuscany we have found good coverage in towns and spotty coverage in the countryside. This is true for cellphone carriers as well, if you bring along your phone and plan to use bandwidth to work.
Nowadays, lots of cafés and restaurants offer WiFi, but it is often password-protected to offer it only to clients and not passerbys.
9. Cappuccinos & espressos are everywhere... and cheap!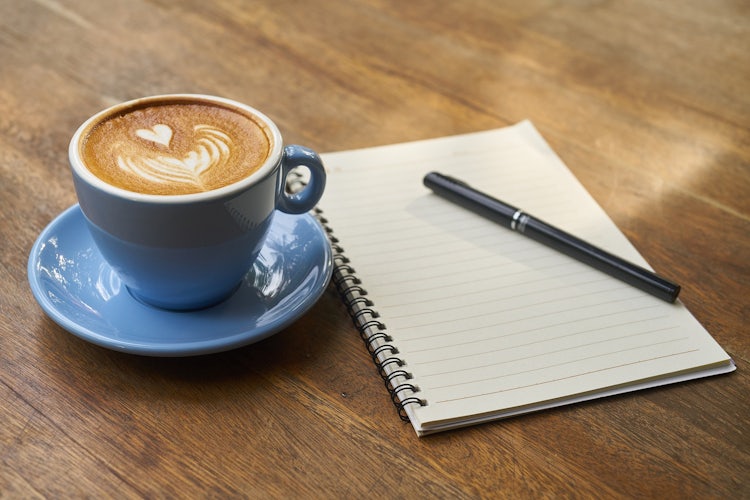 Average cost for espressos is under 1 euro, cappuccinos under 1.50 euro - but don't expect extra flavorings or fancy drinks such as pumpkin spice lattes! If you want a latte, ask for "un caffe con latte" since just "latte" will get you a glass of milk ;-).
10. Tipping / "Coperto" at restaurants
"Coperto" is service charge for the plate/cutlery used and bread (you'll find the cost for the coperto on the restaurant menu, generally at the bottom of the first page). While coperto is required and included in your bill, tipping isn't included nor added on as on option. If you get great service, feel free to add a few euro to the total or round up on your total bill. In general, there is no set % expected for tips. A tip for service is always welcome, by locals and tourists alike and you decide what you want it to be.
If you sit down at a coffee bar, expect to pay a bit more for your coffee. A tip or coperto is not charged, unless marked as service on your menu (check before sitting down if you're interested in keeping costs down).
11. Public Transportation: Always validate your bus and train tickets
Buying bus or train tickets is not enough, as they are "open-ended" (no date on them) and not for a specific bus or train (valid for all buses or regional trains, for example). So before getting on the train or as soon as you get on the bus, you MUST "validate" the ticket by putting them in the small machines that stamp your ticket with date and time. The tickets above show bus tickets in Florence, the left one without the validation, the right one already validated (ticket price has gone up since this photo was taken to €1,50).
At the train station, look at other travelers as they head for the tracks to see where the machines are. They are generally before you access the train tracks.
On buses they are near the front and back doors. If a ticket controller comes along, on the bus and train, he wants to see that stamp on your ticket! Otherwise, there won't be any excuses of "not knowing" and you'll be unhappy with the hefty fine you'll receive, often times the fine is requested to be paid on the spot, especially if you're a tourist.
Below is a photo of the ticket validating machines at the train station.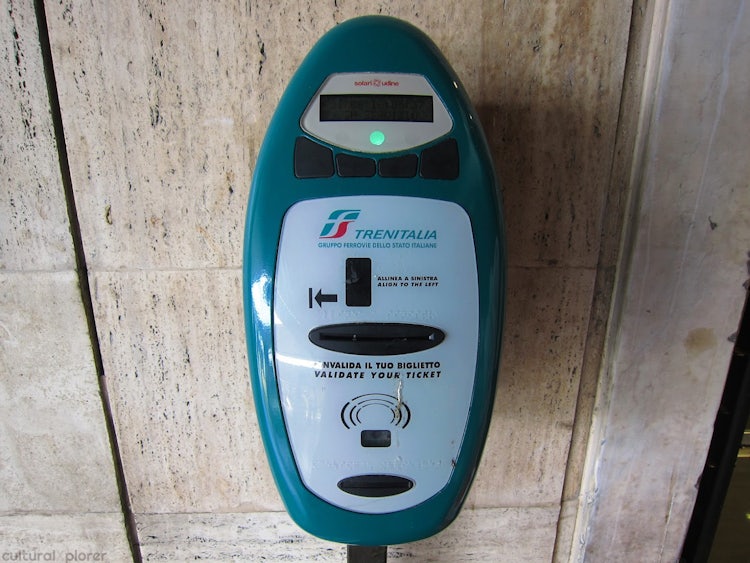 12. The "riposo / pausa pranzo" (lunch break/siesta) still exists
While this is changing in larger cities and with larger shops, which remain open with "orario continuato", smaller towns and small shops still function with a pause in the middle of the day, generally from 1-3.30/4pm. This applies to stores and shops, including clothing boutiques and hair salons, where small shop owners go home, eat with family and take a break before returning back to work. So you cannot do any shopping at these times as the shops are closed!
Shops are allowed to be open only for a limited number of hours per day, so they longer closings at lunch (when other people are working or eating) also mean they stay open longer in the evening, generally until 7.30-8pm. This gives working people the chance to get out of work and be free to go shopping. Nowadays, the pausa pranzo is more of a profitability matter than a need to relax.
Also take note that most shops are open on Saturdays, closed on Sundays and Monday mornings, reopening Monday afternoons after lunch.
13. Plan to eat late at dinner, but make sure you're on time at lunchtime!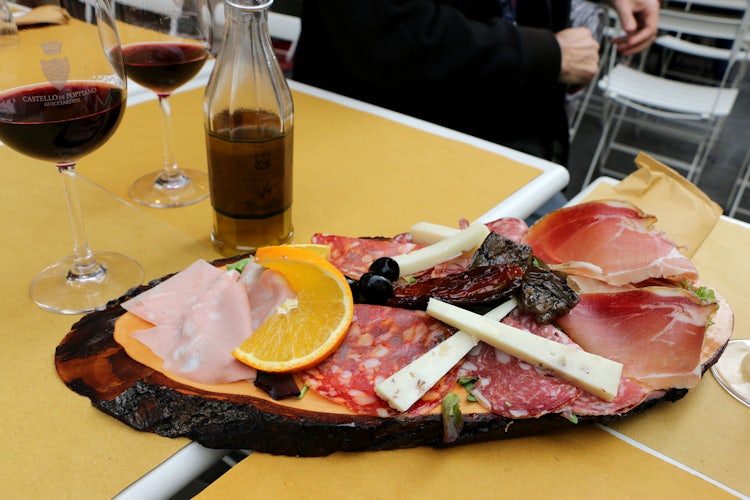 Since lunch is always around 1pm (restaurant kitchens start closing up around 2.30-3pm), make sure you are on time for lunch. Otherwise you will be going around looking for a place to eat and only find ready-made panini at bars and such. Which is fine if you wanted something like that, not if you wanted something more substantial at a restaurant.
Dinner is generally around 8pm on average and often goes late, with many restaurants and trattorie open until 11pm-midnight. Most open at around 7pm so you won't be able to eat any earlier... unless you head to the ones aimed at tourists which are open all day. We generally avoid those!
14. "Café culture" is non-existent
If you're used to going into a coffee shop and sitting for hours with a laptop to work (or just web surf), you'll find it difficult to find such spots in Italy - although there are a few, and growing. The local culture for coffee drinking (remember they are called bars) is to generally stand at the counter, drink your small amount of coffee (the cups of coffee known as espresso outside of Italy are tiny!) and then leave.
Consider that going to a bar to drink coffee is a break from work, so you don't go to a coffee shop to work!
There are many elegant coffee shops in the center of Florence, for example, that do have large seating areas that will encourage you to sit and take your time. But again, not necessarily for work purposes. Many of the ones in Piazza della Repubblica in Florence are actually "historical cafes" are date back to the times when they were social meeting places for cultural reasons, where many writers, painters and philosophers hung out to talk and discuss about their thoughts and work. They still didn't "work" there, though, it was for social gathering and while these meetings might have impacted their work, go visit them and consider this as the setting they played in the past.
Smaller towns have small bars that have tables to sit down and take your time, particularly as a social gathering place. But again don't expect to sit and work while there. Wi-fi coverage is spotty, at best, but small bars do not offer this as a service. See above for more details on that point.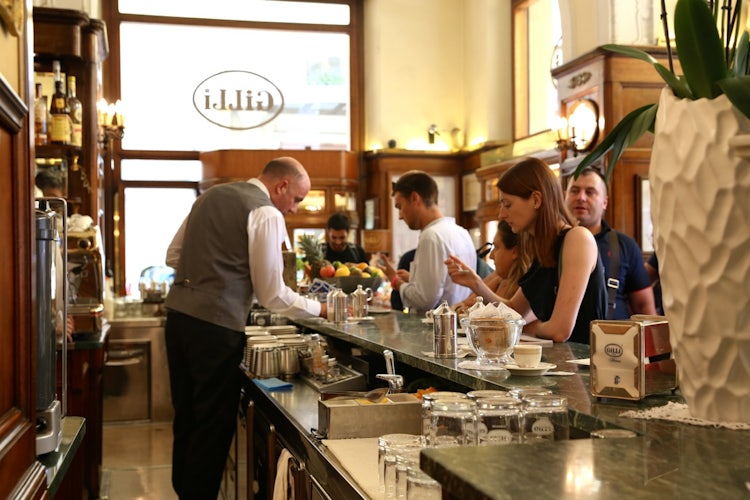 15. English spoken everywhere... but a few Italian phrases will go a long way
Italians are an extremely friendly and polite people, but learning a few words in Italian will get you a long way as you travel up and down the Boot. It's easy too!
"Ciao" can be used for hello and goodbye but it is extremely informal: better to use "buon giorno" (good day) or "buona sera" (good evening) to greet and "arrivederci" to say goodbye.
"Grazie" is used everywhere to say thank you and, if you're mistakenly taken for an Italian, just simply say "Non capisco" (I don't understand) to let them know you are not understanding what else they were saying. You can add "non parlo Italiano" but I believe it is understood by that point.
16. Major travel hubs are Rome, Florence, Bologna and Naples
If you're traveling across Italy, plan your itinerary in a linear fashion. Most trains and buses will head to large hubs on their way elsewhere, so if you don't want to be backtracking, plan the order of your cities as best as you can, including using one as a base from which to do day trips to nearby areas. Take a look at the main rail lines below if you're getting between towns by train.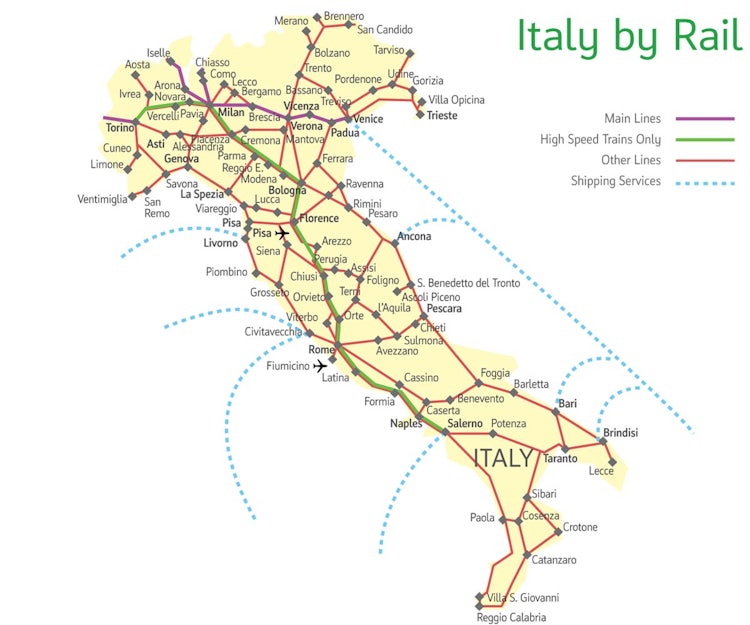 17. And finally, know that Italy is VAST & Different, no matter its size
You might think Italy looks small on a map and you can travel all around in just 7 days, but it is very different from north to south.
There are 20 regions in Italy and each one has its own specialities even as far as foods and wines go, but most of all, in its traditions. It is amazing how so many things can be the same as well as different.
There is much to explore and see around the country, and each place is packed with things to see (our whole website is just dedicated to just Tuscany for a reason! ;-) ).
So give yourself time to explore and discover each place, even roaming around and getting lost.... maybe slowing down and taking more time at each place, not trying to see everything in just a week!
If your time is limited, consider using an organized tour as a good solution to see the top sights in Italy, as it helps cut time in moving around. Consider this 6 day small group tour which includes Rome, Florence, Pisa and Venice or this 7 day tour which includes Cinque Terre, Florence, Venice and Rome. In any case, if you want to add a visit to the Colosseum in Rome, make sure to book your tickets to the Colosseum ahead of time, as well as your entrance tickets to Pompeii. They save you time by skipping the very long lines! Skipping long lines is always a good thing ;-).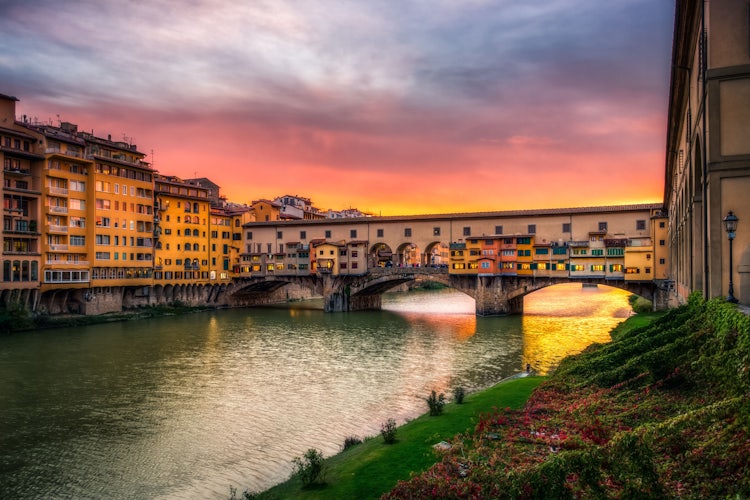 Hope you've found our general tips useful - share any you found useful while traveling in Italy and Tuscany with us!
This page contains affiliate links. Read more details »