The Colli Aretini include Valdarno & Cortona
Don't be fooled into thinking that Chianti is a tiny little patch of land, just south of Florence! It covers a wide territory - almost like a big, backward "C" starting just a tad bit north of Florence and stretching down towards Arezzo & Cortona. The Colli Aretini covered more than 600 ha of wine-producing vineyards in 2006, and are drawing more and more attention every year from enthusiasts and investors both Italian and international.
Arezzo, divided into four diverse valleys in the southeast corner of Tuscany, has (historically speaking) provided some of the first internationally recognized wines of the area - though, at that time there were not known as Chianti. Well known before the 1500's throughout Europe for the Trebbiano grape and abundant production, the Colli Aretini, and their fertile soil have provided even the Grand Duke of Tuscany with some of his finest wines.
Borders of Chianti
In 1716 the Grand Duke recognized the area of Chianti, comprised mainly of the towns in the Lega di Chianti (Radda, Castellina & Gaiole). In this designation, however, he also specifically included Carmignano, Pomino, and Valdarno di Sopra - the last area being in the province of Arezzo. Later, in 1932, the Italian government expanded the geographical area, and then once again in 1967 the borders were enlarged and now include sub-areas: Classico, Colli Aretini, Colli Fiorentini, Colline Pisane, Colli Senesi, Montalbano, Montespertoli, and Rùfina.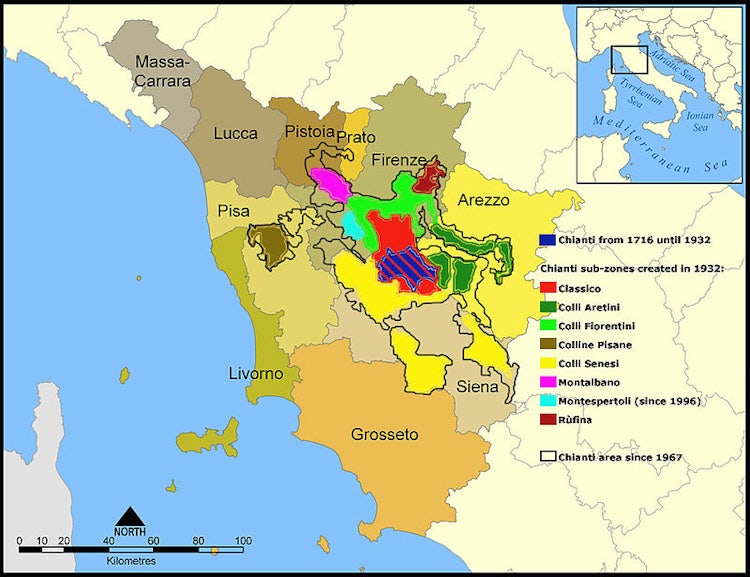 Labels in Chianti
How can you identify a Chianti wine? By the sticker covering the capsule of the bottle. They are numbered and regulated so that any bottle boasting Chianti origin can be qualified. In addition to the strict rules and regulations (regarding yield, soil, types of grapes and other characteristics) each production is tested in person by a committee which approves (or declines) the request.
You have probably noticed (or maybe even become confused) with all the extra letters that float around on the label (DOC, DOCG, and IGT). This added value to the label helps you narrow down the actual production process of the wine. Each combination of letters specifies the geographical limits of a given zone, the grape varieties that can be planted, maximum yields per acre and other factors that affect quality - Denominazione di Origine Controllata, or DOC. The DOCG, where the last letter stands for "garantita" or guaranteed, provides an even more rigid guideline for the wine producers to follow.
As of 2010, one of the newest addition is the IGT, Indicazione Geografica Tipica, (many of the wines called "super Tuscans" are IGT) which emphasizes not only the rules and regulations but it is an additional control or guarantee that the wine in the bottle originates from a specific area or zone in Chianti but doesn't regulate how much of any one grape. This wine is often considered the flagship of the vineyard allowing them to feature their grapes in any proportion that works to create the perfect flavor. The last in the line of "novità" is the gran selezione. However, this does not apply to the Colli Aretini and their wine production.
Is all this Name Calling Necessary?
You may be wondering if it is all just a gimmick or if there is a rhythm and reason behind all these labels.
Absolutely! The vast territory that makes up Tuscany is comprised of many different geographical areas including mountains, valleys, marshlands - each with its own soil composition which in turn greatly influence the grape and thus the flavor. Even within one single vineyard, the varieties of soil are well noted by the producer and the type of grapes grown in each area are specific to the mineral content. One vineyard boasts of more than 30 different types of soil on their property!
So why the labels? To distinguish between the sometimes subtle, sometimes striking distinctions in the wines. Arezzo claims 8 wines with Denominazione d'Origine (a name which guarantees the high quality of a wine): Chianti DOCG, Chianti Colli Aretini DOCG, Colli d'Etruria Centrale DOC, Valdichiana DOC, Cortona DOC, Valdarno di Sopra DOC, Vinsanto del Chianti DOC e Vinsanto del Chianti dei Colli Aretini DOC. Some of which overlap with other areas (Vinsanto del Chianti DOC and Chianti DOCG) but the rest are specific to the Arezzo territory.
What will you find in a Chianti from Arezzo?
Red grapes, and, in particular, Sangiovese since there is a legal stipulation of a minimum of 70 percent for a Chianti wine (80% for a Chianti Classico). It might sound a bit silly to emphasize that, but actually, some of the earliest notes about Chianti wine in 1398 prove that it actually started out as a white wine. However, since 2006, the use of white grape varieties such as Malvasia and Trebbiano have been prohibited in "Chianti Classico". But that doesn't extend to everywhere because, Cortona DOC also includes white grapes such as Chardonnay, Sauvignon Blanc, Grechetto and Italian Riesling. Of course, all of the grapes must be grown in or around the hill town of Cortona with an altitude between 800 - 1600 feet.
When examining the glass of red Chianti from Arezzo, you will note that the color is a lively ruby to garnet which comes with aging. The perfume is very "wine-like", and a more pronounced character of finesse in the aging process. And the flavor... balanced, fruity, slightly tannic, whose refined flavor over time goes towards the soft velvet.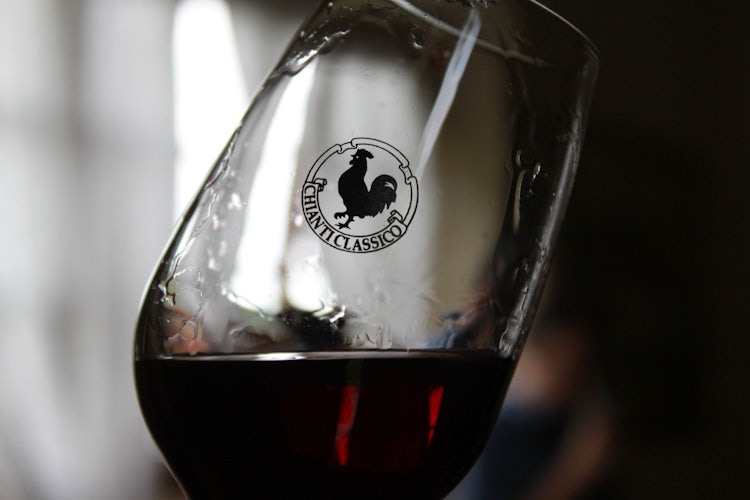 Where do you start?
If you are a do-it-yourself kind of person and want the freedom to explore not only the vineyards but several of the small towns, archaeological sites, and fine restaurants in the area then you will want to start with the Strade del Vino Arezzo. Including more than 200 km of panoramic Tuscan roads throughout the province of Arezzo, 120 vineyards, wineries, restaurants and farmhouse "agriturismo" and 8 denominations, finding a starting point is not that difficult. Click here to download the map. Promoted and regulated by Tuscan law since 1999, several areas have individualized specific itineraries which will lead you through some of the more scenic and productive areas for wine...making it all that much easier to taste your way through Chianti.
Arezzo and the local producers have actually made it quite easy to visit their vineyards and savor their wines. There is a calendar of events called I Giorni del Vino that run from May until October where two different vineyards will open the doors to their production and winery every week... and open a couple of bottles from 3 - 7 pm, all for a fixed promotional price of 5€ per person. Read this article for more details and the calendar of vineyards which are open.
** UPDATE 2020 - the events for this year are suspended, with a "wait and see" approach. As Italy enters Phase 2 of gradual reopenings, it is likely wineries will once again open to the public with safety measures in place. If you will be in Tuscany and wish to do wine tastings, it will be essential you contact wineries ahead of time to find out when they are open and the process for visiting. It is likely they might request bookings and no longer do drop-ins ***
If you prefer to let someone else take over the driving, so you can relax and truly enjoy the scenery . . . and the wine tasting, then you can either chose an organized tour or you can organize one yourself and hire a driver. You can still pick and choose your vineyards and wines - you just don't have to mess with counting how many glasses you have tasted! Check out these organized tour opportunities.
The beauty of discovering the wines of Arezzo is that whether you are staying in or near the city of Arezzo, starting out from Florence or you find yourself based down towards Montepulciano, you are still close to the something. The length of the area designated as Colli Aretini starts in the very north of Arezzo near Bucine and Laterina and stretches to the hills of Cortona in the south.