Casentino, a flourishing green valley located only a short distance outside of the city center of Florence, offers several possibilities to delve into the old world charm and live a bit of the history of Italy. The first stop on this tour will be the Castello di Romena and, though not in the best of shape after years of neglect, war and natural decay, you can still visit it in the spring and summer months for a ticket which is just about the cost of an espresso (an exceptionl bargin).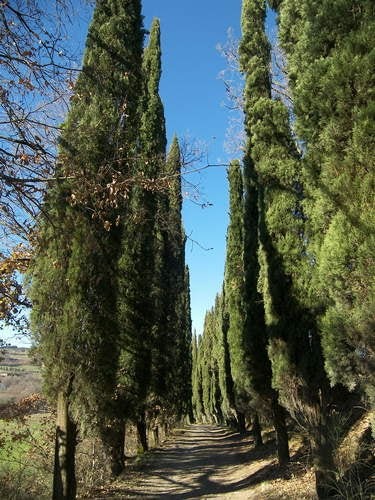 Picturesque in its own way, the kilometer long cypress driveway and the silhouette of towers set on the top of a hill are definitely what 'Kodak photo spots' are made of.
My first introduction to these truly impressive ruins was a private tour by an elderly gentleman, who besides being an outrageous flirt, seemed to be quite intimate with the history of the castle and the families that lived there. I was in awe as I walked over the authentic drawbridge... my first one ever (so of course I had to look down and see where the moat and alligators were... no such luck. Apparently not all draw bridges are duly equipped.)
As I climbed the steps of the stone stairwell, my hand trailed over the handcarved stone columns trying to image the lives of those who lived here over 1000 years ago.
Why visit?
Pros: perfect for photos, lots of space to walk around and explore, beautiful picnic area and just beautiful to see a castle, even if in ruin
Cons: open on a limited basis, no public facilities
Since this was one of my first touristic stops in Italy, my understanding of the Italian language was at its limit as he rattled off stories and facts – but there are some things that need no words. The reverence in his voice permeated my imagination and helped me see these massive stones as they once were: powerful and protective.
The Romena Castle Dominated the Valley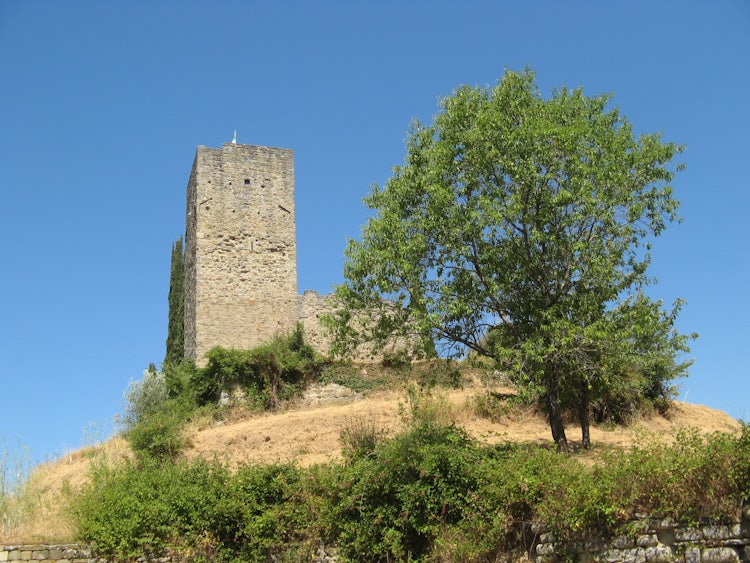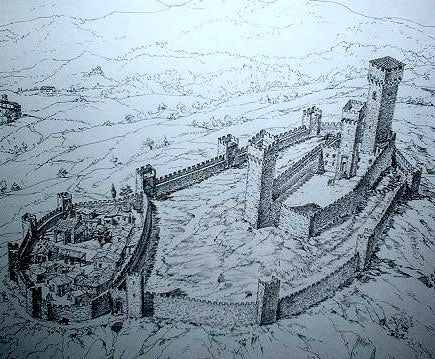 What you see now is a mere shadow of its once powerful presence, but nonetheless the remains still have the same effect, demanding a sense admiration and respect. The original structure would have included three large towers and at least 11-12 smaller towers with three rings of protective walls. But time and war have eroded this down to three visible towers shielded by a collapsing stone wall surrounding a large grassy field.
Once you pay the ticket and walk around the inner most wall, you will enter through a stone archway that opens into the green area. This area would have been where the castle's inhabitants (both human and animal) were housed and where the army would have worked maintaining and exhibiting their skills in those rare times of peace.
Modern entertainment (not being quite as gory as it once was) used the open area as a stage for ballet and theater under the stars. Unfortunately, the dangerous state of the structure put a halt to these shows. These much coveted events were part of an initiative called Pieve e Castelli, a summer series of concerts, theater and ballets set in castles and churches where the event would naturally compliment the venue.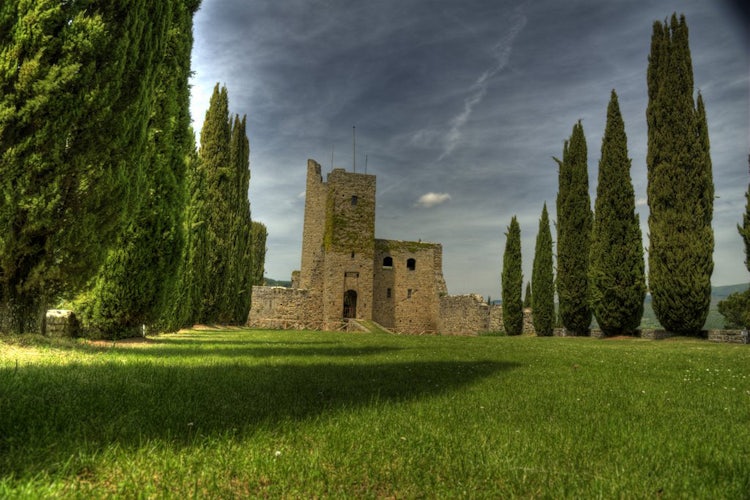 There are many legends and tales that revolve around these stone walls but perhaps one of my favorite stories will also give you a taste of the subtle Tuscan sense of humour. The principle character in this story is Dante, a national hero and literary king, who it is said to have passed some of his exile (1301 thru 1306) at the Castello of Romena.
It would appear that the setting obviously excited his muses because he cites the chronicles of the castle in his classic epic poem, "The Divine Comedy." His expert use of the word is not only immortalized in his writings, but legend has it, one afternoon, upon hearing the approach of Florentine soldiers looking to bring him back to Florence for punishment, he escaped down the cypress-lined entrance. However, upon his exit he ran right into the militia. When he was asked if he had seen Dante at the castle, he used his magic with words and replied "When I was there, he was there."
Then with a little wave, he made his proceeded to make his get away.
The Deceit of the Guidi Family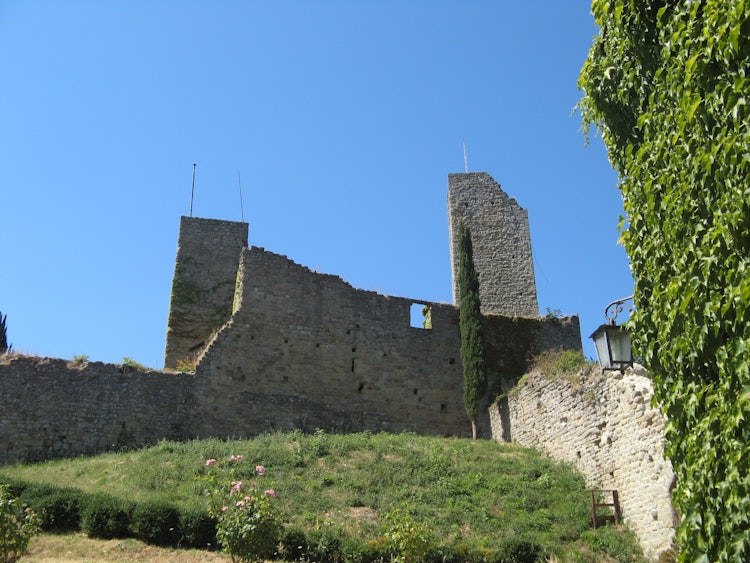 Upon seeing this structure in its now crumbled state, it is difficult to grasp the guile and subterfuge that went on between Florence and the Guidi family. I cite Dante once again to put it into perspective, making reference to Canto XXX in "The Divine Comedy". Florence was the home to several powerful families who boasted the economic resources to subdue even the most difficult of enemies - they had position, wealth and a strong organization. But the Guidi family was just as powerful and devious. Dante writes of a Maestro Adamo, who we know was hired by the Guidi family to make counterfeit fiorini (Italian money) right here in the Castello di Romena.
The idea was to flood the market with inferior coins and bring the ruling Florentine families to their economic knees. But the plan was exposed and our would-be counterfeiter was burned at the stake for his crimes... interesting to note that only poor Maestro Adamo suffered this fate and not the commissioning Guidi family. My guide even boasted that he had one of the counterfeit coins that had been found in the foundation of the castle.
O you, who are exempt from punishment in this grim world (and why, I do not know), look and attend to the misery of Master Adam. I had enough of what I wished, when I was alive, and now, alas, I crave a drop of water. The little streams that fall, from the green hills of Casentino, down to the Arno, making cool, moist channels, are constantly in my mind, and not in vain, since the image of them parches me, far more than the disease, that wears the flesh from my face. - Canto XXX
Dante does give us hope that Master Adamo has his revenge... but unless we drop into this ring of Purgatory, I believe we will never really know for sure.
A Dungeon makes a Castle
I remember admiring the towers, both tall and imposing, but everyone knows that a genuine castle needs to have a dungeon to be classified as the real deal.
Well, apparently not.
With a bit of a chuckle, I was told there was no use snooping around the foundation of the castle because the Guidi family made their dungeons tall – and pointed over to a lone tower in front of the (fake) draw-bridge. It appears torture was the name of the game and torture it was when they walked someone up four or five flights to the top of a tower and were thrown inside.
Why? With walls more than a meter thick. No doors. No stairwells. And no windows (except for the hatch where one enters.) There was essentially no exit. Imagine the feelings of despair as you were pushed down the hole and then successively pushed to the floors below… where you knew there was no food, no water, no light, no air, and no way out, except for death.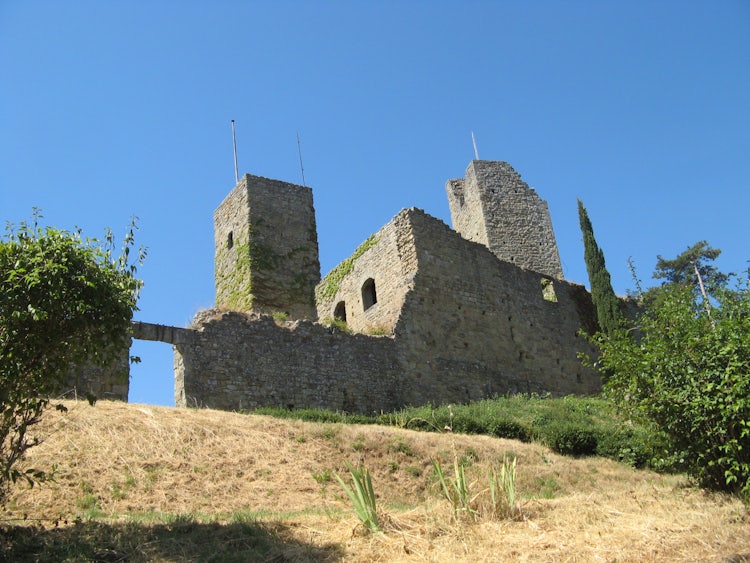 If you have the unique opportunity to meet the private owners of this castle, who have no blood relation to the original owners, then you should ask if the Weapons Museum is open. Not only is there an impressive collection of weapons but also some rather unique artifacts as well. I was invited to visit and remember looking at what could have been modern day dental tools – picks and clamps – from a Roman surgeon. Over 2000 years and dental tools of torture are still basically the same.
The castle is well marked and easy to reach. With the abundant green fields surrounding it, you will find it a pleasant place to have a picnic. My suggestion would be to stop at the little stores at Passo della Consuma on the way from Florence or a quick stop at a local favorite bar called Scarpaccia, located on the corner of the main road before for you turn for Romena and Pratovecchio. You can get yourself an authentic panino to go with some of the local focaccia bread, cheeses and prosciutto. Then you can find yourself the perfect spot around the castle to relax, enjoy your food and the spectacular views of the national park from a picture perfect position.
Continue our trip through the castles of Casentino - let's head to the town of Stia and to an older tower castle called Porciano.