There are more than seventy beaches on Elba, not counting the many bays and inlets which are only reachable from the sea, and each one of them is different in its colors and surroundings. Whether surrounded by suggestive, steep cliffs or immersed in wild vegetation, whether they are easy to reach and well-equipped with all amenities or wild and deserted, the beaches on Elba have no reason to envy the beaches found in the Caribbean.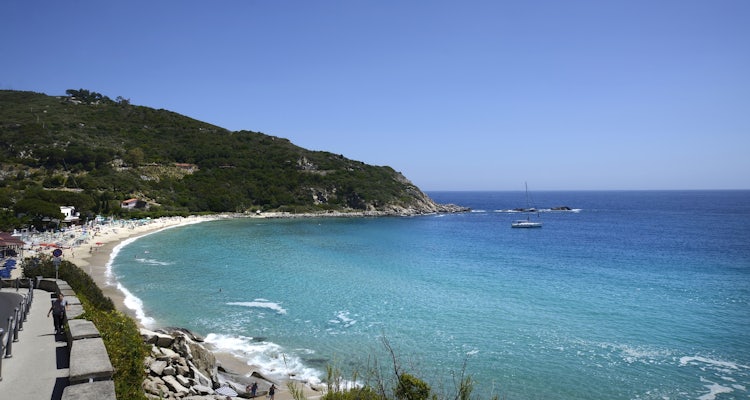 If you decide to spend your holidays on the island of Elba, you can choose a different beach every day. From the golden sand of the Cottoncello to the long white beaches at Capo Bianco, from the red sands of the mineral mining area to the streaky granite beaches to the black pebbles of the Tombe, one of the most beautiful beaches reachable by foot from the coast at Fetovaia. I recommend you visit the Caribbean style beach at Sansone with its crystalline sea bed and dazzling white sand. There is also the beach at Forno with the backdrop of the small seaside village and the beautiful one at Cavoli, loved by younger people, Lacona with its numerous campsites and Barabarca, one of the best near Capoliveri.
Some beaches are also famous thanks to history or local legends such as the Innamorata, or Sweetheart beach where on every July 14th the "scarf duel" takes place in remembrance of the tragic affair of the beautiful Maria, who drowned herself in the sea to save her beloved Lorenzo, and left her scarf on the rocks. Legend has it that the Argonauts, led by Jason, stopped during their search for the mythical golden fleece at the Ghiaie beach, while Paolina beach got its name from Napoleon's sister, who used to stay here.
Elba island with its beautiful beaches and blue sea is a perfect destination for anyone who wants to spend a relaxing vacation in Tuscany.
We thank Hotel Ilio Isola d'Elba for photo and text contributions.

View photos of Elba! »