A New Family Tradition at Giovanna Vacanze
Born and raised here: that pretty much explains how it all started for Giovanna and her family, the owners of Giovanna Vacanze, more recently known as Castel San Gimignano Vacanze. Castel San Gimignano may be just a little slip of a town, but it is undoubtedly rich in panoramic views, history and hospitality.
These holiday apartments are actually part her husband's family home, and it now houses three vacation rentals and a studio apartment where you can stay! There is a yard in the back, but it would be more appropriate to call it a garden with all the lavender, rosemary, and roses. It is absolutely worth its weight in gold; spectacular scenic views of the Tuscan countryside and San Gimignano, which boasts an evocative towering skyline.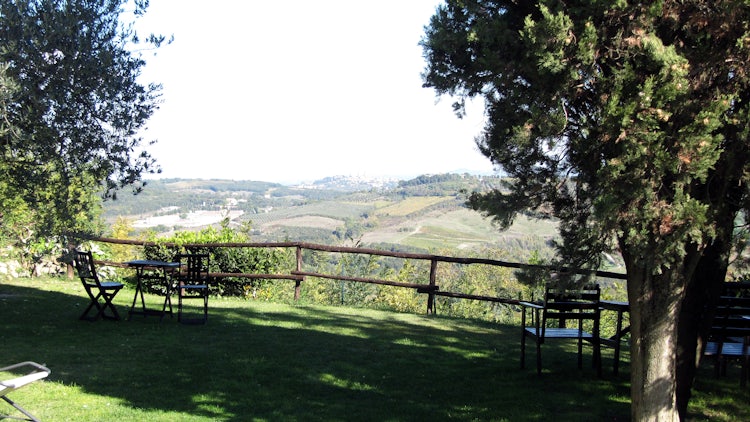 Packed with History
As Giovanna gave me a tour around the grounds, it seemed that each and every stone had a story behind it. Her childhood and family memories center around this truly small but self-contained little town.
Book Direct with Giovanna Vacanze
Curious about the name, she started to fill me in by beginning with the antiche mura, or ancient walls, that make up part of the garden, "This was literally the castle walls, it served as a defense for the town of San Gimignano." Now rich with caper plants, the walls that once protected the castle, provide a beautiful backdrop to the garden courtyard and poolside.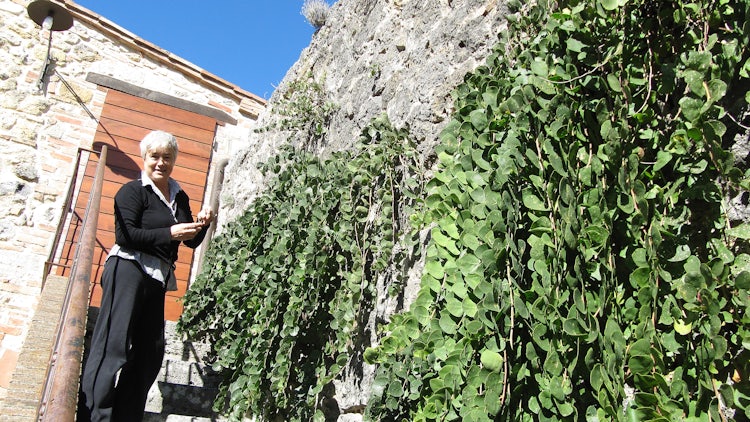 A Sunny Hilltop
The courtyard that separates her home from the two larger apartments is sunny and picturesque with an ancient well in the center... she told me "It's been here forever". Obviously not, but I didn't interrupt her story, "I climbed inside of it once when we did some repair work -- it's enormous, like a living room!" There were two old water wells which provided for the castle in time of siege, the other is skillfully hidden in the family garden which is protected with a childproof lock, so the little ones don't accidently roam near the water without adult supervision.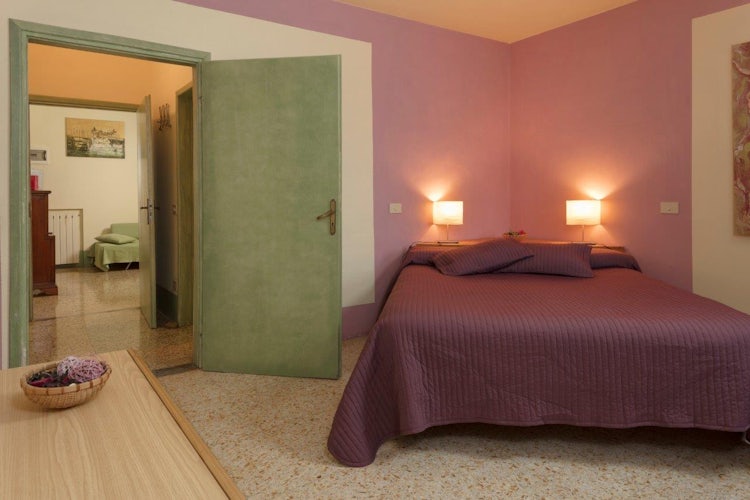 A Review of Giovanna Vacanze
We loved: the proximity to so many sites, this is an ideal place to plan on visiting all of Tuscany
Ideal for: from couples, small families or singles traveling together, ideal for exploring the countryside of Tuscany
I could hear the sincerity in her voice as she showed me how they had organized everything so that her guests feel comfortable, happy and settled in their apartments. She emphasized that when they need her, she is only a call away but many times its like they "have the house to themselves. Sometimes they call us the ghosts because they never see us." Her English is not the best so she shies away from talking too much and leaves that to her daughters. My opinion is her native language is "kitchen-ese". Put her in a kitchen, like the local restaurant only a km and a half away, and you will find her transformed into a culinary queen.
Hang Out in the Kitchen with Giovanna
She comes alive in a whole different way when you start quizzing her about recipes, menus, and seasonal dishes. Her passion for pasta was evident… especially when she assured me that she still rolls her own.
"When I am at home alone, it's just as easy for me to prepare a tagliatelle with fresh eggs as it is to open a bag of spaghetti…. anzi (to the contrary), it's easier for me to prepare a homemade pasta then to cook the prepackaged stuff."
She confided that she has always been in her element in the kitchen, but perhaps the fact that her youngest daughter suffers from many food allergies pushed her to learn more and take it to a more professional level. "I prepare everything, but when a guest at the restaurant tells me they can't eat flour (gluten)… I take extra special care in preparing the dish. Because I know what it means to suffer when you have ingested even just a little bit of gluten."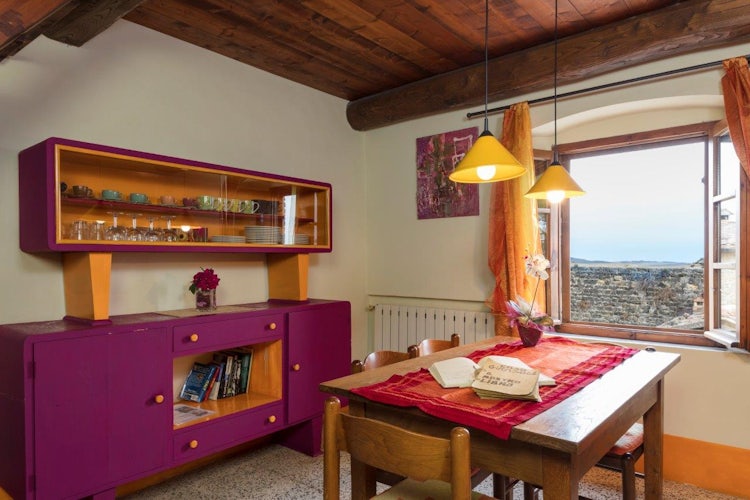 The Family is Available, Just Ask!
Giovanna Vacanze in a Glance:
Type: 3 self catering holiday apartment & one double bedroom
Location: San Gimignano, 13 km (20 min)
Distance: Volterra (20 min) & Siena (50 min)
Transport: a car is necessary
Sleeps: 12
Type of board: No meals provided
In collaboration with the restaurant, she organizes cooking lessons where the guests can stand side by side and learn the "real way" to make pasta, prepare a "sugo" or sauce and "drogare" the meat for a delicious roast. Her husband is in charge of the garden, and he does a beautiful job: it is green, finely manicured and deliciously inviting. Her daughter Simona handles the decor in the apartments: with her natural talent for colors and combining the old with the new, she has created a warm and welcoming place to vacation in Tuscany. And Federica is the perfect person for organizing your holiday itinerary... ask her about the local sites.
And that leaves the cooking to Giovanna.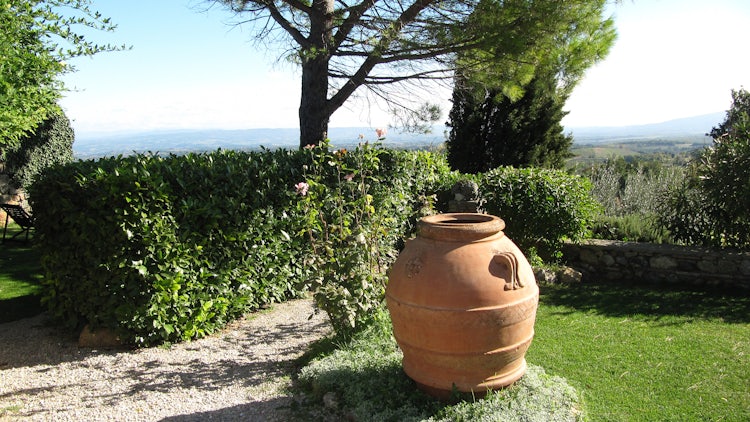 Just Come to Relax and Feel at Home
Each one of the apartments comes with a fully-equipped kitchen and if you aren't into cooking one night, you can either hop over to the restaurant where Giovanna mans the stoves (where she offers a complimentary discount) or you can stroll down the road where there is another little restaurant.
The Giovanna Vacanze holiday rental apartments are not pretentious and they are definitely colorful in addition to being and comfortable. They have spacious rooms with large kitchen areas, private parking, panoramic views, and a picturesque poolside area… and they are only minutes from San Gimignano, Volterra and Certaldo, not to mention Giovanna's delicious little restaurant! This is just the type of place you go to feel at home, relaxed and on vacation.
Reserve Now at Giovanna Vacanze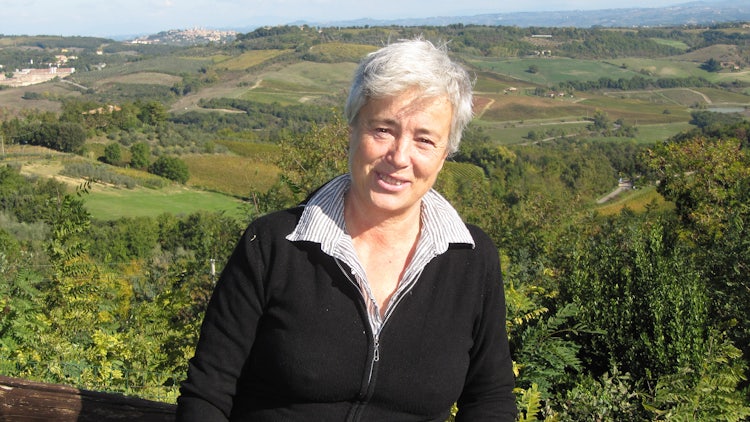 This is a Sponsored Article but reflects the honest opinion and experience of the author. More details »