These three sites are located just around the Cathedral, and a visit to all of them will last between one and two hours depending on your interest.
The Crypt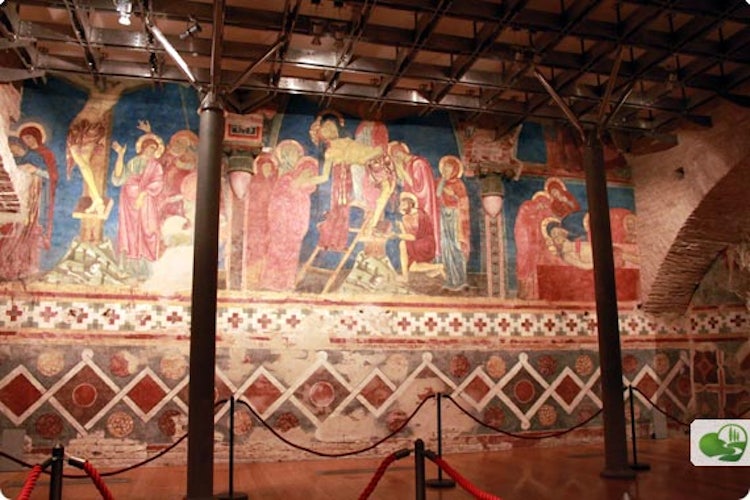 Discovered in 1999 and opened to the public in 2003, the Crypt is one of the most important newly discovered archaeological sites. It was constructed at the same time as the Cathedral in the 13th Century, but was never used as a crypt but for storage (as discovered through the archeological dig). It was abandoned and then laid hidden for 700 years. The room itself is nothing spectacular, but its walls are painted with very colorful frescoes from Jesus' life just before his death until his burial. You will see the Annunciation, Visitation, Nativity, Kiss of Judas, Crucifixion, Deposition, and the Entombment of Christ. The artists are not known for certain, but probably included Dietisalvi di Speme, Guido di Graziano and Rinaldo da Siena.
The Baptistery
The Baptistery on the other hand is a stunning room. It is built below the Cathedral between the second and third decades of the 14th century. The vaults are completely decorated with colorful frescos representing the most extensive and articulated religious cycle of the Sienese Renaissance. Take a seat on the benches and get lost (and dizzy) while staring at it. In the middle you will find the hexagonal baptismal font by Donatello made mainly in marble and bronze and with panels showing the life of Saint John the Baptist.
The Museum dell'Opera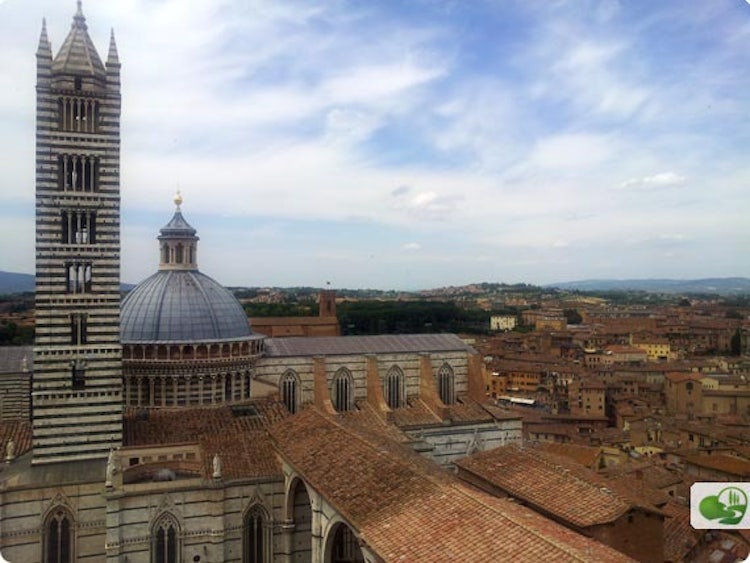 The Museum dell'Opera contains many of the original art pieces from the Cathedral. The most popular part of the museum is the panoramic view point at the top where you will have a magnificent view of the Cathedral as well as the rooftops of Siena and the Tuscan hills. You might need to wait in line for a while before starting the climb up the very narrow winding staircases, but the view from the top is well worth the wait.
Tickets and opening hours
If you plan to visit the Cathedral and one or two of the above sites, it is convenient to get the Opa Si Pass. From November to March the cost is EUR 8, the rest of the year it's EUR 12. Otherwise each single ticket costs: Cathedral EUR 4 (EUR 7 when the floor is uncovered), Baptistery EUR 4, Crypt EUR 6 and Museum EUR 7.
Opening hours: From November to March the sites are open every day from 10.30 to 17.30, the rest of the year they are open until 19.00. For more information on the Duomo in Siena, read our full article here.