Luxury, comfort & elegance just outside of Florence
Luxury is always trendy, and that's just one of the things that makes Villa Medicea di Lilliano extra special. The unique blend of Diletta Malenchini, your host & owner, and Eric, her right-hand man for hospitality & event organization, offer an enticing type of hospitality with an atmosphere of relaxation and deluxe styled decor... mixed in with wine tastings, delicious cooking classes and relaxing by the pool.
Located only than 20 minutes from Florence's city center with a view of Brunelleschi's cupola, the 6 full service vacation villa residences bring together the family tradition of wine and olive oil with the stunning views of Florence and quality accommodations loaded with modern conveniences.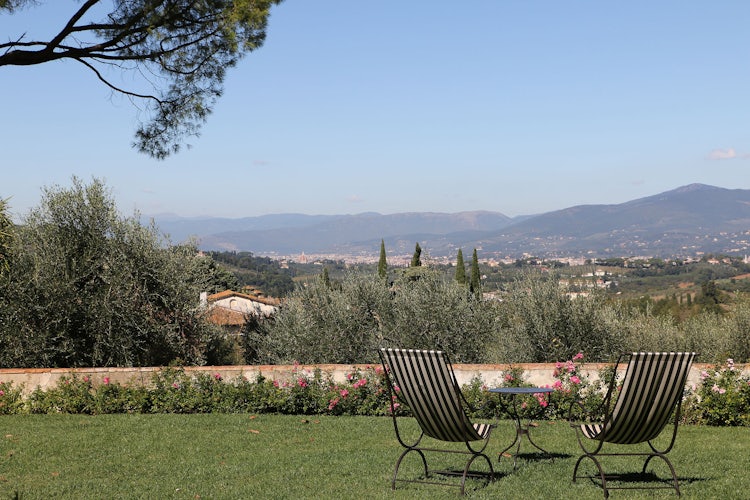 My initial meeting with Diletta and Eric was held on the panoramic terrace of the villa with 12,000 olive trees and the Florence skyline in the background. Who wouldn't want to show off this spectacular view? It is the essence of Tuscany wrapped up in a sunny, prestigious holiday accommodation.
And what's more, they had just finished the "vendemmia" and floating up from the cantina below the terrace was the inebriating fragrance of grapes beginning their journey towards becoming award winning Malenchini wines.
Eric has a vibrant energy and determination about him, he knows that he has a quality holiday residence to work with and he is enthusiastic about making it shine. He knew that starting our tour on the terrace was going to set the tone for the rest of the visit, one memorable step at a time.
Book Direct with Villa Medicea di Lilliano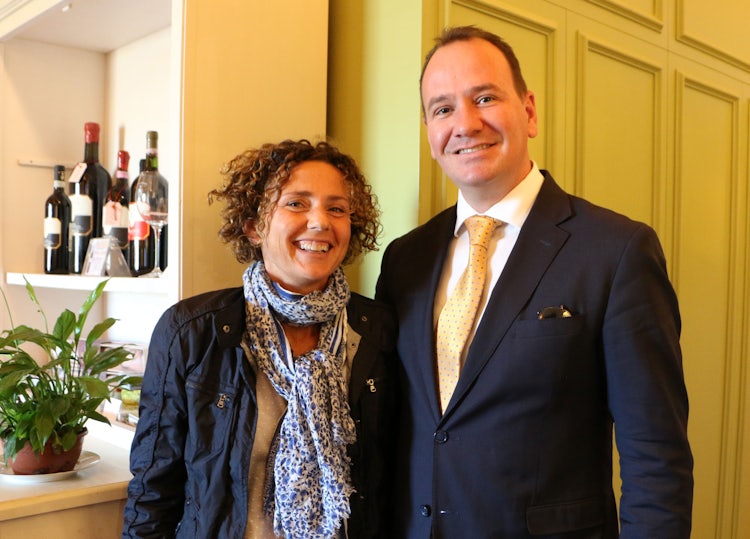 Enchanting Surroundings at La Corte & La Torre
The division into two distinct accommodation areas promises guests privacy, space and tranquility. Attached to the main villa, where Diletta and her mother still reside today, the "La Corte Villa" offers five suites perfect for up to 12 guests occupying what was once the caretaker quarters. Set on two floors, it features a modern kitchen with a wide array of modern appliances (microwave, blender, coffee makers), a formal dining area, a living room with entertainment system, guest bathroom and full laundry with washer, dryer and iron.
There is one double bedroom on the ground floor with an en-suite bathroom with the other four double bedrooms are located on the first floor. The beauty of this holiday villa, besides having its own private courtyard and pool, is that it is close to everything: the reception office, private parking, the historic gardens, the olive groves and the special rooms in the main villa dedicated to parties and events.
If you are planning an event at the villa, this villa has everything close at hand including the chance to enjoy one-of-a kind photo opportunities and is perfect for organizational purposes.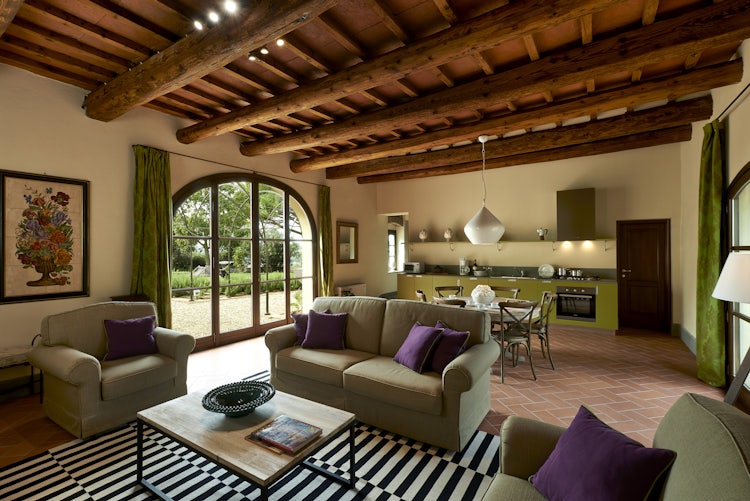 Less than 500 meters from the main villa are the remaining 5 deluxe residences with views over Florence, the olive groves and a small Tuscan town. The gated property offers its own parking area, a shared garden area and a panoramic pool for a bit of relaxation. Each of the 1, 2 and 3 bedroom holiday residences features a similar decor as well as quality linens and a full range of electric appliances including washer, dryer and flat screen TVs. The eclectic mix of Tuscan tradition and modern accents with warm colors like violet, yellow and green give the residence a youthful appeal without losing its classic elegance.
This "hip & trendy" atmosphere (with an obvious savoir faire) engages guests from all age ranges, from young to mature, fostering an environment that perfectly frames the historic setting without making it stuffy and pretentious.
Every room in the holiday residence rentals brings together classical characteristics like terra-cotta floors, wrought iron bed stands, rich wooden furnishings and comfortable chaise lounges. Yet, at the same time you will find splashes of color in all the rooms: the snazzy black & white carpets, the sunshine yellow cabinets and the purple throw pillows in the bedroom. The bathrooms are extra-large with wall-to-wall mirrors, complimentary soaps & lotions from the Florence shop Aquaflor, double showers and romantic claw-foot tubs. Just the right touch for a romantic vacation in Tuscany.
All of the villa apartments have a fully equipped kitchen to prepare meals when you feel like dining in, and for breakfast you can order a breakfast basket be brought to your room! If you wish to try your hand at learning how to make Tuscan dishes, you can also request a cooking class - directly in your own villa's kitchen.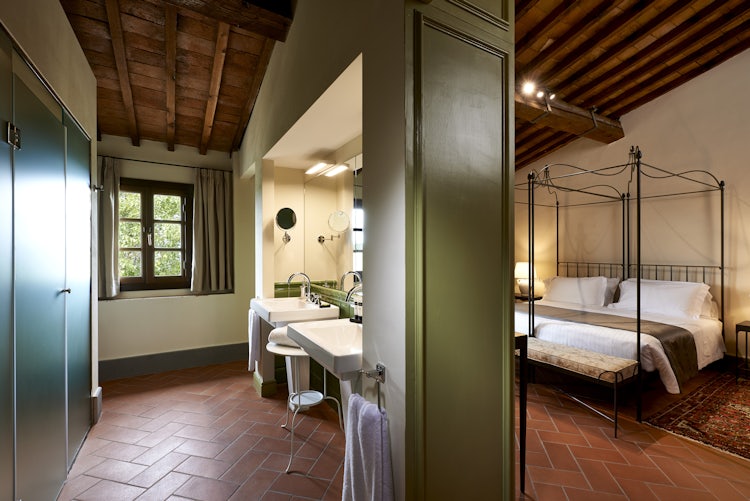 A Review of Villa Medicea di Lilliano
We loved: Nestled among the olive groves and vineyards, there is a splendid view over Florence with the Duomo in sight
Ideal for: This is not just a deluxe holiday rental, it is made for celebrations of every kind: from reunions, weddings, friendly get-togethers to formal (and informal) business meetings and, of course, weddings and civil unions.
The Definition of Luxury
Luxury at the vacation residences, rental villa and suites of Villa Medicea di Lilliano means feeling good while being surrounded by beauty: the lush landscape, the interiors of the accommodation, and the dedicated service. It includes tranquility, a natural environment with the aroma of Tuscany: lavender, rosemary, sage and fresh air... lots of fresh air.
This doesn't mean that you won't find WiFi, SAT TV and air conditioning. Each villa, residence and suite boasts excellent internet service, the living rooms are furnished with a full entertainment center and there is a privately controlled AC unit in all rooms.
The definition of luxury also extends to the professional and international staff who are always on hand to assist you in answering questions about the area, planning out your itinerary, booking tickets for museums and restaurants. No event is too small for notice, a romantic dinner for two or a wedding with over 100 guests - Eric and his team are attentive to the details so you will always feel welcome and in good hands.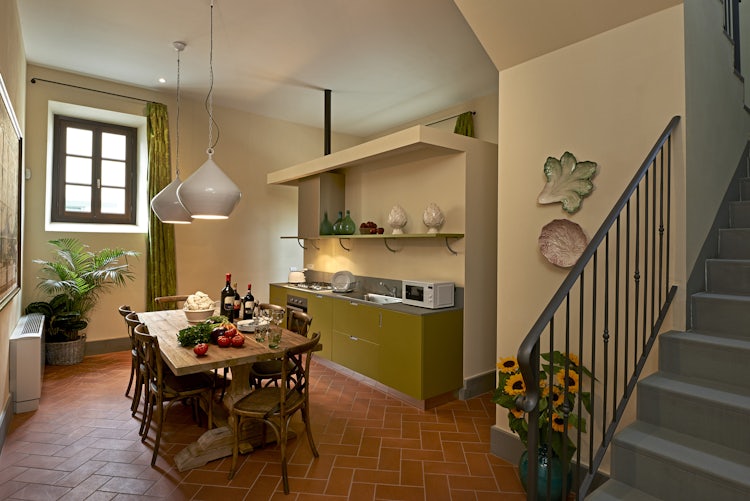 Plan Your Special Moment
Villa Medicea di Lilliano at a Glance:
Type: self-catering holiday residences & vacation villa
Location: Grassina, 25 min from Florence
Distance: Siena (60 min) or Greve in Chianti (30 minutes)
Transport: a car is very useful, but there is bus service within 1 km of the accommodations to take you into Florence
Apartments: 5 residences/apartments & 1 independent villa
Sleeps: 32
Type of board: self-catering. Upon request cooking lessons, welcome basket and all meals can be organized for guests
Diletta is a quiet yet determined woman who has dedicated her life to breathing life into the villa, the vineyards and the olive groves. The main villa and its gardens set the stage for banquet dinners, cooking classes and guided wine tastings. During the course of restructuring the villa, she has infused her treasured childhood memories from summer days spent with friends and family living in the villa. Redesigning the villa from a family home to a professional, yet personal-sized experience is a testament of her desire to see Lilliano come to life again, or as she put it, "vivere di nuovo".
The villa, its gardens and immense spaces, like the Limonaia and panoramic terrace, not only lend themselves to creating unforgettable memories but it seems to encourage you to live the Tuscan countryside, the warm welcome and the unique historic beauty of the surroundings.
"Perhaps for me, just to watch Lilliano come alive again, to see the enormous spaces filled with families and friends - and when I say this, I mean new eyes & new experiences from all over the world," Diletta tries to explain, "it's like it (the villa) has come alive again."
Casual family get-togethers are possible and encouraged by the staff, but they are also experts at organizing the perfect event, including large weddings as well as photo shoots for international companies.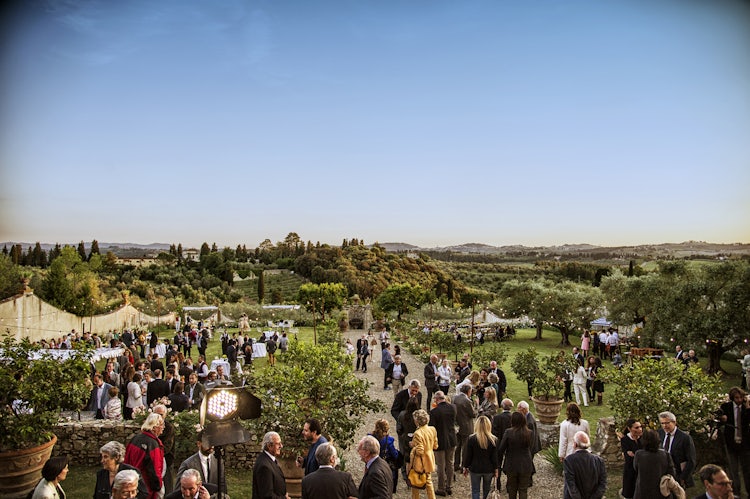 360° Tuscany
It is almost always true that wherever you go in Tuscany, you will find awesome vistas, but the dominant position on a hilltop just outside of Florence, between the Colli Fiorentini (Florentine wine hills) and that of Chianti Classico make the privileged position of Villa Medicea di Lilliano shimmer and shine.
The classic Tuscan landscape with its patchwork of vineyards, silver green olive trees and dark green strokes of cypress trees towering over the fields are beautiful in every season, guaranteeing you something different every time you take a photo. You can easily spend an afternoon just gazing into the distance, picking out small towns, Tuscan farmhouses, maybe even a shepherd with his sheep... yet at the same time, in 10 minutes you can reach major roadways that will take you to Florence, Siena, Pisa, Montepulciano and shopping at the outlets.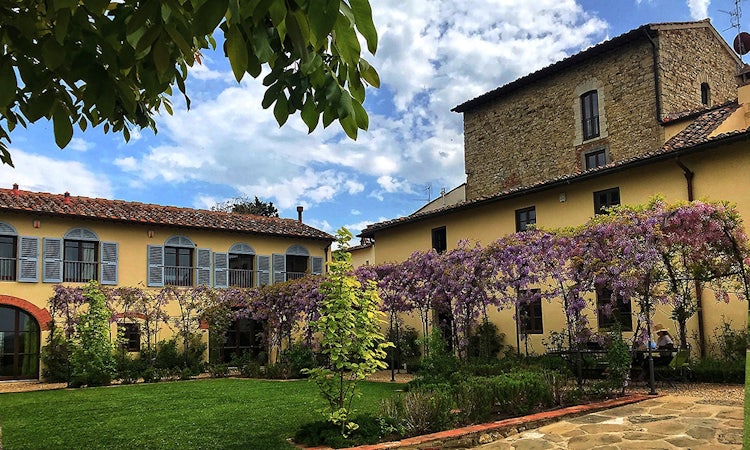 Book Now at Villa Medicea di Lilliano
The intriguing mix of old with new, Italian with international elements and elegance with comfort gives these luxury residences, rental villa and suites at Villa Medicea di Lilliano an edge, an exciting and bubbly edge. When you plan a vacation on the outskirts of Florence, you couldn't pick a better place to experience the soul of Tuscany with this family-run estate, the extensive olive groves and the centuries old wine cellar and vineyards.
The attentive service and staff combined with a tranquil environment and stylized decor make this the best choice for a base during your holidays in Tuscany.