The Tuscan Landscape is Rich with Events
This is the best time to enjoy medieval parades, antique flavors and the local color of folkloric traditions and festivals. Concerts, activities and food festivals take full advantage of the warm summer temps and the refreshing evenings under the fall stars of San Lorenzo. Some of the more important events not to miss include the excitement of the Palio in Siena, the colors and enthusiasm in Montepulciano with the Bravio barrel race or mixing the sunny beaches of Campiglia Marittima and Apriti Borgo. And Tuscany wouldn't be complete if it didn't have a few tempting culinary events like our favorites the Tordello pasta and Tortelli on the grill!
With so much to choose from, we have divided this month into a few separate calendars so you we can list more activities and so you can focus on what interest you the most:
No matter what corner of Tuscany you are visiting this August, you will find fantastic possibilities to enjoy genuine food and colorful reenactments.
Tuscany | #DomenicalMuseo | 1° Sunday in August
A standing appointment every month
How about enjoying a bit of art, history and culture on a Sunday? How about enjoying it with free admission? Then mark the first Sunday of the month on your calendar and make note of the following State museums (and archaeological areas) across Tuscany where you can take advantage of free entrance.
See a List of State Museums in Tuscany
---
Pistoia | CAPITALE CULTURALE D'ITALIA | 2017
the Cultural Capital of Italy for 2017
Celebrate together with Pistoia! Between classical music concerts, art exhibits, cultural activities, blues & jazz in the town squares and so much more, this stunning little Tuscan town is prepared to show the world their true colors when it comes to their cultural prowess. Each month they are planning over 200 events including theater, music, book presentations, learning labs and more. Check in here every month to see select highlights from the Pistoia calendar.
---
Arezzo | FIERA ANTIQUARIA | Aug 5 - 6
The oldest and the biggest antique fair
Many years ago, Ivan Bruschi gave life to one of the oldest and biggest antique fairs in Tuscany...maybe even all of Italy. He transformed his love for the old, unique and precious into an event that fills the streets of Arezzo every first Sunday of the month and the Saturday that precedes it that month.
---
Panzano in Chianti | APRILANTE | 1st Sunday in August
Handcrafts & Vintage
We know they call the fair "April"ante, but it really goes all year round! This monthly market in the streets of this charming town in Chianti is where you will find hand crafts, vintage and delicious typical foods and all of it this is just outside in the countryside surrounding Florence.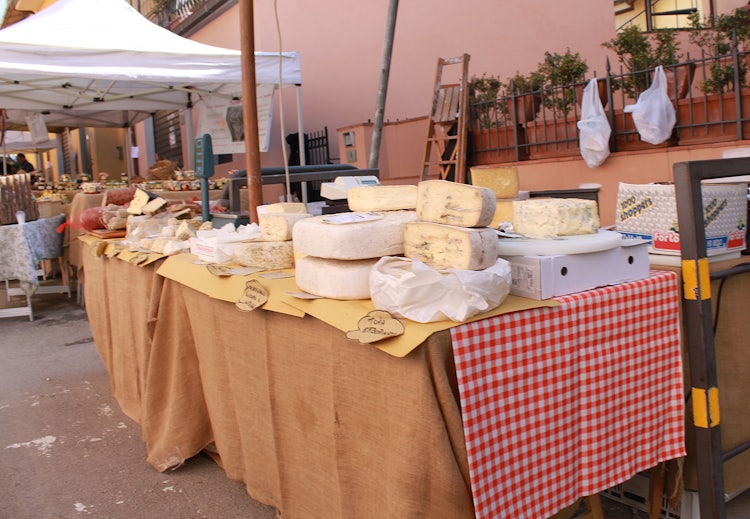 ---
Greve in Chianti | IL PAGLIAIO | Every 4th Sunday of August
Organic and Artisan Market
Piazza Matteotti is filled with locals who feature goods from their gardens, their kitchens and their workshops. Often you will find not only great bargains, but music and opportunities to do some taste testing.
---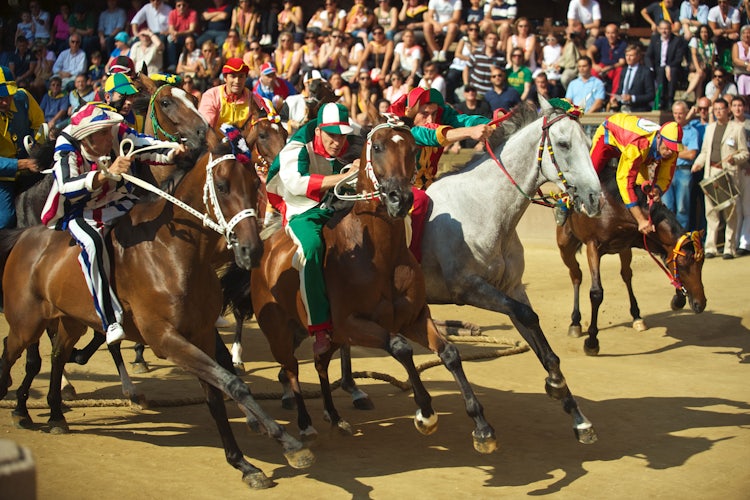 Siena | PALIO | Aug. 16
One of the most popular events in Siena
Offering endless emotions to both visitors and spectators alike. Horses must run three laps around the shell-shaped Piazza del Campo, the first one arriving at the finish line (even without his jockey!) wins the race.
Read our article which offers useful tips for anyone interested in attending and visiting Siena on these occasions.
---
Montepulciano | CALICI SOTTO LE STELLE | Aug. 10
One of the most important taste testing events organized by Strada del Vino Nobile di Montepulciano e dei Sapori della Valdichiana Senese. Read the full calendar here.
---
San Casciano dei Bagni | PALIO DI SAN CASSIANO | the Sunday before August 13
It is such a silly but fun race to watch!
The villagers in this area to Siena compete against each other in popular games, waiting for the "Frog Race", the last and most eagerly awaited game! In it, participants have to push a handcart with a frog inside: if the frog jumps out of the handcart, the frog has to be recaptured and places inside before restarting the race.
---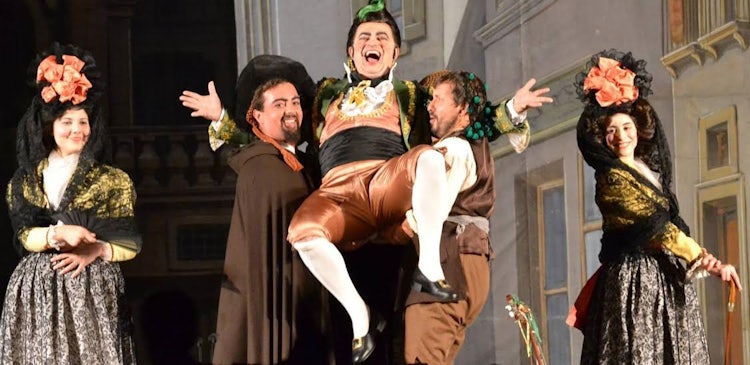 M. Marittima | LIRICA IN PIAZZA | Aug. 3, 4 & 5
Music under the stars
In one of the more beautiful historic squares of Tuscany, you can lose yourself in the three musical masterpieces: Tosca, Rigoletto and Don Pasquale. Between the quality performance, the one of a kind stage at Massa Marittima (Grosseto) and the music of Tuscany, this is an event that will leave you with special memories.
---
Castiglione di Garfagnana | FESTA MEDIEVALE | Aug. 5 - 6
in honor of the promise to Lucca
A tradition which has been brought back since the year 200, a festival to honor the promise of faithfulness from the town of Castiglione di Garagnana to the Repubblica of Lucca and that of the city of Massa Marittima.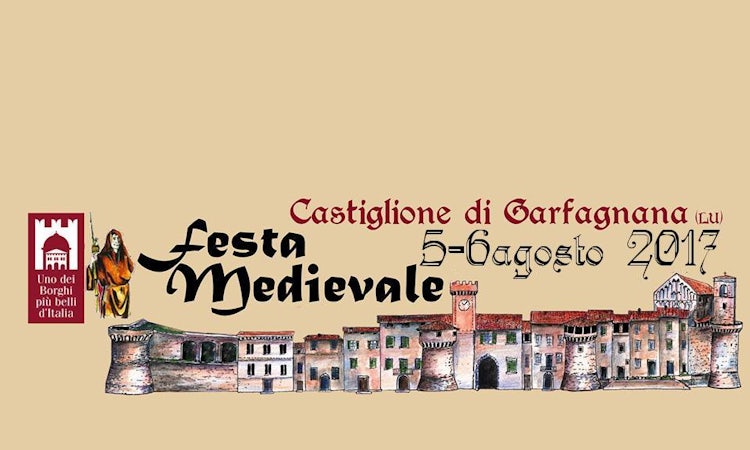 ---
Montepulciano | CANTINE IN PIAZZA | Aug. 18 & 19
Stroll the city streets and taste Nobile DOCG, Rosso di Montepulciano DOC and other quality wines of the area together with olive oil, cheese and salumi
---
Radicondoli | LE NOTTI DI GIOVE | July 6 - Grand Finale Aug. 24
The Mythical god Giove gives Thursday its name (Giovedi)
Every Thursday for the month of July and August the charming city of Radicondoli (Siena) creates a mini street fair with art, food and outdoor entertainment to best enjoy the cool fresh evening air. Facebook Page
---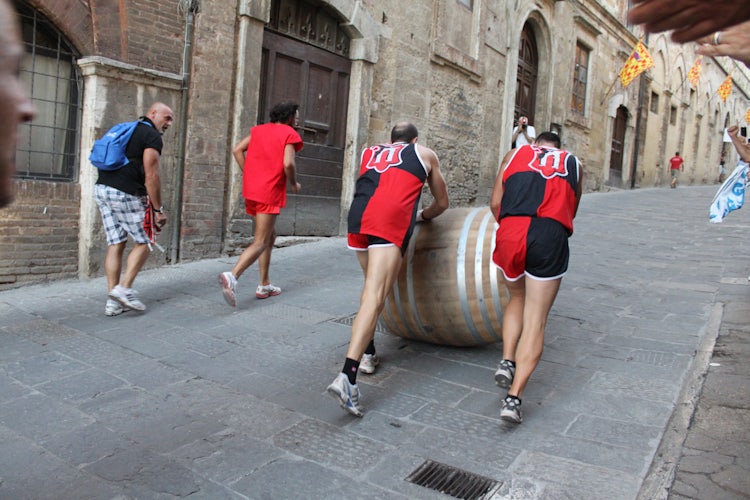 Montepulciano | BRAVIO DELLE BOTTI | Last Sunday of August
Traditional games that play with their winemaking tradition
The exciting race takes place along the tiny, steep streets of the village between the 8 contrade (districts) and whoever is the fastest to push their heavy wooden wine barrel (called botti in Italian) along the uphill streets of the historical center to the finish line in front of the Duomo in Piazza Grande wins the Bravio (a painted banner depicting the patron saint). Read here for more detailed information.
---
Roccatederighi | MEDIOEVO NEL BORGO | Aug. 4 - 6
Take a Jump back in Time
A historical and faithful reenactment of how Roccatederighi (Grosseto) was during those times, with many of the medieval buildings still in place. Three days of shows, music and entertainment, including delicious food to offer fun and entertainment for the entire family.
Facebook Page
---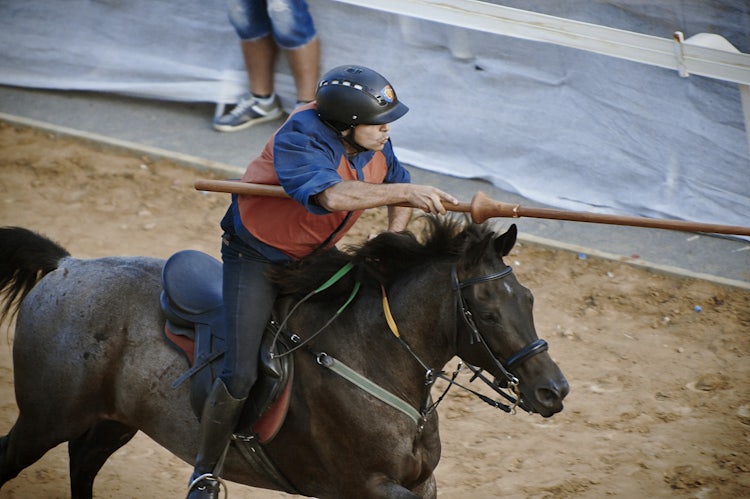 Sarteano | GIOSTRA DEL SARACINO | Aug. 11-15
The performance of the "giostra" draws its origins from the ancient, bloody chivalrous tournaments that continued for centuries from the time of Charlemagne and then of the Crusades. The last solemn tournament took place in Paris on July 10, 1559 , when the king of France Henry II - but here in Sarteano....
---
Roccatederighi | PALIO DEI CIUCHI | Aug. 14
The traditional Donkey Race
At one time the ciuchi (donkey) was an indispensable part of life for the citizens of this little town, and they celebrate the animal in some fun races. Official Page
---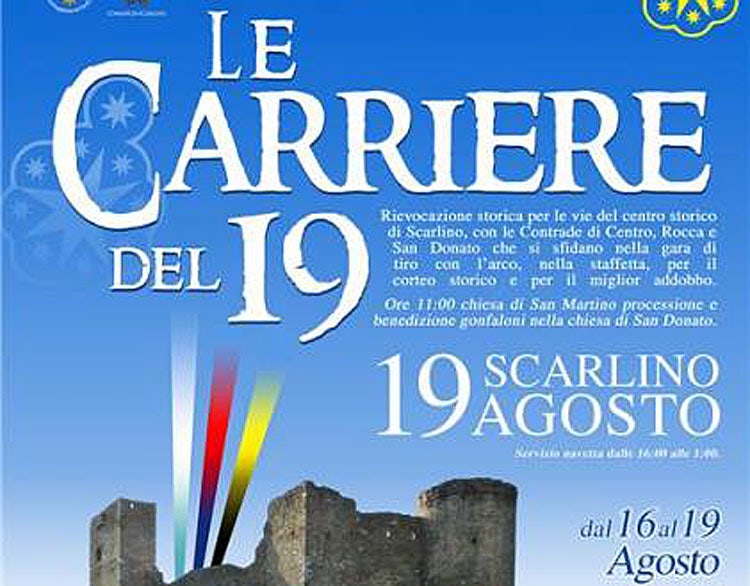 Scarlino | LE CARRIERE DEL 19 | Aug. 19
Celebrate with the locals the emotions of yesteryear
Colors, fragrances, lights and fun! All this and more will fill the historical center with people dressed up in ancient and traditional costumes, musicians and drummers, and 4 athletic competitions between the local contrade. Official link
---
Pescina | SAGRA DELLA SCOTTIGLIA | Aug. 5 - 13
In the small little town of Pescina - Seggiano (Grosseto) there is a special food festival featuring a traditional recipe of mixed meats in a rich and hearty red sauce. Bring your appetite for August 10 celebration of the Patron saint of Pescina!!
---
Marina di Castagneto | BOLGHERI MELODY FESTIVAL | Aug. 7 - 24
An enchanting area. The beachside town of Marina di Castagneto (Livorno) remembers the past, while celebrating with a series of live performances and concerts, classical music, cabaret and dances aimed to create a thematic leitmotiv between culture and shows, wine and food tradition with tastings of local specialties.
---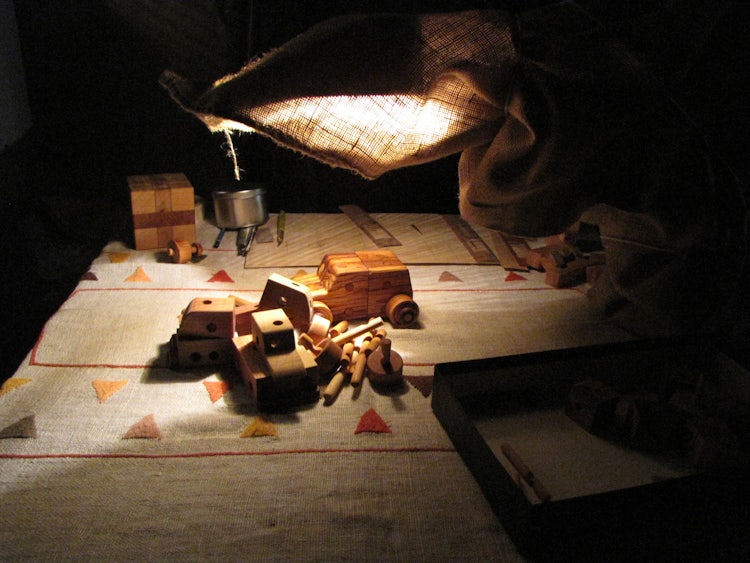 Campiglia Marittima | APRITIBORGO | Aug. 11-15
During the course of 5 days, the entire village of Campiglia (Livorno) turns into an open-air live theater with street-artists performing with music, dancing and amazing traveling shows that will leave you laughing at their captivating creativity. There will also be a handicraft market and the favorite "via del gusto" (the road of flavor) where you can enjoy local products along the way.
Official link
---
Campiglia Marittima | CALICI SOTTO LE STELLE | Aug. 10
All of Italy will be watching the skies and the falling stars in this period, but Campiglia Marittima (Livorno) will do it while tasting the best flavours of their area with music and activities.
---
Marciana (Elba Island) | PALIO DI SANT'AGABITO | Aug. 18
A special celebration on the Island of Elba will give life to games and competitions among the local districts in a sort of training to the final game. The final game is called the " Ciocco run" (ciocco means yule log) where they carry it around the town on an obstacle course, pitting strength and wits against one another. Official Website
---
Montemerano | SAGRA DELLA TRIPPA | July 29 - Aug. 8
An acquired taste for sure, but the locals will tell that once you have tried it (tripe) you will never get enough of this classic dish in Tuscany. Read more about this recipe here: Trippa & Lampredotto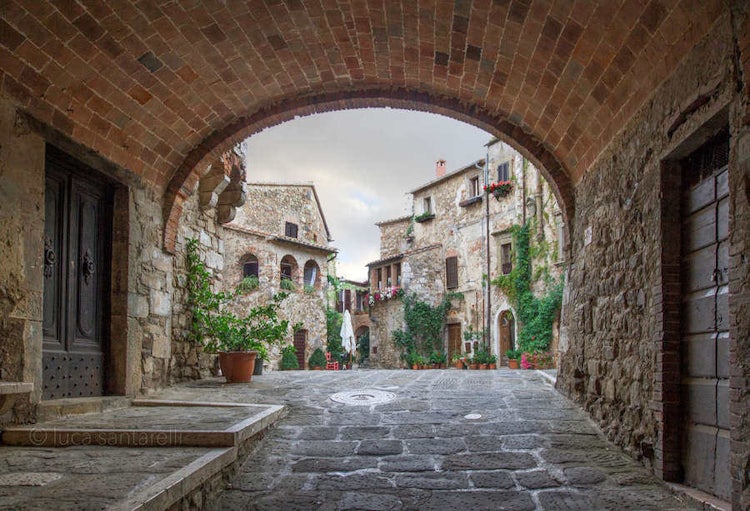 ---
Volterra | VOLTERRA 1389 | 3rd and 4th Sunday in August
Antique Fun, Food, Games, and even the Money in this historical reenactment
The city will be animated by fiery war-horses, fearless knights, noblemen, ladies, artisans and merchants, common people and peasants, flag wavers and crossbowmen, musicians and jesters....if by magic they will bring back the mysterious and magic Middle Ages to Volterra. Official link
---
Pomarance | POMARANCE IN PIAZZA | July 12, 19 & 26 / Aug. 9 & 16
An itinerant festival that winds its way through the historical center with road artists, music, theater and dance performances, handicraft, picture and photo exhibitions, dinners organized by local restaurants and farms, from 6 to 12 pm. Official Website & Program
---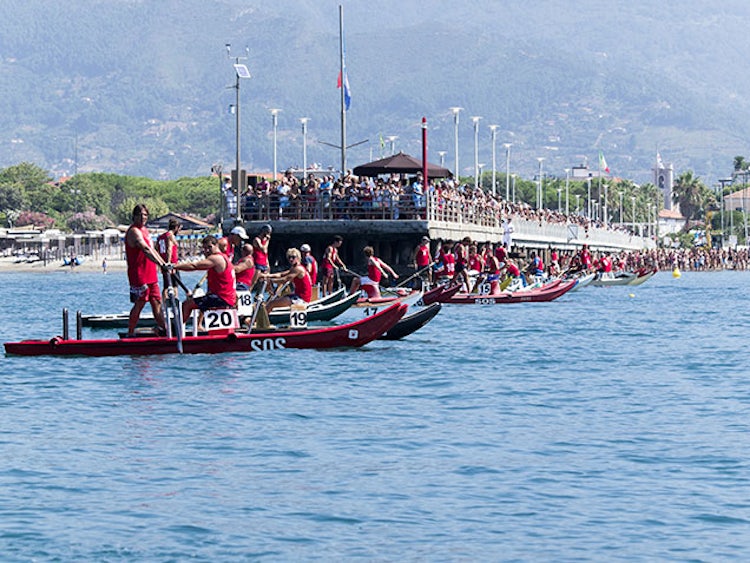 Forte dei Marmi | PALIO DEI BAGNI | Aug. 21
Lifeguards - save a life
Over 25 years of celebrating a skill set particular to the coast - and nothing to do with medieval battles . . . this event is totally tailored to the geographical area (the beach!), The palio pits lifeguards against each other to show off their skill and "bravura" ! This is just another great reason to visit the beautiful sandy beaches at Forte dei Marmi.
---
M. Carrara | GIOSTRA DELLA QUINTANA CYBEA | Aug. 8
A magical stage for damsels and knights
The festivities actually start on the 10th of June and have their grand final in a XVI century reenactment where each of the quarters in the small city of Massa Carrara are pitted against one another with its own horse and knight.
---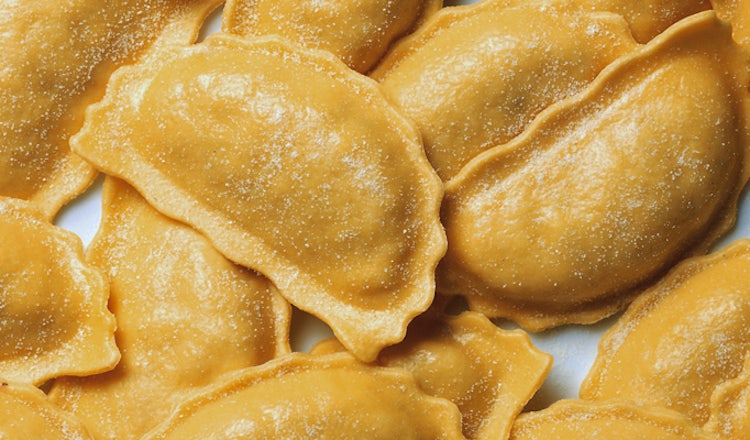 Stazzema | SAGRA DEL MAGNIFICO TORDELLO | Aug. 12-13 & 19-20
Looking for the authentic food flavors of Tuscany? Then head over to the quaint town of Stazzema for a steaming plate of hand rolled pasta filled with beef, pork, swiss chard and served with ragù...a true specialty of the area.
---
Pontremoli | MEDIEVALIS | Aug. 17 - 20
The Castello di Piagnaro transforms itself into magic
A traditional festival with wine and food stands, handicrafts products, shows with people dressed up in ancient costumes, and live performances. Official link
---
Pitigliano | SETTEMBREdiVINO | Aug. 31 & Sept. 1 - 3
Cantina & Wine cellars in Tufo
Join the amazing town of Pitigliano carved out of volcanic rock and explore their proud history of fabulous wines.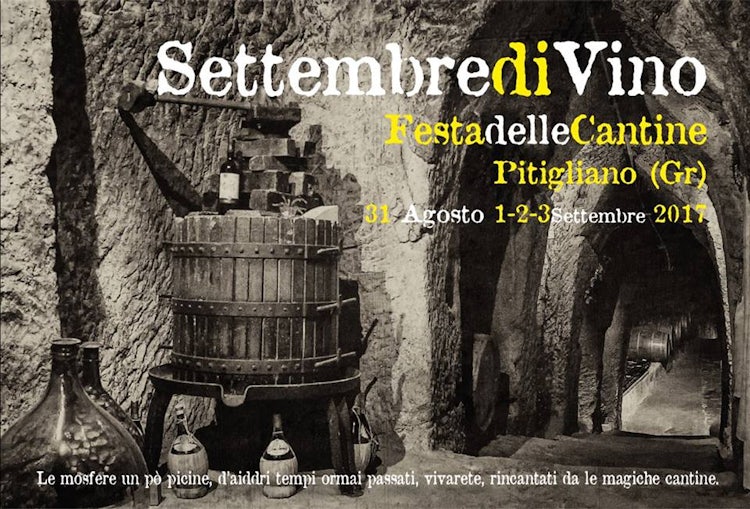 ---
Anghiari | TOVAGLIA A QUADRI | week of 15 August
Have a seat at the table and enjoy the show
A festival that evokes events and characters from the past belonging to the culture and traditions of Anghiari, narrated by the locals through wise, funny and sometimes irreverent stories, music rhymes and Tuscan sayings. The public will have the chance to taste the culture of an amazing and mysterious place savoring the flavors of the delicious local recipes, all served with good wine! ;-)
---
Badia Tedalda | PALIO & SALITA DIVINA | Aug. 12
the black monks of San Benedetto in the hills of Arezzo
This festival will have you picking sides as you watch the traditional horse tournament to win the Palio (a cloth banner), it is a special path along the historical center during visitors become immersed in another time.
---
Montecatini | INCANTO LIBERTY | Aug. 12 - 15
Magic of the Races
Travel back to a time of carefree abandon, the time of "Liberty" and undeniable elegance: the carriages, the horses, the jockeys, the walks and dinners all in the unforgettable Liberty Style. Official link
---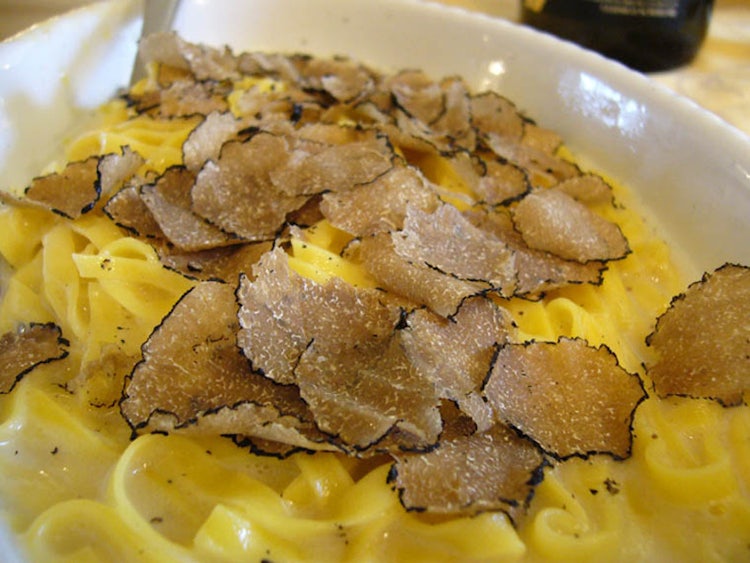 Chiusi della Verna | SAGRA DEL TARTUFO | Aug. 13-17
Truffles from Chiusi della Verna in the province of Arezzo and in the hills of Casentino, this culinary specialty will delight your tastebuds for sure.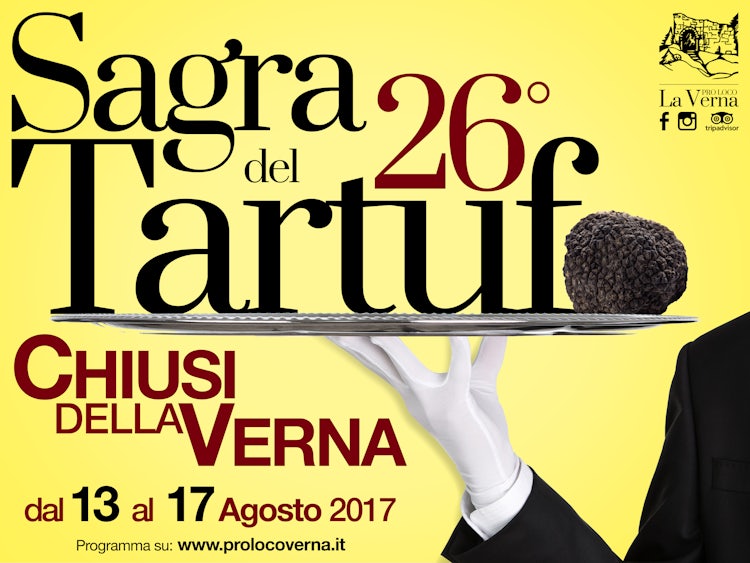 ---
Corezzo | SAGRA DEL TORTELLO ALLA LASTRA | Aug. 12-14
This is absolutely not to be missed if you are in Casentino this August. These tasty super sized potato filled ravioli were traditionally cooked on a heated stone but now they are grilled on a "lastra" or sheet of heated metal ... definitely one of a kind!
Venturina Terme | BAVARIA FEST | Aug. 25 - Sept 10
a mix of cultures
Towards Livorno, on the coast of Tuscany, the festival (Bavaria Fest) has brought Bavarian culture and gastronomy to Tuscany. As you enjoy the delights of a Bavarian styled restaurant, sipping a beer mug, you can enjoy a bit of the magic of the Oktoberfest tradition: every night Bavarian music alternates with international music, a typical German original orchestra will perform at the Beer Festival and will entertain you with cheerful Bavarian music, prosit and fun gags
---
Sansepolcro | PALIO DELLA BALESTRA | August 31 - September 10
just east of Arezzo, rich with re-enactments
A crossbow contest between the men of Gubbio and Sansepolcro who dress in medieval costumes and use antique weapons (on the last Sunday in May, in fact, the crossbowmen of Sansepolcro travel to Gubbio in Umbria for the first match of the Palio)
---