As December practically means Christmas, February has always been synonymous with Carnival, during which, as the old local saying says: anything goes! Festivals, music, colored floats and masked dancing groups of people always draw thousands of children and grown-ups to participate! Many eagerly await these moments to freely express their fantastic and original creativity, while some even plan for it all year round.
As every authentic Tuscan festival, Carnival boasts many traditional treats that are prepared only during this time of year. Many of them are sweet delicacies such as the frittelle (which are round masses of rice and raisin fried and then sprinkled with sugar) and cenci (sweet strips of fried dough) which often are made into different shapes and flavors according to the location.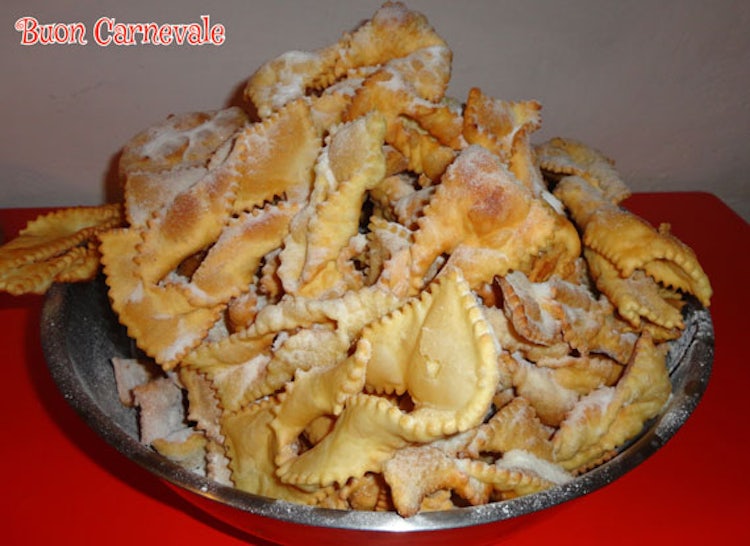 For all of you that decide to come to Tuscany in February, expect festive colored parades and fun everywhere. It is also one of the best months for visiting the region, especially our marvelous cities of art that, which enjoy the "low season" and are not crowded with waves of tourists. If you don't feel like throwing yourself into those lively masquerade processions, you can also take advantage of the tranquility that reigns over the historical centers and just spend some time visiting Pisa, Siena and Florence. Or enjoying the breathtaking panorama offered by Chianti, a wonderful choice if you are on a romantic vacation during San Valentine's Day (take a look at this article where you will find a few suggestions about what to do during a romantic holiday in Tuscany).
Continue reading to find out about the main events taking place throughout this month of February in Tuscany, divided by province: most of them will be focused on Carnival celebrations, so we've separated those into another section below.
Montmartre with its lights and shadows in Pisa
Last chances to visit the incredible art exposition dedicated to Toulouse Lautrec and its masterpieces, housed inside the one-of-a-kind location of the Palazzo Blu in Pisa historical center, a snapshot of Paris during the early 1900's. Lights and Shadows of Montmartre will be closing its doors on February 14.
Sailing to the Mount Argentario
Porto Santo Stefano, one of the most renowned localities of Monte Argentario, will be hosting the winter's 2nd round of the World Sail Championship (until the 6th of March) offering exciting shows to all sailing aficionados throughout the month of February. More info on the official website.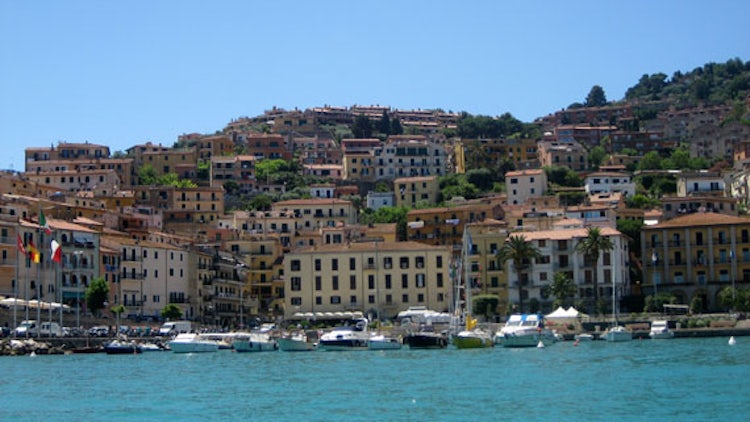 Olive Oil tasting in Prato
All of January, Prato has hosted Oleum Nostrum dedicated to Tuscany's olive oil with many events, product tastings, specialty lessons and technical workshops, all aimed at preserving and spreading olive oil culture. The rich program of events will continue until February 10.
A jump back into contemporary art in Lucca
The art exhibit housed in the Lu.C.C.A. Museum in the very heart of the walled city - De Chirico, Savino et les Italiens de Paris - is going to end on February 14, however, in this last lapse of time, you'll have the chance to enjoy a great guided visit through the contemporary history of art, seen through the eyes of some of the most eclectic and brilliant artists of modern times: every Saturday (at 3.30pm) and Sunday (10.30 am and 3.30pm), professional guides will lead you to the discovery of the social, artistic and cultural background that hides behind each and every single work of art. Entrance ticket 15 euro, free for children under 6. More info on the Museum's official website.
A toast in front of the sea in Versilia
The Una Hotel situated in front of the seaside in Lido di Camaiore - Versilia - will be housing the 9th edition of Terre di Toscana, Specialties inside the Glass, a great and one-of-a-kind wine context that highlights the best of the regional wine production. Famous labels and niche producers will give you the chance to taste some among the best wines in Tuscany on Sunday February 28 (11am - 7pm) and Monday February 29 (11am - 6pm) and guide through a sensorial trip to the discovery of the regional wine specialties. Free shuttle from and to the Viareggio rail station; fee entrance euro 25, reduced fee euro 20. More info on the official website of Terre di Toscana.
A Marathon to the discovery of the Siena territory
After the great success achieved last year, the second edition of the Ultramarathon is going to take place on February 28: a chance to explore the territory and some of the most characteristic towns that surround Siena, that last year drew many locals and tourists alike. Racers may choose to start the competition from three different starting points - San Gimignano, Colle Val d'Elsa or Monteriggioni, while finish line will be for everyone in Siena. More info, registration fees and forms on the official website.
Florence, archaeology and chocolate
For a more detailed roundup about the events taking place in Florence and province throughout the month of February, take a look at this article, which includes (to name just a few) the Artisan Chocolate Fair with chocolate sculptures and artistic creations in Piazza Santa Maria Novella from February 12 to 21 and TurismA, an international fair and congress dedicated to the promotion and development of archaeological tourism in Tuscany and Italy (Palazzo Congressi in Florence, from February 19th to 21st). If you're planning a romantic vacation in Florence, read our tips here on what to see and do in Florence to make it extra special and romantic.
Carnival, where anything goes!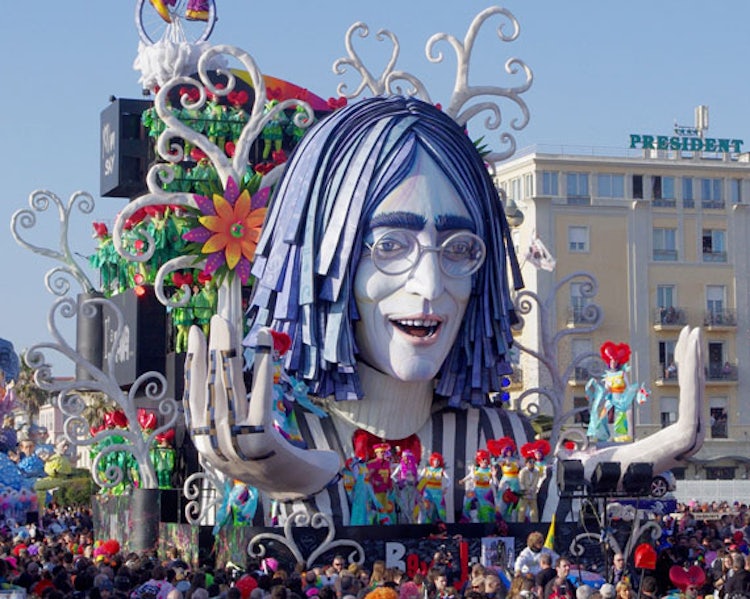 Carnival is deeply rooted in Tuscan and Italian tradition (just think of Carnival in Venice), and for this reason, most of the events taking place over the entire month are focused on Carnival celebrations which include float parades and masked people having fun and dancing to the beat of music.
Let's take a look at the main ones taking place in Tuscany, although the main one remains the Carnival in Viareggio.
Lucca and province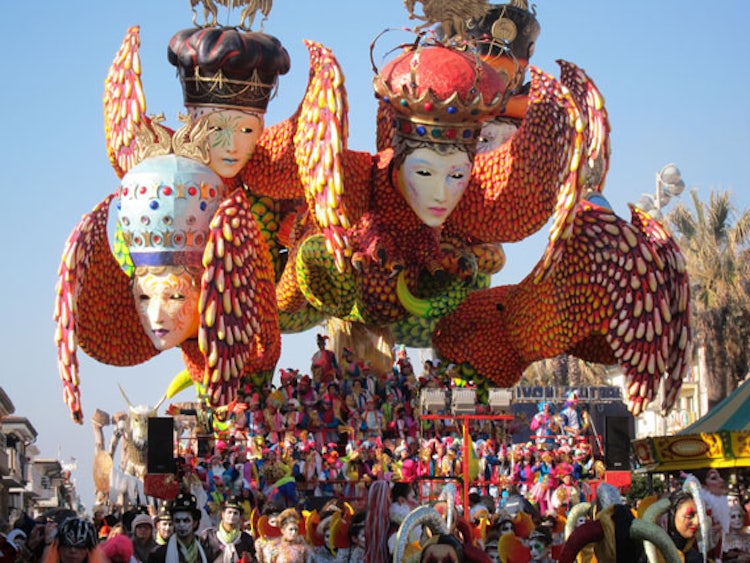 The Tuscan Carnival par excellance is that held in Viareggio. For almost 150 years, the famous sea resort on the Versilia coast has been brought to life spectacular parades. This year carnival will be taking place over the entire month of February, until March 5. The real stars of the Carnival are the allegorical majestic, huge papier-mâché floats, inspired by current events but mainly by Italian and international politics, showing off the best (ironically and satirically speaking) of our social, cultural and political scene. Political and television celebrities "participate" in the parade that takes place along the famous city promenade with their irreverent and thought-provoking aspect, swinging to the rhythm of festive music with dancers and masked people aboard the float and making of the satirical Carnival of Viareggio a unique manifestation in the regional panorama. There will also be food and sport events, theater shows and, as part of Carnival's closing ceremony, the wonderful fireworks that everyone eagerly awaits!
Moving outside of Viareggio, on January 31st (and on the consecutive 3 Sundays) the Carnevale dei Piccoli, the Kids' Carnival, will be held in Seravezza, a small village in Versilia. There will be float parades, masked groups and flag-throwing companies winding their way through the streets of the historical center, with children of all ages busy playing with streamers and confetti!
Porcari will be also home to the Carnevale Porcarese, that has kicked off on January 17 and will be running every Sunday until February 7: the manifestation, in its 37th edition, will offer entertainment for children with many events, included a funny puppet theatre, besides the coloured papier-mâché floats that will be winding their way through the characteristic streets od the town. Free entrance.
The Carnival manifestation held in Marlia is likely the most important in all the province of Lucca after Viareggio, of course, as well as the most popular among children which have the chance to get on the float that inaugurates the parade (on January 17), inspired by the fantasy world and fairy tales. Parades will be repeated every Sunday until February 14.
Arezzo and province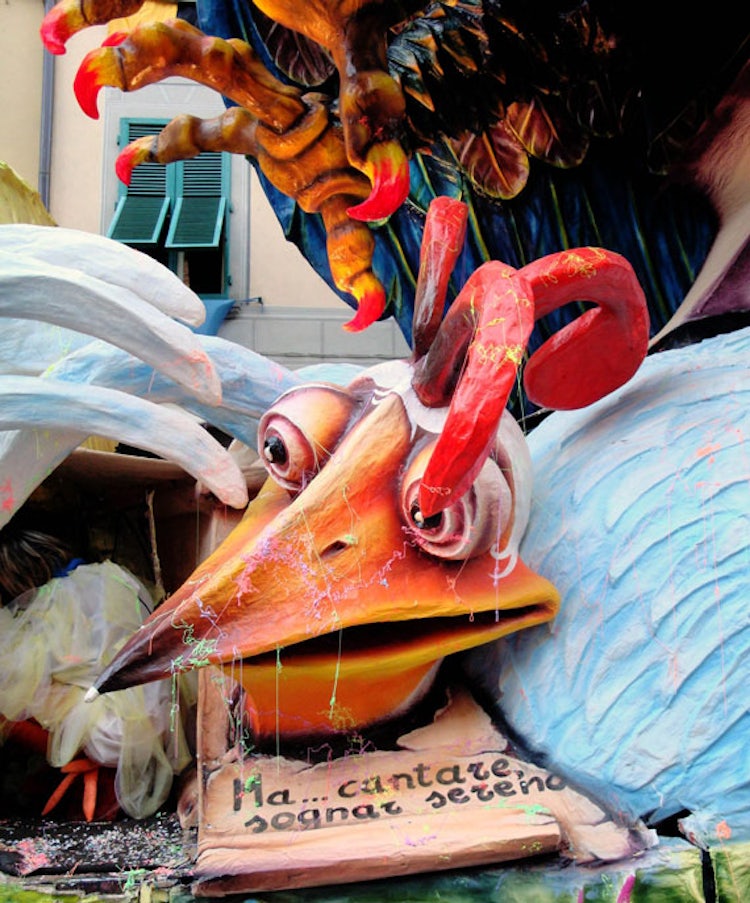 After Viareggio, the Carnival that annually takes place in Foiano della Chiana is one of the most popular in the entire region. The manifestation was inaugurated on January 31st with stands offering tastings of typical products and others showing off artistic local handicrafts. However, the first float parade will inuaugurate this year's edition on February 7th (and repeated every Sunday of February). Flagthrowers and drummers will wind their way through the streets of the town together with masked groups, colored floats and cosplayers (people that dress up as fantasy, comics or games characters and take advantage of Carnival to show off their creativity). Events, competitions, dinners with typical dishes and parades will be give life to one of the most fun events in Tuscany under streamers and confetti.
Rassina in the province of Arezzo will be home to the Kids' Carnival (that kicked off on January 24 and has been running through February 7, when the last coloured parade will be winding its way through the quaint village): fun, sweets, candies and cakes for everyone on this last Sunday afternoon. Free entrance.
Febraury 7 will be the last day for you to enjoy the Carnevale Sangiovannese (in San Giovanni Valdarno), during which all the masked figures will have the chance to take part in the traditional mask contest.
A special edition of Carnival will take place in Stia on the 31st of January and 7th of February, dedicated to the world of fantasy: comics, games, music and cinema will be inspiring all masked figures (actually, cosplayers) participating in a competition. Every character will be divided into two different categories and will parade in front of a jury who will proclaim the winner.
Another particular edition of Carnival will be held in Bibbiena, where the historical reenactment of the Mea Legend will traditionally take place on the Fat Tuesday (February 9) with people winding their way through the tiny streets of the town, dressed up in historical costumes, plus drummers and flag-throwers. Mea was a beautiful girl whose kidnapping caused a violent fight between the town quarters, finally resolved in a pacific way with a party involving all of the inhabitants.
Grosseto and province
A very original edition of a Carnival parade called Carnevaletto da tre soldi (Three-pound Carnival) will be taking place in Orbetello on February 4 (Fat Thursday) with a masked tresure hunt for kids and grown-ups, on February 7, 9 (Fat Tuesday) with a parade taking place at night, and 14 with the awards ceremony for the most beautiful mask and carnival float.
The Follonichese Carnival will be taking place in Follonica on the 7th and 14th of February with allegorical float parades running along the promenade close to the beach and food stands for all those who, after spending the entire afternoon playing and dancing, need some rest and sweets to regain their energy. Events on the program include (some have still to be scheduled) a ride competition on vintage vespas, the elderly (February 4) and the kids' Carnival (February 13), the Carnival of Friendship (February 5), a hockey and a spearfishing competion (February 7). Actually everyone eagerly awaits for the 14th, when the best allegorical float is proclaimed and King Carnival is burned in the sea.
Prato and province
Like most of the Tuscan localities, Prato as well celebrates Carnival throuhout the month of February with many parades and allegorical floats winding their way through the characteristic towns of the province: from January 31st to February 14th, Bagnolo, Oste and Montemurlo will be helding respectively the traditional floats and coloured masks parades. On January 31st and Febraury 7 Seano will be also home to the 6th edition of the Carnevale Seanese, while in Vaiano, the Vaianese Carnival kicked off on January 24 and will be running through February 7, with floats inspired to the famous cartoons Inside Out and Frozen, and another realized with drawings by all the childrens of the town. Free entrance.
Pisa and province
The Kids' Carnival in Castelfranco di Sotto is an old local tradition that has been taking place for over 50 years now. Fun and music will be bringing this small town, located a stone's thow from San Miniato, to life (every Sunday of February until the 21st and Fat Tuesday, February 9).
Vicopisano will also be hosting a Carnival manifestation with float parades, food stands and much more (from the 17th of January and for the next 3 Sundays, included the extra parade held on February 9, Fat Tuesday). No entrance fee required. More info on the official website.
Being in its 29th edition, the Carnevale Bientinese will be bring fun, music, masks and coloured papier-mâché floats throughout the all town of Bientina every Sunday from January 17 to Fat Tuesday, February 9. Orentano, another small town in the province of Pisa, has inaugurated its Carnival manifestation on January 24, with the traditional allegorical papier-mâché floats inspired to famous cartoons like The Minions. Parades will be repeated until February 21, with a special night parade taking place on Fat Tuesday, during which the "Carnival's great head" will be traditionally burned with an impressive bonfire. Free entrance.
Other Carnival parades will be held throughout the all province: San Romano and Santa Croce every Sunday until February 14, while Vecchiano will be ending the local carnival festivities on February 21.
Pistoia and province
The most popular Carnival in all the province of Pistoia will be hosted in Veneri, a small locality 5 minutes driving distance from Collodi, which draws thousands of families with children every year. The children particularly enjoy running after the colored floats as they are allowed to get on and participate in this way (from January 24th to February 7th).
Named after the famous novel Pinocchio, whose birthplace is Collodi, the Carnival manifestation held in Pescia pays its tribute to the Paese dei Balocchi - the Pleasure Island - mentioned in the novel. Situated, in fact, a stone throw's from Collodi, Pescia will be housing three consecutive Sundays of fun, music, games and entertainment in the Piazza del Grano in the very heart of the town, called Il Carnevale dei Balocchi - The Pleasure Carnival - from January 31 to February 14.
The Carnival de Valenzatico has been taking place for over 30 years now and celebrates this goal with three parades that will be winding their way through the historical center of Valenzatico (on January 31 and February 7) and Quarrata (February 14). Allegorical paper floats, masked groups, streamers and confetti for kids and grown-ups.
Siena and province
The charming and narrow streets of San Gimignano will be home to one of the oldest and most traditional Carnival manifestation ever: fun and music for everyone on February 7, 14 and 21.
Besides San Gimignano, there will be many other carnival manifestation spread out all over the region of Siena: on Sunday February 7 and Fat Tuesday February 9 papier-mâché floats and masked parades will crowd the pictoresque town of Chiusi; Montepulciano and Torrita di Siena will be housing indoor carnival parties with music and entertainment for children on February 7.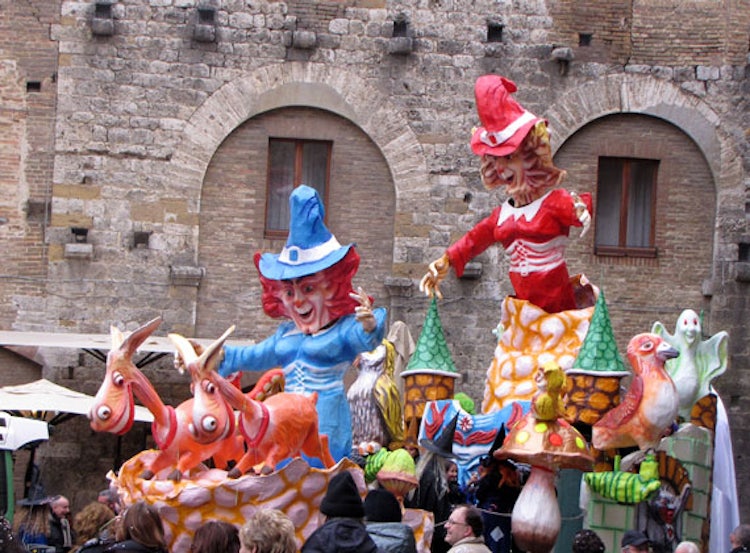 Florence and province
This article will show you a more detailed list of the Carnival festivals in Florence and province. In particular, the towns of Sovigliana (a fraction of Leonardo da Vinci's hometwon) will host Carnival from the 31st of January to the 14th of February and Signa will host its San Mauro Carnival, a folkloristic manifestation mostly dedicated to children (until February 7).
Enjoy Carnival, it's the perfect occasion to let loose and have fun! :-)