June is a Happening Month
and you don't want to miss the events & activities
The region lights up with longer daylight hours, warm temps and many...many activities. There are so many things to see and do, your head will spin trying to fit them all in. We have complied a list of the highlights that you should try and fit into your itinerary while visiting Tuscany - and if you haven't already made plans, there are still vacation rentals and apartments to be had, so check the availability and book direct with the owners for best last minute rates.
With so much to choose from, we have divided this month into a few separate calendars so you we can list more activities and so you can focus on what interest you the most:
Read through our list and be sure to take note of the day for your travels through Tuscany this June: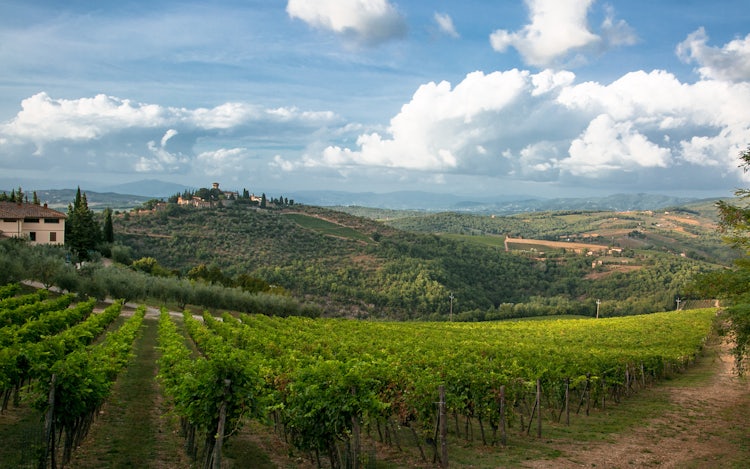 Tuscany | #DomenicalMuseo | 1° Sunday in June
A standing appointment every month
How about enjoying a bit of art, history and culture on a Sunday? How about enjoying it with free admission? Then mark the first Sunday of the month on your calendar and make note of the following State museums (and archaeological areas) across Tuscany where you can take advantage of free entrance.
Arezzo | FIERA ANTIQUARIA | June 3 - 4
The oldest and the biggest antique fair
Many years ago, Ivan Bruschi gave life to one of the oldest and biggest antique fairs in Tuscany...maybe even all of Italy. He transformed his love for the old, unique and precious into an event that fills the streets of Arezzo every first Sunday of the month and the Saturday that precedes it that month.
---
Panzano in Chianti | APRILANTE | 1st Sunday in June
Handcrafts & Vintage
We know they call the fair "April"ante, but it really goes all year round! This monthly market in the streets of this charming town in Chianti is where you will find hand crafts, vintage and delicious typical foods and all of it this is just outside in the countryside surrounding Florence.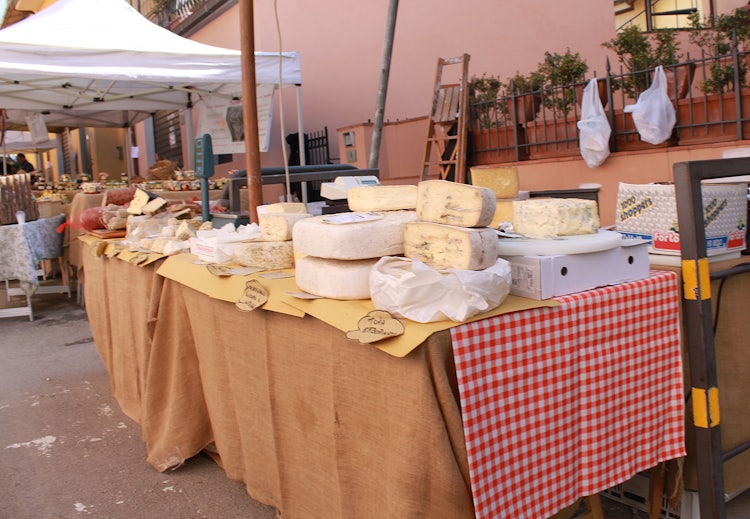 ---
Greve in Chianti | IL PAGLIAIO | Every 4th Sunday of June
Organic and Artisan Market
Piazza Matteotti is filled with locals who feature goods from their gardens, their kitchens and their workshops. Often you will find not only great bargains, but music and opportunities to do some taste testing.
---
Italy | FESTA DELLA REPUBBLICA | June 2
Italian Independence Day
The day commemorates the institutional referendum held by universal suffrage in 1946, in which the Italian people were called to the polls to decide on the form of government, following the Second World War and the fall of Fascism. With 12,717,923 votes for a republic and 10,719,284 for the monarchy, the male descendants of the House of Savoy were sent into exile.
Public transport works on a festive schedule. Many stores will be closed. Check hours in advance for museums, monuments and churches.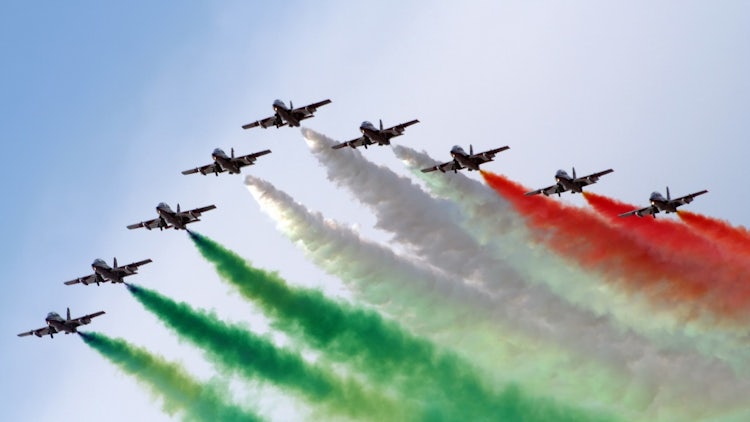 ---
Pistoia | CAPITALE CULTURALE D'ITALIA | 2017
the Cultural Capital of Italy for 2017
Celebrate together with Pistoia! Between classical music concerts, art exhibits, cultural activities, blues & jazz in the town squares and so much more, this stunning little Tuscan town is prepared to show the world their true colors when it comes to their cultural prowess. Each month they are planning over 200 events including theater, music, book presentations, learning labs and more. Check in here every month to see select highlights from the Pistoia calendar.
Pista Rossa, Seano | FESTA DELL'AREA | June 11
Great exhibition of handicraft kites by specialty artists. Official Website
Seano | LA FESTA MEDICEA | June 8 - July 2
A month long program of concerts, sagras and events in the town of Seano between Pistoia and Prato. Other Events
Piazza del Duomo | PISTOIA BLUES | June 28 - July 15
the 35th edition of Pistoia Blues coincides with the year of celebrating cultural achievements in Pistoia, and it is better than ever.Other Events
---
Radicofani | FIERA DEGLI ANTICHI MESTIERI | June 2-4
The little hilltop town in southern Tuscany will be home to a craft, culinary, agricultural and folkloristic festival that celebrates ancient, local jobs: worth a visit if you happen to find yourself in the surroundings!
---
Manciano | EXPLORE MAREMMA WALKING FESTIVAL | May 27-28 & June 1, 2 & 4
For all those passionate about nature, hiking and trekking, there's a great event for discovering Maremma and its amazing landscape. Trekking and hiking itineraries guided by environmental tour experts open to everyone and, above all, totally free will wind their way through the enchanting natural landscape of Maremma to explore some of the most interesting archaeological sites in Tuscany.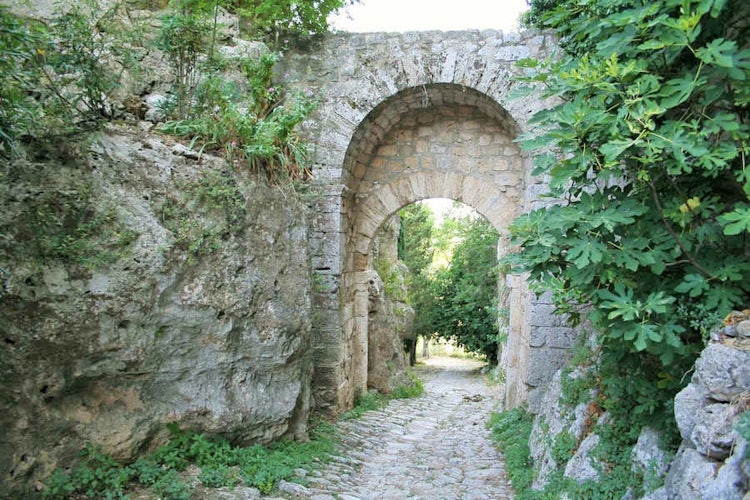 ---
Castiglion Fiorentino | FESTA DI BARBAROSSA | May 26 - 28 & June 1-4
The last weekend of May and the first of June translate, for the Rione Cassero, for Castiglion Fiorentino and for its ancient Torre del Cassero, in the BiancoAzzurra Medieval Festival. A historical reminiscence of the Medieval Festival, which grew over time to become one of the most important and renowned events in the province that has given and continues to give emotions and shows unique to an ever-growing audience, coming from both Italy and Outside, in a context in which the millennial Tower of Cassero, the ancient medieval walls and every single stone return to emanate strongly the history, traditions and culture of a place and its past.
---
Cortona | GIOSTRA DELL'ARCHIDADO | June 1-4 & 9-11
An event that is a historical reenactment dating back to medieval times, rooted in local traditions. It's a battle of crossbows among the Cortona quintieri (quarters) aimed to evoke the festivities held many years ago for the wedding of Francesco Casali (lord of Cortona) and Antonia Salimbeni, with musicians, parades in medieval costumes, flag throwers and drummers.
---
Volterra | PALIO DEL CERO | June 2
This medieval festivity celebrates 14th century local customs in the form of a joust, food tastings and finally a tug of war with a wooden tower in the center. At the end of the day the town gives homage, with votive candles, to local saints carried on finely decorated, large wooden structures.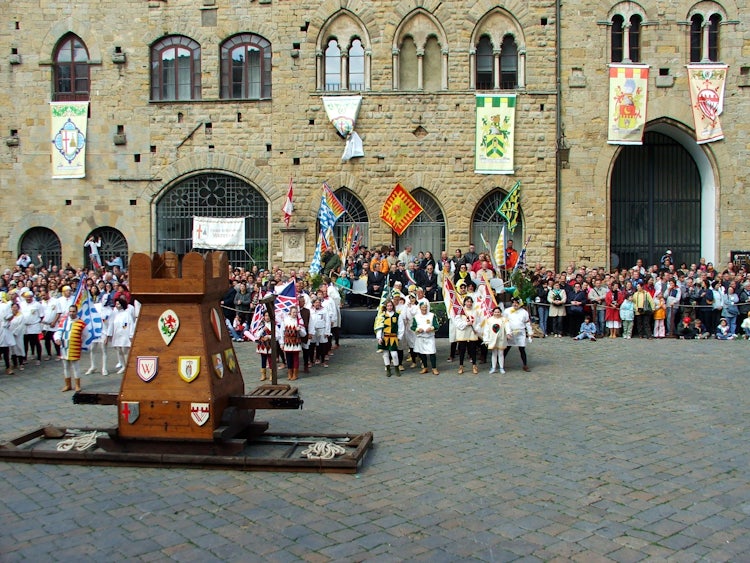 ---
Castelmuzio | BORGHI IN FESTA | June TBA
In the province of Siena this festival seems to bring the whole town together with fun, food and activity - lots of activity such as games, bicycling, music and markets. The stands open at 7:30pm and offer a wide selection of foods to choose from. Sunday at lunch there is a special menu, available only upon reservation.
---
Lamole | I PROFUMI DI LAMOLE | June 2 - 4
A little closer to Chianti Classico, well to be honest in the center of Chianti Classico, on the 4 & 5 of June is the much awaited event "I Profumi di Lamole" where the producers of quality wine set up house in the small square in front of the church for a small but select wine tasting. Located in the hills above Greve, this is an event not to miss.
---
Magliano | TRA MURA e ALBERI MILLENARI | June 3
Thousands of years to explore in this area of southern Tuscany and this is the perfect journey through time and the territory to introduce you to ancient walls, languages and monuments...guided by a Narrator of the Territory
---

Carmignano | LA MEDICEA | June 3
The 5th edition of "La Medicea" and will start, this year for the first time, in Carmignano. The event winds along three paths partly on "white" roads, on the plain between the hamlets of Prato and of Pistoia, offering the discovery of the many Medici villas and the most striking landscapes. Vineyards, olive groves, small towns and more form the backdrop for the colorful caravan of vintage cyclists.
---
Poggibonsi | VESTITA DI LUCE | June 8
unfogetable, the Rocca di Staggio will put on a summer show, with a cape of lights to illuminate its stone walls and looming towers. Reserve your place for a detailed and entertaining tour of the castle, once a power to be reckoned withndue to its position on the via Francigena..
---
Chianciano | DU' PICI SOTTO LE STELLE | June 9
Celebrating the delicious "pici" pasta, the Amatori Pici Chianciano club are preparing a feast in Piazzolina dei Soldati in the historic center of Chianciano "Dù Pici sotto le stelle." This hand rolled pasta made of flour and water is traditionally served with a yummy meat sauce and once you taste it you will be caught! P.S. they are even making Celiac friendly pasta.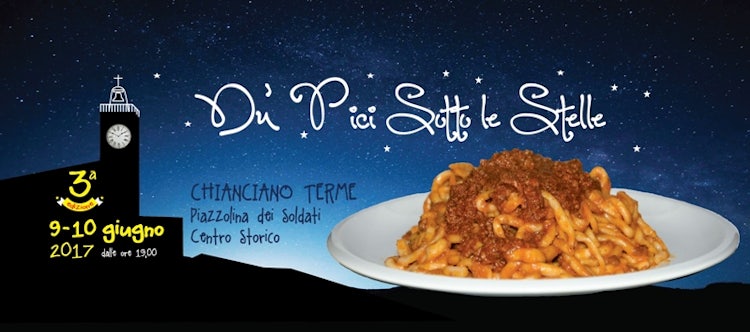 ---
Manciano | STREET MUSIC FESTIVAL | June 9 - 11
With street parades and live folkloristic concerts that will fill the air of the quaint village with a festive and joyful atmosphere. There will also be stands with culinary products and some of the greatest of local artisanal wonders.
---
Prato | EATPRATO | June 9-10
The emotion of eating good foord, this festival is dedicated to local products, from the wine from Carmignano to biscotti to mortadella. Tastings, cooking shows, and guided visits.
---
Bacchereto | SAGRA DELLA CILIEGIA | June 9 - 11
A small fraction in the province of Prato near Carmignano, an area renowned for the production of high quality wines, will host the Cherry Festival: a whole weekend dedicated to this tasteful fruit, during which visitors will have the chance to try out many variations of recipes, including fried cherries!!
---
San Miniato | NOTTE NERA | June 10
Another type of contest will take place along the tiny streets of San Miniato, starts on June 11 with the Notte Nera, celebrating the black summer truffle filling the quaint village with games.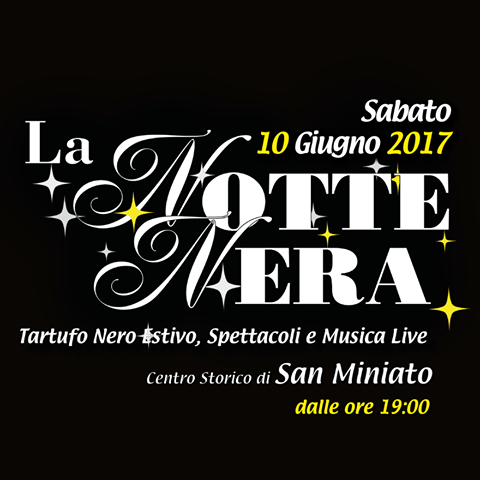 ---
Pienza | INTERNATIONAL MUSIC FESTIVAL | June 10 - 24
This festival started in 2015 and has grown in success and importance ever since. Set in the city of Pope Pius II and the place where the concept of the Renaissance was born, not to mention that it is also a UNESCO World Heritage Site, Pienza creates a magical and unique stage for a mucic festival. But wait - there's more: great food (cheese), drinks (wines), and great artists.
---
Pitigliano | SULLE TRACCE DEGLI ETRUSCHI | June 11
Excursion from Pitigliano to Sovana, along an old millennium track. We will walk through the most suggestive Etruscan quarries, through woods and sacred areas whose secret has not yet been unveiled ... a day in contact with Nature and History.
---
San Quirico | FESTA DI BARBAROSSA | June 14 - 18
Also known as "Il Bianco e L'azzurro" (The white and the Blue in English) will be evoking the ancient Medieval times in San Quirico through parades in historical costumes, musicians, flag throwers and drummers, but the most eagerly awaited event of the manifestation is the murder mystery dinner, during which diners are invited to solve the murder as they eat typical medieval dishes with wood knives, forks and spoons.
---

Pisa | SAN RANIERI | June 16 & 17
A brief presentation of the events here: the Luminara takes place on June 16 when the city from sunset onwards is lit up with over 70,000 candles along the Arno river. It's a very suggestive and enchanting spectacle to see, especially as the city reflects on the water of its river. At the end of the manifestation, a fireworks show lights up the dark sky, always leaving every visitor happy. Pisa celebrates its Patron Saint, San Ranieri, on June 17 with a series of events and manifestations that attract every year lots of tourists and people coming from the nearby locations as well, filling the air with a festive and joyful atmosphere. The three most important events of the festivities for San Ranieri are the Luminara, the Regatta and the Battle of the Bridge.
---
San Gimignano | FERIE DELLE MESSI | June 16 - 18
For 3 days, San Gimignano travels back in time to celebrate the traditional Ferie Messum, a fertility festival that dates back to 1255. The whole population takes part in which the four "Contrade" of the town - San Giovanni, San Matteo, Castello and Piazza - compete against each other in traditional games in honor of fertility. They hope to obtain abundant harvests through singing, dancing and playing medieval games such as tug of war, archery and the "Giostra dei Bastioni" where the knights compete against each other armed with sticks. San Gimignano is a spectacular medieval village, you won't be disappointed to visit during these special days.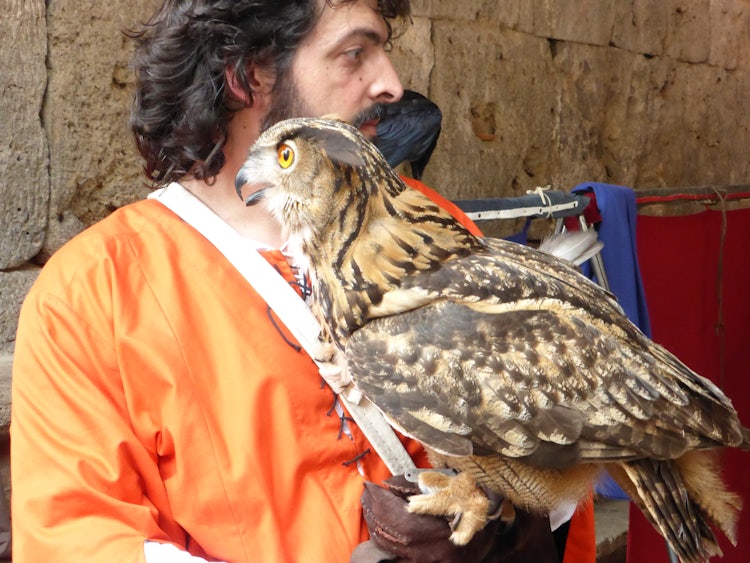 ---
Arezzo | GIOSTRA DEL SARACINO | June 17
The Joust of the Saracen. The historical reenactment of this knightly tournament is one of the major annual events for Arezzo, luckily happening twice - in June and September. If you're here then, don't miss this event - in June, it is held in the evening.
---
Chiusi | PALIO DELLE TORRI | June 23 - 25
Inside the picturesque town of Chiusi, a large camp from the end of the 1300s is rebuilt, where musicians, theater companies, fire dancers, knights, bands, warriors and archers will immerse you in a never-ending whirlwind of shows and artistic events fr an unforgettable journey in the stories of the past.
---
Florence | SAN GIOVANNI | June 24
Calcio Storico in front of Santa Croce
The Calcio Storico Fiorentino is a combination of soccer, rugby and big time wrestling originated in 16th century Florence and played today in historical costume. The four teams of the historical neighborhoods of the city play against each other, first in two semi-finals and then the final match to determine the winner. The playoffs are done and today is the big day. In honor of St. John, the patron saint of Florence, not only does the city declare a holiday but the final game is to be played.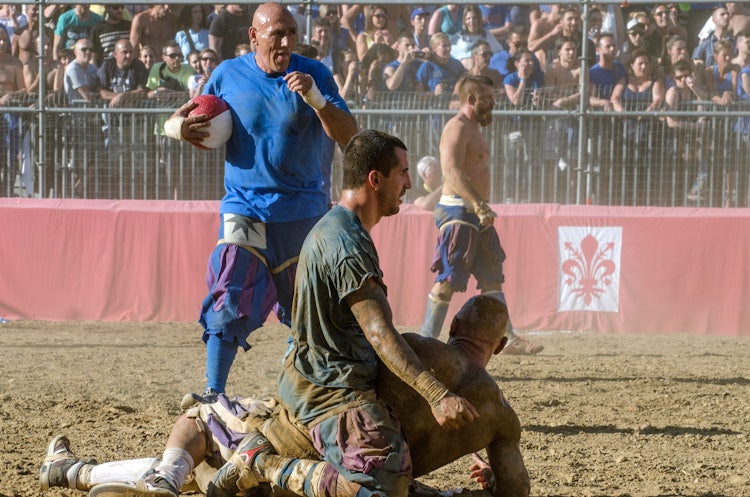 ---
Monteriggioni | DISFIDA DELLA VAL D'ELSA | June 24-25
Historical reconstruction of the Battle of Colle Valdelsa including a cavalry tournament between Monteriggioni and Poggibonsi, with knights in armor. Fair/market, artisanal crafts, military camps, hunting with falcons and the ancient flavors of medieval cuisine.
---
Peccioli | TUSCANIA FESTIVAL | June 24-25
The medieval streets of Peccioli will be filled with artists, musicians, performs and their ideas. This is the Tuscania Festival, a super festival celebrating "creativity", a special event in Tuscany where everyone is invited to add to the fun.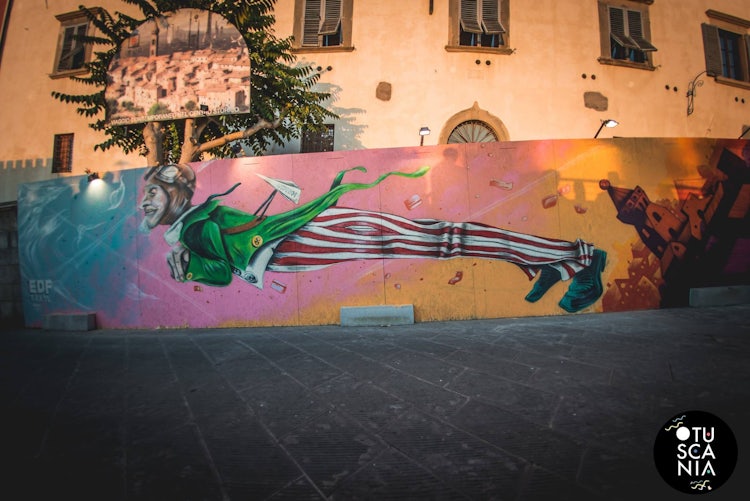 ---
Pistoia-Abetone | ULTRAMARATONA | June 25
The lofty heights of Abetone are a challenge not only in winter when the slopes are covered in white, but also in June when the moutains call those with stanima and willpower to run out a marathon of 50 km!! (needless to say, most of it uphill) This is only for the brave at heart.
---
Pisa | GIOCO DEL PONTE | last Sunday in June (25th)
This where the heart and soul...and brute strength show up in Pisa. This game of power has been passed down through the years and the population of Pisa shows up faithfully to support their colors. Read our article to lean more about this event.
---
Camaiore | SAN PIETRO FESTIVAL | June 26 - 29
In province of Lucca, immersed in a marvelous landscape with the impressive Apuan Alps, the San Pietro Festival is dedicated to "buona e sana cucina casalinga toscana" - the good, healthy home cooking of Tuscany, with three different menus proposed: the Abbot Menu, the Pilgrim Menu and the Monk Menu.
---
Torrita | BLUES FESTIVAL | June 29 - 30 & July 1
Make blues not war
How about changing the world with a bit of the blues? The Torrita Blues Festival with music and dinner in piazza featuring concerts by Hot Shanks Blues Band and Mike Zito.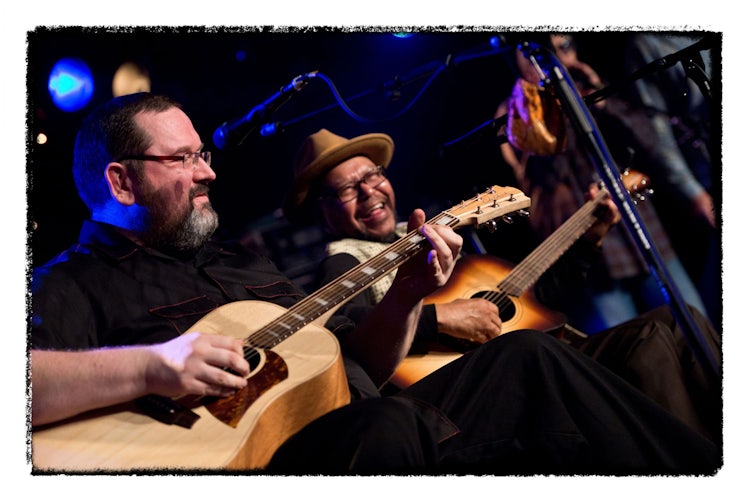 ---