A City & Territory made for Slow Travel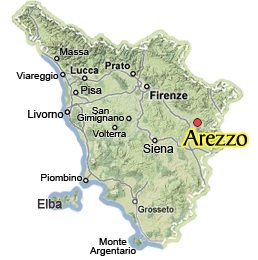 Arezzo, located in southeastern Tuscany, clearly visible on a hilltop at the crossroads of four valleys: the Val Tiberina, Casentino, Valdarno, and Valdichiana. An important player in the history of Tuscany you will find that the area houses many artifacts, in fact, its ancient origins are verified by the stone tools and the so-called Man of the Elm who was discovered here, dating back to the Paleolithic era.
The original foundation of the city was Etruscan, Aritim, and dates from around the 9th century B.C. It quickly became one of the most pivotal centers in Tuscany, playing an important role over the centuries due to its strategic position along the Roman Via Cassia.
Arezzo boasts a wide range of sites to see including fortresses, monuments, churches, and museums which all offer visitors a chance to step back into history. There are even the remains of a Roman amphitheater!
The Church of San Francesco is probably the most famous in Arezzo, with the incredible Early Renaissance fresco cycle by Piero della Francesca depicting the Legend of the True Cross. Followed by the impressive Piazza Grande, where they hold a jousting matching twice a year. Be sure to include the newly restored Medicean Fortress, and a visit the Cathedral dedicated to San Donato, as well as the Church of San Domenico with the wooden Crucifix by Cimabue. For more ideas, take a look at our suggested itinerary for a day in Arezzo from top to bottom.
Arezzo has much to offer although it generally is not included in the main itineraries of Tuscany. It will provide its guests with an authentic view of a city in Tuscany which has maintained its traditions, its architecture, and its beauty. After you have explored the city of Arezzo, you can enjoy several day trips to the many nearby cities, like that of Cortona, Anghiari, and Poppi. For those who are curious about the talented artist, Piero della Francesca, you will absolutely enjoy following his footsteps in Arezzo. Drive along the route of the Setteponti or stop in the countryside for a wine tasting experience.