Renowned for the beauty and variety of its sea beds, Elba boasts an extraordinary richness of marine flora and fauna. Among rocky outlets and sandy sea beds, there are green posidonia, red gorgonians, black coral and sometimes the rarest of red coral. You'll find all the fish that are characteristic of the Mediterranean: eels, groupers, dentex and blue fish, starfish, shrimp and lobsters, including the rare sunfish.
Capo Sant'Andrea and its immediate surrounds are a paradise for snorkeling. Here, away from the ports and crowded beaches, underwater nature is expressed at its best. In the bay of Sant'Andrea, a large carpet of posidonia is home to colorful shoals of fish and the entire rocky coastline from Cottoncello to Marciana Marina provides beautiful inlets and sea beds rich in fish. Among the best places for snorkeling, we recommend you go to the rocks of the Ogliera where a wide variety of rare species live, including Mediterranean amberjacks, rock fish and even lobsters. For those that love exploring shipwrecks, I suggest you go just off Pomonte, at a depth of only ten metres, to admire a merchant ship sunk in 1972.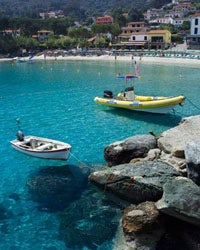 To the south of the island, you should go to Punta Fetovaia to see its red gorgonians, the caves at Capo Fonza and, beyond Capoliveri, the rocky prominence of Corbella where you'll find anemones, octopus, scorpion fish and crabs. Near Capo Calamita you'll find the flowery seabeds of Gemini, home to yellow and red sea daisies. Continuing to the southeastern side to Punta Cannelle, you can admire the coral among the Picchi di Pablo and, during the hottest months, the sunfish among the black stones at Capo Caldo.
Elba is certainly a paradise for snorkeling lovers. Even if you haven't tried it before, once you're in Elba and see the beautiful clear blue water you'll have an itch to see underneath. Definitely give it a try, snorkeling is open to everyone and requires minimum equipment and it will be very hard to ever regret it. If you want to enjoy more exclusive itineraries, I recommend you contact one of the numerous fully equipped centers providing guided excursions to discover the beauty of Elba's submarine life.
We thank Hotel Ilio Isola d'Elba for photo and text contributions.

View photos of Elba! »