Much more than just a cooking class, an experience you'll never forget
When Elena first saw Borgo Argenina, it was love at first sight! You will also fall in love when you catch that first view of the group of five stone homes at the crest of the vineyard-covered hills in this part of Chianti, and the feeling will be confirmed once you arrive, are welcomed by Elena and settle in into your Chianti "home".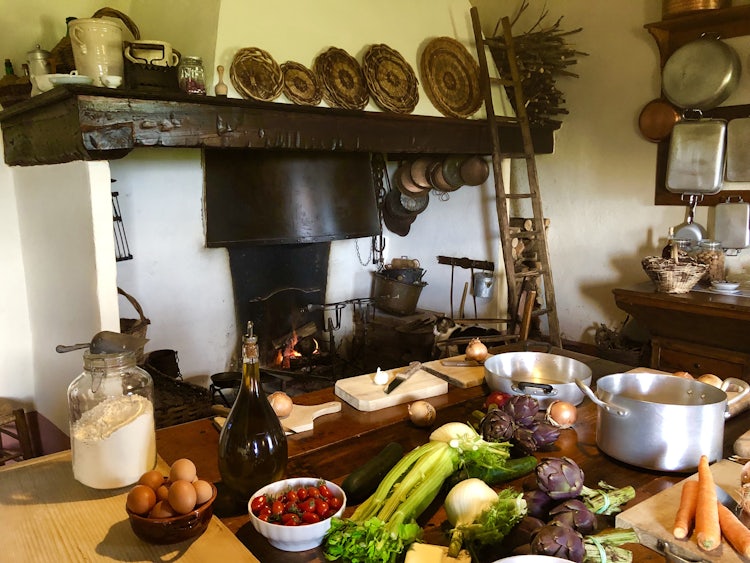 Staying right smack in the middle of the Chianti Classico wine region is a truly spectacular experience, and it only gets better if you add in cooking lessons with Elena. Cooking in the spacious Tuscan kitchen, with the stone fireplace to the side, is one of the best experiences past guests rave about online (all you need is start reading some reviews on TripAdvisor to have this confirmed).
Book your stay and class now »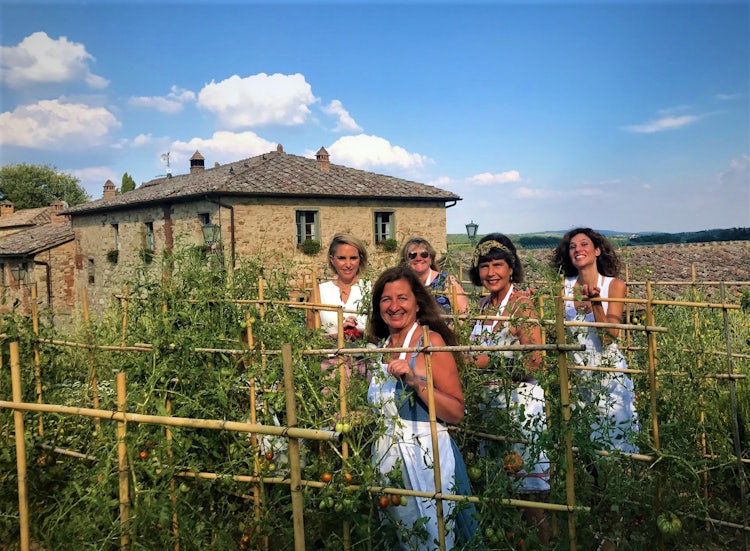 Elena's wonderful B&B Borgo Argenina, whose origins date back to the year 998 AD, is set in the hills of the world renown region which draws guests from all over the world, located between Siena and Gaiole in Chianti. Guests that want to relax and soak in the Tuscan sun, enjoy the region's fine wines and delicious food. You will do all that at Elena's place, as she recommends her favorite places in the region, often ones you won't find in the main travel guides. This includes wineries and restaurants nearby, as well as further afield. The hamlet is composed of 5 buildings, 3 of which are private villas to host from 3-5 people, perfect for anyone looking for privacy as well as their own kitchens to prepare meals. The main building hosts the B&B, where 5 spacious bedrooms perfect for couples share common areas and where the large Tuscan kitchen is located.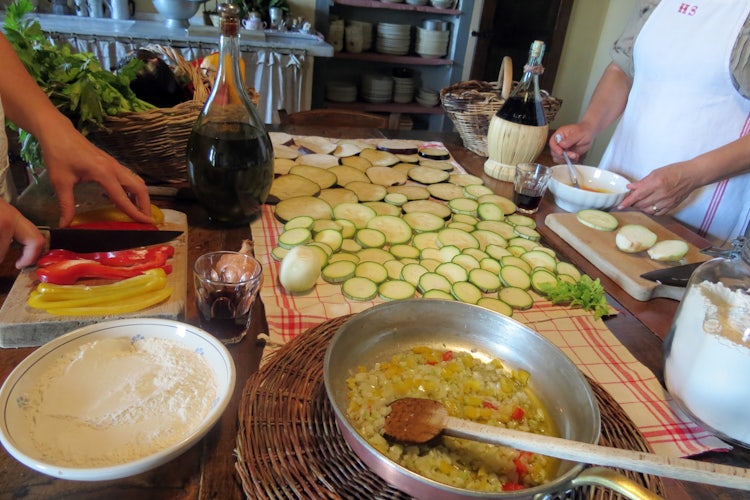 Cooking Class with Elena Summary
Cost: €75 per person
Group: max around 8 guests
Class is offered only for guests
Here is where some of the best magic of Borgo Argenina takes place. Elena's hospitality combined with her family recipes make for the best and most memorable experiences of every guest that has come in through her door. The fact that Elena loves to share her love for Chianti and Tuscany comes out here, where she shares recipes she has gathered from various phases of her life and of the women and mothers she has met. From her own mother to neighbors and friends across Italy. It will be your turn to take part in this timeless sharing over food, learning how to make delicious food and share them with those around you, recreating them back home to share with your own friends and family.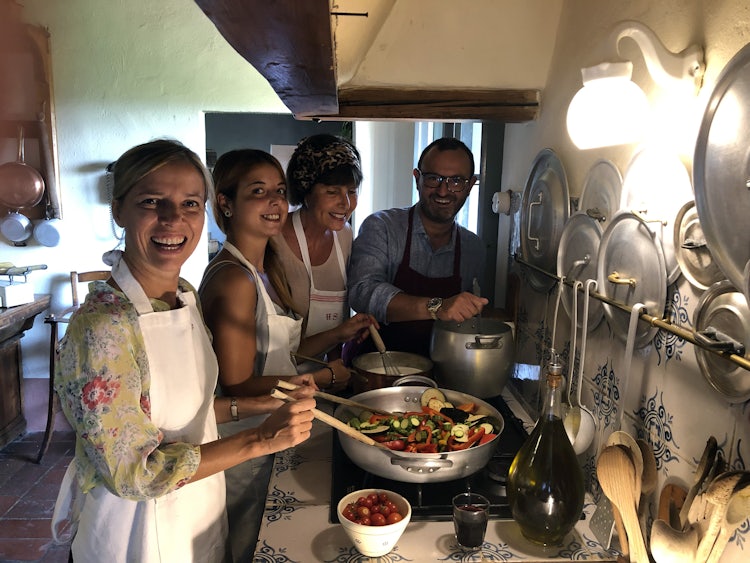 Over a glass of Chianti wine on arrival, as Elena checks in guests and offers a special map with itineraries and ideas of what to see in the area, she also discusses the menu planned for the class. With views of the vineyards out of every window, you can learn how to make classic favorites such as fresh pasta, tiramisu and chicken cacciatore. Or risotto and lasagne bolognese. You will make the sauces to go with your fresh pasta as well, of course. You receive a book with her recipes from the start, to take home with you. The classes are always in the afternoon and the fruit of your labor is enjoyed all together around a family table for dinner. This way you can spend the mornings out exploring the area, then return to your home base and enjoy an evening in. You can either dine outside on the patio watching the setting sun when the weather permits it, inside near the warm fireplace when it doesn't. Making fresh pasta is always the center of the class, as everyone enjoys learning the secrets of perfect pasta…. Who doesn't love pasta? Unlimited Chianti wine while everyone cooks, of course!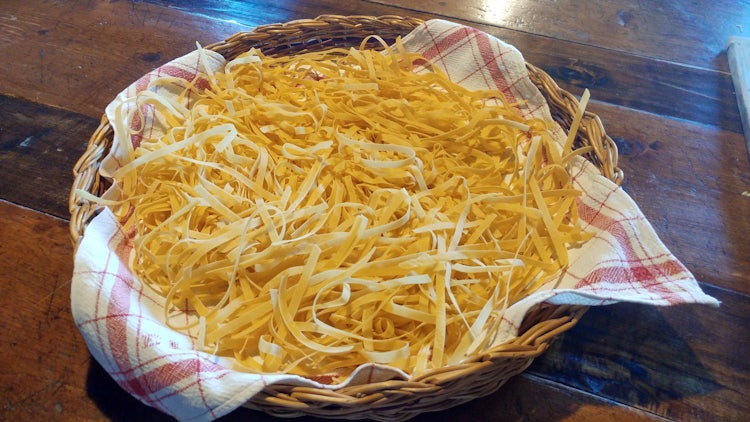 In the summer and fall, the class is preceded with picking fresh vegetables in the garden, in order to show how fresh ingredients are a central component of Tuscan and Italian dishes. Elena becomes the "Italian mamma" for all those that love pasta and ragù or lasagna and would love to learn how to make the original dishes that are loved across the world. The menu always includes the pasta dish, a main dish and side, dessert and lots of wine!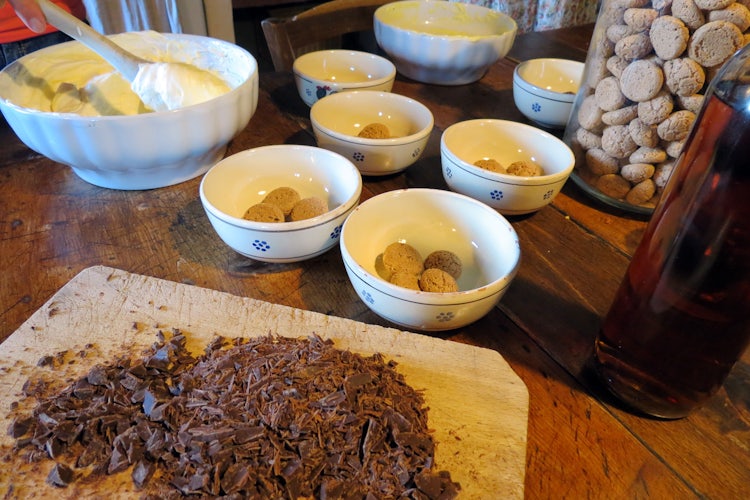 Elena's cooking class brings together her guests, strangers in the morning and often times friends by the end of the day. If you'd love to enjoy the incredible sunsets, amazing food and learn some cooking skills you might not know you were missing, then make sure you book the cooking class at the same time you book your stay. It will be one of the highlights of your stay at Borgo Argenina.
If you're not convinced, you can wait to confirm the cooking class until you arrive but don't delay and miss out! While Elena will always try to accommodate everyone to ensure her guests are happy, she does like the groups to remain small so that everyone gets to know each other over the course of the afternoon :-).
Book your stay and class now »