Tranquility in the Heart of Tuscany
The traditional Tuscan farmhouse Il Casolare di Libbiano greets you with the sweet fragrance of home, and the whisper of pure relaxation and tranquility calls you to venture within the gardens. The B&B style rooms, with charming views over the San Gimignano landscape were attentively designed by Andrea and Berta, the owners, to embrace their guest in a warm Tuscan hug. The fenced in garden and lovely pool complete and the surrounding buildings, with their warm colored sandstone walls are pure delight.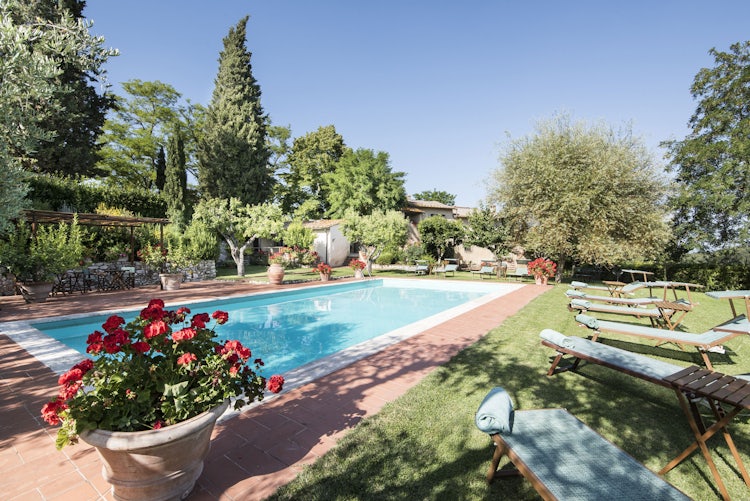 Book Direct with Il Casolare di Libbiano
Once you pass through the gates of Il Casolare di Libbiano, the atmosphere that Andrea and Berta have created over the years, will softly step up to greet you. You will find that time slows down just a little bit as you wander the rooms filled with local artwork, nooks for reading, and even the on site restaurant, which will tempt you with home cooked deliciousness.
Berta is not shy or bashful; she is pure energy. Exuberant and curious. Andrea on the other hand may appear a bit more reserved but as soon as you spend a bit of time talking with him you recognize the same energy, curiosity and you will find his information about the area priceless as you plan your itinerary. Their sparkling personalities and enthusiasm, are the bases for the open and refreshing environment which is to become your home while on vacation in Tuscany.
Bringing Tuscany to Life
Growing up around antiques, Andrea is skilled at refurbishing and bringing to life old and abandoned furniture. With the same care and passion he expanded his horizons and tried his hand at polishing up the farmhouse Il Casolare di Libbiano, giving it a bit of sparkle and shine. His idea was to open the doors to this exquisite piece of Tuscan history to guests, especially those who are truly curious about Tuscany.
As you move through the various floors you will note the different levels, secret corners and creative way he incorporated the original architectural accents into each room. The bedrooms, inviting and distinctive, are like pieces of a puzzle, each with a different perspective of the interior and the gardens. As you look out of the screen covered windows, each room highlights something special about the landscape.
Berta, originally from Madrid, confided: "this was Andrea's dream and I admit, my friends and family thought I was crazy. But..." She paused for just a moment with a sweet smile. "I followed him across the sea to share it with him. And I am loving it."
Not just the rooms but all of the areas at Il Casolare di Libbiano were planned to create a space to live not just your holidays but new emotions. And with this, it was their decision to leave technology outside the bedrooms. Wifi service is available in all the common rooms, including the dining terrace and the spectacular sun patio near the pool.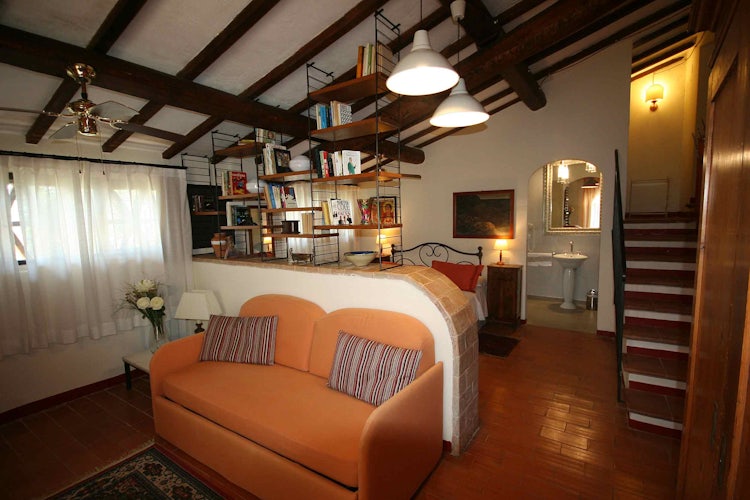 Their intention was clear, Andrea and Berta wanted to offer their guests the perfect excuse to put set aside technology in the bedrooms and give them the opportunity to relax and enjoy the beauty of their home.
A Review of Il Casolare di Libbiano
We loved: the special decor, modern bathrooms and brilliant splashes of color. It was unusual but seemed like home
Ideal for: anyone searching for absolute tranquility (couples, singles & families with children). Definitely a place where you can relax, explore Tuscany and come home to delicious meals
Follow Your Nose to the Kitchen... and learn their secrets with a cooking class!
Berta, besides her passion for adding color (to a tray of snacks, a garden table or a conversation), will take you on a cultural journey in her kitchen. And, really, who better than someone who took the same path herself when she arrived from Spain to be with Andrea? Her curiosity for the Tuscan countryside and its true "sapori" or flavors have taken her into many kitchens to learn the secrets of some of the most classical dishes in the area that she now shares with her guests with cooking classes directly at the B&B!
When we were out at a restaurant or the home of friends I would taste a dish, and fall in love with the flavors. I wasn't shy about asking the chef to share their secrets with me! And I love that I can return the favor and share with my guests.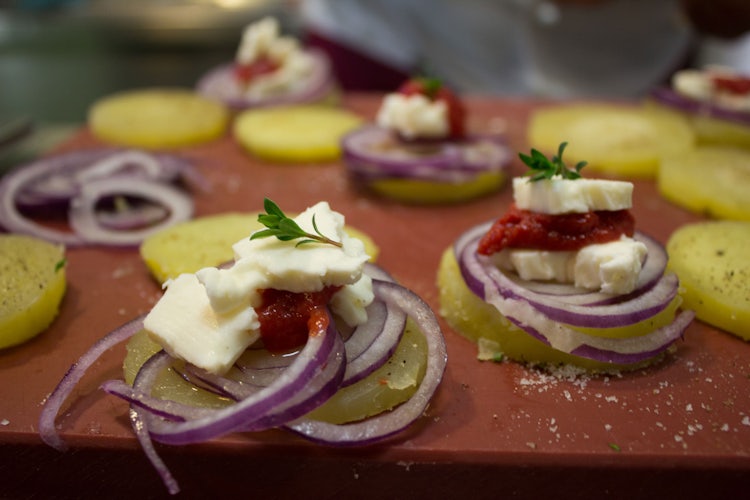 You can enjoy the results of her personal culinary adventure at dinner, served at 8pm on the fabulous covered patio (weather permitting). Antipasto, pasta, main course with fresh veggies, dessert and wine are available only a few steps from your room. They both clued me in: their menu isn't chic or elegant it is just good wholesome food showcasing the local flavors and fresh producers of the area. For those who share Berta's enthusiasm for good food and authentic recipes, you can join in the cooking lessons that they organize regularly for 2 to 6 persons...and when I say join in, no one is excluded from getting their hands in the pasta and tasting the sugo as it simmers.
Book your stay & cooking class now »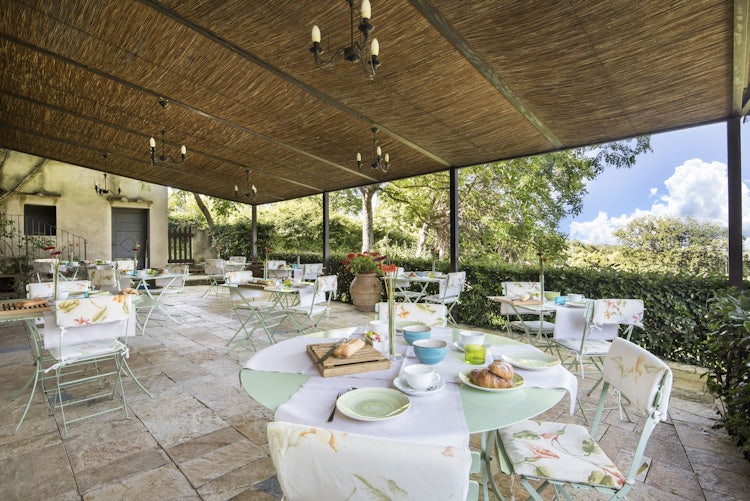 The home made breakfast is a rich a selection of sweet and savoury delights. Il Casolare di Libbiano prefers to serve breakfast on the terrace to catch the morning fragrances, but if the weather is not cooperating, then everything is moved to the inside dining room.
Andrea and Berta have noticed that over the years that this terrace has witnessed many new friendships and romantic evenings. They leave their guests open to eating on their own, or pulling a few extra chairs up to the table and inviting their neighbors to share the meal and life stories.
Some nights we will have many tables for 2 and then some evenings it seems like everyone is chattering together, sharing details about their visit to Volterra, Siena and San Gimignano.
A Unique yet Friendly Decor
Il Casolare di Libbiano in a Glance:
Type: B&B rooms and suites
Location: San Gimignano, 10 km
Distance: Florence & Siena are both about 1 hr & 10 min
Transport: a car is necessary
Apartments: 9 rooms
Sleeps: 28
Type of board: Breakfast & dinner, cooking classes
I found the decor within Il Casolare di Libbiano to be soothing and delightful. Both owners caught me a couple of times as I took a closer look at the antiques scattered around the rooms or the colors and lines in a piece of original artwork. Berta's family ran an art gallery in Madrid and this might explain why this husband wife team are dedicated to recognizing local artists. In fact the, the wide range of styles and colors reflects their appreciation of the genuine flavor of Tuscany and its artisans.
In particular, I appreciated the choice to keep a distinct country feel to the rooms both the bedrooms and the common areas. Whereas they made a choice of a modern look in the bathrooms. The strange yet inviting mix of styles was just what I like to see, emanating a genuine Tuscan feel but keeping comfort and need for space and organization forefront. Another wonderful aspect of the B&B rooms: silence reigns supreme, no TV!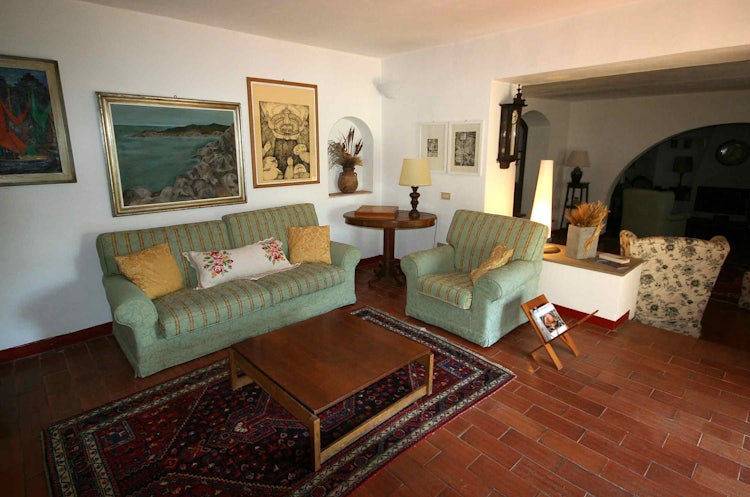 The family friendly accommodations feature rooms that are suitable for 2 to 5 persons. Including a bedroom and living room, each suite allows for space dedicated to parents and their children or inviting solutions for friends traveling together. The Room "Studio", features a semi-private living room area, personal patio surrounded by the perfume of lavender. The Canonica Suite, features a living room with sofa bed and private bedroom. The family suite "Alba" will accommodate up to 5 persons, with a large living room and a beautiful balcony.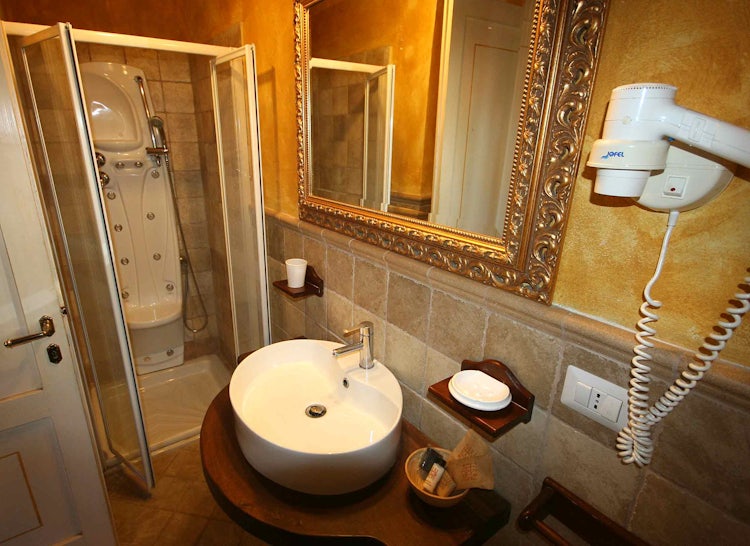 The double rooms are thought out for comfort, color and of course, a bit of romance — ok, maybe even a lot of romance. Just look at the room Giallo, with its private covered patio overlooking the pool, and its enticing hydro-massage shower. Or Campagnola, with its polished terracotta floors and wood beam ceilings, it is the perfect example of a romantic setting in Tuscany. Each of the 9 B&B rooms features an en suite bathroom, original artwork and a ceiling fan. The restoration of the terracotta, wood and stone are the perfect reminder of the origins of the farmhouse.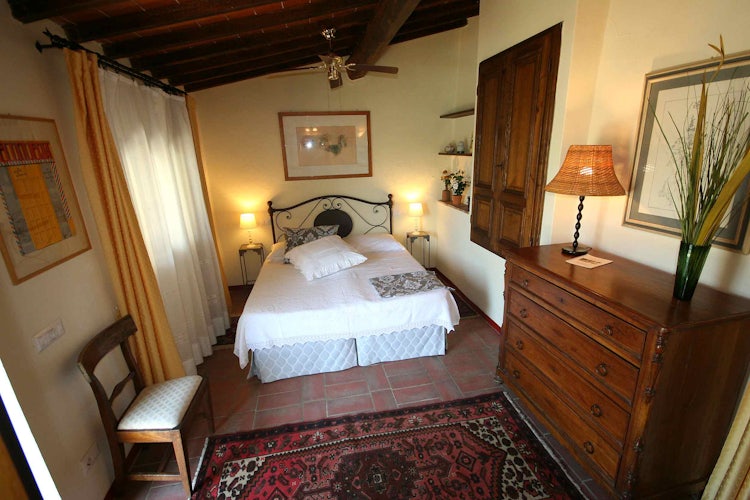 The Appeal of Staying At Home
Il Casolare di Libbiano will feel like home, a place where you feel relaxed, safe and well taken care of and this is what makes a vacation here so appealing. From the moment you park your car, to the first step into the garden pulsating with color, to your first meal you will feel the soothing influence of the farmhouse, Tuscany and your hosts.
Book now at Il Casolare di Libbiano
Exploring Tuscany on your own, with your favorite travelling companion or the entire family — Andrea and Berta are ready to welcome you with spacious and comfortable rooms, private bathrooms, lots of litle extras, even a lounge chair by the pool, with your name on it, so to speak ;-)! When you reserve you room with Andrea and Berta, be sure to ask about their cooking lessons and make plans to stay for dinner a couple nights!