Do you know what is the oldest profession in Florence, Italy?
Maybe not the absolute oldest profession, but it certainly ranks right up there with wine making, gold jewelry creations and . . . maybe one other. But for the purposes of my question, the answer is leather crafting: being able to take tanned animal hides and work them into pieces of useful and fashionable items like leather jackets, gloves and purses.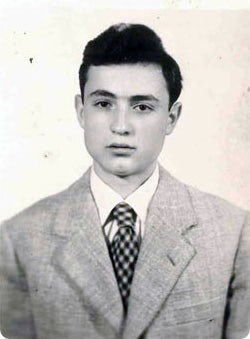 Marco Galli, age 16
Signore Marco Galli, a tall thin man with no hair to speak of and dark observant eyes, has been part of this tradition for over 55 years. In the short period of time I had to chat with him, I learned you could always depend on him for a quick smile, a good laugh and a silly, but typical, Florentine joke. He is living proof that when you do what you love, it is no longer considered work.
He boasts of over 70 candles on his last birthday, but he told me every time he thinks of retiring he can't even imagine what life would be like without the perfume of leather. As he showed we around the workshop, the pure pleasure he derives from just being there with all the pieces of leather and half-finished bags around was quite evident.
Marco, did you always want to work in leather?
"I was supposed to be a dentist", he says with a heartfelt laugh!
That was right after the War and everyone was scrambling to get a job. I had really good grades when I was a kid and my dad was able to reserve me a place in the School of Dentistry while I finished high school. I was only 14 years old.
"But fate had something else in store for me when my older brother took ill. Back in the 1950's, jobs were hard to come by and you couldn't risk being replaced just because you had a bit of a fever and a stuffy nose! I was sent to "hold his place" – because back then if someone didn't do your work – you were out on your %&?#.
It was in that one brief week that I became addicted not only to the "bell profumo" of leather – but also the trade. I went home at the end of the week and told my parents I was quitting the school of dentistry and was going to become a leather craftsman. They weren't too thrilled; they had struggled on their small income to get me accepted."
Didn't they want you to do the work you were so passionate about?
"You have to understand that being a dentist meant job security – meant a steady paycheck – it meant prestige. Where as work in a trade, like leather, guaranteed nothing. In fact, my mom was so disappointed that she didn't talk to me for 3 months….I can laugh about it now …. but back then….."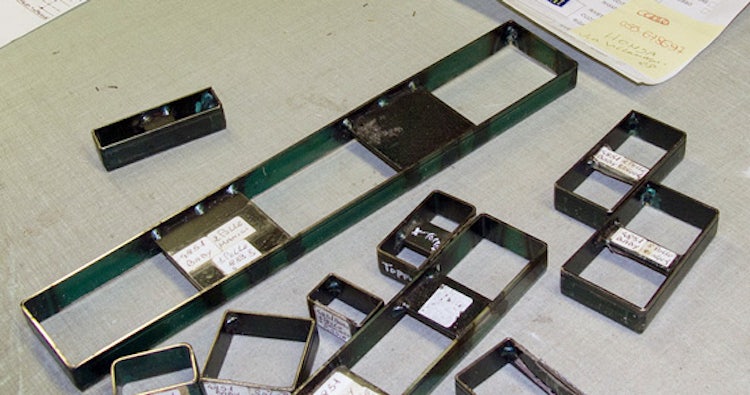 A few tools of the trade
So what was your next step, did you find a "maestro" to teach you the tricks of the trade?
"I always consider my first maestro Flavio Vismano, the owner of the workshop where I subbed for my brother. Flavio started working leather at 14 and went on to open his own leather workshop.
However, my most vivid memories are with a man named Virgilio Nannini, who started his own company in 1945 specializing in handcrafted leather goods. I started with him when I was 16, fresh out of high school. I quickly made a name for myself within the workshop." (Once again his trademark laugh rings out.)
"They gave me the bottom of the line job, one that required lots of elbow grease. But I was not looking to wear myself out so young, so I invented one of the first mechanical leather polishing machines.
My maestro was so impressed that the next week he had 10 new ones made.
But the best thing I ever learned didn't have anything to do with leather; it was about life. You never stop learning, even at my age." Marco looks me straight in the eye as he continues: "The younger generation doesn't appreciate this, but the most important skill anyone can have is to always be a student, learning even from those younger and less experienced than yourself."
So I ask him: after many years of making bags and leather goods, you find yourself here at the Pierotucci Italian Leather Workshop. Do you consider yourself a "maestro" now, I mean what exactly is your job title here?
He exclaims "Capo!" which is easily translated to "the boss". With a wink and a laugh, anyone would be inclined to believe he truly was the boss, especially since even the owner won't correct him on that assessment.
He continues: "It just seems that they can't do without me . . . or maybe it's me that can't do without the perfume of leather. I should be retired now but, I can't see that happening anytime soon."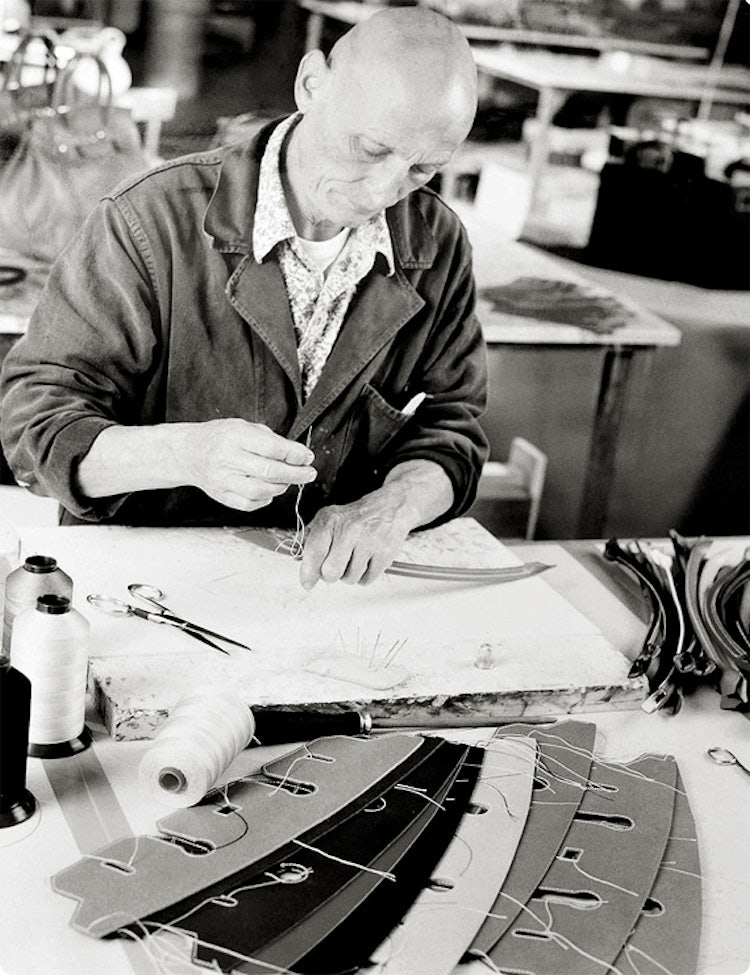 Still working in the leather workshop at over 70 years old
In all these years of working leather what would you consider your most gratifying moment?
"At my age, there is never just one moment. But perhaps the one that stands out was when I presented several handbag designs of my own invention along side a noted Italian stylist. I was just a simple leather craftsman called upon by Piero, my boss and long time friend, to provide 6 – 10 original designs.
He needed to present them to a new client, in the hopes of getting more business. Piero was in a bind because the stylist he had hired said he couldn't come up with more than 6 or 7 in such a short period of time and the new client wanted to see at least 12 – 15 designs.
I worked day and night for a week – because they had an almost impossible deadline – and I came up with some designs and prototypes. When the buyer came to look at the finished products and select the new line, he had 14 new ideas to look at - 7 from me and 7 from the stylist."
Don't leave us hanging? What were the final results?
"At the end of the meeting, they had selected 7 bags, 6 were mine and only 1 – yes, only 1..." (he is the typical Tuscan drama king, so he repeated that last bit), "... was from that little high end stylist!"
I guess you spend most of your time just supervising others, making sure they do their job right?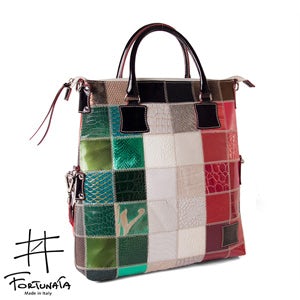 "I might be getting older – but the leather keeps calling me back. I am always finding something to do here in addition to checking up on everyone. And believe it or not, even an old timer like me still has those creative juices. Just two years ago, the owner came to me and said
"Marco, I need a bag that will appeal to our younger shoppers – what can you invent?"
He had a few designs and a couple of unorganized ideas in his head and then dumped it all on my desk. The idea was to make something that was trendy and versatile, something that would stand out from other bags. I worked on the puzzle pieces I was given until I came up with a bag that has quickly become one of Pierotucci's top successes, the FORTUNATA."
How do you know it has been a success?
"I count success by the number of seasons a bag stays in production and how many times we have to re-produce the bag in one year. It has been more than 5 years and after several color additions, we added a new twist and make our own patchwork panels. These have gone over so well that we have assigned a designer full time to come up with new color combinations. That's how I define success for a product."
And then with a cheeky grin, he confided "Success! I love it! But then I always knew it would be a success!"