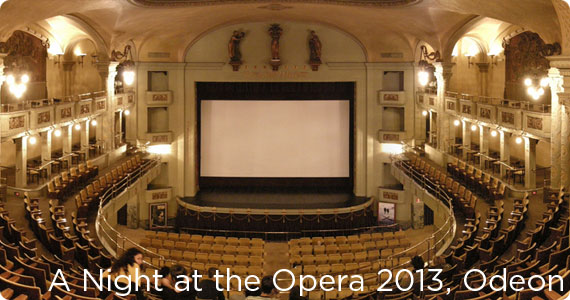 Would you like to spend a special evening listening to some of the most famous operas in the world, without the need to go to a full opera?
The Odeon theater hall just off Piazza Strozzi and the Ensemble San Felice present a new initiative for lovers of classical music. A "Night at the Opera" offers a series of evenings of concerts and famous Italian operas in a reduced scenic stage (singers with accompanying piano) but with full screen video projections within the splendid art decò Odeon theater that offers exceptional acoustics.
Try it out – starting tonight. wotj Gioseppe Verdi's Traviata! Here's the program:
May, Thursday 2: 8.45 pm
Giuseppe Verdi: LA TRAVIATA (Semi-staged Highlights from the Opera)
One of the most popular operas about the tormented and overwhelming love affair between the courtesan Violetta and the young Alfredo Germont. His father, Giorgio Germont, is against their marriage. Will they be able to be together?
May, Thursday 16: 8.45 pm
Giacomo Puccini: LA BOHEME (Semi-staged Highlights from the Opera)
A touching story, set in Paris, on the love between the poet Rodolfo and the florist Mimi. The carefree life of bohemian Marcello, the painter and Musetta the showgirl is the background to the tragic epilogue.
May, Thursday 30: 8.45 pm
Antonio Vivaldi: ITALIAN BAROQUE (Ensemble San Felice on historical instruments)
An exciting selection of some of the most charming concerts and Cantatas of the Italian genius Antonio Vivaldi.
June, Thursady 6: 8.45 pm
Giuseppe Verdi: VERDI GRAN GALA
Highlights from Giuseppe Verdi's Operas: Aida, Rigoletto, La Traviata, Il Trovatore.
A Night at The Opera in Florence
Cinema Theater Odeon, Piazza Strozzi 2, Florence
You can purchase tickets directly at the Odeon Theatre starting at 5.00 pm
Entrance cost is € 25.00
Students under 25 years: € 15.00
About Lourdes Flores
An American living in Florence for over 10 years, Lourdes continues to explore and discover new places in Tuscany with the eyes of a tourist but with the experience of living in Italy. She shares her experiences on this blog and website, particularly offering lots of travel planning help on the Forum!